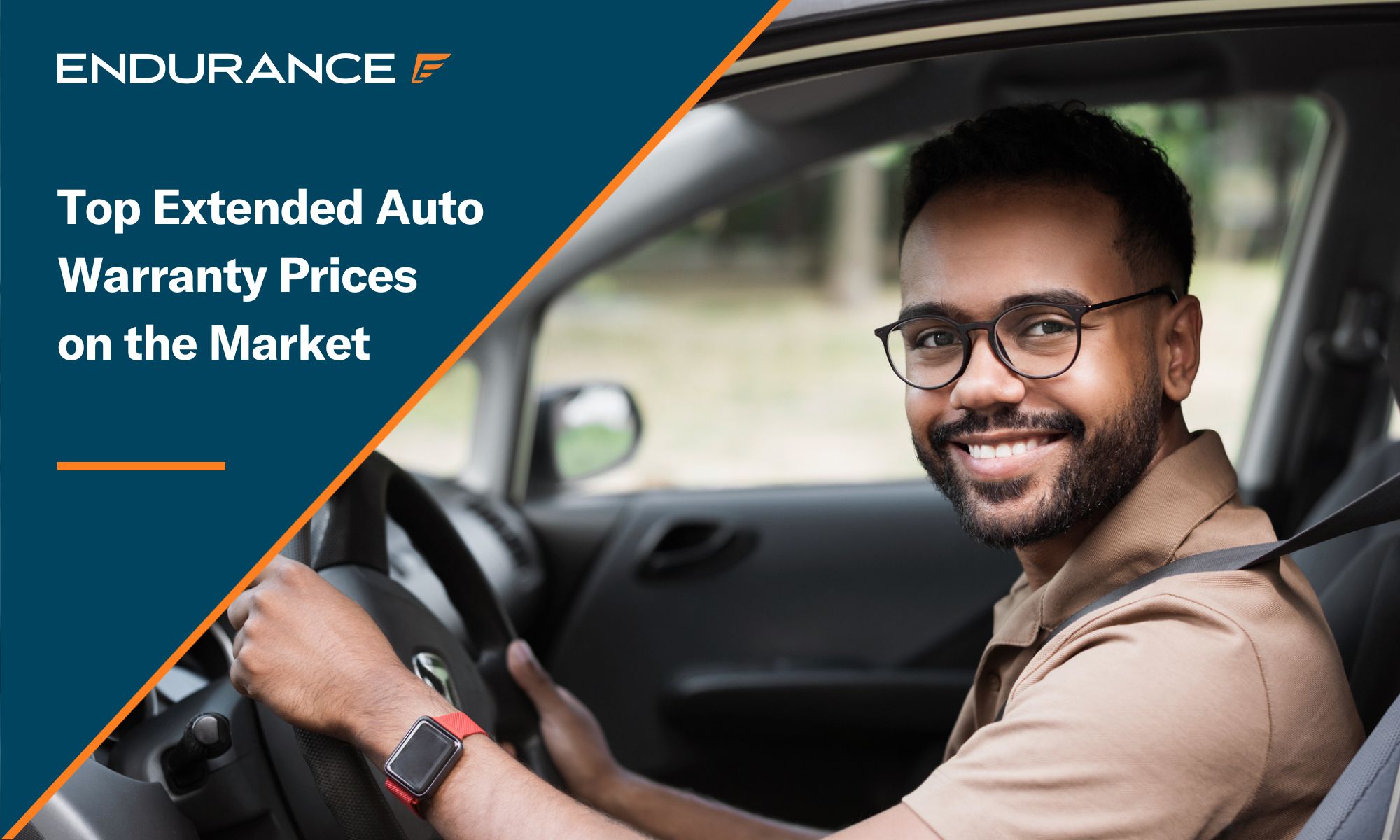 An extended car warranty provides new and used car buyers with a financial safety net against expensive car repairs due to mechanical breakdowns after a factory warranty expires. However, every driver is different, so finding the best extended car warranty for your driving style and budget is essential.
Extended auto warranty prices and their plans aren't always transparent on car warranty provider websites. We'll compare the highest-rated auto warranty companies and their plans to help you find the best one for your needs.
Factors to Consider When Evaluating Extended Auto Warranty Prices
Just as no two drivers are alike, no two car warranty companies are identical either. Before comparing various warranty companies and their extended warranty plans, there are a few factors that you should consider. Having a set of criteria ensures that you are more accurately comparing each option's pros and cons while shopping around for the best extended auto warranty.
Coverage Options and Limitations
While some third-party auto warranty providers only offer one or two coverage options, some companies offer a wider variety of auto protection plans to cover more vehicles and their drivers. For example, Olive has three different vehicle service contracts to consider, while we at Endurance Warranty and CarSheild offer six customizable plans.
Extended warranty coverage options can range from comprehensive coverage, similar to the original bumper-to-bumper warranty offered by auto manufacturers, to more limited warranties, like a powertrain warranty. Each vehicle protection plan includes different benefits, including car repairs and limitations. Therefore, it is important to read each contract thoroughly to ensure all of the parts you need are covered.
Duration and Mileage Limitations
Each extended car warranty or vehicle service agreement has a different coverage duration, timeline repayment, and mileage limitations. Before choosing the best plan for your vehicle, you should consider how long you plan to keep the car and how many miles you plan to drive in that time. If you are nearing the mileage limitations, consider looking for an extended warranty for older cars or high-mileage vehicles.
Deductibles and Out-Of-Pocket Expenses
Does the warranty provider require a down payment or any additional service fees? For example, a deductible is a common out-of-pocket expense due upfront whenever a car needs repairs before the provider takes over. For instance, if the car repair estimate is $1,500, and the plan deductible is $100, then you would pay $100, and the provider would pay $1,400. In most cases, the higher the deductible, the lower the monthly payment. These additional expenses can influence whether or not an auto protection plan is in the budget.
Additional Benefits and Services Included
Some third-party providers will include additional perks with their plans. For example, every vehicle service contract at Endurance Warranty includes a benefits package with 24/7 roadside assistance and towing, lockout services, rental car reimbursement, and trip interruption coverage. Customers can also maximize their benefits by activating a free year of Endurance Elite Benefits. For just $20, you can enjoy tire replacements or repairs, key fob replacement, collision discounts, and more.
Top Extended Auto Warranty Providers
Endurance Warranty: Direct Provider with Comprehensive Coverage
Endurance is an exceptional service that works directly with drivers rather than hiring third-party contact managers. This ensures you get the same excellent customer service when getting quotes and making claims, and it also makes these processes more efficient without needing a go-between. Additionally, Endurance pays repair shops directly, meaning you only have to pay your deductible, and Endurance will take care of the rest.
Price Range and Plans Offered
Endurance offers six different plans, all of which vary in cost depending on the type of service selected, as well as customizable coverage for all drivers. A basic plan typically costs around $99 per month, while the most comprehensive plans cost more monthly or annually. Depending on the coverage level selected, customers can expect to pay a wide range of prices for an Endurance warranty. Each plan provides a different level of coverage, ranging from basic powertrain coverage to more comprehensive bumper-to-bumper coverage. Deductibles range anywhere from $0 to $500, depending on which plan you choose and your budget.
Endurance Coverage Features
Secure – The most cost-effective car warranty option, safeguarding the engine, transmission, and water pump.
Secure Plus – This policy protects the engine, transmission, drive axle system, brakes, climate control, steering, and some electrical parts.
Superior – Superior offers the most extensive list of stated-component, inclusionary coverage.
Supreme – This plan covers an extensive range of mechanical and electrical elements, with few exclusions
Supreme for Highline Vehicles – Protection for top-of-the-line vehicle manufacturers such as Audi, BMW, Mercedes-Benz, and Land Rover.
Select Premier – This program is designed for high-mileage vehicles and includes coverage of the powertrain, electrical systems, cooling components, air conditioning, heating, and fuel systems.
Advantage – This is a unique vehicle service contract that combines scheduled maintenance and protection against specific component damages.
Customer Satisfaction and Reviews
Illinois-based Endurance has been well-received by customers on Trustpilot, with a rating of 3.8 out of 5 stars from over 6,500 customer reviews. This high rating is a testament to the quality service provided by Endurance. Although its Better Business Bureau rating is 3.7 stars from more than 2,250 reviews, it is still highly rated, and customers have praised the company for its excellent service. Endurance is dedicated to providing top-notch customer service, which shows in its customer reviews.
CarShield: Low-Priced Monthly Payments
CarShield offers a cost-effective solution for vehicle protection with monthly payment options and flexible financing. This is especially beneficial for drivers who own an older or frequently used car, as the CarShield warranties can cover vehicles up to 300,000 miles. This extended coverage allows drivers to keep their cars safe and reliable for more extended periods at an affordable cost.
Price Range and Plans Offered
CarShield offers a variety of different auto protection plans to meet the needs of its customers. There are six plans to choose from, each with a different combination of coverage and added benefits. Depending on the selected plan, prices range from $89 to $130 monthly. Customers can customize their plans to receive the coverage and services they need.
Notable Coverage Features
Diamond – Diamond provides comprehensive protection for most mechanical and electrical components between the bumpers.
Platinum – Platinum is the ideal choice for cars with many miles, as it protects various components, including the engine, transmission, air conditioning, electrical system, starter, water pump, and fuel pump.
Gold – This plan covers the cost of all the major components of the vehicle, including the motor, the water pump, the alternator, the starter, the air conditioning system, and the power windows.
Silver – Silver is the most economical protection plan, including engine, transmission, and water pump coverage.
Aluminum – This protects you from the expensive repairs of delicate electrical and technological parts, such as the engine control module, alternator, starter, and GPS navigation system.
Motorcycle & ATV – This provides various levels of protection for motorcycles, ATVs, and other vehicles.
Customer Satisfaction and Reviews
Based on over two thousand customer reviews, the Better Business Bureau has given CarShield a below-average rating of 1.2 out of 5 stars. In contrast, customers have given CarShield an average rating of 4.0 out of 5 stars on Trustpilot, a reputable business review site. This suggests that while some customers have had negative experiences with CarShield, others have had satisfactory experiences with the company.
CARCHEX: Good Reputation with BBB for High Mileage Vehicles
This provider can be a viable choice for individuals seeking adaptable extended warranty plans with added benefits. While those with newer vehicles may find more competitive alternatives, CARCHEX offers comprehensive coverage options for older cars, with term limits extending up to 250,000 miles. As a result, it can be helpful for drivers with aging vehicles.
Price Range and Plans Offered
Five different auto protection plans are available through CARCHEX, which collaborates with insured administrators such as American Auto Shield to provide contracts at competitive prices. The cost of the plans varies depending on the payment schedule, with quotes ranging from roughly $100 to $160 per month. On average, the total cost amounts to $3,000. The payment schedule options range from 18 to 24 months.
Notable Coverage Features
Titanium – Titanium is an exclusionary coverage service contract that provides comprehensive protection for most car parts.
Platinum – CARCHEX's top-tier stated-component protection covers hundreds of parts.
Gold – The Gold is a vehicle protection plan well-suited for high-mileage automobiles and covers all major systems.
Silver – Silver covers the expensive but necessary powertrain components and a few other crucial systems.
Bronze – Bronze is CARCHEX's base-level plan that protects the engine and transmission.
Customer Satisfaction And Reviews
Despite being accredited and receiving an A+ rating from the BBB, the company's customer reviews could be more favorable. With just under 200 reviews, it has less than 2 stars, and on Trustpilot, after over 2,000 reviews, it only has a 2.8 star customer review score.
Olive: Easy-to-Use With No Waiting Period
Olive® offers a hassle-free online platform for customers to purchase coverage and handle claims online. One of the advantages of Olive's car warranty coverage is that there is no waiting period for the warranties to become effective. Olive also distinguishes itself from other reliable extended car warranty providers by allowing drivers to cancel their plans without hassle at any time.
Price Range and Plans Offered
Olive provides three different extended car warranty coverage levels with prices ranging from $1,000 to $2,000 per year. However, Olive's car warranty plans only last for 36 months, which is shorter than what most other vehicle service contract providers offer. Each Olive car warranty requires a deductible of $100, $250, or $500; there's no option for a $0 deductible. Opting for a $500 deductible may result in lower overall costs for the warranty, but it also means paying more out of pocket at the repair shop.
Notable Coverage Features
Complete Care – This extended car warranty plan covers all mechanical and electrical parts except those expressly stated as excluded.
Powertrain Plus – The Powertrain Plus plan includes significant engine and transmission parts, front suspension, power steering, air conditioning, and braking systems.
Powertrain – The fundamental warranty program Powertrain includes the lubricated engine, transmission components, water pump, oil pump, and thermostat.
Customer Satisfaction and Reviews
Online reviews are limited since Olive was only recently established (2020). Olive's parent company has been accredited and holds an A rating from the Better Business Bureau (BBB). However, the BBB or Trustpilot currently only contains a few customer reviews for Olive.
Considerations for Selecting the Best Extended Auto Warranty
Auto protection plans can give car owners peace of mind that they're financially protected when things go wrong. While many companies and service plans seem similar, shopping around to get the best deal and avoid scams is important. When deciding which extended car warranty is worth it, there are a few considerations to remember.
Budget and Affordability
Although repair costs can quickly add up and strain your budget, buying an extended warranty can help you prepare for inevitable and unavoidable breakdowns. However, assessing your current financial situation and evaluating the plan's overall affordability is crucial. Consider the auto extended warranty cost, what it covers, and the potential repair costs without it before deciding to purchase an extended warranty. Be sure to factor in any hidden charges or additional fees that may be associated with the plan, and make sure that the plan's benefits outweigh the cost. Ultimately, purchasing an extended warranty should be based on your needs and financial goals.
Desired Coverage Level and Customization Options
When selecting a provider, consider the coverage level you desire and any customization options. However, each provider offers various coverage plans, with different included vehicle repairs and limitations. They can all be tailored to fit your budget, vehicle, and driving habits to ensure your plan is worth it.
Reputation and Customer Service of the Provider
Research to avoid fraudulent extended warranty providers when looking for a reputable extended car warranty provider. Check for extreme price outliers and read any quote's fine print before signing a vehicle service contract. Look at customer reviews on independent sites and ensure the provider has good financial standing and is backed by a large insurer. Doing your research will help you find the best provider and warranty coverage at the best price.
Get Peace of Mind With Endurance Warranty
Don't leave your vehicle unprotected. Safeguard it with an Endurance. With comprehensive coverage and exceptional service, we offer peace of mind on the road.
Don't wait for unexpected repairs to drain your wallet. Take advantage of our reliable and affordable auto protection plan options. Get a FREE quote from Endurance Warranty now and drive with confidence, knowing that you're protected by one of the industry's leading providers. Call (800) 253-8203, or you can even see your price online. Don't delay; protect your vehicle today!
More like this
Cost and Price

If one thing's true about car ownership, it's that it doesn't come cheap. No matter what vehicle you own, whether a used or new car, maintenance fees and unexpected repairs..

Read More

Cost and Price

Today, many car owners are having difficulty paying for unexpected and expensive car repairs. Recent reports indicate that less than half of Americans can pay for more than $1,000 in..

Read More

Cost and Price

One thing nearly all car shoppers have in common is wanting a reliable vehicle. Buying a new vehicle with a bumper-to-bumper warranty is an attractive option for many drivers. But,..

Read More