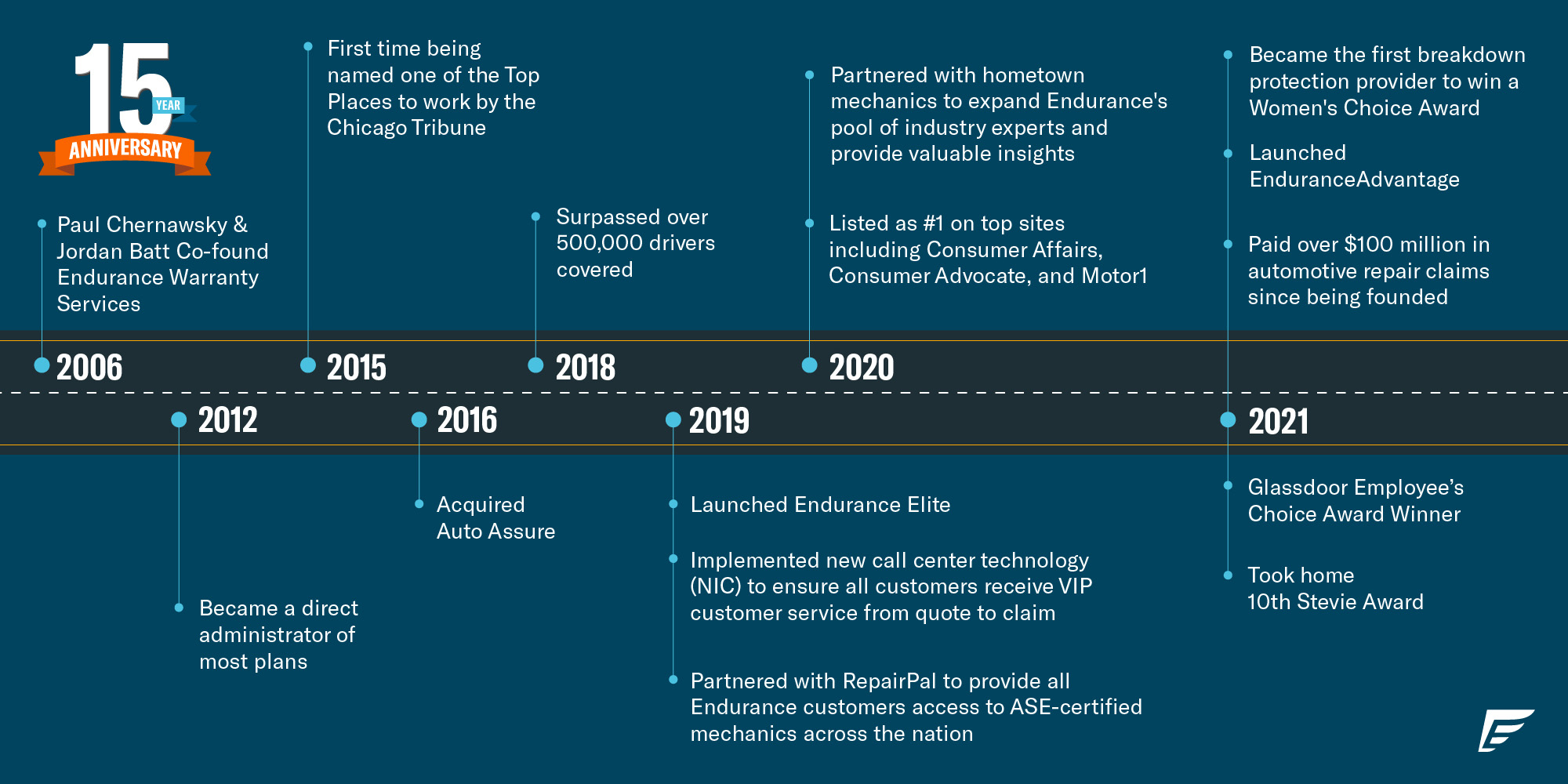 Happy Birthday, Endurance! 15 Years of Protection from Costly Repairs
May 2021 is an exciting month as it marks Endurance's 15th Anniversary! Since 2006, the company has made incredible strides and put forth an endless amount of hard work and dedication to helping empower our customers, employees, and the industry as a whole with confidence for the road ahead. What started as a dream shared by two friends to create a better customer experience for those looking to protect their vehicles has transformed into one of the USA's top-rated extended warranty providers
Join us on a trip down memory lane as we recognize 15 significant milestones in our history to celebrate 15 years! Each step we've taken since we first opened our doors has helped shape us into who we are as a company today – allowing us to make a lasting impact on hundreds of thousands of drivers just like you!
The Endurance Story
2006 – Humble Beginnings
It all began in 2006 when two entrepreneurs, Paul Chewnawsky and Jordan Batt, set off to change the extended warranty industry for the better. Together, they built up the business with a true entrepreneurial spirit and created a customer-first approach that strives to give Americans the best possible experience in protecting their vehicles. This mindset would go on to become Endurance's recipe for success. It's what sets us apart from the rest!
2012 – Cutting out the Middleman as a Direct Administrator
By 2012, the business was well established and had developed a substantial customer base. As the next step in our journey, we became a direct administrator of most of the plans we offer. By cutting out the middleman, we can be with our customers every step of the way — from quote to claim — to deliver the best customer service in the industry!
2015 – Named one of Chicago Tribune's Top Places to Work
We don't just take pride in looking after our customers – we look after our staff too! In 2015, we were named one of the Top Places to Work by the Chicago Tribune. It was the first time Endurance had participated, with thousands of other companies in the mix to be named one of the best of the best, making the win even more exciting! The results are based solely on an independent employee survey carried out by Workplace Dynamics, LLC. Employees at Endurance spoke highly of the company's flexibility, atmosphere, and motivation from management. That's because we know our people are our greatest strength, so we do everything possible to invest in them. We're proud to work as a diverse team to serve our customers and community!
2016 – Acquired Auto Assure
As part of Endurance's rapid growth, we acquired Auto Assure Extended Repair Coverage in 2016. This acquisition significantly expanded our reach within the industry, allowing us to empower even more Americans with complete driving confidence.
2018 – Over Half a Million Drivers Covered
Our customer base continued to grow, and by 2018, Endurance had more than 500,000 US drivers signed up for extended warranty protection. With a team of professionals always on call, infinite package flexibility, and more perks than any other provider, it's no wonder why over half a million people chose us to watch their back whenever they hit the road.
2019 – Endurance Elite Launches
In 2019, we changed the game again by introducing Endurance Elite, a 1-year membership with every Endurance vehicle protection plan. This membership opened up a world of excellent everyday driver benefits, including roadside assistance, tire replacement/repair, and even movie tickets.
2019 – Implemented NIC Call Center Technology
Our 2019 didn't stop at Endurance Elite! We further improved the customer experience by implementing new call center technology. Advancing our customer service in every way, NIC allows us to ensure every single customer gets the VIP treatment they deserve — from quote to claim because that's the Endurance way!
2020 – Partnered with Industry Experts
It never hurts to get expert insights. That's why in 2020, we partnered with some of the industry's finest — real, hometown auto shop owners. Mechanics Keith, Andrew, Larry, and Nikki are the best at what they do. We elevated their authority and improved consumer trust in certified mechanics and extended vehicle protection by working together, resulting in a win for us, a win for them, and a win for our customers.
2020 – Listed as #1 Vehicle Service Contract Provider
2020 was also the first year we saw ourselves as the #1 top-rated service contract supplier on multiple notable websites, including Consumer Affairs, Consumer Advocate, and Motor 1! As one of the largest providers of vehicle service contracts in the nation, we pride ourselves on continuously being backed by sites like these.
2020 – Partnered with Repair Pal
When you take your vehicle in for repairs, you want to know it's in good hands. That's why in 2020, we partnered with Repair Pal, giving customers access to repair shops and dealerships across the nation that have been certified by the National Institute for Automotive Service Excellence (aka ASE). As a result of this partnership, each can perform routine maintenance or carry out any repair, and they'll do it to the highest standard.
2021 – Glassdoor Employees' Choice Award Winner
In 2021, we were honored with the Glassdoor Employees' Choice Award in the U.S. small and medium company category, adding yet another outstanding award to the trophy cabinet. This award is based solely on the input of employees, who elect to provide anonymous feedback by completing a company review about their job, work environment, and employer on Glassdoor – the worldwide leader on insights about jobs and companies. We care about our team and their futures, and it's a fantastic feeling to be recognized for it.
2021 – 10th Stevie Award Win
Endurance has taken home many Stevie Awards over the years, but 2021 marked our 10th win! The Stevie Awards were established in 2002 to recognize the accomplishments and contributions of companies worldwide in eight different categories. Over the years, Endurance has won Employer of the Year, Customer Service Department of the Year, and Company of the Year!
2021 – Over $100 Million in Claims Paid Out Since 2006
A warranty provider is only good if they pay when you need them to, and this milestone shows that we do just that! This year we surpassed $100 million in automotive repair claims since being founded. Know that if you choose Endurance for your extended warranty, claims are paid upfront for all covered repairs, ensuring your wallet never has to leave your pocket. You just can't beat that kind of peace of mind.
2021 – Launched EnduranceAdvantage™
This year we added another game changer by launching our EnduranceAdvantage protection plan. As the most comprehensive extended warranty protection plan on the market, not only does it save you thousands on auto repairs, but it also includes up to $3,500 in maintenance fees per year. With unrivaled benefits and eligibility, there's no reason to wait. Check it out today!
2021 – The first breakdown protection provider to win a Women's Choice Award
Our most recent accomplishment is a big one. Earlier this year, we became the first breakdown protection provider to win a Women's Choice Award! It's a symbol that female consumers across the country have rated Endurance as a brand that they trust and an award that we wear with pride. To further empower female drivers today, we also began collaborating with trailblazing female mechanics, championing their extensive auto repair knowledge and high-quality services!
15 Years of Complete Driving Confidence
It's safe to say we've wasted no time in getting stuff done and driving towards our goal of giving American drivers total peace of mind. We've achieved so much in the past 15 years, and we can't wait to see what the next 15 bring!
Keep an eye on our social media channels over the coming weeks for more celebrations, and don't be afraid to get involved! You can find us over on Facebook, Twitter, and Instagram.
More like this
Endurance Info

An extended warranty is a great way to protect your used car after your expired factory warranty. With great coverage options, affordable deductibles, and an easy claims process, Endurance leads..

Read More

Endurance Info

Owning a car is like owning freedom. Nothing beats knowing that at any given moment, you can grab your keys and go almost anywhere you want. Unfortunately, however, vehicle ownership..

Read More

Endurance Info

No matter how you count it, $300 million is a lot of money. But this figure is even more significant when talking about extended car warranties. This amount is the..

Read More