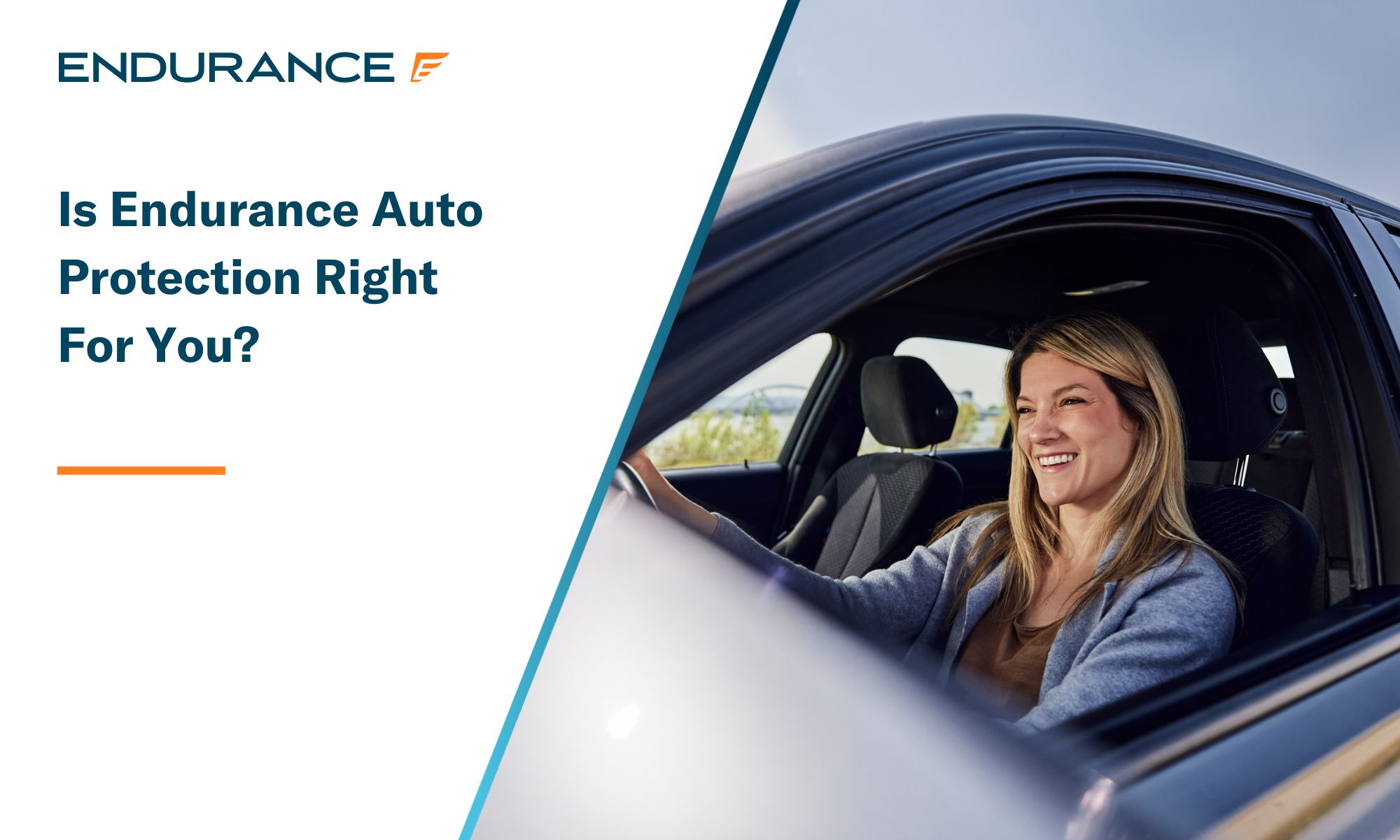 Owning a car is like owning freedom. Nothing beats knowing that at any given moment, you can grab your keys and go almost anywhere you want. Unfortunately, however, vehicle ownership doesn't come cheap, and the price is only ever getting higher. In fact, according to the AAA, the average annual cost of owning a car recently passed the $10,000 mark.
At a time when pretty much everything is getting more expensive, drivers everywhere are looking for ways to minimize their outgoings. An extended vehicle warranty is a great way to reduce the impact of repair bills, and Endurance is one of America's top providers. But is an Endurance auto protection plan right for you?
Keep reading to learn all about us, what we do, and why letting us look out for you and your vehicle is one of the smartest investments you can make.
What Is an Extended Car Warranty Plan?
Every vehicle rolls off the production line with what's known as a factory warranty or manufacturer's warranty. This effectively acts as the manufacturer's promise to repair or replace any components that unexpectedly fail due to fault within a predetermined number of years or miles traveled (whichever comes first). The length of your coverage will completely depend on your particular vehicle, but there's one thing all factory warranties have in common: after they expire, you're fully responsible for the cost of any auto repairs.
This is where extended car warranties come in, which continue your factory warranty coverage past the expiration date. Traditional extended warranties are purchased via car manufacturers or associated car dealerships. While they may sound good in principle, they come with two major catches. The first is that they must be purchased while your factory warranty is still active—leave it just one day late, and you'll no longer qualify. The second is that all work must be carried out at an authorized dealership—not ideal when the nearest one is a hundred miles away.
Because of these significant pitfalls, a vehicle service contract via a third-party provider is a widely preferred alternative. Third-party providers (like Endurance) are incentivized to offer almost like-for-like coverage at an even better price point. You don't need an active factory warranty to purchase a vehicle service contract, work can be carried out at your local ASE Certified mechanic or repair shop, and providers often throw in some great perks to sweeten the deal. This is all great news for used vehicle owners, as traditional extended warranties would usually exclude them automatically.
With some major engine repairs costing thousands of dollars, having a vehicle service contract foot the bill for you can be a lifesaver. Whenever you break down, you can be sure that you won't have to empty your bank account, that your newer or used car will be repaired to a high standard, and that you'll be back on the road in no time. In other words, taking out auto protection is a total no-brainer.
All About Endurance Auto Protection
Endurance was founded in Northbrook, Illinois, way back in 2006. Since then, we've helped over half a million drivers protect their vehicles (and their wallets) from the cost of unexpected car repair bills, earning us the title of America's most trusted vehicle service contract provider.
We pride ourselves on our unrivaled eligibility, affordability, and flexibility, offering a wide range of plans for every kind of driver—from casual commuters to rideshare drivers to luxury car owners.
Our levels of coverage include:
Supreme Plan: An exclusionary plan that's as close to factory coverage as you're likely to get, almost every component, part, and system in your vehicle is protected.
Supreme for Highline Vehicles: Our specialty plan is designed to cover specific luxury vehicles with fewer than 80,000 miles on the odometer and less than 8 years old.
Superior Plan: A comprehensive stated component plan covering an extensive list of named parts—including many electronics.
Select Premier: Getting coverage for high-mileage vehicles can be tricky, but our Select Premier plan is specifically tailored for older cars with over 150,000 miles on the clock.
Secure Plan: Our most basic powertrain coverage protects all your engine's most essential parts with prices starting at just $99 a month.
Secure Plus: All the benefits of our Secure plan, plus additional covered components such as brakes, air con, steering, and select electrical parts.
Advantage Plan: The only auto protection plan on the market to include $3,500 in annual maintenance costs, saving you even more money and keeping your car in top running condition. Items like oil changes, filter changes, and tire rotations are included.
And if none of those are quite right, it's no problem. Our award-winning customer service team will happily tailor a plan to your specific needs and budget. Whoever you are, whatever you drive, we'll make sure you can keep driving with confidence. We even cover salvage titles and Canadian grey market vehicles.
The Features and Benefits of Endurance
What Endurance offers, first and foremost, is market-leading auto protection backed by high-quality customer service. We cover a comprehensive selection of components, so when the worst inevitably happens, you don't have to worry about the cost. Just take your vehicle to any ASE Certified mechanic or repair facility, let them know you're an Endurance customer, and we'll take care of the rest.
If priceless peace of mind wasn't enough, we also offer some great added benefits. Every Endurance plan includes 24/7 roadside assistance, towing, lockout services, replacement travel reimbursement, and trip interruption coverage as standard. Better yet, all new customers also get a year's FREE access to our Endurance Elite Benefits package, opening up tire repair, key fob replacement, total loss protection, and much more. Just pay a $29 activation fee, and you're all set.
All Endurance plans are fully transferable, meaning you can pass coverage on to any subsequent owners, potentially increasing the resale value of your vehicle. To top it all off, our 30-day money-back guarantee gives you all the time you need to be sure you've made the right decision.
Factors to Consider When Evaluating an Extended Auto Warranty
Before you start enquiring about a vehicle protection plan, there are several factors you should consider that might affect things, including:
The age and mileage of the vehicle: It may seem obvious, but the older and more used a vehicle is, the more you can expect to pay for a vehicle service contract. Some providers also have strict limits on these two factors and refuse to cover high-mileage vehicles. Endurance, on the other hand, has a plan specifically for them.
How you use your vehicle: A vehicle that's used for commercial purposes will be under much more daily strain than a commuter car, so coverage and deductible will cost you more. Endurance does cover almost every type of driver but expect a higher premium if you'll be on the road regularly.
What you want out of your coverage: There are a lot of coverage options out there, so it helps to know what you want before you start looking. Do you want to cover every part of your vehicle or just those key powertrain components? Do you want options for electrical components? And what kinds of added perks would you get the most use out of?
Your budget: Like anything in life, you need to work within your means. While exclusionary coverage would be ideal, it may not suit your financial situation. By going in with a number in mind, your extended warranty provider can tell you which plans are on budget. At Endurance, we'll work with you to give you the best possible protection for your money.
Coverage Options and Customization
Every driver is different, so we've put together a range of plans with a range of situations in mind. These boil down to three key plan types:
Exclusionary coverage: The most comprehensive type of coverage available. It covers everything in your vehicle except a short list of specifically excluded components.
Stated component coverage: Covers only those components listed in your plan (though some lists can be hundreds of components long). Not as comprehensive as exclusionary coverage, but it can come close.
Powertrain coverage: The most basic form of coverage, protecting just those crucial powertrain components.
However, the real beauty of Endurance coverage is how flexible it can be. Our plans can be tweaked and changed to your liking, adding or removing elements to suit your needs. We also offer plenty of add-ons and upgrades, like coverage for those high-tech components that most other providers won't go near.
Deciding Whether Endurance Is Right for You
So you're considering Endurance as a potential vehicle service contract provider, but how can you be sure we're right for you? You'll need to think about what you need and want from your coverage, then compare our plans to find one that ticks the right boxes. As long as your car is less than 20 years old and has fewer than 150,000 miles on the clock, we'll be able to cover it—the only real exceptions being certain luxury vehicles. Make sure to have a look through our added benefits too, and put them side-by-side with those offered by other providers.
Put simply, if you're a vehicle owner who wants to save the most money possible on unexpected repair bills, Endurance is your best option. We're consistently rated by experts as the top provider in the country for our cost, coverage, and service, so we can confidently say that we're right for almost anyone.
What Our Customers Think
We can talk about ourselves all day, but nothing carries more weight than the words of Endurance customers. Thankfully, out of thousands of customer reviews, they've left us with high star ratings on Trustpilot and ConsumerAffairs, along with some great feedback. Here are just a few examples:

"Endurance was a little cheaper than CarShield. I also like that it covers the front end of the car where CarShield doesn't. When I reached out, the process went very smoothly. The rep was very helpful. I asked what they covered and how they do their service." – Erica

"I like the length of the warranty and the coverage for certain mechanics on our car… We did a claim and our experience was excellent. We picked the mechanic out ourselves, and they handled all the communication." – Ilene
Your Top Choice for Extended Auto Protection
When it comes to investing in extended auto protection, you really can't beat Endurance. With our winning combination of fully comprehensive coverage and award-winning customer service, we've looked out for American drivers for over 15 years — and we're here to look out for you too.
Ready to find out more about how we can help you save thousands on the cost of car ownership? Request a FREE quote or call our team at (800) 253-8203. If you'd like to read a little more first, we have a ton of other helpful articles, just like this one, over on our extended car warranty blog.
More like this
Endurance Info

An extended warranty is a great way to protect your used car after your expired factory warranty. With great coverage options, affordable deductibles, and an easy claims process, Endurance leads..

Read More

Endurance Info

No matter how you count it, $300 million is a lot of money. But this figure is even more significant when talking about extended car warranties. This amount is the..

Read More

Endurance Info

An extended car warranty (aka vehicle service contract) is a highly recommended investment for any used car owner. The cost of vehicle ownership is only ever on the rise, and..

Read More