National Car Insurance Day occurs each February, and with that, it's a great time to start thinking about whether or not you and your vehicle are properly covered. Anything can happen when you are out on the road, and many situations can be out of your control. As a conscientious driver, you should be prepared for any accident or incident while behind the wheel.
The right car insurance is essential if you want to be protected in your vehicle. On top of high-quality insurance, a car warranty can also work wonders when it comes to keeping you and the other drivers on the road safe. By understanding the difference between these two types of coverage and what they each have to offer, you can get the best possible protection and drive with confidence every time you get behind the wheel.
What's the Difference?: Car Insurance vs. Car Warranties
Before deciding what type of insurance and warranty coverage is right for you, you must know the difference between them and insurance requirements. Car insurance is by law required in all 50 states of the United States. A car insurance policy protects you from the financial liabilities arising from accidents involving your car. If your vehicle or someone else's car is damaged in an accident, your insurance policy will help you pay for those damages and get you back on the road.
A warranty also helps you pay for repairs on your vehicle. The difference is that a warranty covers repairs that need to happen due to mechanical issues with the car rather than accidents or disasters. Things like the air conditioning system, powertrain, and other replacement parts may be covered by a warranty once they wear out. While warranties are not required by law, they are often included with new vehicle purchases. They can also be purchased as an extended warranty after the factory one runs out. With a combination of insurance and a high-quality warranty, you can have the ultimate protection for your car and be prepared for any eventuality.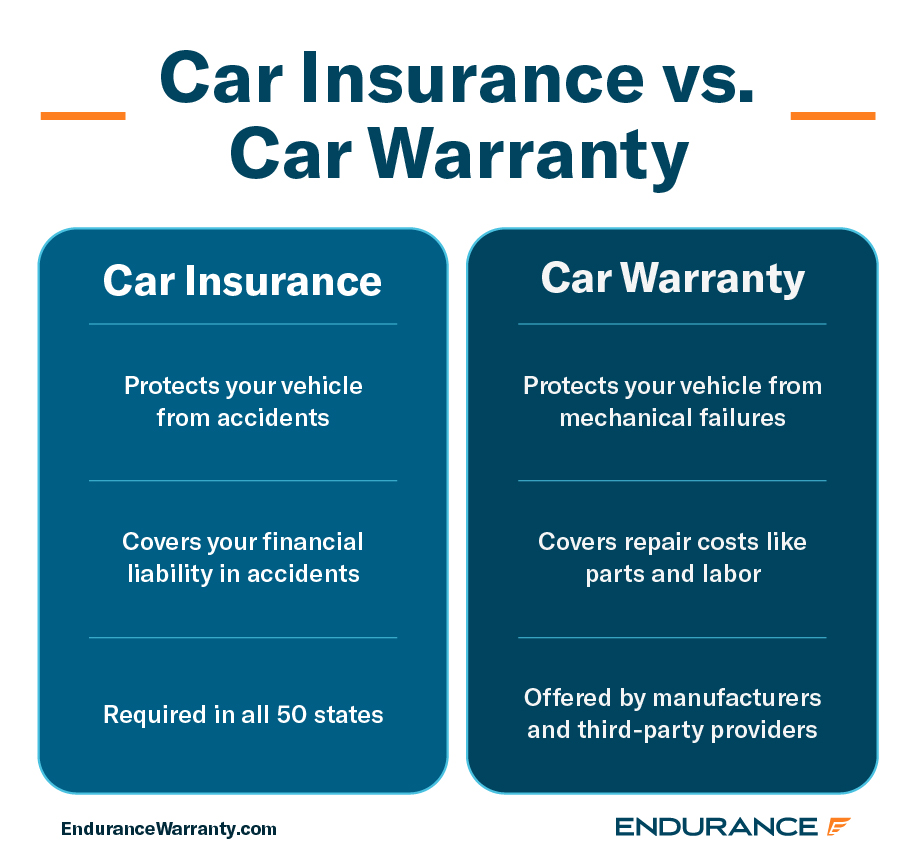 What Kinds of Insurance and Warranties Are There?
Before you can decide on the right insurance and warranty for your vehicle, you have to know what type you should get. There are different categories of insurance and warranties, and not all of them will be suitable or required for your particular vehicle or state. Understanding the different kinds of coverage available will help you make the right decision for your specific combined protection plan.
Different Types of Car Insurance
There are many types of car insurance coverage, and depending on where you live, you may be required by law to have one or more. For example, in all 50 states, you are required to have property damage liability insurance if you are going to drive legally on the road. Except for Florida, every state also requires you to have bodily injury liability insurance. Knowing the different types of coverage will help you make sure that you are always compliant with your state's laws.
Liability Insurance – Liability coverage comes in a few different forms. For the most part, a liability insurance company will help you pay for damages that occur when you are at fault for an accident and, therefore, financially liable to pay for the repairs. Property damage liability coverage helps you pay for damages to another party's vehicle. In contrast, bodily injury liability coverage helps you pay for medical bills if someone in another car is injured in an accident you caused.
Uninsured Motorist Insurance – Unfortunately, some drivers will break the law and drive without auto insurance. If they cause an accident involving your vehicle, uninsured motorist coverage will cover your injuries, the injuries of your passengers, and damage to your car. There is also additional protection available for drivers that are underinsured or have minimum coverage.
Collision and Comprehensive Insurance – Accidents sometimes happen when no other vehicles are involved. Suppose you lose control of your car and hit a stationary object like a light pole or a guard rail. In that case, collision coverage will help you pay for the repairs to your vehicle. Comprehensive insurance covers accidents that might happen due to falling trees or animals jumping into the middle of the road. These insurance types are usually not required by law, but some lenders will require them while you are paying off a car loan.
Personal Injury Protection / Medical Payments – Personal injury protection (PIP) helps cover any medical expenses resulting from a car accident. Whether you are at fault or not, PIP will help you pay for your injuries and the injuries of anyone else who was in your car at the time.
Gap Insurance – Gap insurance is helpful to people who are still paying off their auto loans. If your vehicle is totaled and you still owe money on the loan, gap insurance helps pay off the balance of what you owe. Many lenders will require you to have gap insurance before fully approving your new vehicle loan.
Mechanical Breakdown / Car Repair Insurance – Mechanical breakdown and car repair insurance are similar to a warranty. It will help you pay for repairs when something goes wrong with your car that has nothing to do with an accident. Mechanical breakdown insurance differs from an extended warranty in that it is very limited in cars that it will cover. Once a vehicle is over a year old, it will usually not be eligible for this kind of coverage.
Different Types of Car Warranties
Like auto insurance coverage, warranties cover your vehicle and help you pay for repairs when needed. There are also different types of warranties that your car will be eligible for depending on its age and the number of miles on the odometer. On top of this, some warranties even come with extras like rental car reimbursement, roadside assistance, and more. Knowing about the different types of warranties offered will help you make the right choice for your vehicle and driving habits.
Factory Warranties – Most new cars will come with a factory warranty provided by the manufacturer that protects you from design problems and issues in production. These warranties range in coverage and are usually good for anywhere between three years or 36,000 miles and 10 years or 100,000 miles.
Automaker/Dealership Extended Warranties – Once your vehicle's factory warranty is up, you can sometimes get an extended warranty from the automaker or the dealership where you bought the car. These extended warranties have varying lengths and levels of coverage. Depending on the vehicle, you may have to purchase the extended warranty before the factory coverage has expired.
Third-Party Extended Warranties – If you don't want to purchase an extended warranty from the automaker, you can get one from a third-party provider. These warranties are more commonly called vehicle service contracts (VSCs) or auto protection plans and come in various forms. Many third-party providers offer coverage for high-mileage vehicles or vehicles that might not otherwise be eligible for an extended warranty, plus other perks like roadside assistance and trip interruption coverage.
What Coverage is Right for Me?
No matter where you live in the United States, basic liability insurance is required for you to drive legally on the road. Depending on your state and what kind of protection you want, you may also want other types of insurance. If you live in an area that regularly gets natural disasters, like hurricanes or mudslides, comprehensive and collision insurance might be a good idea. You can also get coverage for vandalism or theft of your vehicle. Knowing what conditions you deal with regularly will help you make the right decision regarding your insurance coverage.
A solid warranty is a great way to rest easy whenever you are on the road. Knowing that you can get the help you need when something goes wrong with your car will give you confidence that you can get your car fixed no matter what goes wrong. If your factory warranty has run out, an auto protection plan from Endurance is your best option if you want comprehensive coverage from an award-winning provider. Plus, if you have a vehicle that other extended warranty providers won't cover, such as a car with a salvage title, a high-end luxury vehicle, or a vehicle you use for rideshare or delivery, Endurance has plans specifically designed for you.
Both car insurance and a vehicle warranty will cover the situations or parts outlined in your different contracts. Depending on your fine print and the price you negotiated with the provider, you may also be required to pay a deductible on your claims. Deductibles can range anywhere from $100 to thousands of dollars. It's important to determine your deductible before purchasing any additional coverage for an auto insurance policy or car warranty plan.
Get the Coverage You Need With Endurance
If you want the best coverage for your vehicle, having a combination of insurance and a comprehensive auto protection plan may be your best option. With a wide amount of breakdown coverage available for all kinds of drivers, Endurance has an auto protection plan for everyone. Plans start at just $79 per month, and whether you are looking to cover your car's most essential parts or want to protect a vehicle that other providers may not cover, you can get the coverage you need with Endurance.
On top of that, all Endurance customers get access to perks like 24/7 roadside assistance, towing, rental reimbursement, and trip interruption coverage. Plus, for a small activation fee, you can get a year's worth of Elite Benefits, which includes up to two tire replacements or repairs, key fob replacements, and more.
To learn more about Endurance auto protection plans, call (800) 253-8203 to request a FREE custom quote or shop online today. If you are looking for even more extended warranty comparisons or articles on other automotive topics like expert auto tips, DIY maintenance how-tos, and vehicle buying guides, the Endurance blog can help.
More like this
Extended Warranty

When driving on roadways around the world, the thing most car owners fear is being involved in an accident. However, mechanical breakdowns are the thing that every average driver should..

Read More

Extended Warranty

Every car owner knows how important it is to keep their vehicle in the best possible condition at all times. This means making sure that you are getting the proper..

Read More

Extended Warranty

Driving down the road only to experience an issue with your vehicle's steering capabilities is a terrifying experience, regardless of if you are driving a new vehicle or an old..

Read More