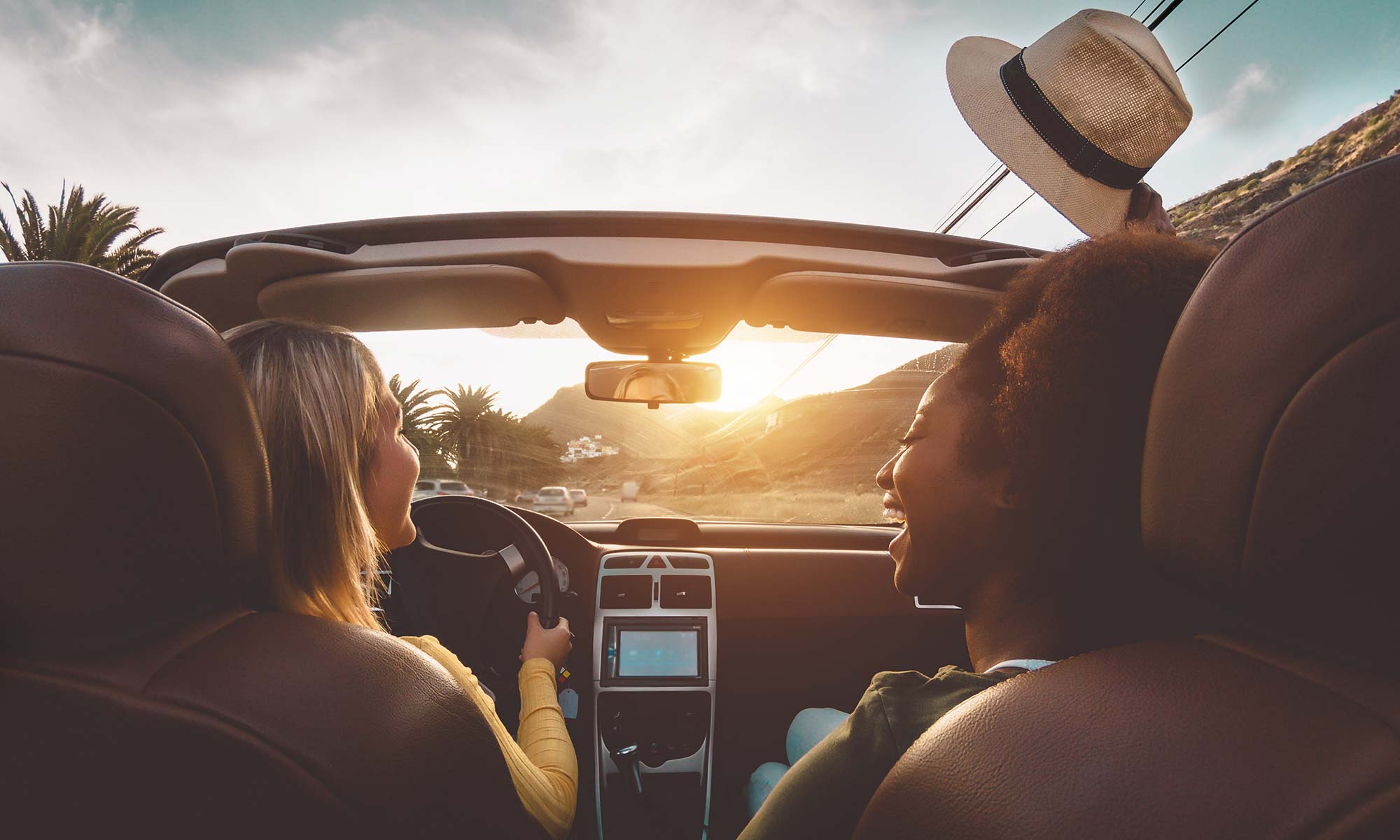 Convertibles are fun cars to own, especially during the summer months. They provide an experience that not many other cars can offer, allowing you to truly take in the fresh air and direct sunlight that a rolled-down window can't match. But they also have some unique maintenance requirements outside your typical routine tasks.
Whether you own a hardtop or soft-top, convertible maintenance is to think about. When you take care of your convertible properly, not only will it last longer and look better, it can also help save you from potentially costly repairs and replacements.
General Convertible Top Maintenance Tips
Maintenance is just as crucial in convertibles as with any other car. However, unlike other vehicles, your convertible's top can wear quicker than any other component.
To help you maintain your exterior, try following some basic convertible top maintenance tips and best practices.
How to Lubricate Convertible Tops
Whether a hardtop or soft-top, the convertible top is an important part of your convertible. It protects from the elements and keeps out any potential robbers or thieves. And as one of the most frequently used aspects of a convertible, it is also one of the most frequently damaged convertible components. Keeping your convertible top properly lubricated, especially if you live in a climate where it rains often or snows during the winter months, can help you extend the top's life.
Lubricating your convertible top will help it slide more efficiently and protect the convertible top from corrosion. When you lubricate your convertible top, always use a silicon-based product that is pH neutral or as close to neutral as possible.
If you are looking to clean your convertible top, look at using recommended cleaning products to avoid any potential damage. Some convertible top cleaner product manufacturers also manufacture cleaners that you can use on both hardtop and soft-top convertibles.
Adding Convertible Top Protectants
When convertible tops are exposed to the elements, they can begin to fade in color, eventually damaging the material. The best way to prevent this is by applying a convertible top protectant onto your convertible's fabric. This will decrease the damages caused by UV rays and any dirt or stains from rainwater.
How often you should apply convertible top protectants depends on how much time your convertible spends outside without protection, like an enclosed garage or car cover. If you live somewhere with favorable weather conditions, then applying a protectant once every few months should help protect your convertible top. However, if you're living somewhere with more severe weather, then monthly applications are necessary for the optimal protection of your convertible.
Hardtop Convertible Maintenance
As the name suggests, hardtop convertibles offer extra protection from both the elements and potential robbery or theft. This is due to convertible hardtops being made of similar materials as the car's body panels which means cleaning your hardtop is as simple as getting a regular car wash. However, despite these extra benefits of security and durability, many hardtop convertibles weigh more than their soft-top counterparts due to the added weight of the top. Hardtop convertibles also have less storage space due to the top retracting into the trunk.
Because of the materials they are made of, hardtop convertibles have a rear window made of the same materials as the rest of the vehicle's windows. This is in contrast to soft-tops, where the windows are generally made of plastics. This means that your hardtop convertible's rear window(s) should be inspected and cleared of any obstructions, such as tree sap or insect deposits, as you would your front or side windows. You can also check the convertible top's seals and the door seals for leaks to prevent any potential water damage. Be sure to continually lubricate your convertible's hardtop as well to avoid any excess wear.
Soft Top Convertible Maintenance
Like hardtops, check your soft-top convertible's door seal for leaks to prevent water damage over time. As the name indicates, your soft top is made out of canvas that can rip easily, and the convertible's mechanism may be exposed to dust, dirt, leaves, and twigs. Keep the convertible's top in good shape by repairing any tears in the liners or replacing worn straps before they can result in a costlier repair.
Cleaning Convertible Soft-Tops
While you can purchase cleaning supplies to clean your convertible top at home, many car wash facilities can help you with this task. It is also essential to know what your soft-top is made of, such as fabric, cloth, or canvas, which are recommended to be cleaned at least three to four times per year. Vinyl soft-tops should be cleaned more frequently, with a recommended schedule of once every four to five weeks.
Before you wash your soft-top, you need to remove it from the vehicle and remove any excess dirt. If you are unsure how to remove your convertible's soft-top, check your owner's manual for more details.
Once removed, lay the top flat on a table and keep it protected or covered to prevent dust particles that might get into areas not usually visible. You should then use a feathered bristle brush or another type of soft rag to remove the excess dirt and debris. Once cleared, you can then following the recommended washing steps below:
Spray convertible soft tops clean with soap and water solution using either a garden hose sprayer attachment or pressure washer (set between "coarse" and "medium"); make sure you don't use a hard setting as this can rip the top.
Use a soft sponge or microfiber towel to scrub the convertible top, taking care not to rub too hard as this can scratch and damage the fabric.
Dry immediately by either rolling up the convertible top into a tight bunch and then unrolling several inches below the lowest point before removing excess moisture.
Convertible Top Usage Tips
Investing in an extended warranty or a vehicle service contract, like any offered by us here at Endurance, is a great way to save on unexpected and costly repairs not covered by your insurance. You can even upgrade to any level of our EnduranceAdvantageTM protection plan to receive not only the most comprehensive vehicle coverage available but up to $3,500 in regular maintenance costs. This means necessary tasks such as oil or filter changes, tire rotations, and alignment checks are all taken care of with no cost to you.
However, while most extended auto warranties and Endurance plans can cover your vehicle's essential components, many will not cover the convertible top itself. Proper care and routine maintenance are vital to helping prevent any significant issues to your convertible top outside of general wear and tear. To start, many of the routine maintenance tasks you should do on your convertible will include:
Cleaning Your Convertible Top Often
Lubricating Often The Top Regularly
Covering The Convertible When Not In Use, When Able
Checking Your Fluid Levels Often, Including Oil, Engine Coolant, And Brake Fluid
Washing and Wax The Exterior When Needed
Checking Seals And Gaskets
Gain Extra Peace of Mind with Endurance
Convertibles are a popular summer vehicle, and like when you purchase any other type of daily driver or seasonal car, it's essential to protect yourself from costly repair bills. With the help of any Endurance protection plan, you can help make sure that your convertible's vital components are covered. By choosing a plan today, you will also receive a year free of Endurance Elite Benefits, with perks like two tire repairs and replacements per year, 24/7 roadside assistance, key fob replacement, and more. Upgrade to EnduranceAdvantage and gain even more protection with the help of up to $3,500 of regular maintenance coverage.
For more information on any of Endurance's vehicle protection plans or to request a free, no-obligation quote, call 1-866-918-1438. You can also visit our Learning Center to find even more driver resources with articles on general maintenance tips, make/model comparisons, and useful how-to's.
More like this
Expert Auto Tips

Retired professional racecar driver Danica Patrick is a pioneer in the world of motorsports. Her breakthroughs include being the first woman to lead an Indianapolis 500 race (the 89th running..

Read More

Expert Auto Tips

Buying a new car can be incredibly exciting and can open up a whole new world of possibilities. There are so many vehicles on the market, and no matter what..

Read More

Expert Auto Tips

Changing your oil and keeping your tires at the correct PSI are two great ways to keep your car running smoothly and driving safely as the seasons change. Your vehicle's..

Read More