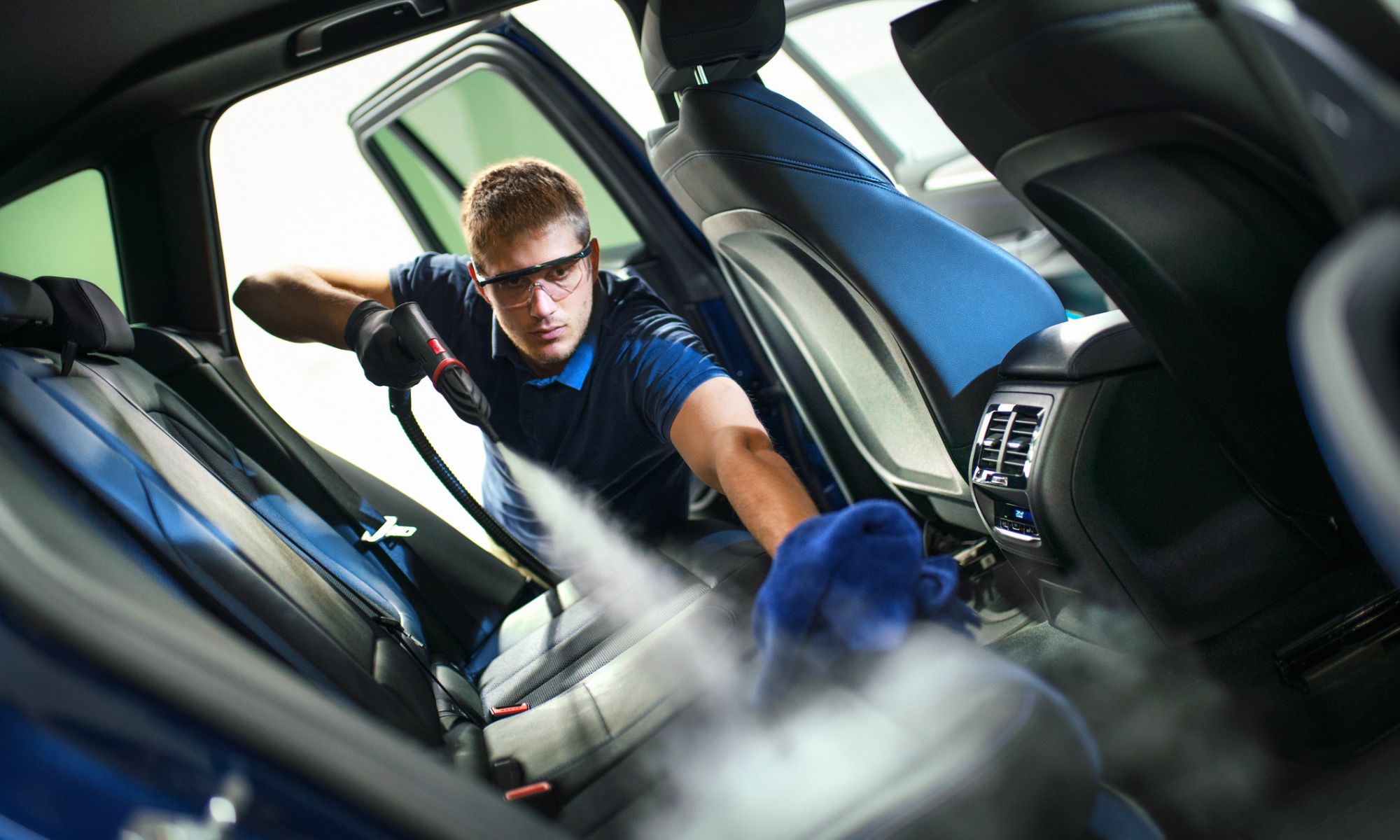 For most drivers, their vehicle is their pride and joy. From the second they get their hands on the keys, they want to keep it in the best possible condition—but sometimes, a simple car wash won't quite cut it.
Auto detailing is the very best care your car can get, but how long does it take? And are there any additional benefits to taking care of your car? We're here to answer all these questions and more.
The Difference Between Washing a Car and Car Detailing
Plenty of people think that car washing and car detailing are interchangeable terms, but they're actually very different:
Car washing is as simple as it sounds and literally involves washing the exterior of your vehicle to remove dirt and restore shine. It's so simple it's been made into an automated process at gas stations around the globe.
Car detailing is a much more intricate process that can only be accomplished by hand. It starts off with a routine wash and moves on to all the cleaning and restoration processes necessary to make your car look like it's just rolled off the production line. Detailing usually includes both the exterior and interior of your vehicle.
Quick Detailing vs. Comprehensive Detailing
One of the great things about detailing is that you don't have to go all-in if you don't want to. Depending on the time you have at hand, you can opt for a quick touch-up or a more comprehensive clean.
Quick Detailing
Quick detailing (aka waterless detailing) is ideal for keeping your car clean between full maintenance washes, and usually takes less than 30 minutes. If the paint is just slightly dusty or has light water spotting, grab some microfiber towels and a quick detailing spray. A car duster is also helpful for removing the top layer of dust before you get to work.
You can also include the interior of your car in a quick detail if you like, and there are interior sprays available. Using these sprays with microfiber cloths lets you keep on top of interior dust too.
Comprehensive Detailing
You can put much more time into your detailing for a higher standard of results. This generally starts with a maintenance wash, moving on to full exterior and interior detailing. If you're aiming for quite a deep clean, this can take anywhere between 4 and 8 hours. If you're including things like headlight restoration, paint correction, and a full body polish, it could be 2 to 3 days until you're done.
Exterior Detailing
Exterior detailing ensures that your car's outer surfaces are thoroughly cleaned and enhanced. There are plenty of variables you can add or remove, but our general and complete checklists should give you an idea of what's involved and how long it'll take:
General Exterior Detail
Approx. time: 2+ hours
Hand wash the paint, glass, and wheels
Apply a layer of wax or paint sealant
Complete Exterior Detail
Approx. time: 4+ hours
Hand wash the paint, glass, and wheels
Clean doors and jambs
Apply iron and tar remover to body paint
Clay bar paint and glass
Polish exhaust tips
Apply a layer of wax or paint sealant
Interior Detailing
With car washes being most people's default car care, interiors don't get as much attention as they really should. Interior detailing aims to fix that, bringing the inside of your vehicle back to its former glory. Just make sure to clear cup holders, footwells, and other interior storage areas before you get to work.
General Interior Detail
Approx. time: 2+ hours
Vacuum carpet, floor mats, and upholstery
Clean glass
Apply a leather and vinyl protectant
Complete Interior Detail
Approx. time: 4+ hours
Vacuum carpet, floor mats, and upholstery
Steam clean headliner, leather, vinyl, and plastic surfaces
Deep clean carpet, floor mats, and cloth upholstery
Clean glass
Apply a leather and vinyl protectant
Apply odor-eliminating product if necessary
Why Car Upkeep Is Important
Detailing keeps your car looking great, and a car that's been cared for is much more appealing should you come to trade it in or sell it in the future. This ultimately means you can command a higher price, and it could mean up to 15% more money.
Another great way to increase your car's trade-in value is by investing in a vehicle service contract. No matter how well you look after your vehicle, component failure is unfortunately inevitable, but a vehicle service contract covers you in the event of unexpected repair bills. Because all work is carried out to a high standard by a certified auto shop, prospective buyers can rest assured that your car isn't all looks. Better still, coverage is often transferable, so the next owner can enjoy the same financial peace of mind.
The Most Comprehensive Way to Care for Your Vehicle
So, how long does it take to detail a car? While our estimates make a good guide, it's important to remember that all cars are different. Older cars will require more time and attention than newer cars. The same goes for dirtier cars too.
While detailing is certainly a great idea, there's little point caring for your car's appearance when you aren't protecting what's under the hood too. A vehicle service contract from Endurance can keep you driving with confidence, knowing that whatever happens, we have your back.
Our auto protection plans are fully flexible, so there's something to suit everyone's individual needs and budget. We also include 24/7 roadside assistance, trip-interruption costs, and replacement travel reimbursement as standard, plus every new customer gets free access to our suite of Elite benefits, adding on total loss protection, tire replacement, and more.
If you'd like to know more about Endurance and how we can protect you from unexpected repair bills, make sure to give our award-winning customer service team a call at (800) 253-8203 or shop online today. You can also carry on reading about all things automobile by checking out the rest of our extended car warranty blog.
More like this
Expert Auto Tips

Retired professional racecar driver Danica Patrick is a pioneer in the world of motorsports. Her breakthroughs include being the first woman to lead an Indianapolis 500 race (the 89th running..

Read More

Expert Auto Tips

Buying a new car can be incredibly exciting and can open up a whole new world of possibilities. There are so many vehicles on the market, and no matter what..

Read More

Expert Auto Tips

Changing your oil and keeping your tires at the correct PSI are two great ways to keep your car running smoothly and driving safely as the seasons change. Your vehicle's..

Read More