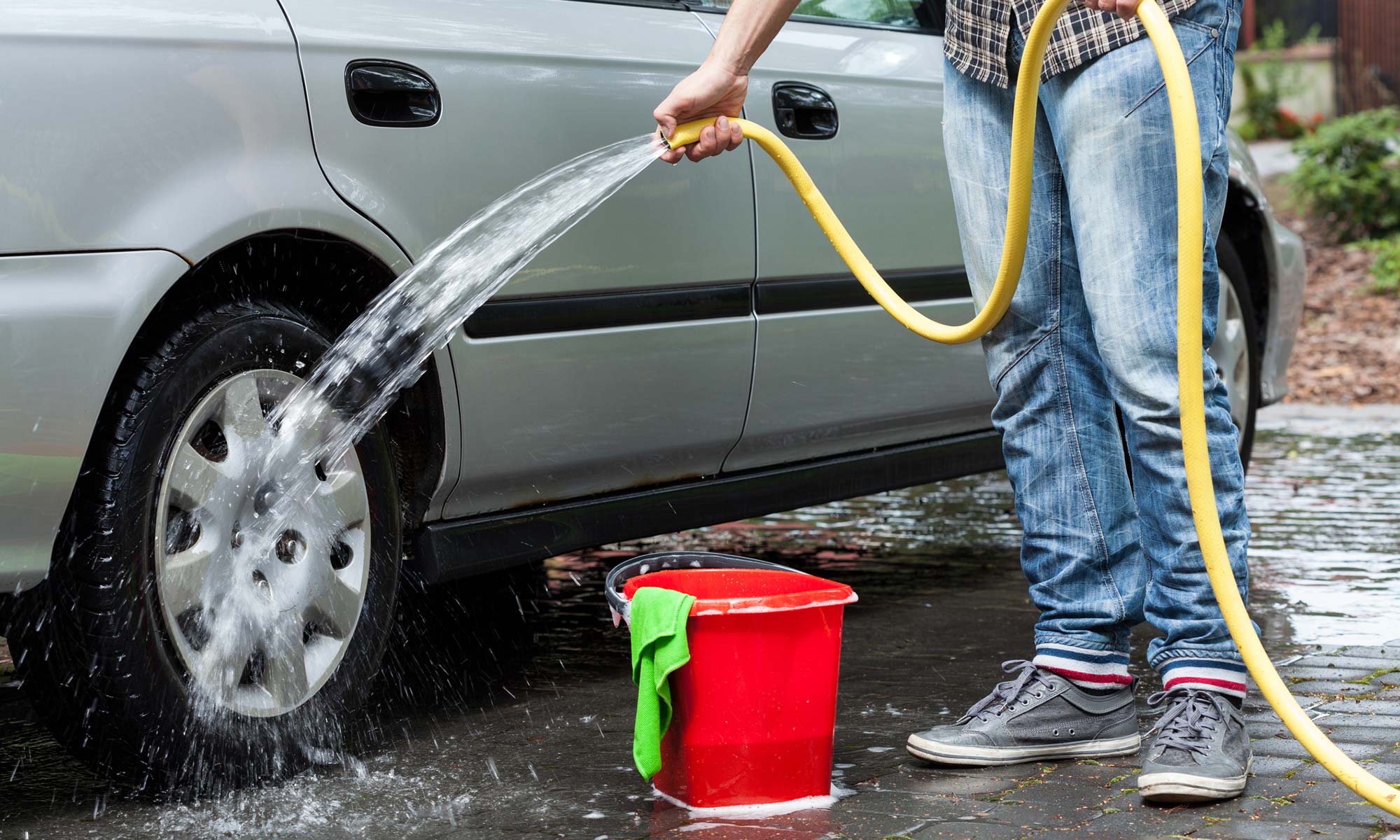 With spring well underway and the temperatures rising, it's time for some good old-fashioned spring cleaning if you haven't started yet. But, while spring cleaning usually means cleaning out closets, deep cleaning the house, and doing some much-needed landscaping, it can also be a great time for car owners to clean out their cars. 
Importance of Car Washes
Keeping up with routine car maintenance is vital to ensuring your vehicle lasts for years. And while essential car care will always include essential maintenance like oil changes and air filter changes to keep your engine running at its best, you will need to take care of your car's paint and interior. And the best way to do that is with a car wash, and yes, we're talking a full wash, not just rinsing it off with some water and throwing in an air freshener.
In fact, without regular car washes, you could be left with buildups of dirt, grime, road salt and other debris and chemicals that can lead to rust or fading paint. Your interior can also quickly become worn out by not properly cleaning out the dust, debris and lost french fries under your car's seats.  
Cleaning & Detailing Tips
To help ensure your vehicle is taken care of, be sure to follow these car cleaning tips for both your car's interior and exterior.
Interior Cleaning & Detailing Tips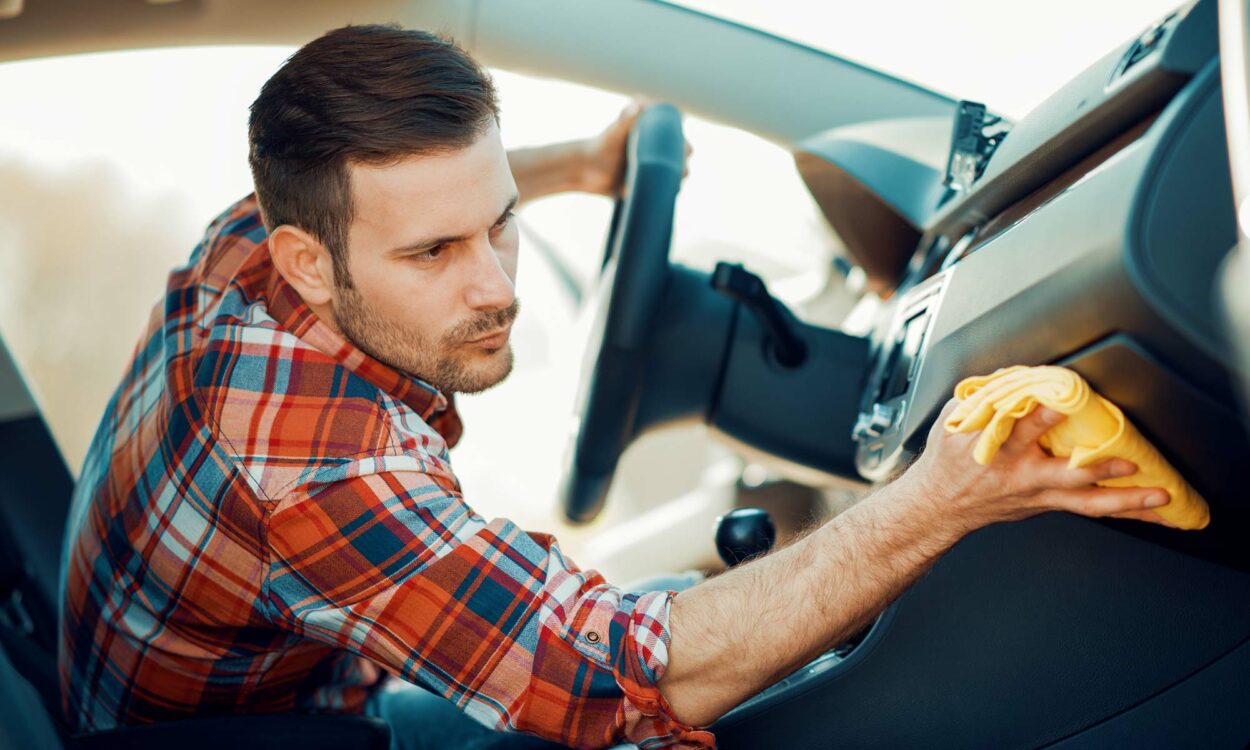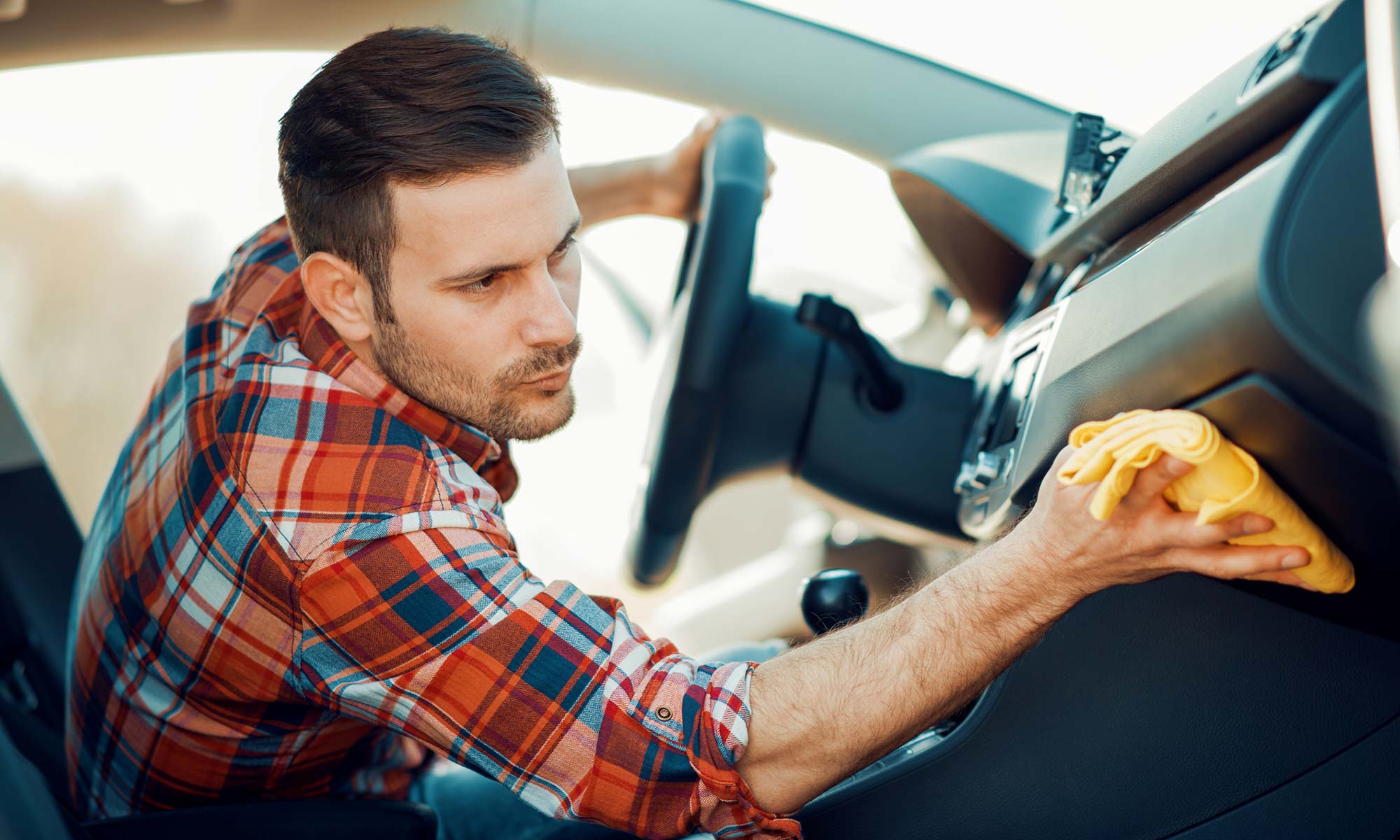 Clean & Organize Storage Compartments
Before cleaning every nook, cranny and crevice of your car's interior, it is best to organize your storage compartments first. Sifting through old receipts, extra napkins, and loose change can quickly dirty up a clean interior, so you will want to tackle this first. 
Go through your glove compartment, center console, door pockets, and cup holders to clean out and organize any important papers, throwing away unnecessary items. This is a great time to ensure your car's owner's manual and registration papers are where they need to be.
Vacuum/Shampoo Carpet & Upholstery
With your storage copartments cleaned out, you'll want to vacuum your whole interior. Using a vacuum or shop-vac, vacuum your carpet, upholstery, cup holders, and any other places that dirt has gotten into to allow for easier detailing. Be sure to check under your floor mats too. 
Once you have gotten all of the loose debris vacuumed up, you can take this time to shampoo the carpet and upholstery if your car has a cloth interior. Shampooing your interior will help remove any stains, odors, and stubborn dirt to give your interior a brand new look. However, check with your owner's manual about what materials can be found in your car's interior. Leather seats will often require specific leather cleaners and cleaning supplies to help keep them look their best without risking any damage. 
Wipe Down & Dress Dash/Interior Parts
To finish up your interior, you will want to wipe down and dress the plastic trim pieces of your vehicle, ideally with a microfiber cloth. This will include the dashboard, radio, gauges, door panels, and other plastic panels that you can reach. 
To clean these, spray a clean microfiber or horsehair brush with cleaning products approved for your car's interior materials and gently wipe or scrub your trim pieces. This will remove dirt and grime from the trim pieces and prepare them for dressing. Once cleaned, use a quality interior dressing solution to give your interior a layer of protection and make your trim look brand new.
Clean & Organize Trunk
While finishing up your interior, you will not want to forget about your trunk. If used frequently, your trunk should be cleaned out, organized, and vacuumed from time to time. This, of course, will vary depending on how much you use your trunk. Still, it is always a good idea to give it a once over as many people forget they have put items in their trunk. 
Clean Out Any Debris From Engine Bay
Taking a quick peek under your hood can also be a great way to prevent future problems. Over the fall and winter, leaves, tree debris, and even animals can find their way into your engine bay. Remember to pop the hood and remove any visible debris when giving your car a spring cleaning. Dead leaves and sticks can pose a big danger next to hot or moving engine components.
Exterior Cleaning & Detailing Tips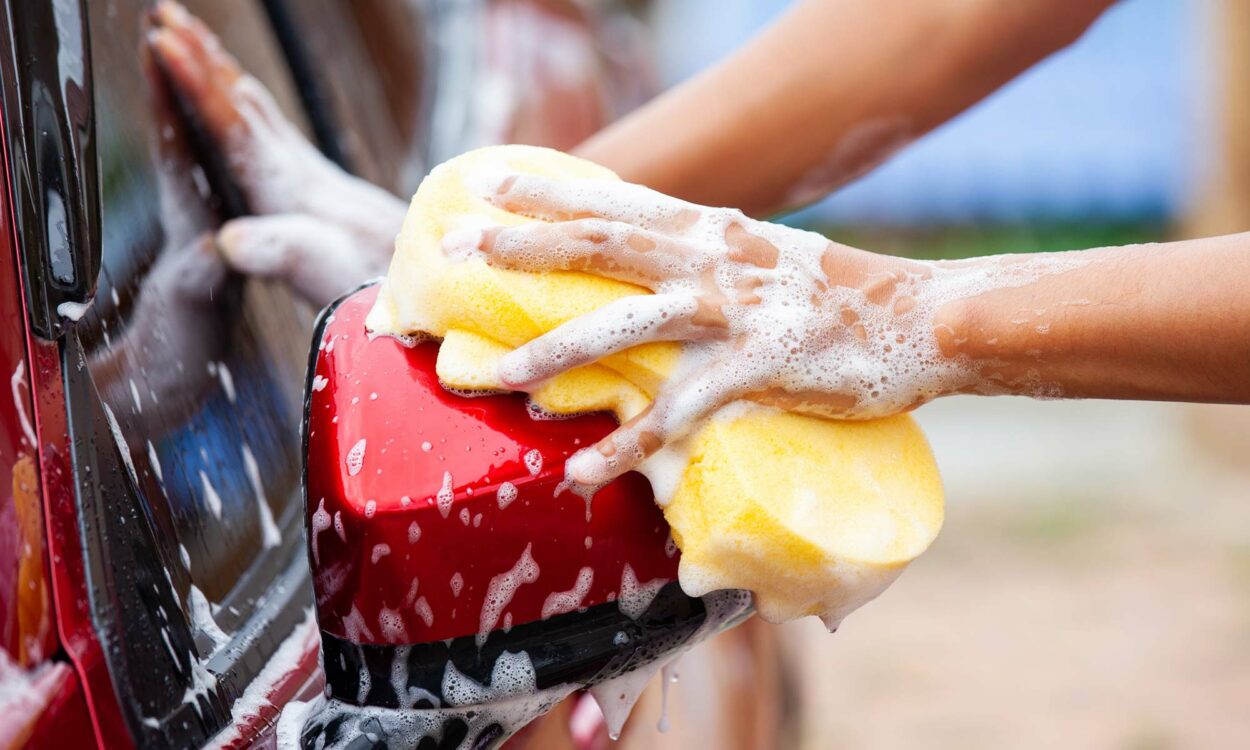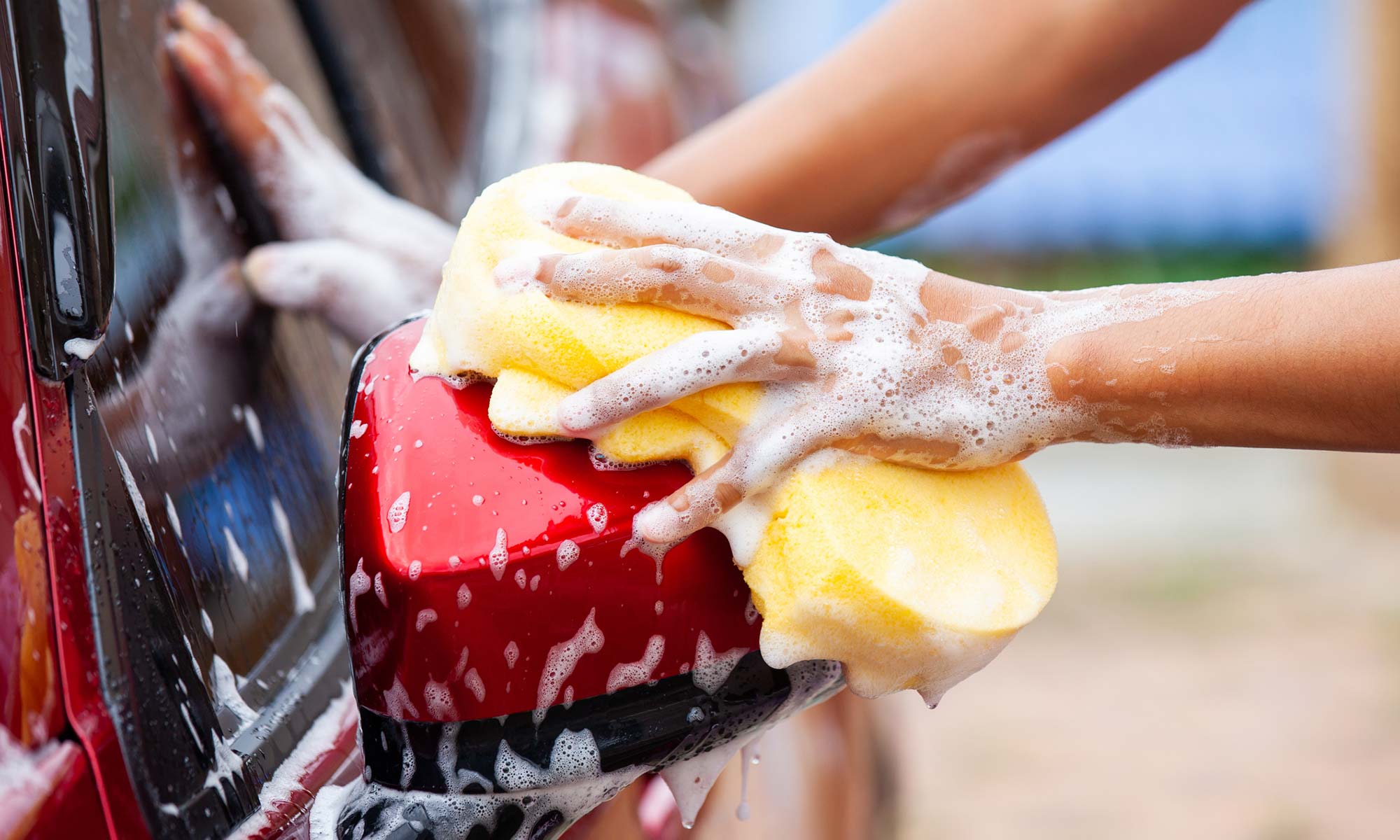 Have the Right Tools
Once you are ready to wash the car's exterior, you are going to want to be equipped with the right tools and cleaning products. To properly wash your car, you will need a water source such as a hose and sprayer, a bucket of clean water and one for rinsing, a wash mitt, car wash soap specifically made for cars (aka not dish soap), and a microfiber cloth or towel for drying. Be sure not to mix up your cloths or towels, such as not using a cloth that wiped away dirt/grime to dry parts of your vehicle, as this can cause you to have to clean places more than once.
Go Top-to-Bottom & Work in Sections
Start by simply giving your vehicle a dousing of water by using your designated rinse bucket of water or a low-pressure hose. Then, fill up another bucket with clean water and your chosen soap using your gathered materials. Lather up your wash mitt and get to work, going top to bottom.
Scrub your vehicle to wash away any dirt on the paint or clear coat's surface. Follow this up with a quick rinse down, spot check for any missed areas, and continue with the rest of the car. Don't forget about the wheels and tires, though you will want to use a separate brush for the wheels and tires to avoid getting any dirt or debris on the same mitt you are washing your vehicle with. Once your entire car has been thoroughly washed, you can dry the vehicle with a large microfiber towel.
Clean Mirrors, Windows & the Windshield
While getting your car's windows, mirrors and windshield clean with the rest of your vehicle is great, don't just stop there. Since these are glass, you will want to use a quality glass cleaner to ensure that you are cleaning the glass and leaving a streak-free finish. It is very important that you clean both the inside and outside of the glass. Don't forget about your windshield wipers too. Give them a quick wipe done and inspect them for any damages. If you notice any chips or tears, it's best to replace them.
Add A Coat Of Wax
Lastly, you will want to protect your now clean car with a coat of wax. Wax adds a protective layer to your vehicle's paint that improves the overall shine and protects it from fading from UV rays. This is especially important for those who leave their vehicles outdoors for long periods of time.
Keep Up with Routine Maintenance with Endurance
With all of these great spring cleaning tips on taking care of a vehicle's exterior and interior, you should have no issue keeping your car looking great. However, while important, washing your car is only part of a proper preventative maintenance schedule. 
Keeping up with essential services like oil changes, tire rotations and other minor services are all needed to ensure your vehicle stays running for longer. But, while every vehicle needs maintenance, even the most well-maintained vehicles can experience a breakdown. And unless you have the help of an active factory warranty, you'd be on the hook for paying those expensive repair bills — but not when you have Endurance. 
With an Endurance auto protection plan, you can get comprehensive breakdown coverage for your vehicle to help take the worry out of expensive auto repair bills. You can even save money on essential maintenance and get up to $3,500 in regular maintenance coverage with the Advantage auto protection plan. This will include vital services such as oil and filter changes, engine diagnostic exams, tire rotations and more, at no additional cost. As a bonus, Advantage customers will also get several special, one-time services such as cooling system maintenance, one brake pad replacement service, and much more.
You can even get a full year of Endurance Elite Benefits, including 24/7 roadside assistance, key fob replacements, tire repair/replacement, and other perks. Simply purchase any Endurance protection plan, pay a small activation fee and enjoy your year's worth of extra perks and savings.
Request a free, no-obligation quote or give our award-winning customer care team a call to learn about and customize an Endurance protection plan that works for you. Also, visit the Endurance blog to find more informative articles on various topics, such as expert auto tips and vehicle buyer's guides.
More like this
Expert Auto Tips

With most states around the country getting colder, it's worth reminding yourself how to prepare your vehicle for the different seasons. Weather conditions play a major role in how a..

Read More

Expert Auto Tips

Being a car owner can be an incredibly rewarding experience, especially if you take pride in your vehicle's condition and performance. Cars that are well taken care of will generally..

Read More

Expert Auto Tips

No matter what kind of vehicle you own, staying on top of its care and maintenance should always be a top priority. Cars that are well taken care of and..

Read More