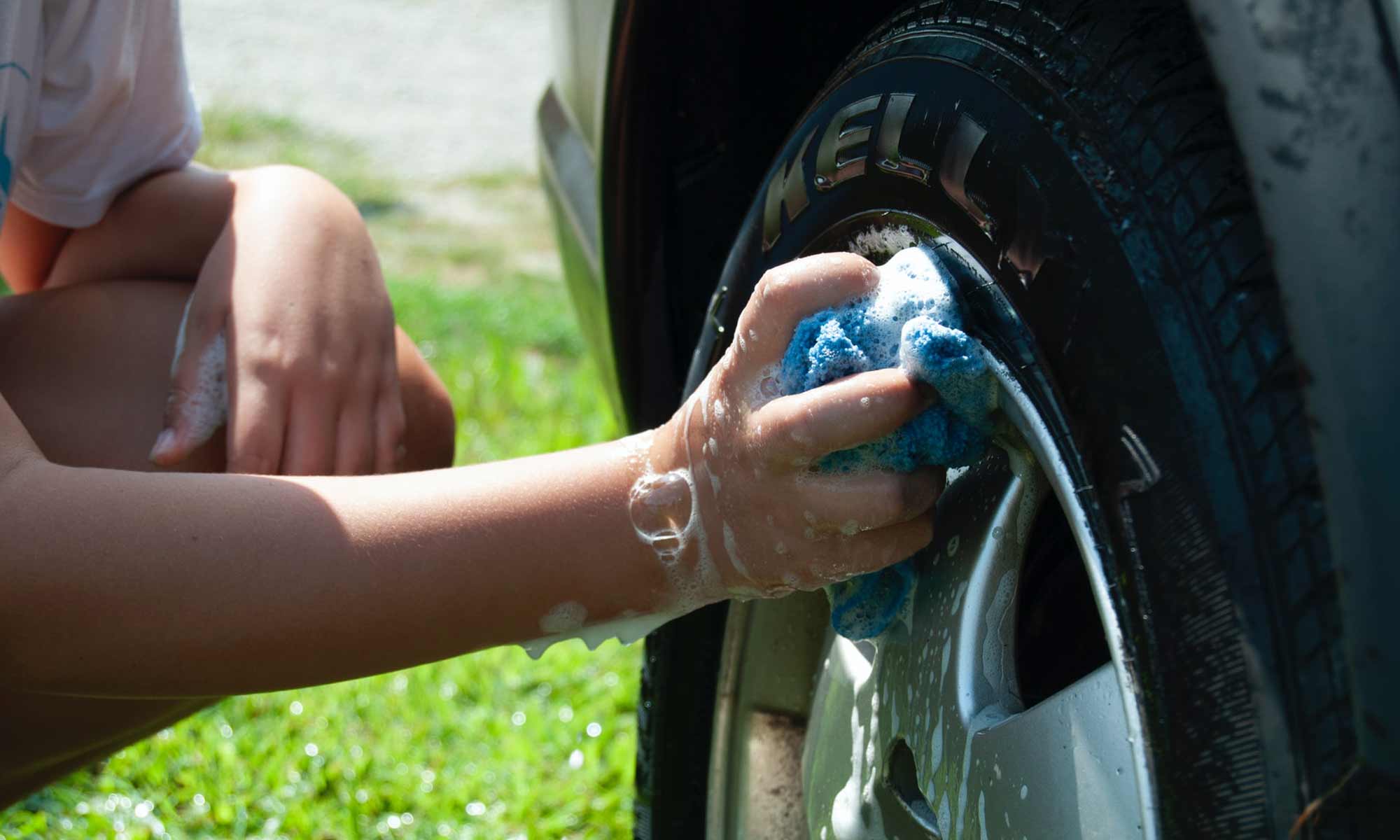 There's nothing better than a freshly washed car, both inside and out. In fact, regular car washes are more than just keeping your vehicle looking as good as new; they're also a vital part of maintaining any vehicle. But while a car wash is a relatively quick task that you can do at an automatic car wash without ever stepping foot outside of your vehicle, many car owners don't take the time to do it often. 
But, while skipping a car wash now and then isn't going to cause major issues, skipping them for too long can have long-term effects on your vehicle (and your wallet). 
How Often Do You Wash Your Car?
Skipping car washes for weeks or months at a time can lead to buildups of dirt, dust, road grime, and other contaminants that can damage your car's paint or clear coat. Failing to wash your car often can also cause corrosion or rusting of key components or body panels, while brake dust can even lead to issues in your wheel wells and so on.
In general, though, car owners fall into one of the three categories when it comes to washing their vehicles. Think about where you fall, and read on to see what can happen to your car if you continue on that path.
Never Washing:

If you can't remember the last time you got a car wash, you're long overdue and should look to get in and clean all the nooks and crannies you can find to help limit or prevent any further (or potential) damages. For example, if you live in an area with severe

winter weather

, road salt and other debris from driving can damage your car's paint, which will lead to cosmetic issues. Road salt can also cause rust and other issues that might create even bigger problems down the road. If you are unfamiliar with the best practices when it comes to washing your vehicle, you can look to utilize automatic car washes or professional detailing services as opposed to hand washing your vehicle at home or a self-serve wash.

Skipping a Few Washes:

Auto experts recommend washing your car about once a week if you're driving daily. However, skipping a few washes here and there won't be the end of the world, so don't worry too much. Try to get there once a month so you can wash away any road salt (during the winter) or other debris before causing damage. 

Washing Regularly:

If you're washing your car regularly, such as once a week or once a month, you're preventing potential paint damage and rust problems from occurring.

 
Long-Term Effects of Skipping Car Washes
As mentioned before, depending on how often you wash (or don't wash) your vehicle, you could be setting yourself up for potential issues, including:
Scratches or chips in your car's paint

Fading of your car's finish

Rust or other forms of corrosion that can cause damage to components or body panels

Limiting your visibility while driving (aka having a dirty

windshield

)

Lowering the

car's resale value
Along with regular car washes, it's also vital to stay up-to-date on your car, truck or SUV's other routine maintenance to help you avoid any potential or unexpected issues or repairs. This includes following your car's recommended maintenance schedule as laid out by your automaker (and often found in your owner's manual). But, when you have the Advantage auto protection plan from Endurance, you can rest easy knowing you can save up to $3,500 toward your vehicle's maintenance needs while getting comprehensive breakdown protection. With Advantage, you can get essential services such as alignment checks, tire rotations, engine diagnostic exams, and more included, with no additional cost to you.
You'll also receive 24/7 roadside assistance & towing, trip interruption coverage and rental car reimbursements regardless of the Endurance plan you choose. And, for just a $29 activation fee, you can enjoy a full year of Elite Benefits, including collision discounts, tire replacements/repairs, and more to give you even more coverage and savings.
Tips to Follow When Washing Your Car
Washing the exterior and undercarriage of your vehicle is a good idea whenever you get a car wash. Still, you can do a few other things in conjunction with a car wash to make sure your vehicle stays in great shape for as long as possible.
These can include:
Waxing

: Mister Miyagi wasn't just teaching Daniel LaRusso how to do karate when he told him, "wax on, wax off," he was giving him some great automotive advice. Waxing a vehicle can help ensure its paint's finish looks great for as long as possible while also protecting your car against paint chips and other damages from road debris. Essentially, waxing your vehicle adds an extra layer of protection against the elements, so your paint job stays intact. And many car washes offer a wax finish as part of the service, so be sure to ask next time you go to an automatic car wash or a self-service car wash. 

Using Nail Polish:

Yes, it's true! If you notice a small scratch on your car's exterior, you can find a matching color nail polish to help touch it up. Of course, nail polish won't bond the way automobile paint does, but it's good to do as a preventive measure. It will prevent other debris from getting into the scratch and prevent rust. Just be sure to remove any excess polish with a cotton ball and use actual touch-up paint whenever you are able.

Using a Clay Bar:

A clay bar is a resin mixture used by auto dealers to remove debris, pollutants, contaminants and more from your car's paint, fiberglass, and metal surfaces.
Consider creating a schedule to keep your car washed and waxed, and you should keep it looking good for years to come. In fact, many factory warranties or extended warranties won't cover the cost of repairs if you don't keep up with your vehicle's maintenance needs, including car washes. That's why combining a car wash schedule with your automaker's recommended maintenance schedule can help ensure you are protecting your vehicle as best as possible. 
Protect Your Car, Truck or SUV with Endurance
Whether you have a used car you've had for years or if you have a brand new vehicle, staying up-to-date on its maintenance needs is vital. That includes getting regular car washes to help avoid the long-term effects of dirt, grime and other contaminants from causing rust or other issues to go along with other services like oil changes, tire rotations and more. 
With an Advantage auto protection plan from Endurance, you can be certain that your car, truck or SUV is covered from unexpected breakdowns and repairs while also helping you save on some of its most important maintenance needs. With Advantage, you can save up to $3,500 on essential services such as tire rotations, alignment checks, PSI checks and more. You can even find help for your vehicle's next state safety inspection while also having access to several special, one-time services, including a battery replacement, cooling system maintenance and more. 
And as an Endurance customer, you will also receive 24/7 roadside assistance, trip interruption coverage and rental car reimbursements to go along with a 30-day money-back guarantee regardless of the Endurance plan you choose. You can also enjoy an entire year's worth of Elite Benefits, including collision discounts, tire replacements/repairs and more, just by paying a $29 activation fee.
To learn more about how an Endurance auto protection plan can help you, give a member of our award-winning customer care team a call at (800) 253-8203. Or, to get started protecting your vehicle today, request a free, no-obligation quote. You can also visit the Endurance blog to find more helpful tips when it comes to washing your car and other articles on topics like expert auto tips, maintenance how-tos and much more.
More like this
Expert Auto Tips

Retired professional racecar driver Danica Patrick is a pioneer in the world of motorsports. Her breakthroughs include being the first woman to lead an Indianapolis 500 race (the 89th running..

Read More

Expert Auto Tips

Buying a new car can be incredibly exciting and can open up a whole new world of possibilities. There are so many vehicles on the market, and no matter what..

Read More

Expert Auto Tips

Changing your oil and keeping your tires at the correct PSI are two great ways to keep your car running smoothly and driving safely as the seasons change. Your vehicle's..

Read More