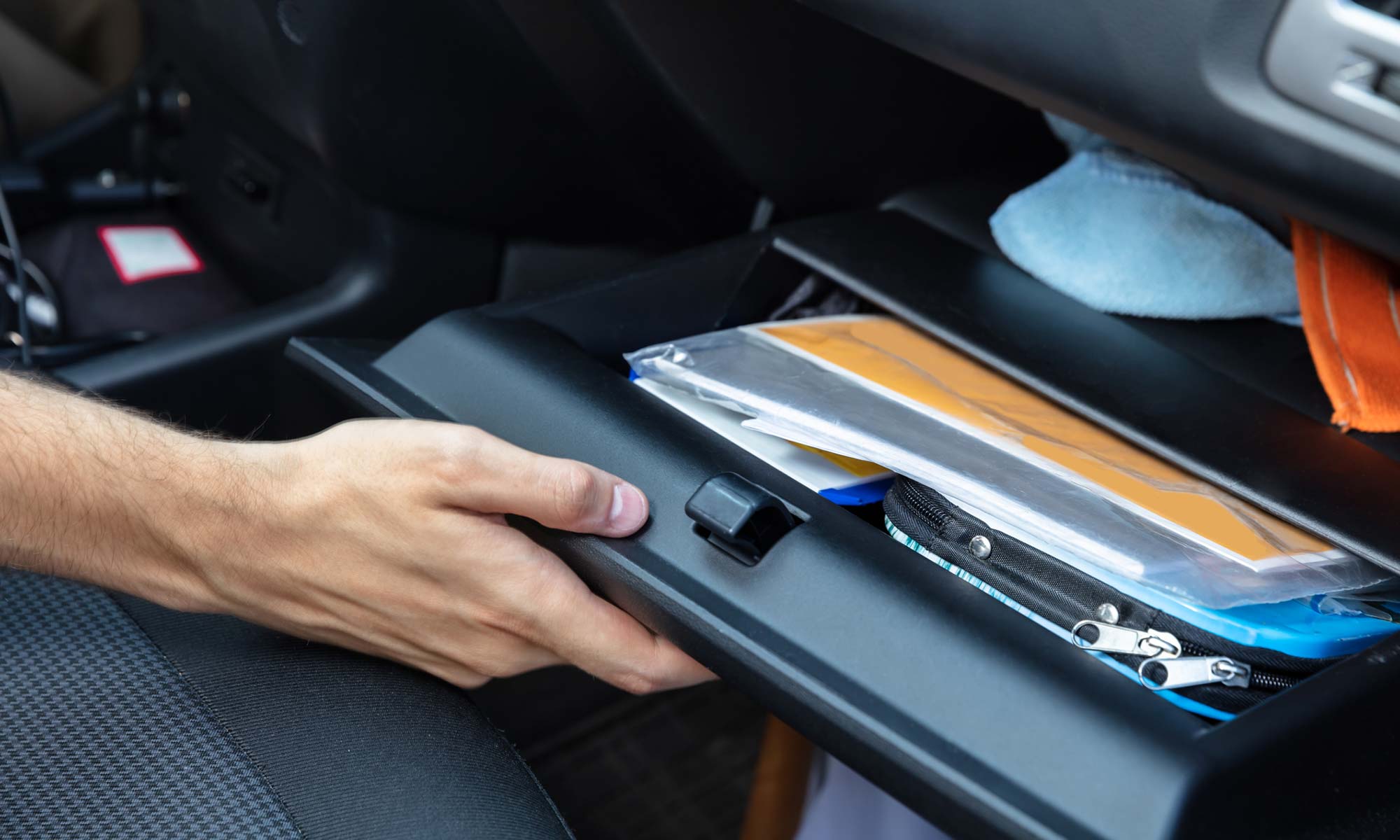 As the spring comes around and we get ever closer to the summer heat, a DIY "spring cleaning," whether your house, office or especially your car, is often on many people's to-do lists. But why stop there? After all, spring cleaning doesn't just mean making something sparkle; it can also mean organizing. 
As a car owner, you most likely know that a vehicle comes with a LOT of paperwork that can become a hassle to deal with and sort through over time. And if you happen to keep all that paperwork in your car's center console or cup holders, you could risk ruining or losing something you may need. So taking the time to identify the paperwork and car documents you should have and getting them in order can help you be certain you'll have everything you need when you need it.
What Kind of Car Paperwork Should I Have?
Whether it's new or used, every car comes with car paperwork. And the longer you own your vehicle, the more paperwork you can accumulate. So while every single piece of paper may not be entirely necessary, there are some things every driver should keep hold of. These will include your:
License & Registration
If you have ever watched a TV show or movie, this is probably an obvious one, but extremely important nevertheless. After all, there's a reason every police officer on film asks drivers for their license and registration, so it's best to keep both with you at all times. But rather than keeping at least your registration in your glove compartment, center console or hidden under the car's back seat, it's recommended you keep them in your wallet or purse alongside your license. This way, in the unfortunate event that your vehicle is ever stolen, you won't lose your registration. 
Owner's Manual
Your owner's manual is packed with useful information that's always handy to have nearby. From your car's recommended maintenance schedule to the terms of your vehicle's factory warranty, having it in your trunk or glove compartment can be a total lifesaver—especially if any lights start flashing on your dashboard.
Proof of Insurance
Being a car owner means nothing without two things: a valid license and car insurance. And while we've already talked about your license & registration, your proof of insurance will also be one of the first things a police officer will ask you for whenever you're pulled over. You'll especially need it if you ever find yourself in an accident. If you are driving without insurance, you could find yourself liable for paying thousands and thousands of dollars in damages, repairs or more. Hence, it's best to ensure your insurance policy is active and you have proof of insurance on hand, such as in your glove box or center console.
Warranty Documentation
Another one for the glove compartment, the details of your car's extended warranty can help you in the event of sudden component failure. If your protection plan also includes maintenance coverage, like the Advantage plan from Endurance, having this information or a membership card in your vehicle will help verify the details with your chosen certified auto shop or ASE Certified mechanic. 
Emissions Test Documentation
Some states enforce periodic emissions tests, which will send you documentation to prove your vehicle has passed. It's unnecessary to keep these in your vehicle, but they're useful if you ever want to sell your car. Store them somewhere in your home or your glove box or center console so you know where they are if you need them.
Service Records
Having a complete history of service and maintenance can benefit you in multiple ways. Firstly, it helps you track what work has been done to your car and what needs to be done next. Secondly, it's great for showing potential buyers just how well you've looked after everything. Plus, many vehicle service contract providers request proof of regular maintenance as part of your contract.
Your Car's Title
A car's title is an extremely valuable piece of paperwork as it helps show proof of ownership. Because of this, you must store your vehicle's title somewhere safe at home. That way, you always know where it is and can ensure it won't go missing.
How to Organize Your Car Paperwork
A lot of your car's paperwork will be useful at some point or other, so you'll want to keep it organized. Here's our suggested system for getting things in order:
1. Collect Everything in One Place
You can't organize everything until it's in one place. Root through your vehicle and any corners of your home where documents might be hiding. Once you have it all in front of you, the real fun can begin.
2. Establish a System and Split Paperwork by Category
Start by piling relevant paperwork together. Put all your insurance documents in one pile, your service contract details in another, etc. From here, you can split them into paperwork you'd like to keep in your vehicle and paperwork that's better stored at home.
3. Invest in Storage
Having piles of paperwork lying around is a sure-fire way to lose important documents, so it's essential you invest in the proper storage to keep it secure. For example, a filing cabinet or binder can house the bulk of your paperwork at home. In contrast, a simple plastic sleeve or other car paperwork organizer would be perfect for storing in your glove compartment or center console.
4. Make Copies 
Particularly, make copies of all the paperwork you'll be looking to keep in your vehicle. This way, if something happens to your vehicle, you don't need to worry about losing or damaging any of those important documents you'll be storing in it. Where possible, put the copies in your car and keep the originals at home—though this won't be appropriate for everything.
5. Declutter & Go Digital If Possible
The chances are that some of the paperwork you've held on to is no longer required. Things like old insurance policy documents can go in the shredder, freeing up space for updated documents and eliminating unnecessary clutter. In this digital age, it's only getting easier to store vehicle-related paperwork on the cloud, so do that wherever you can.
Does My Extended Warranty Have Paperwork?
If your vehicle's factory warranty has expired, it's recommended that you invest in additional protection. And while your car's manufacturer may offer an extended warranty themselves, it can often pay to shop around to see what third-party providers have to offer. 
Unlike automakers, third-party providers are often incentivized to offer better rates, better coverage, and potential perks and bonuses. But while you may always hear these kinds of plans referred to as extended warranties, third-party providers can offer coverage in vehicle service contracts (or VSCs) as only the automaker can actually "extend" your factory coverage. You can compare and contrast to find the best one for you by doing your research.
If you decide to purchase a plan, your VSC provider will give you a series of important documents, including your contract, a comprehensive list of covered/excluded components, policy documents and perhaps even a physical membership card. It may not be crucial to have these by your side, but they're undoubtedly helpful to refer to, so keeping them stored safely at home is always a good idea.
However, it's crucial to remember that any extended warranty or VSC differs from any car insurance policy. Rather than covering the costs of repair bills incurred during an incident, VSCs and warranties protect you from unexpected breakdowns and component failure. You can also find that some providers, like us at Endurance, can also offer breakdown protection plans that include essential maintenance services. 
For example, with the Advantage plan from Endurance, you can save up to $3,500 towards essential routine maintenance services like tire rotations, alignment checks, engine diagnostic exams and even help with your vehicle's next state safety inspection. Each Advantage plan will also come with several one-time services for even more coverage and savings, including a brake pad/shoe replacement, cooling system maintenance and a battery replacement.
How the Endurance App Can Help You Stay Organized
At Endurance, we understand just how frustrating all those piles of paperwork can be, so we introduced the Endurance mobile app. It puts all those important documents of your Endurance plan right in the palm of your hand—so wherever you are, whatever you're doing, the information you need is just a few taps away.
With it, you can:
See a digital copy of your Endurance coverage ID card

View the terms of your policy in full

Check your Elite Benefits details (if activated)

Request 24/7 roadside assistance

Add a car to your plan

Check the progress of any claims
But that isn't the only way we make life easier for our customers. Take our game-changing Advantage plan, for example. Not only does it provide truly comprehensive components coverage, but it's the only VSC on the market to include up to $3,500 in annual maintenance costs. We also have a Highline plan specially designed for luxury vehicles from automakers such as BMW, Porsche, Audi, Mercedes-Benz, Land Rover and more. We also provide customers with 24/7 roadside assistance, trip interruption coverage, and rental car reimbursements for free, regardless of your plan. You can also enjoy a year's worth of Endurance Elite Benefits that include bonus perks and savings such as tire replacements or repairs, key fob replacements, collision discounts and more for just a $29 activation fee, regardless of the Endurance plan you choose. 
Keep Driving with Confidence with Endurance
When it comes to your vehicle's essential documents, you want to be as organized as possible to ensure you have everything you need whenever you need it. And when it comes to unexpected breakdowns and costly repair bills, having an Endurance auto protection plan can help.
With plans starting as low as $79/month, you can rest easy knowing your car, truck or SUV is covered without worrying about breaking the bank. As an Endurance customer, the Endurance Mobile app can also help you stay even more organized by allowing you to keep all the necessary documents of your coverage policy right in the palm of your hand. You can even request 24/7 roadside assistance, check the status of your claims or learn more about the details of your Elite Benefits (if activated).
To get started in protecting your vehicle with Endurance, request a free, no-obligation quote or give our award-winning care team a call at (800) 253-8203 to learn more about how Endurance can help you. Also check out the Endurance blog where can find other articles ranging from expert auto tips, DIY maintenance how-to's, vehicle comparison guides, and more to help you be more confident for the road ahead.
More like this
How To

As vehicle technology advances, features become more convenient, and design becomes completely geared toward making things as easy as possible for you. Modern key fobs are an excellent example of..

Read More

How To

Ford may have recently decided to discontinue the Focus, but with over two decades since the first iteration was revealed to the world, you can bet plenty of them will..

Read More

How To

It is no surprise that autumn is a favorite season for car owners all across the United States. With pops of color and long shadows, there is so much beauty..

Read More