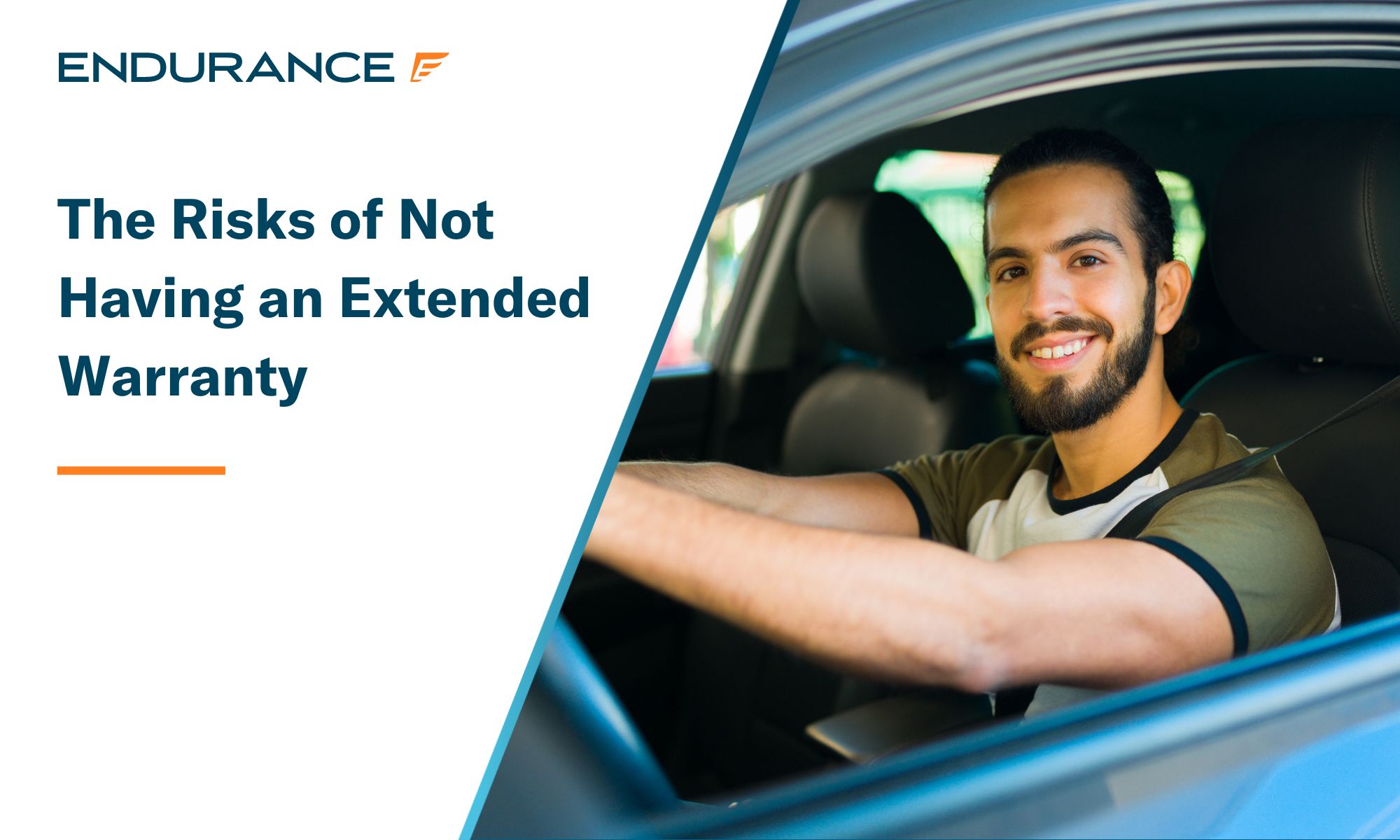 As a car owner, maintaining your vehicle is one of your most important responsibilities. Keeping up with your vehicle's routine maintenance schedule and keeping an emergency fund can help you stay protected from unexpected repair bills. While regular maintenance can help prevent mechanical breakdowns, some parts can fail unexpectedly.
If this happens during your factory warranty period, you might be covered, but if your original warranty has expired, you will be left footing the bill yourself out-of-pocket. You can get factory-like warranty coverage for your vehicle by purchasing an extended warranty. Let's look at the benefits and risks of not having an extended warranty.
The Benefits of Extended Warranties
The primary benefit of an extended warranty, or service contract, is the extended coverage period beyond the manufacturer's warranty. Most new vehicles come with a 3-year or 36,000-mile warranty, whichever comes first. An extended warranty can extend that coverage period by an additional few years or up to 100,000 miles, depending on the offer. This coverage enables you as a car owner to enjoy your vehicle for an extended timeframe without worrying about expensive repair costs.
Another significant benefit of car extended warranties is the peace of mind that comes with knowing that unexpected repairs and damages are covered. Car accidents and other unexpected damages, such as dents, scratches, and dings, are common and can be incredibly costly. An extended warranty covers most of these unexpected expenses, allowing drivers to focus on other aspects of their lives while their vehicles are being repaired.
Extended warranties also protect against expensive repair costs. Car repairs can be costly, mainly when dealing with serious issues such as engine breakdowns or transmission failure. With an extended warranty, drivers can avoid these costs and save money in the long run.
Finally, car extended warranties provide access to certified repair shops. These facilities employ skilled technicians trained to diagnose and repair various car issues. They use high-quality parts to ensure the vehicle is restored to its original condition and guarantee their workmanship. Many original factory warranties and insurance companies require you to visit the manufacturer's dealerships for repairs.
The Risks of Not Having an Extended Warranty
When shopping for a new car, or even a used car, many consumers prioritize affordability and convenience instead of considering the potential risks and expenses associated with vehicle ownership. In many cases, purchasing an extended warranty can protect drivers from unexpected repair costs, limited coverage from the manufacturer's warranty, and costly repairs that are not covered by any warranty at all.
One of the primary risks of not having extended warranty coverage is the potential for expensive repairs that can be financially devastating. Many drivers assume that their car will function perfectly for years without significant issues. Still, the truth is that all vehicles are subject to wear and tear. Even the most reliable cars can experience breakdowns or failures not covered by the manufacturer's warranty. By purchasing an extended warranty, drivers can avoid the high costs associated with major repairs, ensuring that they can enjoy their cars without worrying about unexpected expenses.
Another significant risk of not having an extended warranty is the increased likelihood of breakdowns and failures. Even minor issues can quickly escalate into expensive and time-consuming repairs if not addressed promptly, leading to frustration and inconvenience for drivers. Furthermore, without an extended warranty, drivers are often left to foot the bill for repairs that are not covered by the manufacturer's warranty, which can add up quickly and create significant financial strain.
Ultimately, an extended warranty's most significant benefit is its peace of mind. Instead of worrying about unexpected repair costs or breakdowns, drivers can enjoy their cars and focus on the many other aspects of their lives. Plus, with comprehensive coverage from an extended warranty, drivers can rest assured that they will be protected from any potential issues that may arise over the years.
Are Extended Warranties Worth It?
A cost comparison between repairs and extended warranties shows that extended warranties can be the more cost-effective option in the long run. Repairs can be expensive, and these costs add up quickly without a warranty. Extended warranties cover a wide range of potential repairs, offering peace of mind for car owners.
An additional benefit of extended warranties with bumper-to-bumper coverage is protection against inflation in repair costs. Over time, parts and labor costs increase, meaning that the same repair may be more expensive in the future. An extended warranty can lock in a fixed price for repairs, saving the car owner money in the long run. Additionally, some extended warranty providers offer transferable coverage, which can increase the car's resale value.
Extended warranties also cover repairs not covered by the manufacturer's warranty. The manufacturer's warranty is typically limited in scope, and many car owners find that unexpected repairs fall outside of this coverage. An extended warranty can bridge this gap, covering repairs not included in the manufacturer's warranty. This type of coverage is especially important if the car is out of warranty or the contract is close to expiration.
In summary, car owners can save money by purchasing an extended warranty. The warranty offers cost-effective protection against unexpected repairs and inflation in repair costs. Additionally, an extended warranty covers repairs not covered by the manufacturer's warranty, increasing the car's value and providing peace of mind for the owner. While an extended warranty may require an upfront cost, it can ultimately save car owners money in the long run.
Factors to Consider When Choosing an Extended Warranty
Buying a car is a significant investment; therefore, protecting your vehicle is essential. An extended warranty can assist in covering the cost of unexpected repairs and maintenance costs that may arise in the future. However, several factors must be considered when choosing an extended car warranty.
The coverage options and limitations are the first factors to consider when choosing an extended car warranty. It is essential to understand what the warranty covers and doesn't cover. Some warranties have comprehensive coverage, while others may only cover specific parts or systems. Choose a warranty with extensive coverage to prevent unexpected and unpleasant surprises.
Another crucial factor to consider when choosing an extended car warranty is the customer service and reputation of the warranty provider. The warranty provider should be reputable and reliable, with a history of exceptional customer service. You can research various warranty providers online to see what their customers say about their experiences with the company.
Cost and deductibles are equally critical factors when choosing a car extended warranty. It is essential to read the fine print, consider the warranty cost, and ensure it fits your budget. Additionally, consider the deductibles associated with the warranty, as they vary among third-party providers. A higher deductible may result in lower monthly payments; however, it may be less cost-effective in the long term if you need to make a claim.
Reviews and feedback from other customers are invaluable when choosing an extended car warranty provider. You can read independent reviews online, which offer an unbiased opinion on the provider's services. These reviews can help you decide whether the company's customer service is reliable and trustworthy. It will also prevent you from being scammed by low-quality extended warranty companies.
Protecting Your Car With Endurance Warranty
There are many reasons to choose an extended warranty to protect your vehicle. As cars age, various parts will fail and start to deteriorate. Ensure your car and wallet stay protected from unexpected repair bills with a vehicle service contract, also known as an extended warranty, from Endurance.
With Endurance, you'll receive a comprehensive range of benefits that resemble the original factory warranty. Our vehicle protection plans come with a 30-day money-back guarantee, so you can rest assured that you're not locked into anything. Additionally, you'll get 24/7 roadside assistance, towing services, and rental car reimbursement – no matter where you are. You can rely on Endurance to have your back when you need it the most.
All new customers receive Elite Benefits for one whole year (a small activation fee applies). These benefits include complimentary key fob replacements if lost or stolen, a lifesaving flat tire repair if you experience a blowout on the road, and up to $500 in collision discounts. Furthermore, we offer $1,000 in total loss protection, ensuring you won't be stranded if your vehicle succumbs to a catastrophic event.
Request a free, no-obligation quote for more information about Endurance auto protection plans. You can also shop online to see your price or speak directly with an award-winning Endurance customer service representative to customize your coverage. Call (800) 253-8203 today.
Visit the Endurance blog for more articles, from expert auto tips, make/model comparisons, FAQs, and other informative and helpful topics.
More like this
Extended Warranty

The advantages of having an extended warranty can't be overstated when a surprise car repair pops up. Coverage can make a difference during a breakdown, thanks to protection against expensive..

Read More

Extended Warranty

Nothing beats being able to hit the open road and head wherever you like, whenever you like. Plenty of drivers fall in love with our vehicles, maintaining them with total..

Read More

Extended Warranty

There's a lot to get excited about buying a new or used car, but one feature that often gets overlooked is the manufacturer's warranty. Understanding this coverage helps owners maximize..

Read More