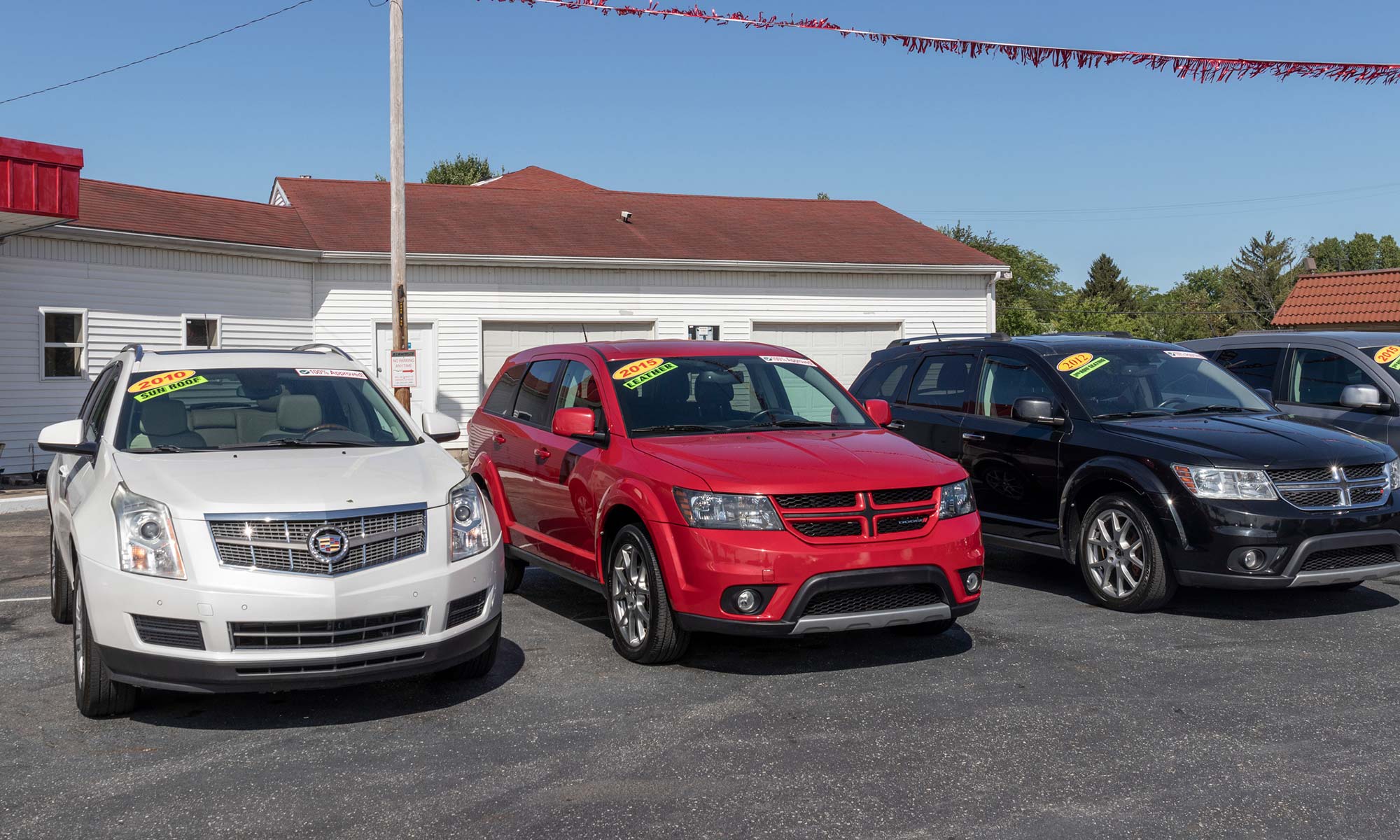 Whether you're a car owner or not, you've probably heard the term "extended warranty" come up sometime or another. But while your first thought may be to question whether or not someone may actually need one or if auto warranties, in general, are just scams, the truth is much simpler than that. In fact, there is no "secret sauce" when it comes to an extended warranty; it's just that some companies don't openly talk about how their product works (or doesn't work). Instead, with the right provider, you can be confident you're getting legitimate, award-winning warranty coverage for your vehicle without having to worry about expensive repair bills.
And for those who are car shopping for a used vehicle, or if you're someone who's had your car for years, having a warranty cover you from those costly repair bills and breakdowns can be vital, as many older vehicles can be more prone to repairs. But while a warranty can help, there are a few things that owners of used cars may not be aware of when it comes to getting the coverage they're looking for, which is where it always helps to learn everything you can about a used car warranty.
Can Used Cars Get Warranties?
First off, yes, used cars can get warranty coverage, but are they really worth it? Well, the short answer is a resounding: yes! While a pre-owned vehicle may be "new to you," it was still used by another driver, and those extra miles on the engine make it that much more important to get covered from possible breakdowns and repairs. After all, while a used car can often be a cheaper option for anyone car shopping on a budget, they can be more prone to issues than a brand new vehicle. Plus, depending on how old the vehicle is, you likely won't be able to benefit from the car's manufacturer's warranty that it may have had when it was brand new. 
And sure, while many services can check the history of a certified pre-owned car, it isn't a crystal-clear look into the car's history and how it was treated. Because of this uncertainty, many drivers purchase a warranty for their used cars to help give them coverage similar to their car's original factory warranty. However, where you find that coverage will depend on your vehicle.
For some automakers, extended warranties may only be purchased when the original warranty is still active, which means if/when you purchase a used vehicle past its coverage, you'd be out of luck. Instead, when this happens, you can find coverage from third-party auto warranty providers like us at Endurance, CarShield, CARCHEX and more. 
However, while you often hear plans from places like us called "extended warranties," the truth is that only an automaker can "extend" a car's original warranty coverage. Because of this, plans from third-party warranty companies are actually vehicle service contracts (VSCs). Still, essentially they act in the exact same way as a car's original factory warranty and will often be referred to as extended warranties within the industry. And when it comes to finding coverage for your used car, there are a few things that you should be aware of.
5-Things You May Not Have Known about a Used Car Warranty:
When searching for a warranty for your used car, knowing the basics about them can help you get decent coverage for your car. But, by knowing the ins and outs of used car warranties, like five of the biggest things most car owners may not have already known, you can be sure that you're getting the exact coverage you and your vehicle need: 
 Cheaper than Dealership Plans

: If you're a car shopper looking for a used vehicle, it always helps to be prepared to know what you're looking for, and we're not just talking about the specific make or model you want. Mainly, dealers will always try to get you to add warranty coverage to maximize their sales. But while it may be helpful, these plans are marked-up to increase profits. Instead, buying directly from a third-party provider like us at Endurance can give you the same kind of

coverage at a lower price

.

 Discounts are Available

: Even after doing the proper research and thinking you may have found the best price, there's a chance that you could get an even better one. Mainly, like how car dealerships have sales are certain points throughout the year on their used and 

new car inventory

, the same goes for warranty coverages. So while you may think you're getting the best deal, do a little more research and see if your chosen provider may have any deals coming up. 

 $0 Deductible Plans Exist

: Like filing a claim with your 

car insurance

, when 

filing a claim

 for repairs with a warranty, you are usually required to pay a deductible, usually around $50 or $100. But with the right plan, you can still get the same help when it comes to trips to the repair shop while paying a deductible as low as $0. However, like any contract, be sure to check the fine print to ensure your chosen policy has a listed deductible that fits your budget. 

 Buy Early, Save Money

: While there may be deals available at certain times of the year, your car's mileage can also help determine how much you may be able to save on a warranty. Mainly, as cars tend to be more prone to repairs the more they are driven, the earlier you put coverage on your vehicle (or the lower the mileage), the cheaper your plan will be. 

 You Can Save on Maintenance

: Because used cars have extra mileage, staying up-to-date with 

routine maintenance

 is a must to help keep them running for longer. But, by purchasing the right used car warranty, like 

the Advantage plan

 from Endurance, you can get breakdown protection AND save up to $3,500 on vital maintenance needs like oil and filter changes, alignment checks and more. Even vehicles up to 20 years old with well over 200,000 miles can get covered with Advantage. So while a new car warranty will always help with repairs, it most likely won't help with the maintenance needed to keep the car running. Instead, getting a used car warranty from Endurance can help give you peace of mind regarding repairs and your car's maintenance needs.
Protect Your Used Vehicle with Endurance
Used vehicles can be a great way to get a reliable car without breaking your budget. But as with anything, the more something has been used, the quicker it is to potentially break down. And when it comes to car repairs, unexpected breakdowns could cost you hundreds or thousands of dollars. That's why having the coverage of an Endurance auto protection plan, including plans that can offer basic powertrain warranty coverage starting with monthly payments as low as $79, is a must for any used car owner—especially for those with older, high-mileage vehicles.
In fact, with Endurance, you can get coverage for vehicles up to 20 years old and unlimited miles. That means if you have a 13-year-old Honda Civic with 180,000 miles, an 18-year-old Ford F-150 with 210,000 miles or a 6-year-old Hyundai Sonata with 80,000 miles—Endurance will have you covered. Even owners of select high-end luxury vehicles, including those from automakers like Mercedes-Benz, Porsche, Maserati, Land Rover, and more, can get covered with Endurance. 
But that's not all, as every Endurance customer can get even more peace of mind on top of covered repairs with complimentary benefits like 24/7 roadside assistance and towing, trip interruption coverage, and rental car reimbursements. You can even activate a full year of Endurance Elite Benefits, including even more perks and savings like tire replacements or repairs, collision discounts and more.
Don't wait until you're dealing with an unexpected breakdown; protect your vehicle today by requesting a free, no-obligation quote or give an Endurance customer care team member a call at (800) 253-8203. You can find even more articles answering more of your extended warranty FAQs and articles on other topics like DIY maintenance tips, vehicle buyers guides, and more by visiting the Endurance blog. 
More like this
Extended Warranty

The advantages of having an extended warranty can't be overstated when a surprise car repair pops up. Coverage can make a difference during a breakdown, thanks to protection against expensive..

Read More

Extended Warranty

Nothing beats being able to hit the open road and head wherever you like, whenever you like. Plenty of drivers fall in love with our vehicles, maintaining them with total..

Read More

Extended Warranty

There's a lot to get excited about buying a new or used car, but one feature that often gets overlooked is the manufacturer's warranty. Understanding this coverage helps owners maximize..

Read More