As the luxury division of GMC, few automotive brands have as rich and deep in history as Buick. Founded in 1903, Buick quickly rose in popularity thanks to the brand's style and general reliability. In fact, according to RepairPal, Buick rates as the 13th most reliable car brand of out 32 total automakers while also having a below-average estimated annual repair cost of $608.
Yet, despite being in the top half of all vehicles in terms of reliability, there are still several issues that owners of any used or brand new Buick should be aware of. Learning about these potential issues, what can cause them and their overall costs can help you determine if a Buick may be the right vehicle for you.
Buick Encore
Repairs
Despite first making its debut at the 2012 Detroit Auto Show, the Buick Encore has become one of the brand's most popular models, and for a good reason. Despite ranking as the 5th most reliable vehicle in its class (out of seven), the Encore still boasts an impressive 4.0 out of 5.0 reliability ranking, according to RepairPal. The Encore also features well below average annual repairs, costing owners just $466, making it one of the brand's most reliable models overall when it comes to unexpected visits to an auto repair shop. 
If you do experience an issue with your Buick Encore, some of the most common can include:
Issues with the air conditioning system

Odd vibrations or rumbling noises

Faulty window electronics
Causes
When it comes to a vehicle's air conditioning system, several factors can cause a breakdown. For Encore owners, these issues can range from large to small, with some of the most common being dirty air filters preventing clean air from flowing, a faulty A/C compressor, or a lack of refrigerant.
Encore owners also noted another common issue regarding vibrations or rumbling under the hood when driving. This can be caused by various issues ranging from loose bolts to a bent or defective wheel. Lastly, issues with the Encore's powered windows often arise from electrical problems with the regulator motor built into the vehicle.
Repair Costs
Cabin Air Filter Replacement:

$49-$76

Vibration Diagnosis:

$88-$111

Window Regulator Motor Replacement:

$298-$328
There are also several other potential repairs to expect when owning an Encore. Per RepairPal, these can include: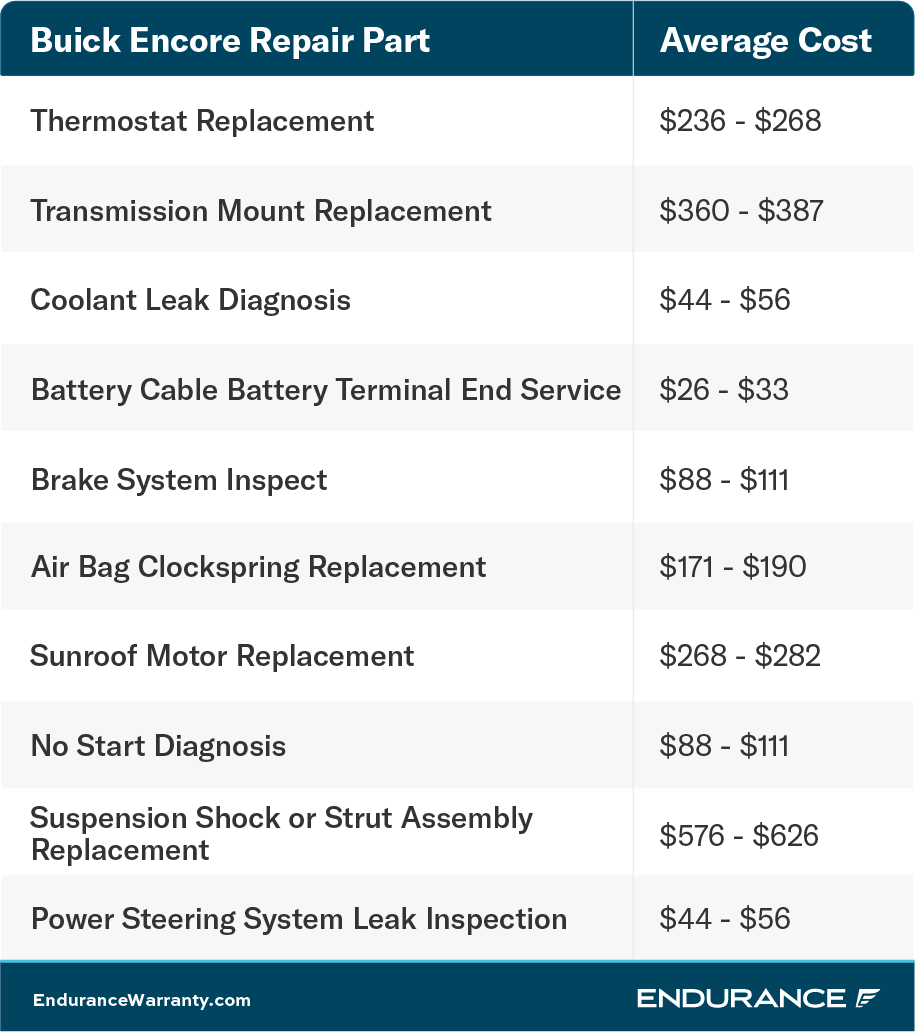 Buick LaCrosse
Repairs
Despite being discontinued in 2019, the Buick LaCrosse can be a great choice for drivers looking for a luxury midsize vehicle without paying the high costs of a "brand new" vehicle. In total, 2019 LaCrosse owners can expect a vehicle capable of getting up to 25 mpg city and 35 mpg highway, seating up to five and the choice between finding either a 6-speed automatic transmission or a 9-speed automatic transmission. The LaCrosse also has a slightly higher average annual repair cost of $569 when compared to other Buick models while also ranking as just the 15th most reliable vehicle out of 24 in its class with a 4.0 rating.
For LaCrosse owners, some of the most common issues you can expect may include: 
Braking issues

Windshield wipers no longer working properly

Powered seats not adjusting
Causes
For the LaCrosse, a leading cause for brake issues revolves around the vehicle's brake line. This important braking system component allows your LaCrosse to turn the amount of pressure you put on your brake pedal into stopping power. If there is an issue with the brake line, it can directly impact your vehicle's ability to stop safely. 
Another common issue for the LaCrosse occurs when you flip your windshield wipers on and nothing happens. There is more than likely a problem with the wiper motor that controls this movement when this occurs. Similarly, problems with the control module of a powered seat can often make it impossible to adjust the seats in your LaCrosse.
Protect your LaCrosse or any other vehicle's brakes, engine, transmission or any other vital components from the cost of unexpected breakdowns and repairs with an Endurance auto protection plan. You can even save up to $3,500 when it comes to your car's essential maintenance needs, such as getting up to three oil and filter changes, tire rotations, engine diagnostic exams and other services covered with EnduranceAdvantage™, our most comprehensive protection package. 
Repair Costs
Brake Line Replacement:

$160-176

Windshield Wiper Motor Replacement:

$212-$249

Power Seat Control Module Replacement:

$193-$211
Other repairs that LaCrosse owners should also be aware of can include: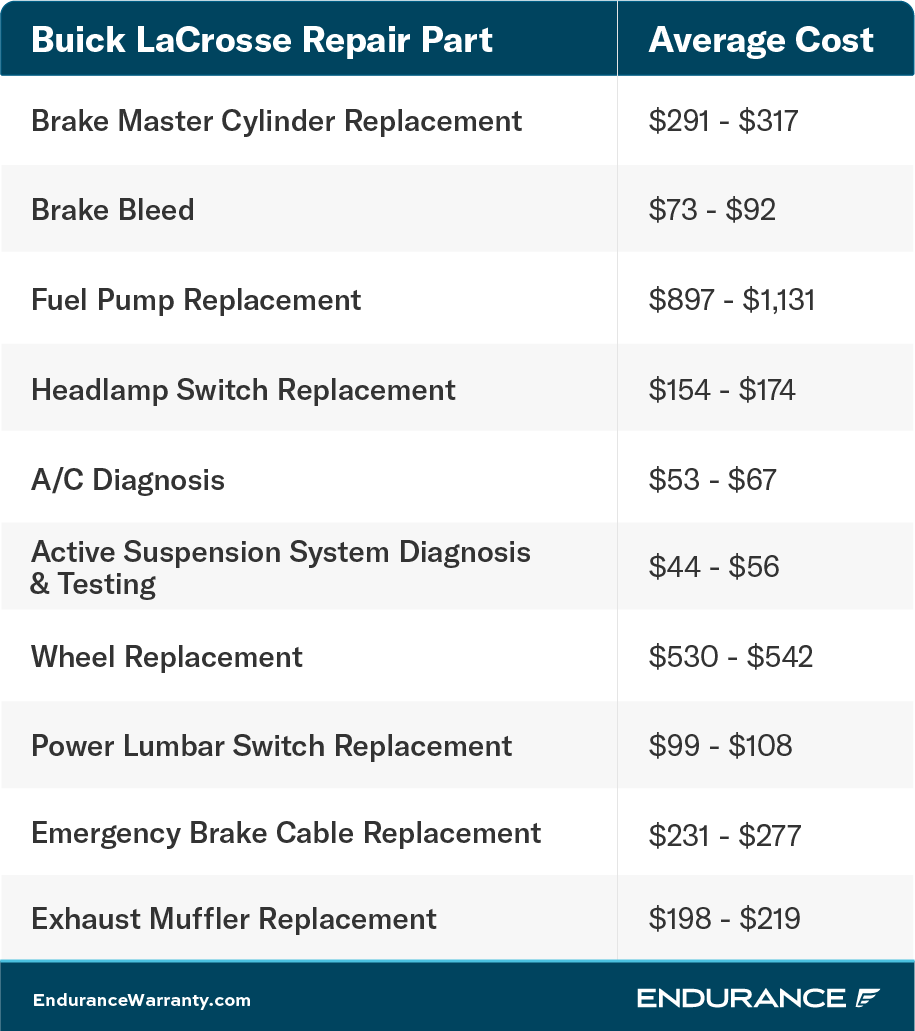 Buick Envision
Repairs
The Buick Envision was first introduced as a concept back in 2011 as a small crossover vehicle and was designed to appeal to drivers looking for a more "upscale" Buick. Overall, the 2022 model year Envision features an impressive 24 miles per gallon (mpg) city and 31 mpg highway, seating for up to five and some spacious cargo room. The Envision is also one of the cheapest vehicles on the road today in annual repairs and maintenance costs at just $233, which is a vast difference compared to the average cost across all makes and models of $652 per year.
Despite its overall lower cost of annual repairs, there are still some potential repairs to be aware of, including:
Issues with engine temperature regulation
Causes
Regardless of the make or model car you have, it's essential to avoid overheating. To do this, your car's engine is cooled thanks in part to an intricate system that includes a thermostat. This thermostat constantly reads the engine's temperature and, when it reaches a specific temperature, signals to various valves in your engine to open, releasing a fluid called coolant that absorbs the heat and transfers it from the engine. For Envision owners, thermostat issues can occur, causing troubles with the vehicle's internal temperature regulation not working correctly.
Powertrain issues are also somewhat common for the Envision and can have a range of causes. Due to this, the best way to determine the issue and the potential remedies is with a general diagnosis. Lastly, some Envision owners have also noted issues regarding leaking fluids. If you notice that your Buick Envision appears to always be low on fluids such as engine oil, coolant or transmission fluid despite you refilling them recently, you may have a leak. To determine the cause, you may need another inspection from a certified repair facility or ASE Certified mechanic.
Repair Costs
Thermostat Replacement:

$173-$191

Powertrain Control System Diagnosis:

$44-$56

Transmission Leak Inspection:

$44-$56
Other potential repairs that Envision owners can also expect can include: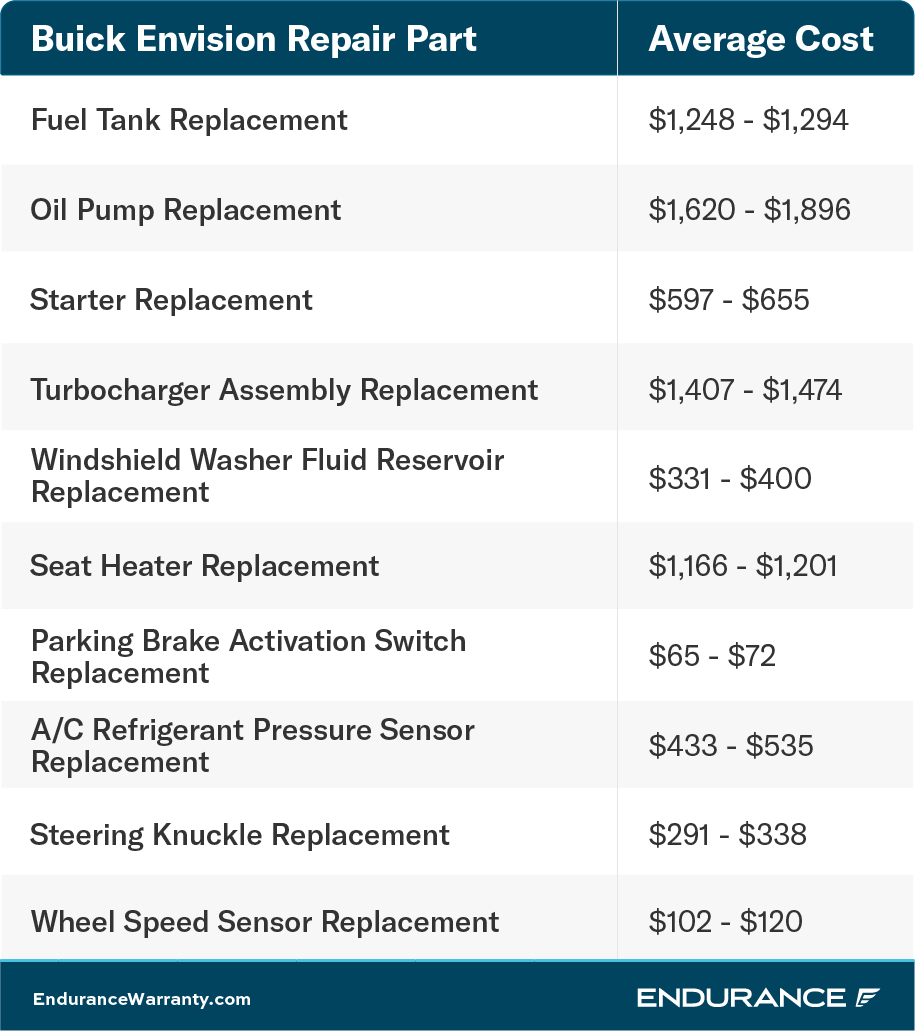 Buick Verano
Repairs
Along with the LaCrosse, the Buick Verano is another discontinued model that has since become a go-to option for a used, luxury compact car. If you are considering purchasing a Verano, you can expect a vehicle with 21 mpg city and 31 mpg highway, seating for up to 5 and an engine capable of producing 180 horsepower (hp). 
The Verano is also a fairly reliable vehicle, ranking 15th out of 36 vehicles in its class in overall reliability per RepairPal, costing drivers $478 per year in annual repair and maintenance costs. Some of these repairs can include:
The ve

hicle horn not making any noise

O

dd vibrations or rumbling for areas of the vehicle

The sunroof not functioning properly
Causes
For the Verano, owners have noted that the electrical wires that allow the car's horn to have the power to "honk" can be faulty, resulting in an entirely new horn being needed. Additionally, other owners have indicated issues regarding vibrations and rumblings within the vehicle. Such as the similar issue found in the Encore, this can have many causes, so a diagnosis from a professional is most recommended. Lastly, for Verano owners, electrical problems that impact the motor of the Buick Verano's sunroof can cause it to fail to open. When this happens, you'll most likely need a full motor replacement.
Repair Costs
Horn Replacement:

$105-$123

Vibration Diagnosis:

$88-$111

Sunroof Motor Replacement:

$401-$447
More potential repairs that Verano owners should be aware of can include: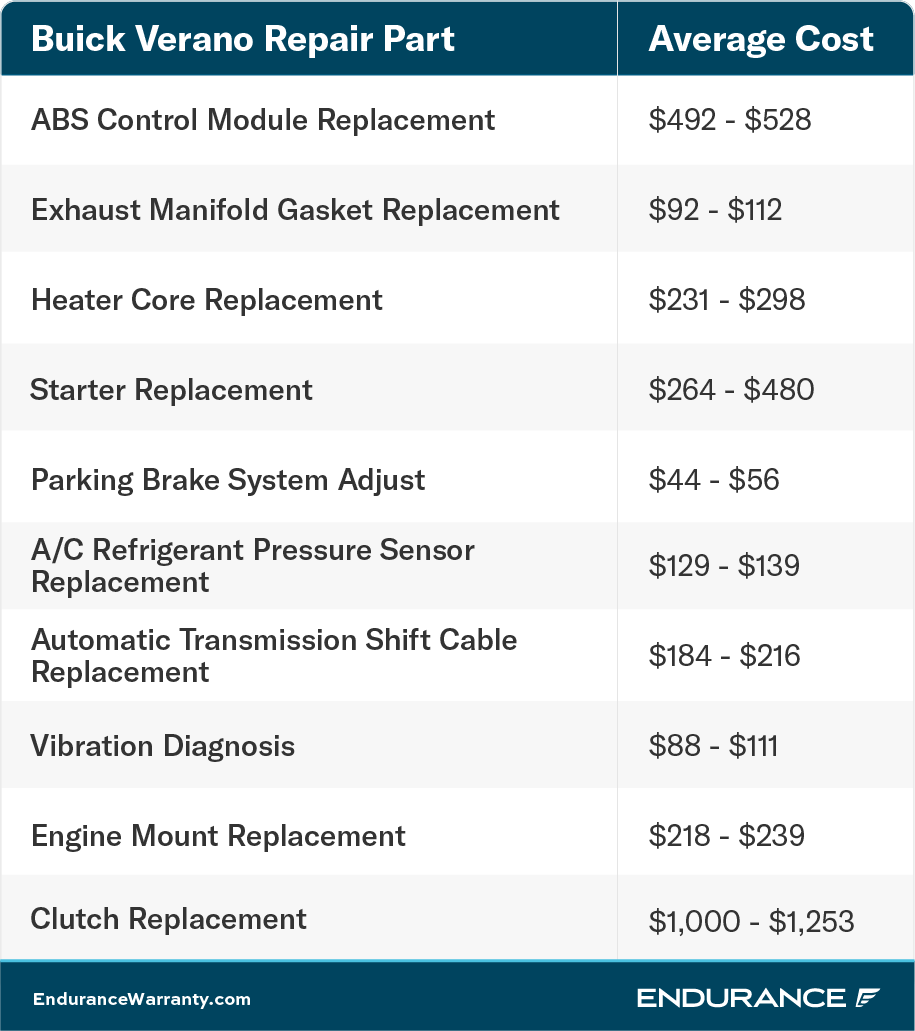 Protect Your Buick with Endurance
No matter the model of Buick you own, staying up-to-date when it comes to its recommended maintenance schedule is key in helping it last for years to come. With an EnduranceAdvantage auto protection plan, you can save up to $3,500 on routine maintenance services, including oil and filter changes, engine diagnostic exams, tire rotations, alignment checks and more. Not only that, but each EnduranceAdvantage package also comes with several other special, one-time services, including cooling system maintenance, a front or rear wiper blade set replacement, a brake pad/shoe and others for even more coverage and savings. 
Each new and existing Endurance customer will also automatically receive 24/7 roadside assistance as standard with the purchase of any Endurance plan. Customers will also become eligible for a year's worth of Elite Benefits when purchasing an Endurance protection plan. Simply pay a small activation fee and enjoy a full year of extra perks and savings such as up to two tire repairs or replacements, collision discounts, key fob replacements and more.
To get started in learning about how Endurance can help protect you and your Buick, you can request a free quote or give us a call directly at (800) 253-8203. Our Learning Center can also be a great resource where you can find even more articles on automotive topics such as expert auto tips, vehicle buying guides and more to help give you confidence for the road ahead.
More like this
Make/Model

If you're the owner of a Honda Accord, you certainly aren't alone. The brand has a great reputation for producing some of the most reliable cars on the road, with..

Read More

Make/Model

The last thing any Ram driver wants is to hear an odd noise while driving down the road, followed by a mechanical issue within their vehicle. Unfortunately, mechanical breakdowns are..

Read More

Make/Model

Finding yourself in the position where you are notified of a recall affecting your vehicle is never a fun situation, but it should require immediate action on your part. Depending..

Read More