Since 1911, there have been few automotive brands as iconic as Chevrolet. Along with their sister company, General Motors, the 'Chevy' name has become known for providing drivers with upscale features at a mainstream price that competes with the likes of Ford, Dodge, and Buick. One vehicle that helped Chevy achieve their legendary status among American motorists is the Impala.
While Chevy discontinued the Impala in 2020, the sedan remains a smart option for used car buyers searching for reliable transportation. But, as you should do before any major purchase, it's essential to understand that there is more to owning an Impala than just the sticker price. Accounting for expenses such as essential maintenance, unexpected repairs, and potential recalls must be factored into the true cost of owning an Impala — or any — vehicle.
History of the Chevy Impala
The Impala's legacy dates back to its debut during the 1958 model year when it debuted alongside classic cars like the Bel Air Impala Sport Coupe. Developed to celebrate GM's 50th year of production, it debuted at the General Motors Motorama show and quickly became the automaker's best-selling, full-size sedan.
Throughout the Impala's ten generations, such as introducing the SS appearance package in 1960, Chevrolet has focused on delivering value and comfort, while models like the SS would thrill performance enthusiasts. Even specially built versions would serve numerous police departments and taxi companies across the country for decades.
Who Could Benefit From An Impala?
After undergoing a redesign in 2014, the 2015 to 2020 model year Impalas offer drivers spacious seating and ample trunk space, among other standout features. Overall, the Impala combines the look and feel of a luxury sedan with the practicality of a family vehicle. It is also a great, low-cost option if you need space for your family but don't want a large van or SUV. This makes it one of the best choices for people who want to haul around the kids without sacrificing style for price. This sedan also gets high marks for a smooth and comfortable ride.
Depending on the model year, those searching for a new vehicle can choose from three different trims and three engine options, such as the 2014 Impala hybrid. While only offered for one year, its excellent fuel economy rating of 35 mpg on the highway makes it a great choice for those looking for a used vehicle that is also eco-friendly. Even standard trim levels can offer drivers an impressive 31 mpg on the highway, with a 305 horsepower V6 engine capable of 29 mpg.
Along with helping drivers save on trips to the gas station, the 2014 and newer model year Impalas consistently rank near the top in terms of overall reliability. In fact, Impalas rank as the 5th most reliable vehicle out of 12 in its class, according to RepairPal. Some later model-year Impalas may still benefit from Chevy's original factory warranty, which provides three years/36,000 miles of bumper-to-bumper coverage or five years/60,000 miles of powertrain protection.
Regardless of the model year you choose, you can get peace of mind when it comes to protecting your Impala from the cost of unexpected repairs with an auto protection plan like Advantage. Along with providing comprehensive breakdown protection, each Advantage package can also help you stay up-to-date with your Impala's preventative maintenance needs with up to $3,500 in regular maintenance services.
Common Chevy Impala Maintenance Procedures
Preventative maintenance ensures any vehicle wears properly and stays running longer. Impala owners can expect to pay $568 on average each year to maintain their vehicle, according to Repair Pal. To help their drivers do this, Chevy recommends several essential services to be done, such as rotating the tires and changing the oil and filter every 7,500 miles. Replacing spark plugs and your engine air filter is vital and should occur at 90,000 miles. For a more comprehensive breakdown of your Impala's recommended maintenance schedule, your owner's manual should be able to help you.
Along with the maintenance costs, there have been a few issues reported with Impalas over the years. The distributor assembly has a history of failing and needing to be replaced. With an average cost between $461 and $677, this is one of the more expensive repairs you might face after purchasing a Chevy Impala. It is also known for shifter malfunctions that result in the key getting stuck in the ignition. This is due to a wire on the solenoid in the shifter that routinely disconnects. This will usually cost between $217 and $252 to fix at a certified repair facility or an ASE Certified mechanic.
The Impala is also known for developing erratic shifting in the automatic transmission. This is due to a faulty transmission pressure control solenoid. The solenoid controls when the vehicle is supposed to shift, and when this wears out, you could end up with shifting issues, even when driving at speed. This solenoid usually costs between $750 and $760 to replace, though if you purchase an Impala built after 2015, you are less likely to face this issue.
According to RepairPal, other potential repairs that Impala owners may be faced with can also include: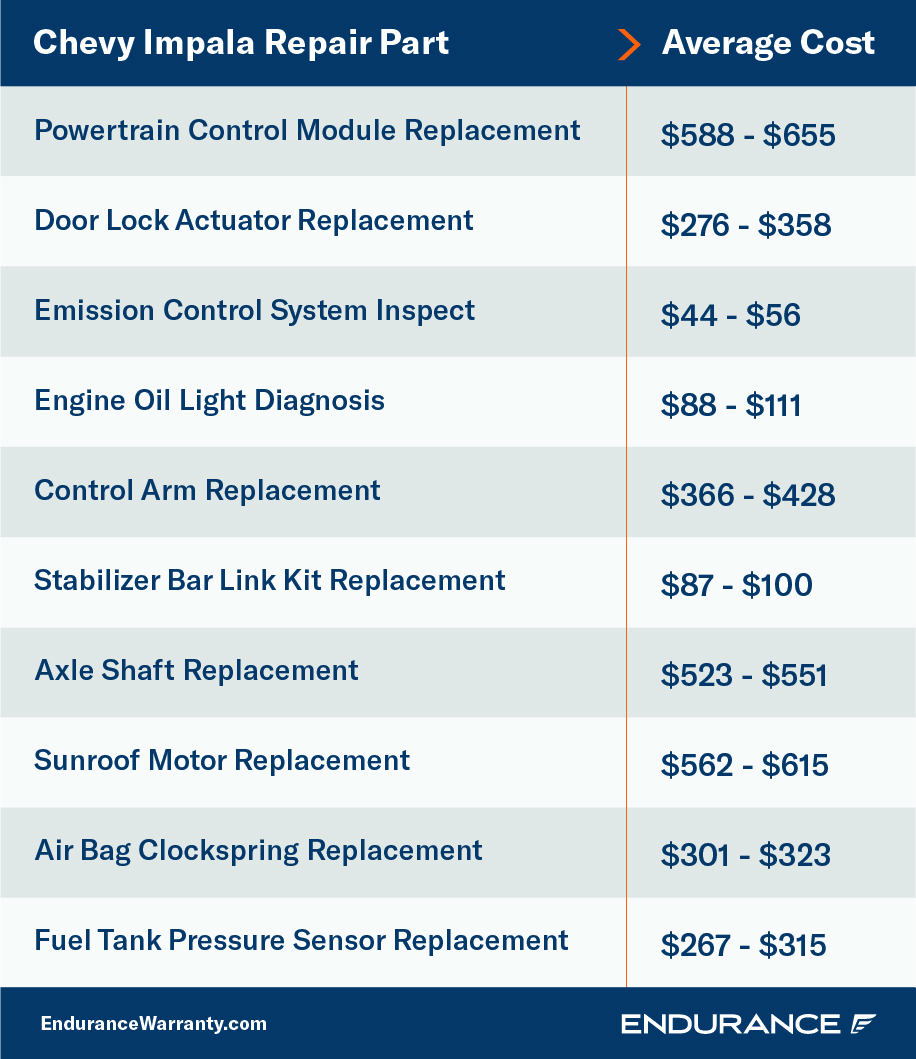 Along with staying up-to-date on maintenance, another inevitable part of car ownership is dealing with the potential of a manufacturer recall, and the Impala is no exception. The 2014 model year had 12 recalls, centering on parking brakes that failed to disengage fully, malfunctioning airbags that won't correctly deploy and problems with the power steering control module. Some of these issues are also carried over into 2015 Impalas which had three recalls. The Impala didn't see a recall again until the 2018-2019 model years when a single notice was issued for poor rear brake performance due to a malfunctioning caliper.
The easiest way to avoid maintenance costs is with a vehicle protection plan like the Advantage plan from Endurance Warranty. With up to $3,500 in maintenance coverage, including tire rotations and engine diagnostic exams, you can rest easy knowing essential services are included with no extra out-of-pocket expenses. Endurance customers can also receive 1 year of Elite Benefits by purchasing any protection plan and a small activation fee. Perks include 24/7 roadside assistance, tire repair/replacements, and more.
What Is the Best Impala Model Year?
If you are considering purchasing a used vehicle, a 2016 or later model year Impala is one of the best options available on the user car market. As part of the Impala's tenth generation (2014-2020), the models showcase better safety features like airbags and stability control and are much more in line with the standards of late-model sedans and SUVs. They also feature significantly more modern styling than some of the previous generations of the Impala.
This generation of Impalas was also the first sedan in 20 years to win a top score of 95 out of 100 from Consumer Reports and featured a famously reliable 3.6-liter LFX V6. It also had a six-speed automatic transmission with the same shift solenoid issues as previous transmissions.
Chevy Impala Safety Features
The suite of standard safety features on the Impala makes it an excellent choice for those with families or people who want the security of a full-size sedan. It has an advanced anti-lock brake system for complete control on the road and stability control for responsive handling. These features make it a good option if you want the smooth feel of a sedan while still maintaining a connection with the road.
All tenth-generation Impalas are equipped with a complete airbag system that features 10 airbags throughout the vehicle, all connected to GM's OnStar. This service provides automatic crash notifications and an emergency assistance button. The airbags are located upfront, on the sides, overhead, and in the knee position.
An optional Safety Package, which comes standard on the LTZ trim, includes forward collision alerts, lane departure warnings, blind-spot monitoring, and rear cross-traffic alerts. Beginning with the 2015 models, the top-tier Impala LTZ (which becomes the Premier in later years) includes forward collision mitigation with automatic braking on models purchased with optional adaptive cruise control.
Impala Frequently Asked Questions (FAQs)
Which Impala year lasts the longest?
The Impalas with the most longevity are the tenth-generation Chevy Impalas, with the 2015 and 2019 model years often getting great reviews. These models are the most up-to-date and utilize all the safety features in a newer vehicle. Chevrolet took everything they learned from the issues with previous incarnations and designed a vehicle with no recalls and very few reliability issues.
Which Chevy Impala year should I avoid?
While the Chevy Impala is an overall reliable vehicle for its class, there is still one model year to avoid. Specifically, due to the number of reported safety recalls, the 2014 Impala is one car buyers should reconsider before purchasing.
What trim levels are available for the Chevy Impala?
Specific trims and features vary from 2014-2020:
LS: The entry-level Impala includes a four-cylinder engine plus extra niceties like automatic headlights and a power driver's seat. The LS trim and four-cylinder engine are dropped for the 2020 model year.
LT: The mid-tier model adds more creature comforts like automatic climate control. Upgrades like a six-cylinder engine and advanced safety gear are optional.
LTZ/Premier: The top Impala includes leather seating and other luxury features. Most safety extras are standard, too. The Premier replaces the LTZ beginning in the 2017 model year.
What trim levels are available for the Chevy Impala?
Despite being one of the most popular vehicles ever made, Chevy discontinued the Impala due to a change in the landscape of the American car market. There is less demand for large, full-size sedans than there used to be. With the advent of hybrids and electric vehicles, four-door sedans are selling less and less, and Chevrolet has begun to move toward small hybrid and electric vehicles like the Chevy Bolt.
Keep Your Impala Running Smoothly with Endurance
No matter your year or model of Chevy Impala, you can save on the cost of maintaining your vehicle with the help of an Advantage auto protection plan from Endurance. Along with providing you with comprehensive breakdown protection, each Advantage plan also comes with up to $3,500 in maintenance services, including up to 3 oil and filter changes, alignment checks, diagnostic exams and more. Plus, you can get access to exclusive, one-time extras like a battery replacement, cooling system maintenance and more — at no additional cost to you.
You can also find even more coverage and savings with one year of Elite Benefits. Offered with the purchase of any Endurance protection plan and a small activation fee, you can get access to several additional perks. These include 24/7 roadside assistance, key fob replacements, tire repairs/replacements, collision discounts and more.
To learn more about how Advantage or any other Endurance plan can help you and your vehicle, request a free, no-obligation quote or call us at (800) 253-8203. Be sure also to check out our Endurance blog for more articles on topics like vehicle buyer's guides, expert car tips and others.
More like this
Make/Model

As the world gradually transitions to renewable energy sources, the adoption of e-vehicles is on the rise, and Tesla has been leading the charge. Their range of electric cars is..

Read More

Make/Model

Originally formed from the remnants of the Henry Ford company, Cadillac is arguably the most quintessential American car brand in existence. Founded over 100 years ago, they were the first..

Read More

Make/Model

Buying a new car or a used car can be a tricky process. The choice of vehicles is almost endless, and while it can be tempting to go for the..

Read More