Protect your vehicle with custom coverage from Endurance.
Shop Now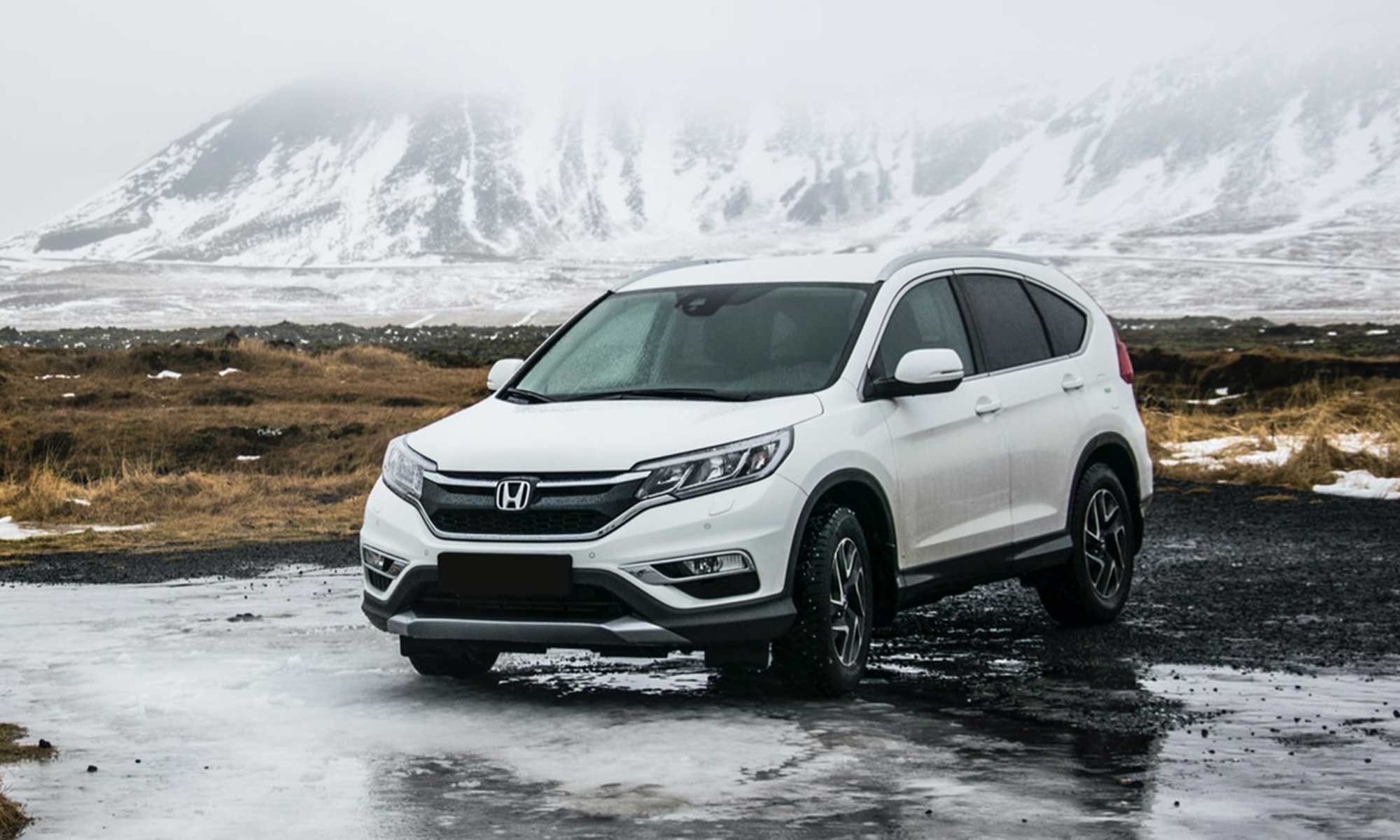 Dive into our guide to the Honda CR-V if you're thinking about buying one as your next SUV. It's a great choice and one of the most popular crossover SUVs in the USA, but when you're investing in a new vehicle it's always best to do your research and get to know the model first.
Our guide takes you through all the key information—its history, the best model years, and the costs of ownership.
Honda CR-V: An Overview
Why Is the Honda CR-V So Popular in the USA?
Since hitting the US market in 1997, the Honda CR-V has been synonymous with outstanding reliability, comfort, and accessibility, as well as decent fuel economy and generous cabin and cargo space. Honda CR-V reviews have been consistently positive over the years. One of the mainstays of the compact SUV market for nearly two and a half decades, it's popular with everyone from small families to individuals of all ages.
In the first three quarters of 2020 alone, over 235,000 units were sold in the USA, helping it rank in at number 5 on the list of the country's most popular cars, according to Car and Driver. This is actually a drop in sales for the CR-V, but nevertheless, the Toyota RAV4 is the only non-pickup that has sold more so far in 2020.
What Is the Best Honda CR-V Model?
Many Honda CRV owners put the 2005 and 2006 model years straight to the top of the list of used CR-Vs. There were no significant changes in the 2006 model, but its main advantage is that it's likely to have slightly lower mileage and less wear and tear.
One to keep an eye on is the 2019 model—it's seen very few complaints to date and you'll likely be able to get a good price on it now newer models are available.
History of the Honda CR-V: A Timeline
The CR-V (standing for 'Comfortable Runabout Vehicle') was first released in the USA in 1997, essentially reimagining the Civic as a compact crossover SUV. In the two-plus decades since, it's become one of our most popular vehicles. We've seen five generations of the CR-V to date—here's how the model has evolved:
1997-2001: Spacious, boxy, and coming with all-wheel drive as standard, the first-generation CR-V features a rear-door-mounted spare tire and a 126hp, 2.0L 4-cylinder engine. It firmly establishes itself as one of the leading compact SUVs.
2002-2006: In 2002 the CR-V is restyled with a more refined exterior, and given more power with a 160hp, 2.4L 4-cylinder engine. Manual transmission is available for the last time in the second-generation CR-V.
2007-2011: The third-generation CR-V facelift goes for a less rugged look, with a curvier, lower body style and the spare tire moving to under the floor. Power increases slightly to 166hp.
2012-2016: More power (185hp) and more technology, including Bluetooth connectivity, are the major features of the fourth generation.
2017-2021: The fifth-generation sees a host of Honda Sensing technology added, including lane departure and forward collision warning, plus a switch to continuously variable automatic transmission (CVT). A 190hp, turbocharged 1.5L 4-cylinder engine is available on higher trims. The 2021 model has a level of interior finish that belies its accessible price tag, as well as better-than-average fuel economy at 28/34 (city/highway) mpg.
Does Honda Offer Free Maintenance?
The Honda Care Maintenance is available to buy along with a vehicle service contract The plan covers your vehicle for tire rotation, oil and filter, air intake filter, cabin air filter, automatic transmission fluid, rear differential fluid, transfer case fluid, and brake fluid, and whenever you need maintenance a multi-point inspection is included.
You might find a third-party extended warranty covering maintenance suits your needs and budget better. For comprehensive protection, check out our latest plan, EnduranceAdvantage™, which offers up to $3,500 in maintenance coverage.
The True Cost to Own a Honda CR-V
The 2021 base model has a sticker price of $25,350, but apart from any additional trim options you select, there are a few other costs to factor in. The formula looks like this:
How much does it cost to own a Honda CR-V?
Cost of car ownership =
(Cost of buying the car) + (Applicable state registration costs) +
(Cost of fuel) + (Cost of insurance) + (Cost of regular maintenance) + (Cost of repairs)
Pay extra attention to the last two variables. Regular maintenance is unavoidable and can typically set you back around $2,000-3,000 over 5 years. Repairs are an unknown, but you can see the most common car repairs for Honda owners below. What you do know is that, if you do need repairs, your costs could easily run into the thousands.
The best way to mitigate these costs is to buy extended auto warranty coverage. The investment gives you peace of mind and confidence on the road, knowing you'll be making big savings on maintenance if your car experiences problems.
Repairs to Look Out For
Below you can see the common car repairs you could face if you buy a CR-V. Of course, you could have to deal with other ones too, but our experts have looked at Endurance's internal claims data and found these to be the most frequent issues.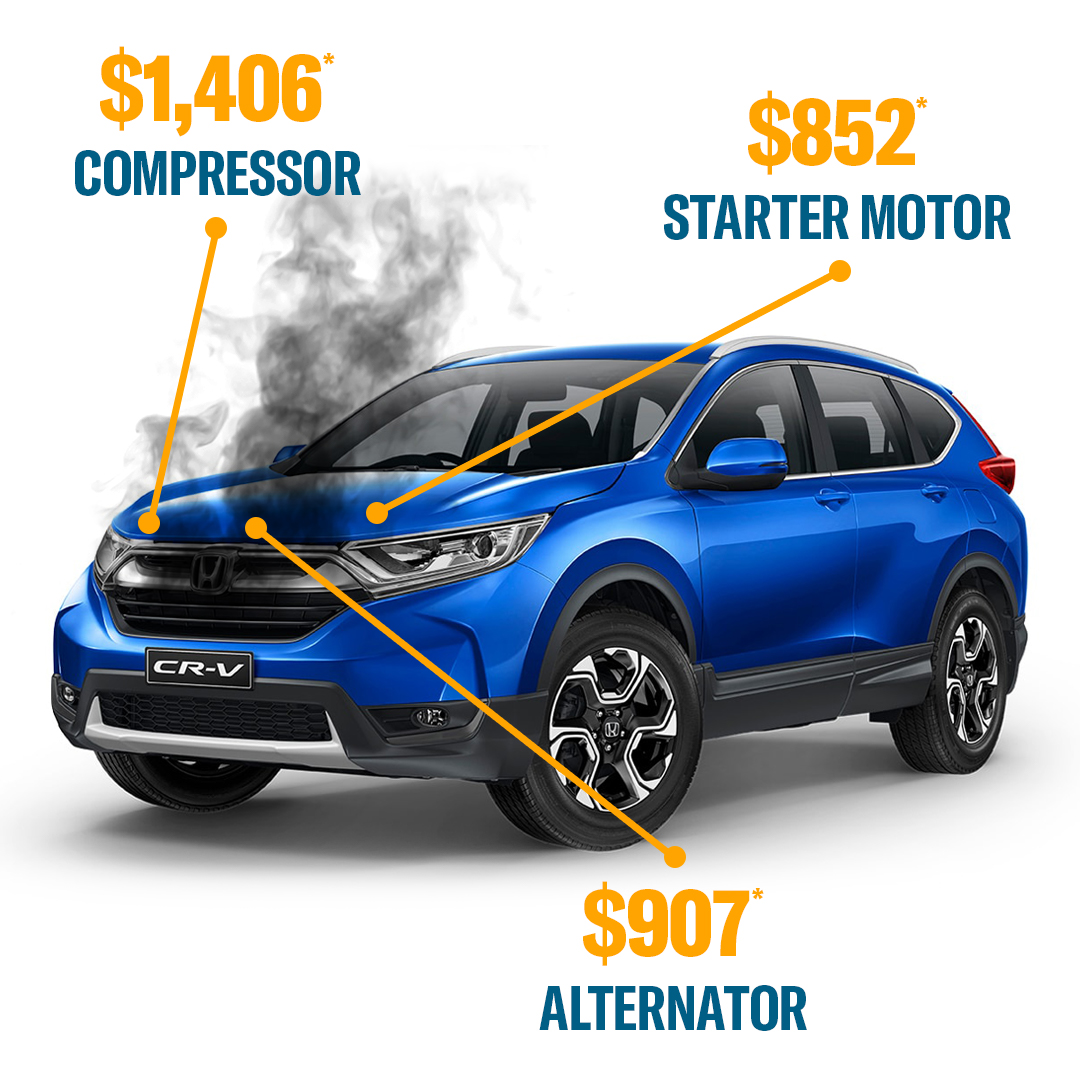 Top Honda Repairs*
Starter Motor: $852
Alternator: $907
Compressor: $1,406
Gasket, Valve Cover: $448
Timing Chain/Belt Tensioner: $741
Rack and Pinion: $1,668
Seals and Gasket (Engine): $909
Power Steering Pump: $1,019
Engine Components: $927
A/C Hoses: $837
To avoid paying out-of-pocket for sudden repairs, it is best to invest in a Honda extended warranty to provide you peace of mind.
Things to Consider Before Buying a Honda CR-V
Is the CR-V right for you? There's a healthy compact SUV market so you're really spoiled for choice when looking for quality cars of this size. Before you head to your local dealership, take a look at our need-to-know list below, and compare it with other models.
Average fuel consumption: The 2021 CR-V offers a decent 28/34 (city/highway) mpg rating.
Ideal for: Small families and about-town driving. Not the most rugged of its class, and with a towing capacity that's lower than some of the competition, the CR-V is nevertheless a clear frontrunner when it comes to city driving. Comfortable inside and out, the CR-V has space for a small family with luggage and offers a highly comfortable everyday drive.
Extended warranty protection options: Honda Care is Honda's own extended warranty program, which offers you four different coverage plans: new vehicle coverage, pre-owned vehicle coverage, certified additional coverage, and powertrain coverage (only on pre-owned vehicles). But be sure to do your research, as extended car warranty costs savings can be made by comparing with third-party plans to get the best deal.
Best time to buy: Older models are almost always available at a discount price when the latest model hits the dealership showroom. The sales team will be under more pressure to sell those models as demand for them starts to drop, so they'll more open to negotiation. If you're looking at previous model years, the model just before a redesign can often offer good value for money, as early problems with the generation (if there are any) are ironed out, and newer technology is often added.
Complete Peace of Mind Driving Your Honda
However dependable Honda cars are, the fact is it's still possible for something to go wrong. On average we see that Honda owners face common repairs that cost thousands to fix.
Repairs can get expensive and significantly increase the costs of car ownership. If you want to lower your risk and avoid potentially costly repairs, then an extended coverage plan is the way to go. By choosing Endurance, you're going with the most comprehensive package on the market.
With every Endurance warranty protection plan, you get Endurance Elite membership for one year completely free, which gives you access to tons of great everyday driver benefits. With 24/7 roadside assistance, trip-interruption costs, and a substitute rental car also provided with every plan, you're free to customize the coverage according to your requirements. To get started and find out more, take a look at the different plans. Read more tips and advice in our Learning Center.
*Claims paid as of 9/29/2020
More like this
Make/Model

The 1960s was undoubtedly a golden era for the American automobile industry. Iconic cars like the Ford Mustang, Chevrolet Camaro, and Pontiac GTO came into existence during this decade, capturing..

Read More

Make/Model

Whether you're a passionate petrolhead or a casual commuter, everyone agrees that classic cars are special. From the iconic exteriors to the old-school engineering, their look, feel, and sound really..

Read More

Make/Model

When it comes to purchasing a used car, there are many factors as a consumer you need to keep in mind. Performance, condition, and style are all important considerations, but..

Read More