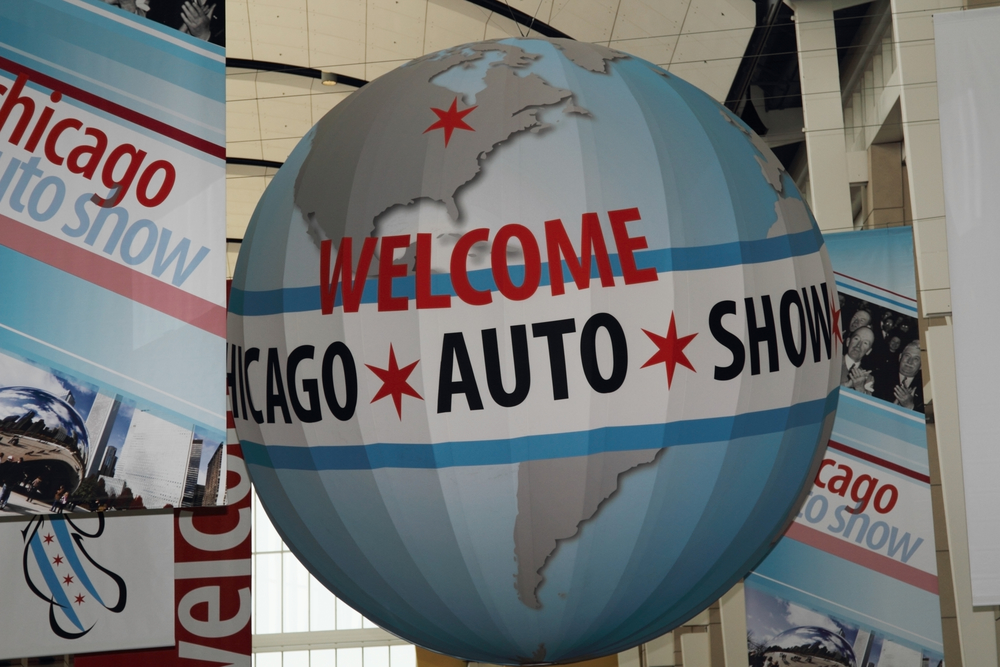 Every year one of the highlights of the Chicago Auto Show is being able to see glorious new concept cars. Many of these are a futurists wet dream, few of these will ever make it on our roads. However they always push our imaginations to all new heights. These often radical designs look right out of the concept art for a sci-fi movie and enlighten us with their fusion of forward-thinking technology and design aesthetics that we consistently lament that we never get behind the wheel or cockpit in some cases. Will that always be the case however in a world of Apple and Google? Concept cars on the whole are steadily becoming more of a reality than they ever were before. Vehicle makers have a much easier time building a concept cars that are fully functional vehicles. These days automakers can actually test the public's appetite for new designs but actually test these cars themselves. This year's Chicago Auto Show showed off 12 world premiere new designs that might be closer to our roads than we thought possible.
4 Concept Cars that Revved Our Engines at the 2016 Chicago Auto Show:
Genesis Vision G
Since last year Hyundai has been very future-focused. They have set themselves up to get drivers to rethink their conception of a "luxury" line of vehicles. The "Vision G" concept shows exactly how Hyundai is setting them up to do that. It is a slick aerodynamic coupe with and elongated hood and a roofline that flows like a classic car. It's heart is a 5.0-litre V-8 engine capable of 420-horsepower at 383 lb. ft. of torque. All the more remarkable is its "remote wheel." Hyundai claims this piece of tech has an ergonomically designed touchpad with fully interactive "gesture-based" controls. Meaning it's sort of the halfway point between a normal driving experience and autonomous self-driving. Hyundai says that this car won't make production but we will see it's tech in other cars later.
Buick Avista
Buick is back! "But they never left, " you say. What we mean by that is that Buick is back in the concept car game, having done few designs in the recent past. The latest incarnation of their two-door "Avista" concept looks to offer a  whole new sleek form tangible power. It's a spin on the grand tourers they were once famous for but this one has a twin-turbocharged V-6 capable of 400-horsepower at rear-wheel drive. Aesthetically?  Buick once again proves why their name is synonymous with class but they aren't afraid to do their own spin on muscle car designs. To go along with their eight-speed gearbox, they've created 3-D printed door and seat trims complimenting new touch screen controls, noise control (for those bothered by the noise of the highways), even air purifiers and aromatherapy fit for a luxury spa. We have a feeling that we're going to like the way this drives…should we ever get the chance.
Acura Precision
What in a name? "Precision" suggests that Acura's concept car will take you exactly where you want to go in the exact way you wish to get there. Acura says that this car was built on an idea they refer to as "quantum continuum." In layman's terms what that entails is a consistent seamless transformation of materials and structures from the exterior to the interior of this car. Marvel at the floating rear seats and taillight motif, the fractal LED headlights on the outside. And guess what? On the inside, the audio speaker grilles are actually handcrafted from exotic wood. This concept promises Acura's commitment to fully customizable performance preferences. It's unbelievable that this car will ever have a shot of making it to our hands and garages but Acura says that we may very well start seeing lines of cars that inherit its traits very soon.
Kia Telluride
When you hear "Telluride" you may be thinking of the famous Colorado Ski resort or their film festival. Kia wants you to associate the name with a their three-row, seven passenger luxury SUV concept. It is built on the foundation of the Sorento but given about a foot and a half of expanded cubic space.  Engineering-wise it combines a 3.5-liter gasoline direct injected V-6 engine with an electric motor produce a total of 400-horsepower a four wheel drive system. That's right, it's an All-Wheel Drive hybrid with 400 horses.  Hybrids are fun and powerful now and Kia is set on showing off that they don't have to look off by giving this concepts a muscular body style fit for a rally ca. It's still recognizably a Kia, however with their trademark "tiger nose" grille and unique recessed headlamps. Far more impressive is Kia using the vehicle at the auto show to demonstrate their "seat sensor technology" that is capable of monitoring occupant's health information and automatically adjust lights and sunroofs to improve driver conditions. Talk about the fusion of man and machine!
More like this
News

Now more than ever before, consumers and automakers are looking at alternative sources of transportation and different ways to power automobiles. More likely than not, the automobile industry is going..

Read More

News

You're likely familiar with the microchip shortages in the auto industry, given its widespread coverage in recent news. If you've been car shopping over the past few years, you've likely..

Read More

News

According to the Federal Highway Administration, trucks and SUVs have outnumbered cars in every state since 2018. While these bigger, more powerful vehicles certainly have their uses, a new report..

Read More