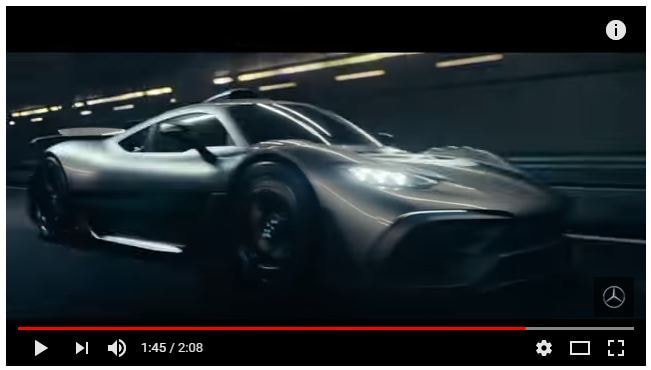 Mercedes-AMG has developed an all new hyper car and they call it…Project One. If that name sounds ominous, don't worry. It only means that the car will possess a top speed far beyond the record of 218 miles per hour.
You read that last part right. Are you shaking yet?
Mercedes Project One
Embed from Getty Images
This car made a proper showing at Frankfurt on September 11. However, Mercedes wanted to get a head start on the hype by confirming to the press that the £2.4 million (about $2,859,480 US) coupé that the rumors of its ridiculous top speed are tue. They also showed off the bold silhouette details of its design cues.
The darkened image exposes the front end of the new flagship Mercedes-AMG model for the first time, including its distinctive LED headlights, with each incorporating three separate U-shaped elements.
The car utilizes thin-line headlights. Those help accentuate the heavily streamlined and rounded body. It even has a sleek new vertical wing located in the outer left of the front end. Ok let's just put it in plain terms: this car is incredibly aerodynamic. In fact this is a race-grade aerodynamic package already straight up commissioned by Mercedes-AMG chairman Tobias Moers.
Other things we noticed were the Mercedes-AMG model's two-seat cabin. You can see it through an indent along the centre line below a large air vent that literally cools the engine.
The image is undeniably striking. It is a Hypercar, after all. Rounding it out is an oversized Mercedes-Benz badge and the expected AMG graphic within its central front air duct.
Why is the Project One so special?
Project One is arguably Mercedes-AMG's most ambitious road car to date. A big reason is that the car is powered by an advanced petrol-electric plug-in hybrid drivetrain. If you did not understand that let us just say that the engine is based around a Formula 1 engine ON TOP of working in tandem with four electric motors. Together this system puts out a grand total of 1000 horsepower in its high-performance mode (which can be turned on and off).
It's an F1 Racecar
Let's back things up a bit. This is mostly the same car engine as the turbo 1.6-litre V6 housed in the Mercedes-AMG W08 EQ Power+ race car. The very one driven by Lewis Hamilton and Valtteri Bottas in the 2017 F1 World Championship. Similar to that latest F1 race car, the upcoming four-wheel-drive AMG road-legal has an MGU-K (motor generation unit – kinetic) and MGU-H (motor generation unit – heat) functions. That is the system that allows it to reserve power. It is also called the Energy Recovery System (ERS). And it is mounted at the rear with the rest of the drivetrain.
This is a complex and innovative system that activates the electric motor under acceleration while a generator recuperates and recycles kinetic energy under braking. Not only is this AMG Hypercar turbocharged, it is also efficient since it constantly recycles and saves electrical energy for storage in the sophisticated battery system.
Oh and the combusting engine operates the front while the electric motors provide a rear wheel drive.
We expect assembly of the production version of Project One to start at AMG's manufacturing headquarters at Affalterbach. We probably won't see any roll off the lot until maybe the third quarter of 2018. Deliveries start in earnest winter next year.
More like this
News

Now more than ever before, consumers and automakers are looking at alternative sources of transportation and different ways to power automobiles. More likely than not, the automobile industry is going..

Read More

News

You're likely familiar with the microchip shortages in the auto industry, given its widespread coverage in recent news. If you've been car shopping over the past few years, you've likely..

Read More

News

According to the Federal Highway Administration, trucks and SUVs have outnumbered cars in every state since 2018. While these bigger, more powerful vehicles certainly have their uses, a new report..

Read More