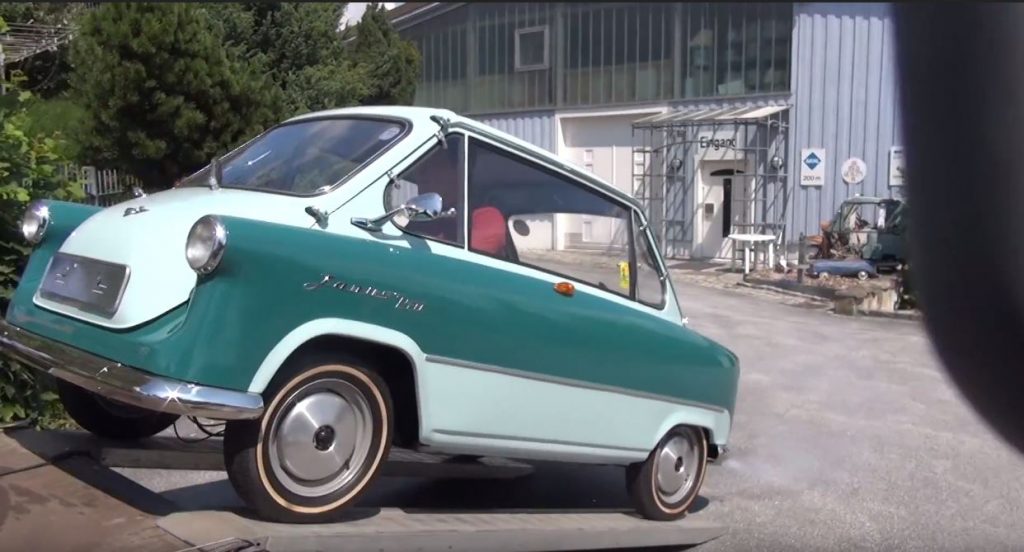 Try your best to envision the following scenario. While cruising towards a mostly vacant highway, you notice at the corner of your eye a strange looking shape. It's driving along side you. However it seems to be struggling to maintain the 40mph cruising speed limit. Even stranger is that it looks like it's driving backwards and without a steering wheel. No, you are not imagining things. What you are seeing, is actually the Zundapp Janus.
Zundapp Janus is a Real Car
The name is kind of funny but the Zundapp Janus is indeed a very real car. In fact it was also the first and only attempt to make a car from the famous German motorcycle manufacturer. Not quite a car but not a motorbike, this is what some call a "micro-car."
Let's flash back to 1954. At the time Zundapp commissioned the aircraft designer Dornier to make what they described as the "bubble car of the future." That's a long name so Dornier took to calling it the Delta. The in 1957 they finally had a full production version. They called it the Zundapp Janus 750. It was unveiled at European motor shows at Frankfurt and Earls Court. The makers had envisioned the car as a "quality bubble car." Zundapp owner Jim Hacking, a self-proclaimed micro-car expert is so proud of this car that he often publicly denounces whenever it appears in a "worst of" list in publications such as Time magazine.
What is the Zundapp Janus?
Even if it looks silly the Zundapp comes with some remarkably advanced specifications, for its time at least. It uses a MacPherson strut suspension. The Zundapp packs a 12-volt electrical system, the car even has four-speed transmission with a rack and pinion steering. There's an extensive list of standard equipment with the Zundapp Janus and that includes a column lock, an engine immobilizer, quarter vents front and rear and an exterior mirror.
Back to how this car looks, or rather, is built. It has a door and a bench fore and aft. Meanwhile the 245cc, single-cylinder engine is actually mounted between the seats. If you read a vintage English-language auto brochure you'll find that the Zundapp is described as "a real family car." That is because its makers intended for it to offer anyone in the rear seats to not only have ample legroom but also a completely unobstructed view in every direction. And despite its tiny frame it was made to allow passengers between 5ft 10in and 6ft 10in. It's actually quite amazing how it pulls that off.
The Zundapp Janus Interior
Inside the car, you have two benches. Both of these can actually fold to essentially act as double bed. The detachable steering wheel gives you enough comfortable space. There are also whole luggage nets on the doors. If you read the brochure you'll also find there were options for a portable heater, rear sun visors, a sunroof, duotone paint. For some reason you could also order up a fake steering wheel for the rear-facing passengers. My guess is because it was for the sake of an inside joke amongst German automakers.
Was the Zundapp Janus a Hit?
Zundapp did spend a lot on the publicity for the Janus. They heavily marketed it as a car fit for all manners of occasions. You could find yourself deriving friends to the beach or attend the opera. As a family car it was good at carrying children to and from soccer practice. The carry-cot wedged sideways in the rear compartment unfortunately didn't make the car particularly safe.
The Zundapp Janus Was Zippy but Not Powerful
The body of the Zundapp Janus is simply too heavy for it to even come close to reaching 0-60mph acceleration. The 245cc engine only had a top speed of 50mph under that weight. And even by 1957 standards those aren't impressive numbers at all.  However, having the main power plant be lighter than the people inside meant the car was surprisingly agile when it came to turns and handling.
Can You Find a Zundapp Janus Today?
A big issue with the Zundapp Janus is just how rust-prone it is. Water easily seeps into the quarter lights. The real reason why this unique and quirky car is all but forgotten is a matter of price and timing. The Zundapp Janus was much pricier than the competing cars in its class like the BMW Isetta or the Heinkel Cabin Cruiser. In 1957 Fiat launched its Nuova 500 which may be less spacious than the Zundapp it was a better car to drive.
Cut to a year later and the Janus production ceased in 1958. It should be noted that Zundapp did manage to sell a little over 6,900. Three of them went to art collectors in the UK. Today there are about 30 to 40 Zundapps surviving and still registered in Germany while there are seven in the UK but only two of those are registered for driving. In the US only 10 were exported and probably with good reason, such a car would struggle on American highways and freeways. If you're a collector, these aren't too expensive but mostly the auctioneer or individual might give you a funny look for opting for this car.
Regardless, the Zundapp Janus did manage to gain a second life thanks to a major role in the Pixar film
Cars 2
as "Professor Zundapp." Zundapp set out to make an idiosyncratic vehicle and by all means, they succeeded. What are your thoughts on the revitalization of these micro-cars? Are you a fan or would you prefer they had been better left in the history books? Leave your feedback in the comments section below!
More like this
News

Now more than ever before, consumers and automakers are looking at alternative sources of transportation and different ways to power automobiles. More likely than not, the automobile industry is going..

Read More

News

You're likely familiar with the microchip shortages in the auto industry, given its widespread coverage in recent news. If you've been car shopping over the past few years, you've likely..

Read More

News

According to the Federal Highway Administration, trucks and SUVs have outnumbered cars in every state since 2018. While these bigger, more powerful vehicles certainly have their uses, a new report..

Read More