Sometimes you see a car and think "now's not the time" and the chances are you end up waiting till a mid-life crisis, (or if you are in your 20s/30s "quarter-life") before splurging on your dream car.  By then, you would, hopefully, have a steady job and a home, a slew of bills and will probably have several moments of asking "how did I get here?"
So in the interest of turning that live crisis frown upside down we at Endurance decided to curate a very specific list of vehicles. You'll notice that we have omitted supercars and hypercars as well as exotic luxury brands from this list this is because our staff feel like they already get too much time in the limelight and go beyond "frivolous splurge" into outright expensive overcompensation.
So today we are focusing on cars that give our readers a new sparkling beast in their garages that will hopefully brighten their day whenever they start to feel down about the whole aging and life thing.
Chevrolet Corvette:
Feel free to argue with us on this page and on social media, but we at endurance genuinely believe that the Chevrolet Corvette without a doubt the car that put American automotive power and performance on the map. It's still a sight to see even in the movies and the race track. It's been a go-to whenever someone references American sports cars and every model continues to help recapture youth with their trademark two seats and big V-8 engines. For  those with tighter wallets, we recommend the 1990 ZR-1, which is the year that Chevy introduced their peak performing production C4. It uses a Lotus-designed 32-valve V-8 LT5 built by Mercury Marine and hits 0-60 in 4.9 seconds. When you decide to splurge on the car, you'll actually save since a typical ZR-1 in good, condition will set you at $23,200 according to Kelly Blue Book.
Ford Mustang: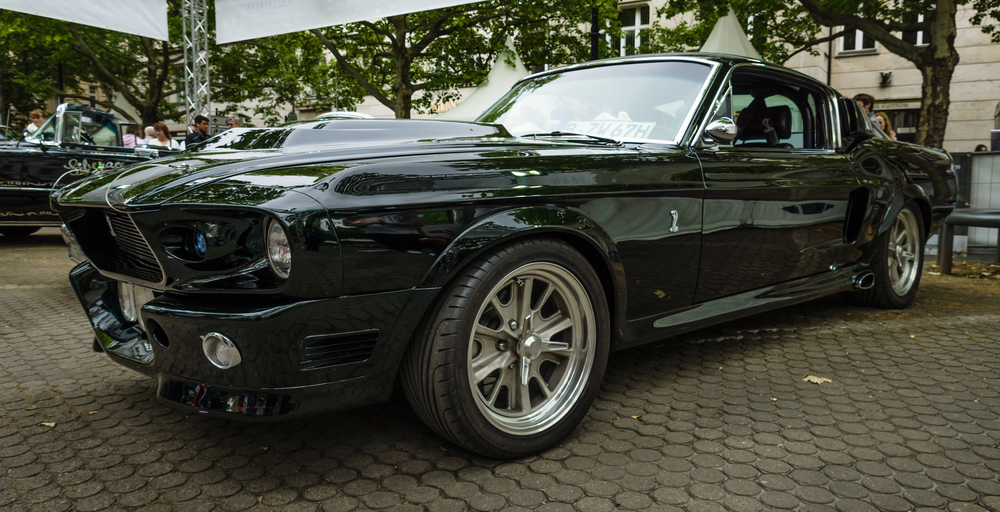 Not to be outdone by their rivals on GM, Ford's Mustang is equally ubiquitous with American automotive engineering to the Corvette. If you grew up in the '60s or '70s, or watched a lot of movies and TV from then there are pretty high chances that you have at one time or another wanted to get behind the wheel of one. For neck tightening strength, we would go younger with the 2012-14 Shelby GT500, which is the most powerful stock Mustang to date. This model pumps 662hp with 631 ft.-lbs. of torque, and it is capable of hitting a 0-60 time of 3.7 seconds. This car is ferocious beast. Those with heavy feet my find themselves unwittingly stomping on the gas pedal forcing the 5.8-liter V-8 to rumble frighteningly. This is a harder find since 6,000 but after a little research, we've found that the average price for this car goes for between about $40k-$50k.
Porsche 911: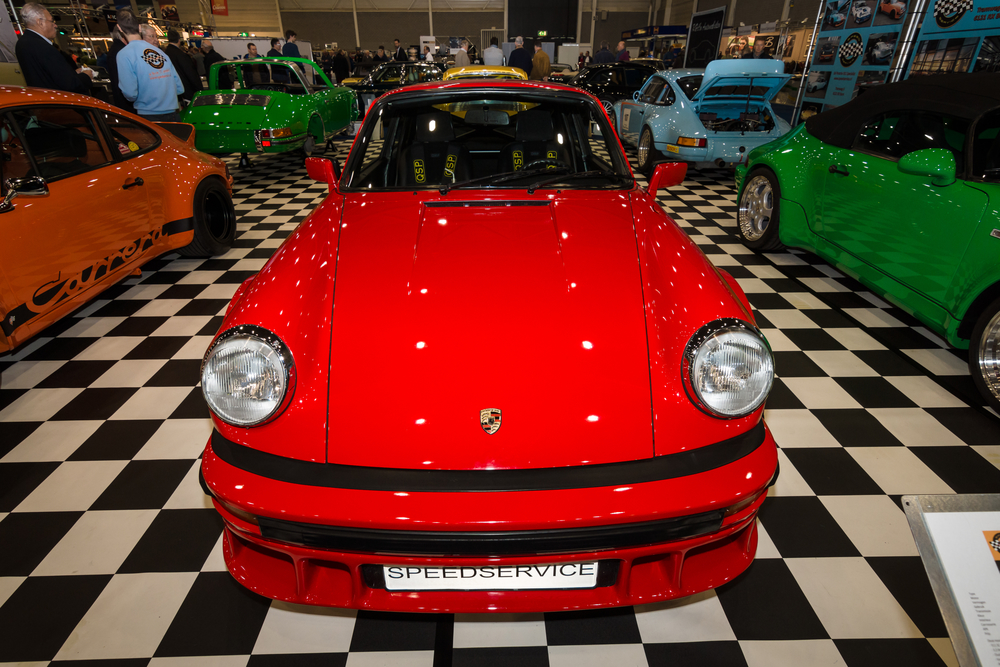 Every Porsche campaign can be summarized by asking you "No one spends their youth dreaming about someday owning a station wagon on mid-sized sedan." Of course, despite the prestige associated with Porsche and the 911 line specifically, you really don't have to spend your savings to be a Porsche owner. A '60s-era car may need some work and they can set you back anywhere from $66,500 for a 1968 coupe to $242,000 for a 1964, younger sub-models like the 172-hp 1983 Porsche 911 SC can find their spot in your garage under $30k, according to the Blue Book.
Dodge Viper: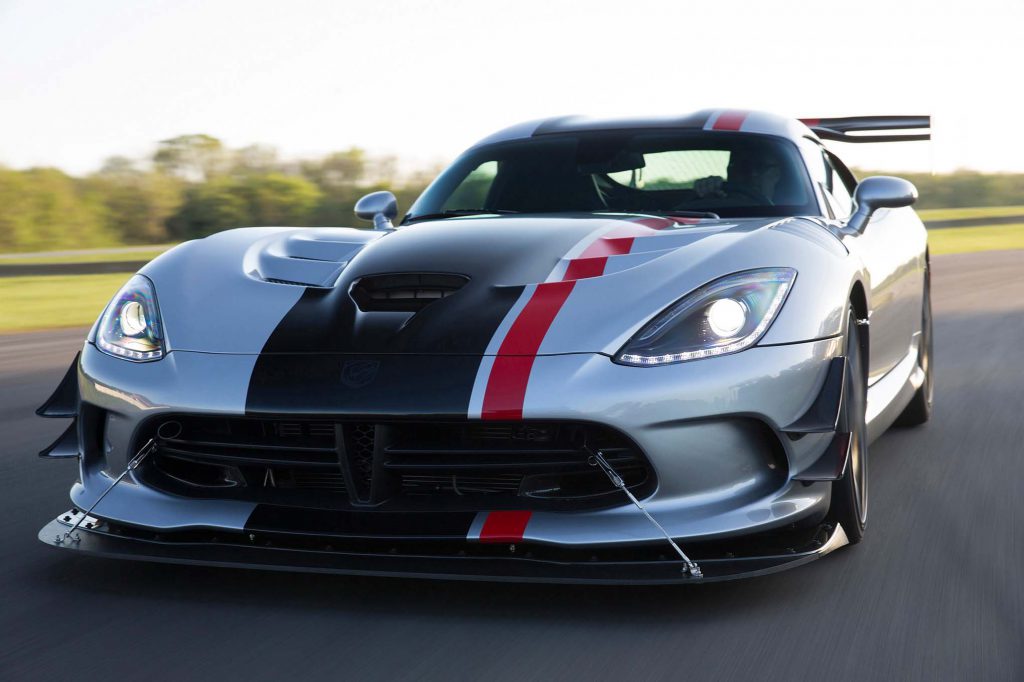 The Viper was once the stereotypical 90s excess car but it is still the ideal car for show-offs. That iconic sleek body design rivals some of the most exotic supercars in the world but really it is the Viper's V-10 growl and roar that rattles windows and our nerves. If you're looking for model that you can easily take to the roads in suburbia we would opt for the 2001-2002 GTS, the first model with anti-lock brakes, the average value for one is about $32,200. Now if all-out performance is what you are after, hunt down the 460-hp American Club Racing (ACR) coupe which comes with smooth air intake tubes (as opposed to the trademark ribbed ones), and it is about 50 fewer pounds lighter than the other model. The only downside is a stiffer racing suspension.
If you feel like you've been repeating "I'm getting too old for this" like a mantra, don't feel bad. There's always an upside and it is most certainly never too late to make your own fun or invest in something adventurous and frivolous. Pay no mind to jokes about "retirement" cars and just go for that dream ride!
More like this
Rewind

Can you feel it? There's a big change coming in the American automotive landscape. For the past couple of years we've seen the steady increase of sales in trucks and..

Read More

Rewind

Ever-increasing numbers of cup holders large enough to accommodate super-sized jugs  and an expanding suite of electronic features and entertainment invade our vehicles. However, there comes a time where we..

Read More

Rewind

The Corvette is not just an "American classic," it's one of the most famous cars around. There are so many models and variations that every fan probably has a favorite...

Read More