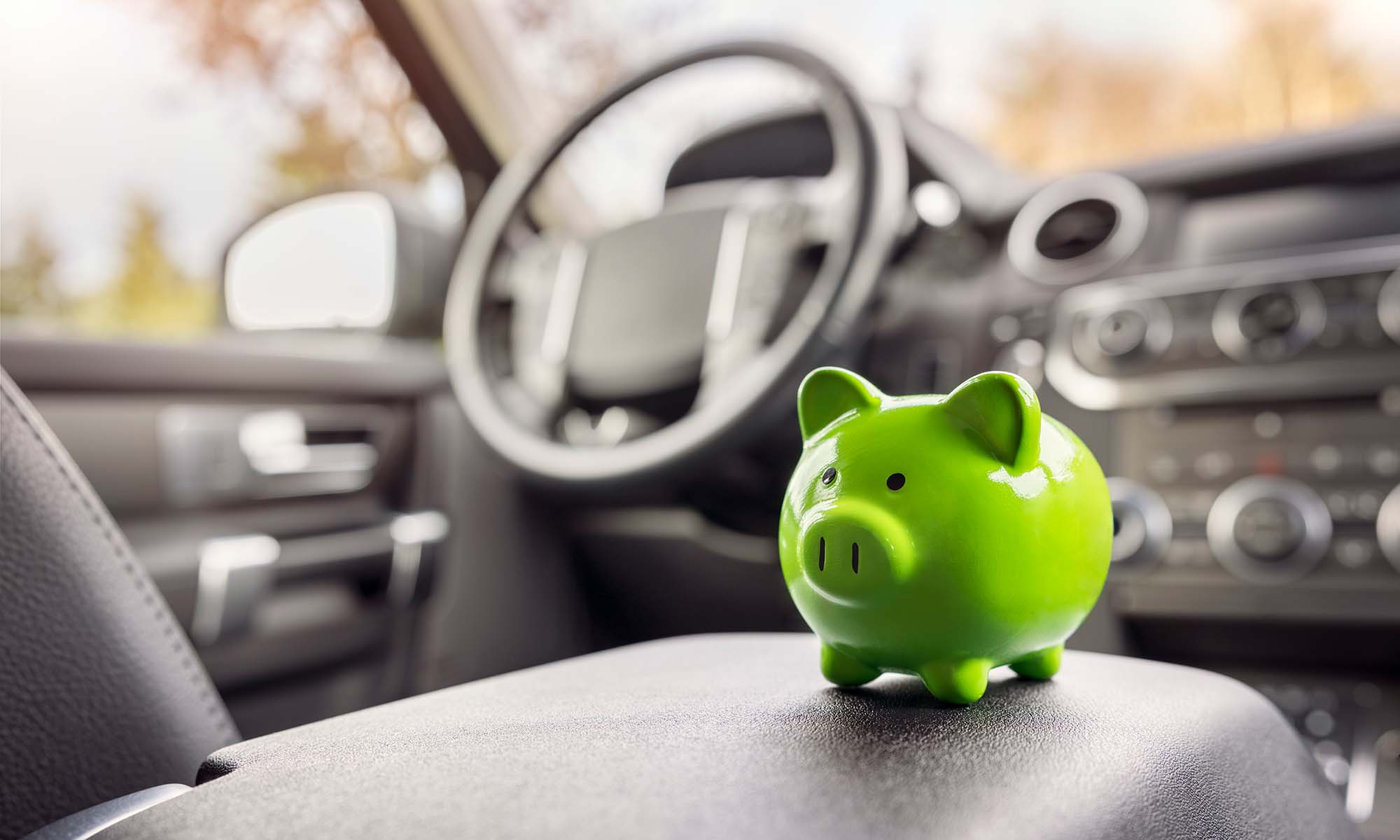 Unless you own an electric vehicle, filling up at the pump can be an eye-opening experience, especially when dealing with higher-than-normal fuel costs. And when gas prices are high, exploring ways to reduce how much you spend on a gallon of gas may be at the top of your mind.
But to truly help you save, whether it's by trying to boost your car's gas mileage (mpg) or purchasing a new car altogether, you have to know the difference between a car's fuel efficiency and its fuel economy and what that means for you as a car owner.
What is Fuel Efficiency?
To get right into it, fuel efficiency is just an open-ended term used to describe how efficiently a vehicle uses fuel to operate, whether it's a gasoline engine or diesel engine, hence the name. Overall, fuel efficiency involves many factors that affect how much gas a car uses, including:
Engine: The engine is a significant factor in helping you figure out which are fuel-efficient vehicles and which may not be. A good rule of thumb is that the bigger the engine, the less fuel-efficient the vehicle may be. But why? Well, it's all about trade-offs, as a V8 engine may offer breathtaking speed or exceptional towing capability, but this power comes with a price—literally. On the other hand, a gas-sipping four-cylinder engine helps go longer and drive further between fill-ups.
Vehicle Type: Vehicle type (SUV, passenger car, pickup, van, etc.) goes hand-in-hand with engine size because larger vehicles require bigger engines. So, the engine needed in a large pickup truck would be overkill in an economy car, making something like your everyday Honda Civic or Toyota Corolla a more fuel-efficient car than a larger truck or SUV like Ford F-150 or a Land Rover Range Rover. Even your drivetrain can impact your fuel efficiency, as activating 4-wheel-drive (4WD) will cause your engine to work harder and thus lose efficiency. 
Driving Style: Driving habits go a long way in determining fuel efficiency. For example, putting the pedal to the metal at a green light may be fun, but such actions cause the fuel tank to empty sooner. Conversely, smooth and steady acceleration maximizes a car's mileage. There are changes to fuel efficiency at different speeds, too, while even idling for too long can have an impact. If you're also someone who takes short, frequent trips to places, you can also be impacting your fuel economy as the engine may not be running long enough to warm up to its optimum working temperature. 
Location: Where you drive can significantly impact fuel efficiency. The stop-and-go movements of city and suburban travels are not as ideal as uninterrupted highway journeys. However, many hybrid vehicles are optimized for better fuel economy in urban settings.
Vehicle Condition: Peak fuel economy comes from a car operating optimally. This means that things like clogged fuel injectors and even having low tire pressure can impede a vehicle's capabilities when it comes to fuel efficiency.
Aerodynamics: While stylish, there's a reason why vehicles, especially sports cars, embrace sleek and flowing exteriors; aerodynamics. The easier a car can push through the air, the less energy it takes to move forward. It's also a contributing reason why bulkier vehicles like SUVs, vans, and trucks go through more fuel over the same distance as small vehicles, especially when towing. Even storage racks filled with your road trip essentials or camping gear can end up hurting your car's fuel efficiency due to the increased drag, not to mention the increased vehicle weight from all your gear.
Weather: Snow, rain, wind, and temperature all affect the frequency of fill-ups. Driving through strong winds requires greater kinetic energy to keep up speed, and snow or rain on the roadway increases the rolling resistance of tires. In addition, colder temperatures bring denser air (for increased aerodynamic drag) and less fuel-efficient winter fuel blends. 
What is Fuel Economy?
While fuel efficiency is a broad term for how a car uses energy, fuel economy is a specific measurement for the amount of fuel a vehicle uses when driving, aka its fuel consumption. In the U.S., this is known as miles per gallon or "mpg," which first appeared in 1974. European countries, in contrast, measure fuel economy by liters used per 100 kilometers of travel. The U.K. uses the mpg measurement but with imperial gallons.  
All fuel economy ratings in the U.S. are determined by the U.S.Environmental Protection Agency (EPA), part of the U.S. Department of Energy. Every new vehicle sold in the U.S., except for large pickup trucks and commercial vehicles, goes through annual fuel economy testing. This information is shown as City, Highway, and Combined ratings. 
The City and Highway ratings are self-explanatory, but the EPA introduced a Combined rating in 2013 to better reflect real-world driving. The Combined rating is a blend of 55% Highway and 45% City driving, like those who drive to the city from the suburbs (or vice versa) on their daily commutes.
To give you a better example of how the fuel economy can vary depending on the vehicle, here's how some of the most popular cars on the road compare according to fueleconomy.gov.
2022 Ford F-150 Fuel Economy
The Ford F-150 is America's perennial best-seller and comes in a variety of cab configurations, but for simplicity, let's look at the versatile four-door Super Cab version. And to further narrow down the details, we'll compare the base V6 to the V8 engine upgrade (among the five available engines).
2.7-liter V6 Twin-Turbo (with 4WD)
City:

19 mpg

Highway:

24 mpg

Combined:

21 mpg
5.0-liter V8 (with 4WD)
City:

16 mpg

Highway:

22 mpg

Combined:

19 mpg
Toyota Corolla Fuel Economy
There's a reason the Toyota Corolla is the world's best-selling car, and that popularity only continues to grow thanks to a choice of trims, body styles, engines, and transmissions. The information here reflects sedan models with an automatic transmission as reported by the EPA.
City:

30 mpg

Highway:

38 mpg

Combined:

33 mpg
City:

31 mpg

Highway:

40 mpg

Combined:

34 mpg
Land Rover Range Rover Fuel Economy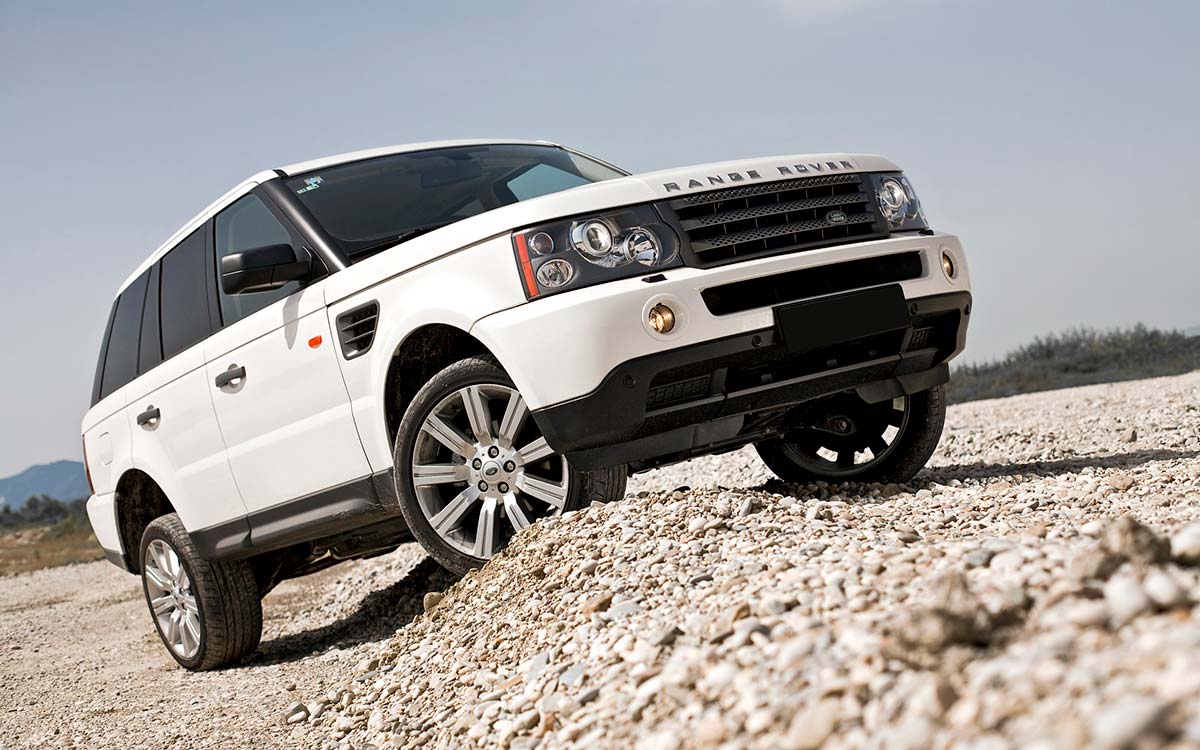 Land Rover's ultimate luxury SUV, the Range Rover, comes with multiple engine options and configurations that can affect fuel economy. 
City:

18 mpg

Highway:

26 mpg

Combined:

21 mpg
5.0-liter V8 with supercharger
City:

16 mpg

Highway:

21 mpg

Combined:

18 mpg

Completely redesigned for the 2022 model year, the Jeep Grand Cherokee comes with a V6 or V8. There's also the three-row "L" version, but these fuel economy numbers reflect the two-row Grand Cherokee.
3.6-liter V6 (with 4WD)
City:

19 mpg

Highway:

26 mpg

Combined:

22 mpg
5.7-liter V8 (with 4WD)
City:

14 mpg

Highway:

22 mpg

Combined:

17 mpg
Honda CR-V Fuel Economy
Honda's venerable CR-V crossover keeps things simple with a single engine option (although there's a hybrid version, which is considered a separate model). For comparison, we've included fuel economy ratings for the conventional gas engine and the hybrid.
1.5-liter inline-4 with turbocharger (with AWD)
City:

27 mpg

Highway:

32 mpg

Combined:

29 mpg
2.0-liter inline-4/dual motor hybrid system (with AWD)
City:

40 mpg

Highway:

35 mpg

Combined:

38 mpg
To help further explain just how important finding a vehicle with the right fuel economy is, fueleconomy.gov notes that a 30 mpg vehicle could help you save $1,048 each year in fuel costs compared to a 20 mpg vehicle (based on 15,000 miles driven per year. You can also use a free fuel costs and savings calculator to compare up to two vehicles while also including factors such as your average miles driven per year and what percentage of your driver takes place in the city. 
The Differences Between Fuel Efficiency & Economy
Let's summarize the differences between fuel efficiency and fuel economy with an at-a-glance chart.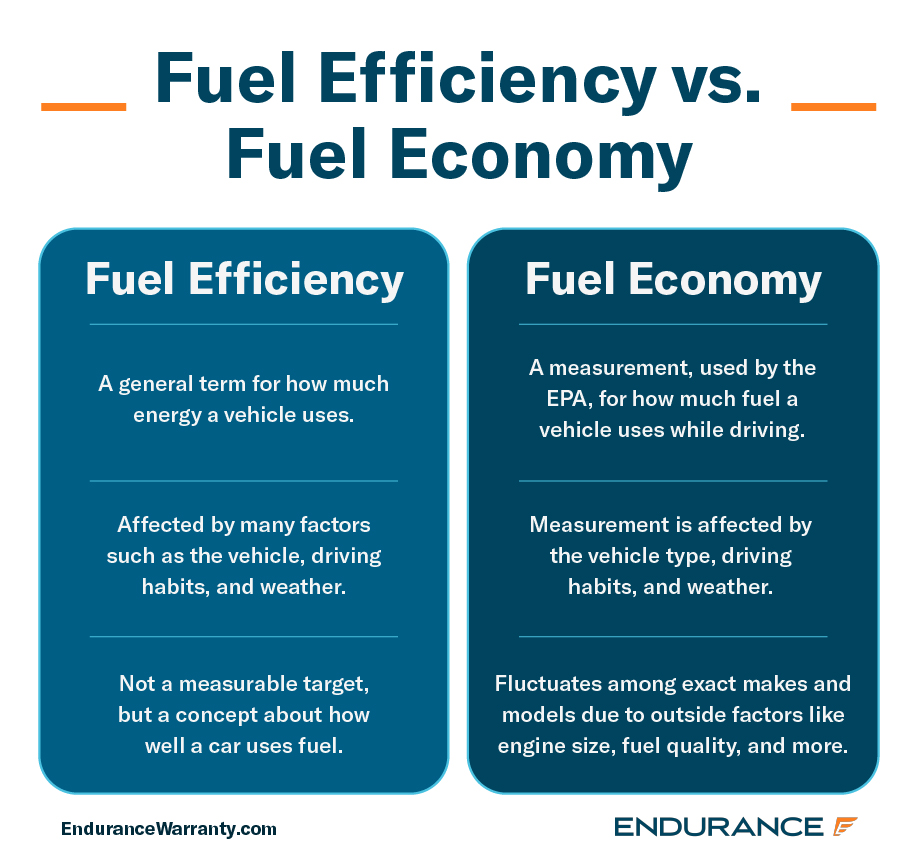 Avoid Unexpected Repair Bills with Endurance
When it comes to saving money as a car owner, there's more to it than dealing with high gas prices. But, by preparing for the unexpected with an Endurance auto protection plan, you can rest easy knowing that you're covered from budget-breaking repair bills. 
You can get even more savings by activating your year's worth of Elite Benefits, including coverage for tire replacements or repairs, key fob replacements, collision discounts and even $1,000 towards a replacement vehicle if yours is ever totaled. You'll even be able to enjoy 24/7 roadside assistance and towing plus trip interruption coverage and rental car reimbursements, regardless of your plan or if you've activated your Elite Benefits or not. 
Discover how Endurance can help you by requesting a free quote or by calling (800) 253-8203 to speak with a member of our customer service staff today. And don't forget to check out the Endurance blog for insightful articles on all things automotive, including money-saving DIY maintenance tips, vehicle buying guides, road safety tips and more. 
More like this
Terminology

Learning more about how to care for your vehicle is key to being a better car owner. While you don't have to know how to rebuild your engine on the..

Read More

Terminology

As we become more aware of greenhouse gases and their environmental impact, alternative fuel sources and modes of transportation are becoming increasingly popular. Fuel prices are also rising, which is..

Read More

Terminology

As a car owner, you've likely mastered the art of "filling up the tank." But while it may seem a fairly simple part of car ownership, even the most experienced..

Read More