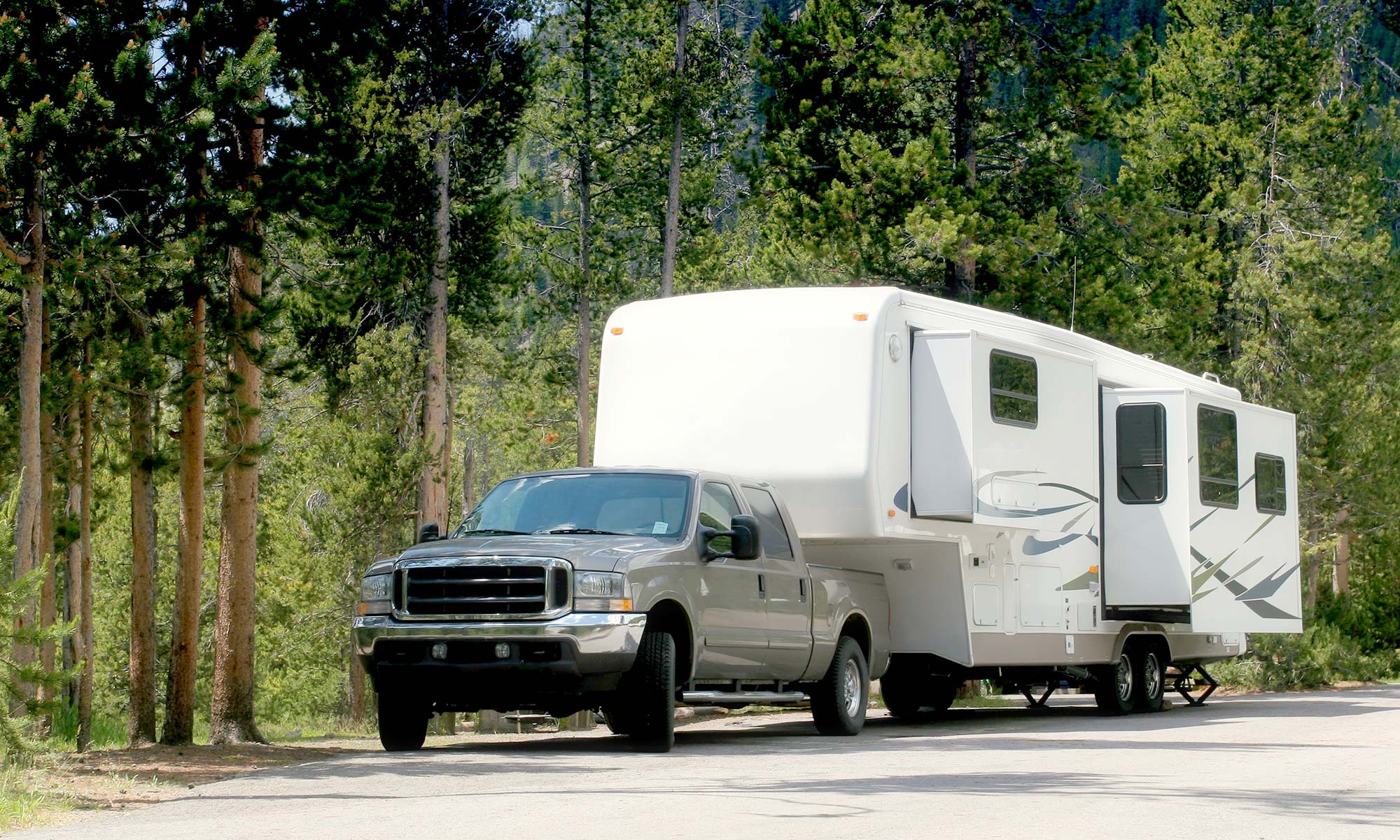 With the fall season in full swing, many drivers are looking for an alternative to the summer road trip. Some may be out tniailgating to celebrate their favorite football team. Others might be watching a movie at a local drive-in, enjoying picturesque foliage drives, or picking apples. And, fall is the perfect time to get out and enjoy the great outdoors while camping in a motor home, RV, or classic tent.
As with any trip, you'll need to pack the essentials when getting ready for your camping expeditions. You should also ensure you have the right vehicle to safely get you and your RV or camper to your destination. Typical auto warranties won't cover RVs in the case of breakdowns or repairs that occur outside of your insurance coverage. Instead, finding the right hauling vehicle and protection plan may help you avoid the high costs that breakdowns and repairs can bring. 
Top Vehicles for Towing Campers
When it comes to towing or hauling, heavy-duty pickup trucks and full-size SUVs are often at the top of the list thanks to features such as up four-wheel drive, high-performance engines, and available towing packages. Other types of vehicles such as minivans or the ever-popular Jeep can also be ideal options. 
To help you prepare for your next camping trip, check out our list of the top vehicles for towing campers:
Pickup Truck
As the vehicle of choice for contractors, construction workers, and those looking to tackle the most heavy-duty jobs, pickup trucks are our number one choice for towing campers. Some of our favorite models include:
Ford F-150

—

Arguably the most popular pickup truck in America, this vehicle is more than capable of towing your camper and hauling all your gear. While more basic models of the 2021 F-150 have around 8,500 lbs. of towing capacity, a trim option is available that features a 3.5L EcoBoost V6 engine and a best-in-class

towing capacity of 14,000 lbs.

 Along with being known for power, F-150 can also max out at an impressive 24 miles per gallon (mpg) city and 26 mpg highway, helping you save at the

gas pump

.

Chevrolet Silverado

—

Similar to the F-150, the Silverado is up to the challenge with an incredible

towing capacity of up to 13,300 lbs

. The Silverado can also handle all your gear and then some, with 2,280 lbs. of maximum hauling capacity.  Unlike the F-150, you may have to make a few more trips to the gas station as the Silverado maxes out at 20 mpg city and 23 mpg highway. 

Dodge RAM 1500

—

Sitting just below the Silverado, the RAM 1500 is another fantastic choice with

13,000 lbs. of maximum towing capacity

. What sets the RAM 1500 apart from the F-150 and the Silverado is at the pump, boasting up to 23 mpg city and 33 mpg highway.
SUV
When it comes to SUVs, there are many options to choose from that can be used for towing campers. A few of these models include:
Nissan Armada

—

Per J.D. Power, the 2020 Armada has a

91/100 quality and reliability rating

. Along with being a reliable vehicle to have for any occasion, the Armada also comes with trim levels available that can

tow up to 8.500 lbs

, making it an excellent choice for your camper and gear. However, the Armada can lack in fuel economy in both the rear-wheel and four-wheel drive models with only 13-14 mpg city and 18-19 mpg highway.

Ford Expedition

—

Another good option for SUVs is the Ford Expedition, which can reach a

maximum towing capacity of 9,3000 lbs

when properly equipped. The Expedition can also help you save when it comes to your fuel economy, as it surpasses the Armada with 17 mpg city and 23 mpg highway.

Chevrolet Tahoe

—

One of the best options for those looking for an SUV with great power as well as excellent gas mileage, with the base model receiving up to 16 mpg city and 20 mpg highway. A high-powered engine also helps set the Tahoe apart from other SUVs when it comes to towing campers, as it is capable of a maximum capacity of

8,400 lbs.

when properly equipped.
Minivan
A minivan is another good option for those looking to tow campers. However, it's vital to ensure your van is up to the task before setting off. If your van isn't capable of handling the weight of your camper, it could cause significant damages and result in costly repairs. If you're unsure if your current minivan can handle towing your camper, your owner's manual may be able to help.  
A few models that we do recommend for towing your camper include: 
Chrysler Pacifica

—

While able to fit the entire family (and then some), the Chrysler Pacifica can also be a perfect option for your camper. If properly equipped, the Pacifica can reach an impressive

towing capacity of up to 3,600 lbs

. This model even has an above-average gas mileage, reaching up to 19 mpg city and 28 mpg highway, making it one of the best minivan options when it comes to fuel efficiency. 

Toyota Sienna

—

Another great minivan option is the Toyota Sienna, coming in just under the Pacific at up to 3,500 lbs. of towing. While falling short of the Pacifica in terms of towing, the Sienna makes up for overall, ranking over 11 points higher per the J.D. Power

Best Small and Midsize Trucks 2021

awards list. Along with being capable of towing a camper, the Sienna also comes standard as a hybrid, helping it reach an unrivaled fuel economy of 35 mpg city and 36 mpg highway.

Honda Odyssey

—

The iconic Honda Odyssey has been around since 1994 and continues to be one of the most recognizable minivans on the market today. Tying the Sienna in up to 3,500 lbs. of towing, the Odyssey also comes in equal with Pacifica's 19 mpg city and 28 mpg highway.
Jeep
Jeep is one of the most well-recognized brands on the market today. Known for their off-road capabilities, there are a few Jeep models that can provide the perfect balance of towing and fuel efficiency to help make them ideal choices for towing campers, such as:
Jeep Wrangler

—

The iconic Wrangler is often a go-to choice for those looking to explore off the beaten track. Along with various trim levels offering a

towing capacity of 3,500 lbs.

along with a 20 mpg city and 24 mpg highway, it's a perfect all-around option for towing your camper and gear.

Jeep Grand Cherokee

—

Similar to the Wrangler, the Grand Cherokee can offer you an all-around vehicle that's capable of towing even the biggest of campers or trailers, providing over 6,200 lbs. of towing capacity with its V6 engine and Class IV tow package. For even more power, the available V8 models can tow up to 7,200 lbs., though they lack overall fuel economy at 14 mpg city and 22 mpg highway compared to the V6's 19 mpg and 26 mpg.
Vehicles Not To Use For Towing Campers
While there are many options you can choose from for your ideal towing vehicle, it's essential to understand which types of vehicles you should avoid, such as:
A minivan that doesn't have enough horsepower or torque.

SUVs that don't have an impressive engine or power.

Any vehicle that isn't rated for towing.

Never tow with any vehicle containing an underpowered engine.

Trucks without enough power to tow campers will not be able to handle the weight. If you do try, it could lead to severe damage and injury.

Small economy vehicles might work, but the overall cost of gas and the potential of towing uphill make them vehicles to avoid when it comes to towing.

Crossovers, as they don't offer good gas mileage and often have a limited towing capacity. 

SUVs and minivans without V-shaped frames won't be able to support the weight required when towing a camper.
Protect Your Vehicle with Endurance
While these vehicles are excellent choices for hauling your RV or camper, it's important to understand the maintenance cost for towing vehicles will likely be higher than other non-towing vehicles. Towing vehicles are typically under more stress hauling heavy loads, resulting in more wear and tear damage than normal driving conditions.
Avoid paying out-of-pocket for expensive repair bills with the help of a vehicle protection plan like EnduranceAdvantage™. As the most comprehensive plan available on the market, EnduranceAdvantage offers drivers unrivaled coverage and up to $3,500 in regular maintenance costs. Yearly services, such as alignment checks and tire rotations, are also covered, and you can receive special, one-time services like battery replacement or cooling system maintenance. 
Endurance customers also receive a year of free Elite Benefits, which includes perks like 24/7 roadside assistance, up to two tire repairs or replacements per year, key fob replacement, and more.
Request a free, no-obligation quote to learn more about an Endurance vehicle protection plan. You can also visit our Learning Center to find more articles on topics such as expert auto tips, make/model comparisons, how-to guides, and more. 
More like this
Expert Auto Tips

Retired professional racecar driver Danica Patrick is a pioneer in the world of motorsports. Her breakthroughs include being the first woman to lead an Indianapolis 500 race (the 89th running..

Read More

Expert Auto Tips

Buying a new car can be incredibly exciting and can open up a whole new world of possibilities. There are so many vehicles on the market, and no matter what..

Read More

Expert Auto Tips

Changing your oil and keeping your tires at the correct PSI are two great ways to keep your car running smoothly and driving safely as the seasons change. Your vehicle's..

Read More