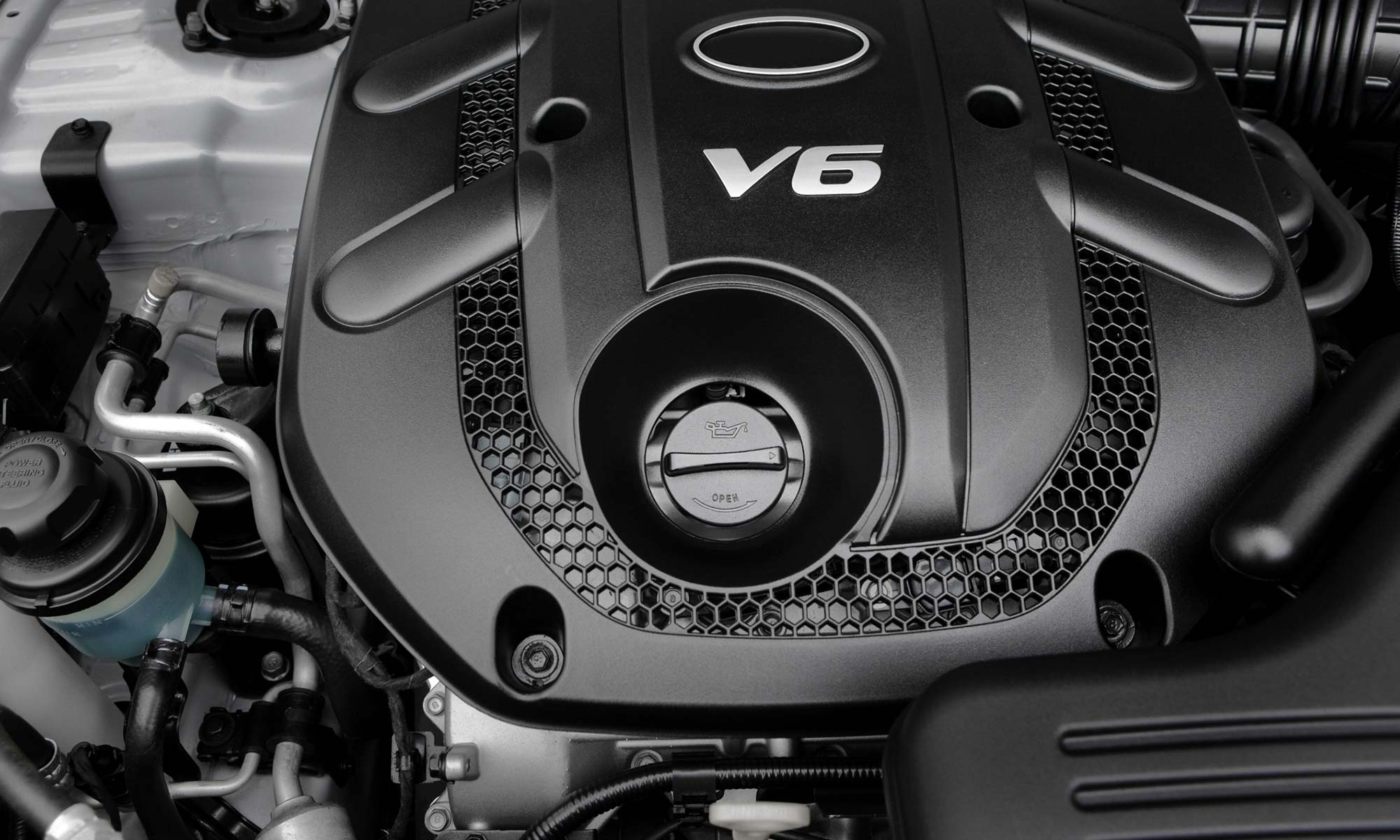 When shopping for a new or used car, there are probably plenty of things you are looking at. You may have a specific automaker you like or a model you love. Maybe you have a particular color you're hoping for, or you'd like specific additional features. But, while checking off things on your dream-car wish list can be exciting, the vehicle's engine size might not be at the top of the list (or on the list at all) for many drivers. 
While the average consumer isn't too worried about engine options or the amount of horsepower the car has, it directly affects your fuel economy and engine performance. Learning more about a vehicle's engine and the differences between having a V6 and a V8 can help you choose your next new or used car.
What Are The Differences Between A V6 and a V8 Engine
Without getting too much into the nuts and bolts of a vehicle's engine, there is one obvious way to describe the difference between a V6 engine and a V8 engine — the number of cylinders (and pistons) it has. More specifically, a vehicle that has a V6 engine is going to have six total cylinders to help power your vehicle, while a V8 engine will have eight. 
About V6 Engines 
Along with the apparent difference in the number of cylinders, a V6 engine will be similar to 4-cylinder engines, but it will be V-shaped to house three cylinders and pistons on each side. A single crankshaft also powers them. V6 engines can also offer a great compromise between a fuel-efficient 4-cylinder engine and a more powerful V8 engine. Due to this, many automakers offer a V6 engine option to appeal to drivers who want power without sacrificing overall fuel economy. 
Advancements in V6 engines have also allowed automakers to offer V6 engines with turbochargers, such as the Ford V6 Ecoboost. This gives you the power of a V8 without a hit to the fuel economy. Other popular automakers such as Chrysler, Honda, Subaru, and others have also begun to do the same due to the desire from drivers for sportier cars and SUVs without having to choose a gas-guzzling V8 option. However, some manufacturers are moving away from V6 engines in their most popular models. For example, the V6 engine has been eliminated from the Ford Mustang engine options. Ford has double-downed on their 4 cylinder Ecoboost and V8 GT options.
Overall, V6 engines:
Provide Better Fuel Efficiency in Smaller Cars

Can Provide Worse Fuel Efficiency in Full-Size Trucks

Provides More Power than a Four-Cylinder Engine but Less than a V8

Are Not Great for Towing or Hauling
About V8 Engines
A V8 engine is another v-type engine similar to the V6 in shape but has two extra cylinders on each side for eight. V8 engines are used in vehicles intended for high-performance or higher power output for various tasks, such as towing or hauling. 
While V8s are notorious for having a worse fuel economy, many manufacturers develop V8 engines with MPG ratings compared to some four-cylinder vehicles. Chevrolet, Cadillac, Ford and Dodge have brought new eight-cylinder engine options to the table that have better fuel economy ratings that have never been seen by V8s before.
Overall, V8 Engines:
Have Lower Gas Mileage in Sports Cars & Smaller Trucks

Can Have Better Fuel Efficiency in Heavier Trucks Compared to V6 Engines 

Are Best for Those Who Want More Horsepower

Are Great for Towing or Hauling
When choosing between a V6 and a V8 engine, you must consider what you will be using your vehicle for. If you want to tow heavy loads or haul equipment or gear, vehicles like the ever-popular Ford F-150 or Toyota Tundra with a V8 would be a great option. For those wanting a sportier car with better fuel mileage, a V6 Volkswagen or Chevy may be a better choice for you.
Are V6 & V8 Engines Covered in an Extended Warranty?
Whether you have a V6 or V8 engine in your vehicle, you will want to keep it protected from unexpected breakdowns and repairs. This is especially true if you have recently purchased a used vehicle or have had yours for some time, as chances are any powertrain factory warranty coverage for your engine has most likely expired. Even car insurance or car repair insurance won't be able to help. Instead, you can help take the worry out of unexpected and costly repair bills by purchasing an extended warranty (aka a vehicle service contract or VSC).
More specifically, you can get peace of mind knowing you'll have powertrain coverage for years after your factory warranty expires with an Endurance auto protection plan. Not only that, but each Endurance plan also comes with complimentary 24/7 roadside assistance, trip interruption coverage and rental car reimbursements to help you get back on the road fast if you ever experience any engine troubles while away from home. 
And with the Highline protection plan, you can get coverage for select luxury vehicles up to 8 years old and have less than 80,000 miles, including select models from popular automakers such as BMW, Porsche, Audi, Jaguar, Land Rover and more. This is an excellent option for those who want to keep their luxury vehicles protected from some of the costly automotive repair bills you can find.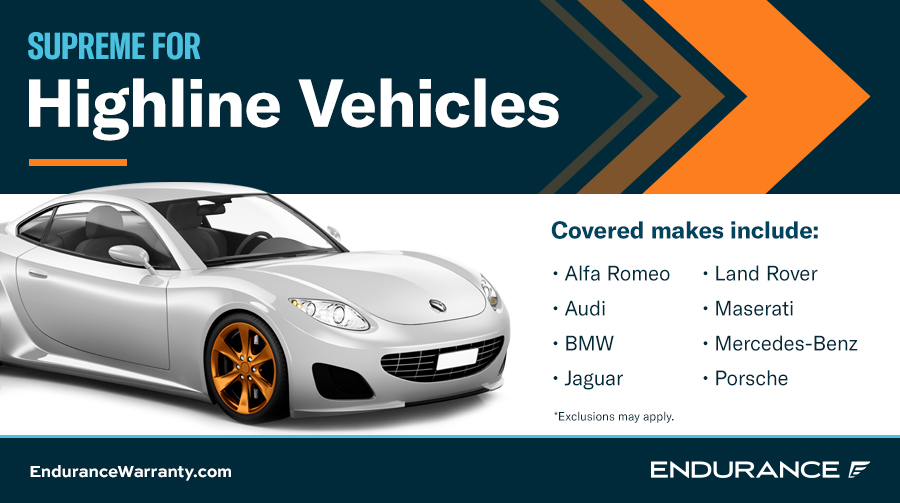 Additionally, each Endurance plan also allows you to enjoy a full year of Elite Benefits, including up to two tire replacements or repairs, collision discounts, key fob replacements and more for just a small activation fee.
Protect Your Vehicle's Engine with Endurance
Whether your car has a V8 engine or a V6 engine, it's vital to stay up-to-date on all of its maintenance needs. It's also essential to protect yourself and your wallet from the cost of expensive automotive repair bills should your car ever break down unexpectedly. And unless you have recently purchased a brand new vehicle and are still covered by its factory warranty, you would be left paying for those repairs yourself — unless you have an Endurance auto protection plan.
Each Endurance plan is designed to help give you comprehensive breakdown protection for your vehicle's most vital components, such as your transmission and your engine. With the Advantage protection plan, you can even save up to $3,500 on your vehicle's essential maintenance needs, including up to three oil and filter changes, tire rotations, alignment checks, state safety inspection services, and even engine diagnostic exams. Not only that, but each Advantage plan also comes with several other special, one-time services such as a battery replacement, cooling system maintenance and more to help keep your vehicle running for years to come. You can also get even more peace of mind knowing that they have 24/7 roadside assistance for free when purchasing the Advantage, Highline or any other Endurance protection plan.  
Not only that, but each Endurance customer will also have the chance to enjoy a full year of Elite Benefits, including up to two tire replacements or repairs, key fob replacements and more. Simply choose the Endurance plan that's right for you, pay a small activation fee and enjoy a full year of even more extra perks and savings.
To get started protecting your vehicle today, request a free quote or give our award-winning care team a call at (800) 253-8203 to learn more about the protection plans Endurance offers that fit your specific budget and needs. The Endurance blog can also be a great resource for finding even more articles on various automotive topics, including expert auto tips, extended warranty coverage comparison guides, DIY maintenance how-tos, and more.  
More like this
Expert Auto Tips

With most states around the country getting colder, it's worth reminding yourself how to prepare your vehicle for the different seasons. Weather conditions play a major role in how a..

Read More

Expert Auto Tips

Being a car owner can be an incredibly rewarding experience, especially if you take pride in your vehicle's condition and performance. Cars that are well taken care of will generally..

Read More

Expert Auto Tips

No matter what kind of vehicle you own, staying on top of its care and maintenance should always be a top priority. Cars that are well taken care of and..

Read More