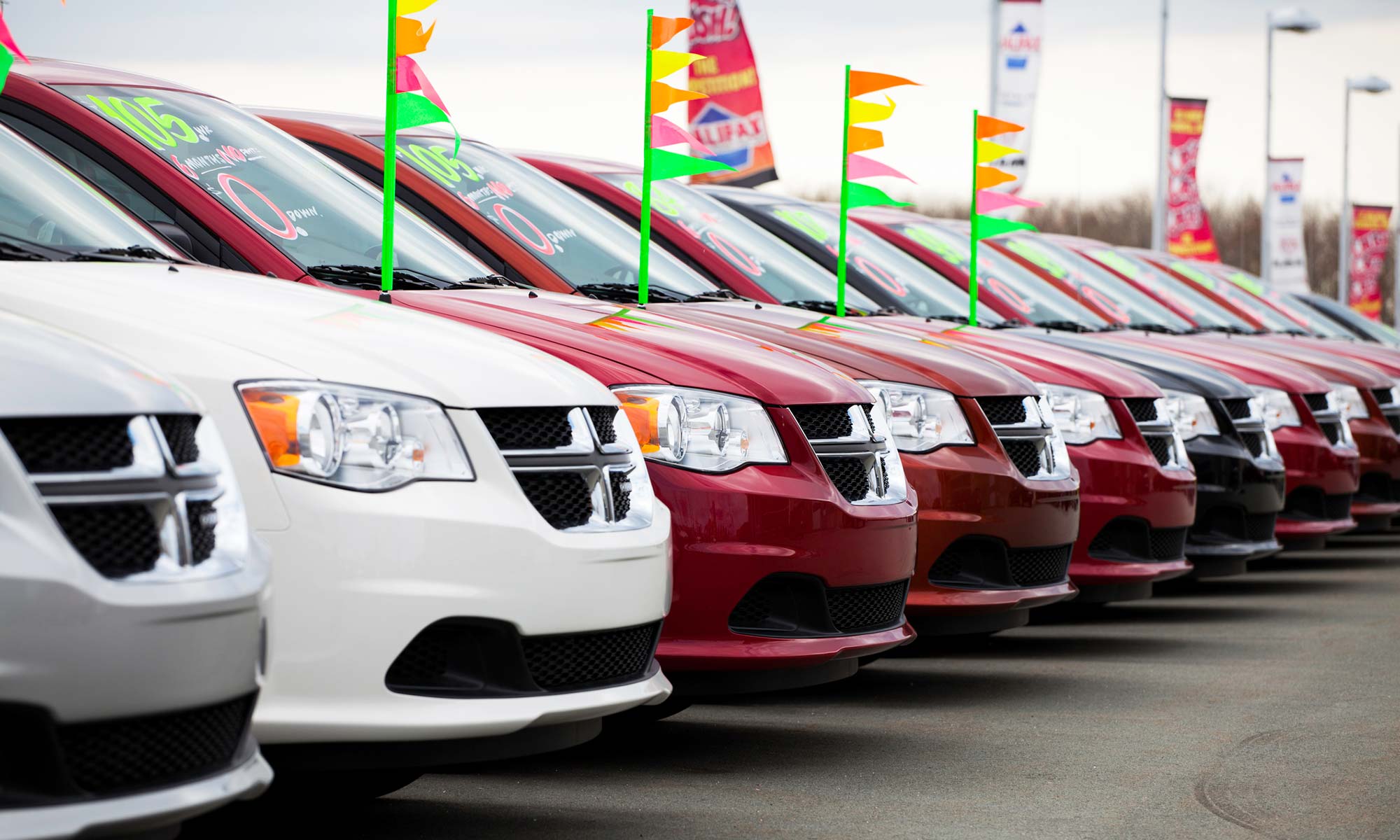 While finding the right vehicle can be as simple as clicking a button online, figuring out the true cost of owning a car goes beyond the sticker price — you also have to consider what it costs to maintain your new ride. Because whether you're pulling out from the dealer in something brand-new or going the used-car route, there are always going to be maintenance expenses, necessary repairs and the occasional unexpected breakdown to think about. 
One way drivers avoid the higher ownership expenses associated with premium car brands like Audi, BMW, Cadillac or Mercedes-Benz is to turn to more mainstream automakers such as Chevrolet, Ford or Toyota. Another such brand, Dodge, is no exception to this trend despite not offering as many models as other carmakers. However, their long history of providing drivers with both affordability and reliability has continued to help make them a popular choice for those looking for either a brand new car or a used vehicle. 
But, just as you need to do before making any major purchase, it's important to know if Dodge vehicles are expensive to maintain.
How Expensive Is It to Maintain a Dodge?
Dodge can trace its origins back to 1900 when brothers John and Horace Dodge first began supplying components to Oldsmobile and Ford. Eventually, the pair produced their first car in 1914 before later becoming part of Chrysler. 
Today, Dodge is under the giant Stellantis umbrella and is one of America's oldest automotive brands still in production. Most recently, they have focused on two areas: family-friendly SUVs/minivans and more performance-oriented vehicles. In particular, its full-size Challenger coupe and Charger sedan offer engines with 800 or more horsepower (hp)!
But, what does all this mean for a Dodge's reliability and its ongoing expenses? Well, for Dodge owners, the average annual maintenance cost for a Dodge averages to be $634 across all their current models of vehicles, according to RepairPal. While falling under the overall average across all automakers, this still places Dodge as more expensive than other automakers such as Toyota ($441) or Nissan ($500), but less costly than a Chevy ($649), Ford ($775), or GMC ($744).
In total, Dodge currently sells three models that do not include the ever-popular Dodge Ram, which actually falls under its own separate division as of 2010. Even still, their current selection and recently discontinued vehicles remain popular choices for car buyers. Some of these Dodge vehicles include:
Dodge Charger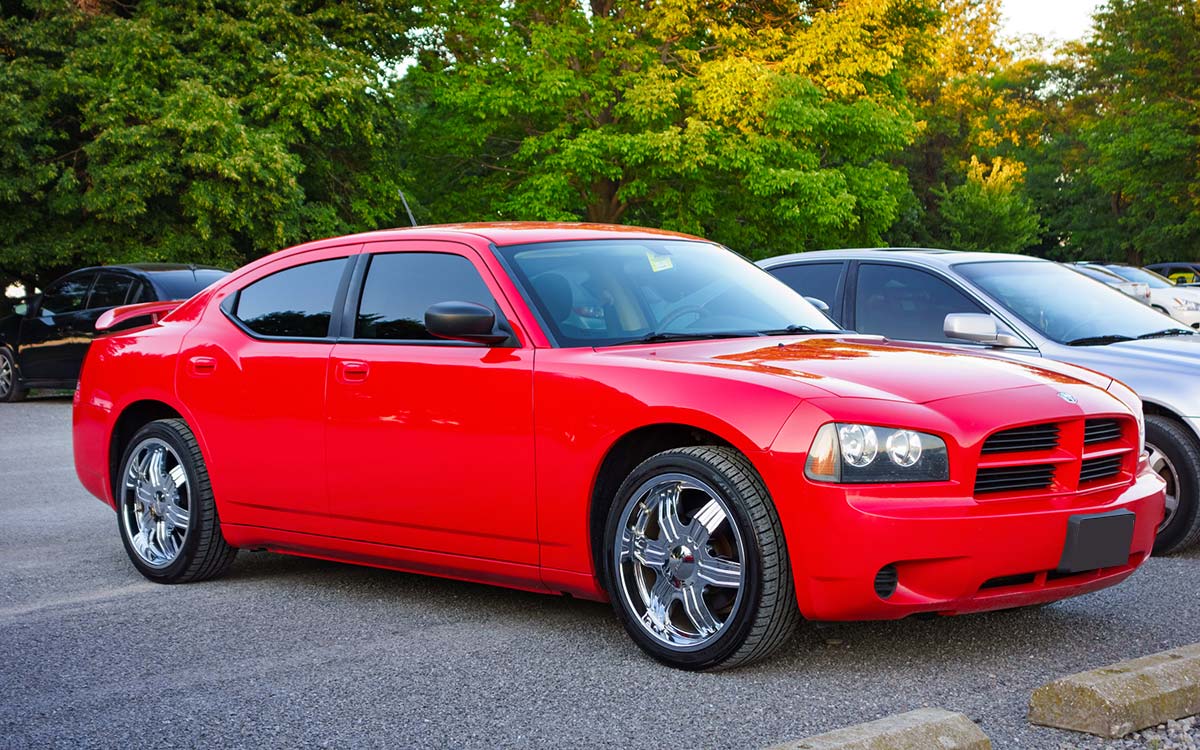 While the Dodge Charger and the Dodge Challenger are two of the most popular performance vehicles out there, we are just going to focus on the four-door Charger. This is mainly because the two-door Challenger shares many of the same components as the Charger, helping to give you a better idea of the costs of owning that vehicle as well. 
Overall, the Charger can provide drivers with an overall reliable vehicle (3.5 out of 5.0) that will cost you roughly $652 each year in repair and maintenance costs, according to RepairPal. This falls right in line with the Challenger, which has an average cost of $650 per year along with its own 3.5 out of 5.0 reliability rating. Yet, despite having an above-average rating, the Charger is not without some potential issues, including being subject to various vehicle recalls. More specifically, the Charger has had a total of 36 recalls issued by the National Highway Traffic Safety Administration (NHTSA) that includes problems with the automatic transmission, windshield, airbags and even the electrical system. 
Other Dodge Charger troubles can include a bad thermostat that needs replacing ($137-$158), a hard-to-fill fuel tank ($88-$111), or steering problems that require rack and pinion replacement ($1,420-$1,684). 
According to RepairPal, other repairs that Charger owners can also expect can include:
Dodge Durango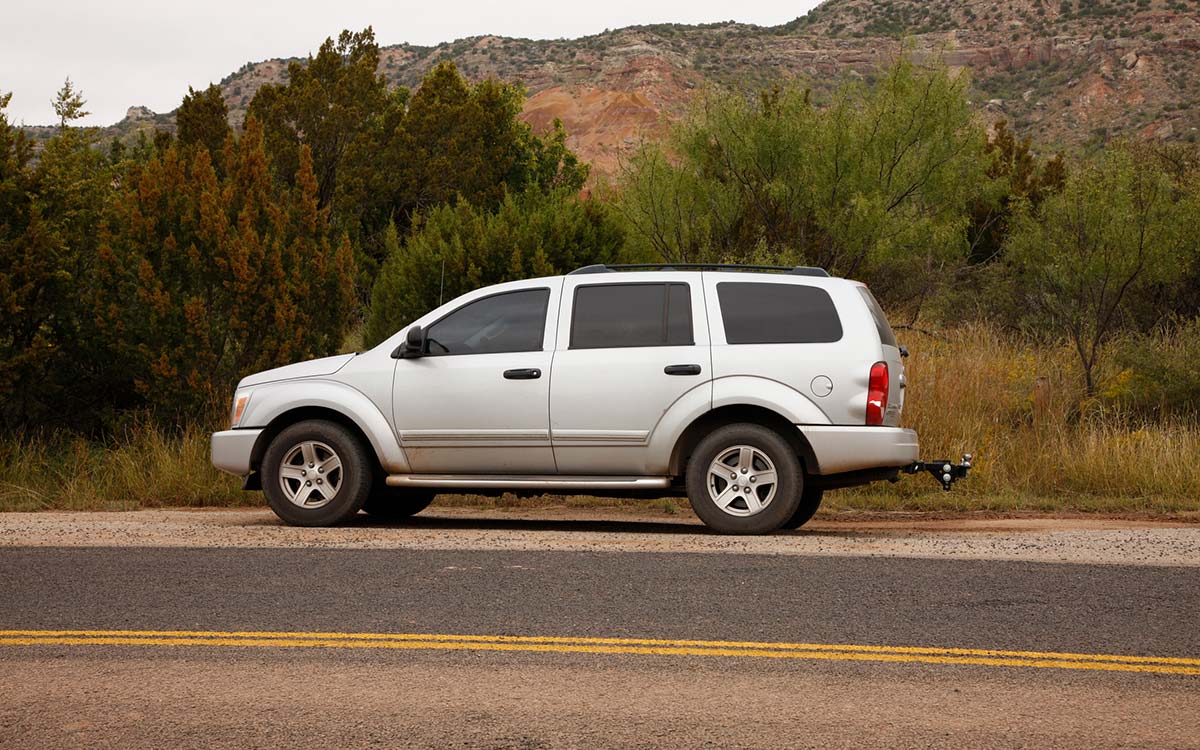 The Dodge Durango has been on the road for over 25 years, with more recent model years scoring a 3.5 reliability rating, helping it rank as the 3rd most reliable vehicle in its class. But, even with a rating like this, you're likely to come across potential problems when owning a Durango. Some of the most common trouble areas include diagnosing an engine oil leak ($88-$111), malfunctioning air conditioning due to a condenser leak ($349-$536) or a failed door look ($160-$183).
Dodge has also issued six separate recalls for 2018 and newer Durangos with most of the issues involving airbags or the electrical system, similar to those found for the Charger. If you have an older Durango, be sure to check if it too has been impacted by past recalls, as some on file stretch back as far as the late 1990s. 
Outside of recalls, some of the other repairs with the Dodge Durango can include: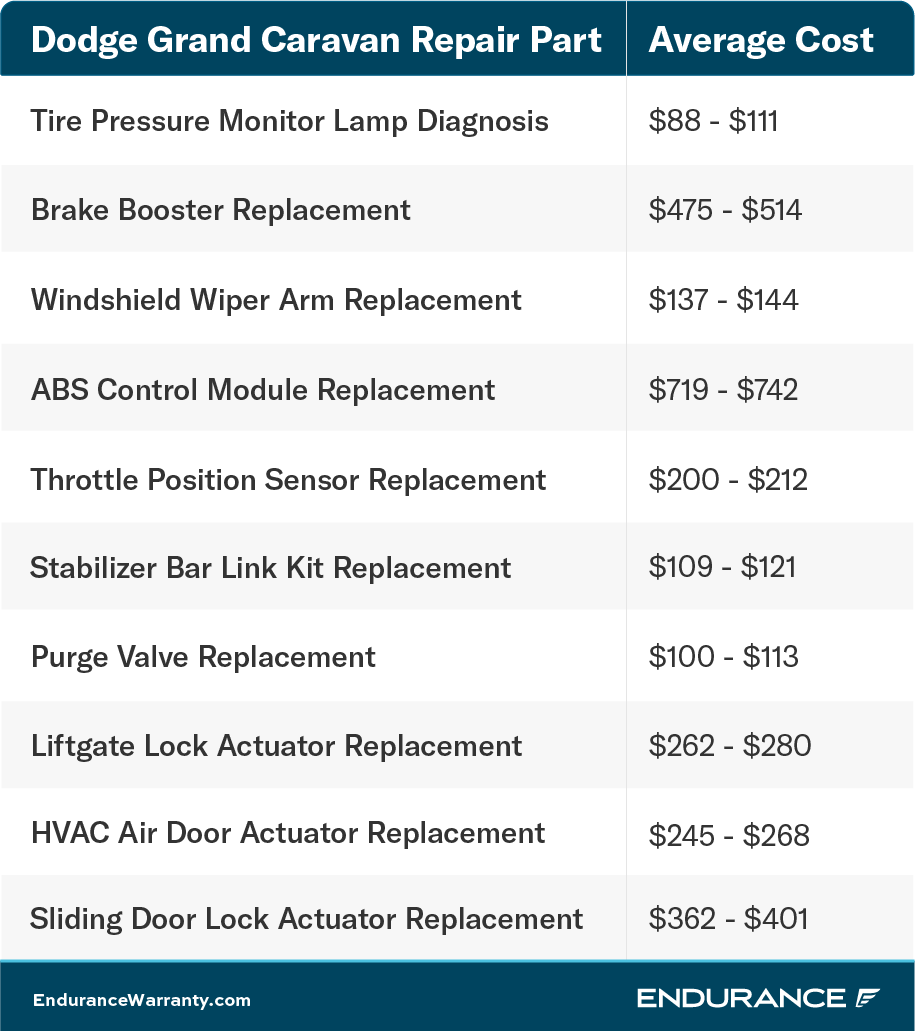 Dodge Journey
Discontinued after the 2020 model year, the midsize Dodge Journey crossover can be an appealing choice for used-car shoppers thanks to a 4.0 reliability score. It is also one of the cheaper Dodge vehicles to maintain, costing $562 in annual maintenance costs. However, even while rated as the 6th most reliable vehicle in its class (out of 26), Dodge has issued 24 recalls dating back to the Journey's debut model year of 2009. These also include issues with the car's electrical system and airbags. Other Journey issues that resulted in recalls also included issues with the crankshaft or camshaft sensor, automatic transmissions seizing and troubles with the backup camera displays.
Aside from recalls, other well-known Journey troubles include a non-working keyless entry system ($88-$111), replacing a power steering pump ($376-$414) and correcting an overheating car with a new thermostat ($148-$169). 
Some of the other repairs and typical costs for a Dodge Journey can also include: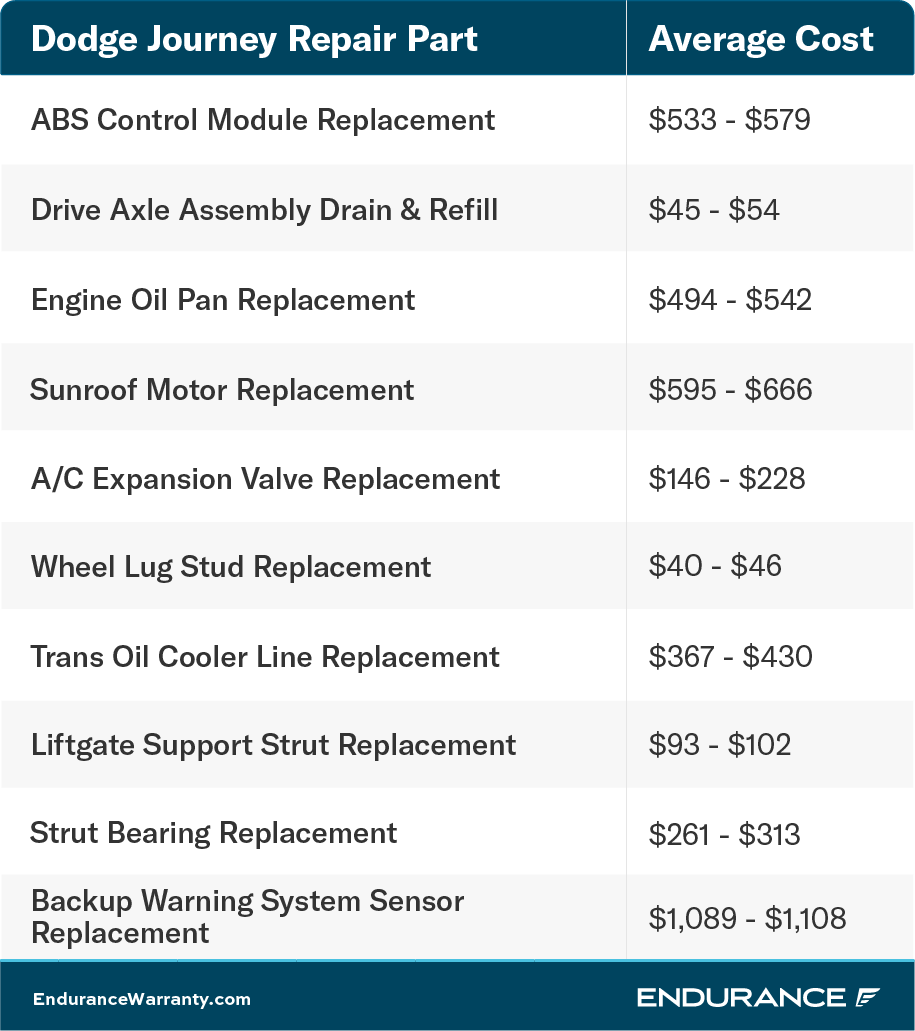 Dodge Grand Caravan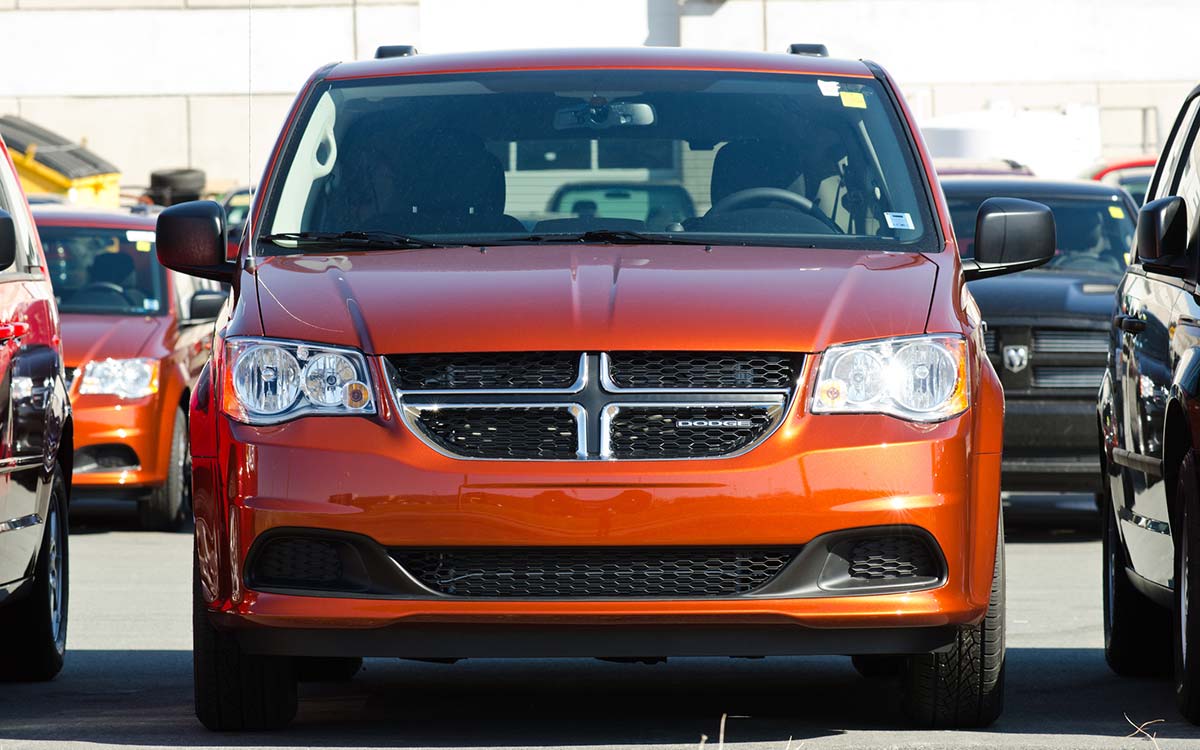 Few minivans had as big an impact on the automotive world as did the original Dodge Caravan when it ushered in the minivan revolution in the later 1980s. Yet, while families in the late 80s, the 1990s and the early 2000s all likely had a minivan at some point, their popularity isn't as it once was. Due to this, Dodge dropped the Grand Caravan from their lineup in 2020 after over 35 years. Still, for those who still own a Grand Caravan or those considering purchasing a used one, you can expect an overall reliable vehicle with a well-above-average 4.0 reliability rating for the later model years. However, while many Grand Caravans are a great option, it may be best to avoid some models, particularly the 2018 Dodge Grand Caravan, which has been subject to numerous recalls, complaints and other issues noted by drivers. 
In general, Grand Caravan owners can expect several potential issues they may come across, including a leaking oil filter ($88-$111), a water leak causing the airbag light to stay on ($88-$111) or the need to replace the shocks or struts ($1,221-$1,245).
Other Dodge Grand Caravan repairs and costs can include: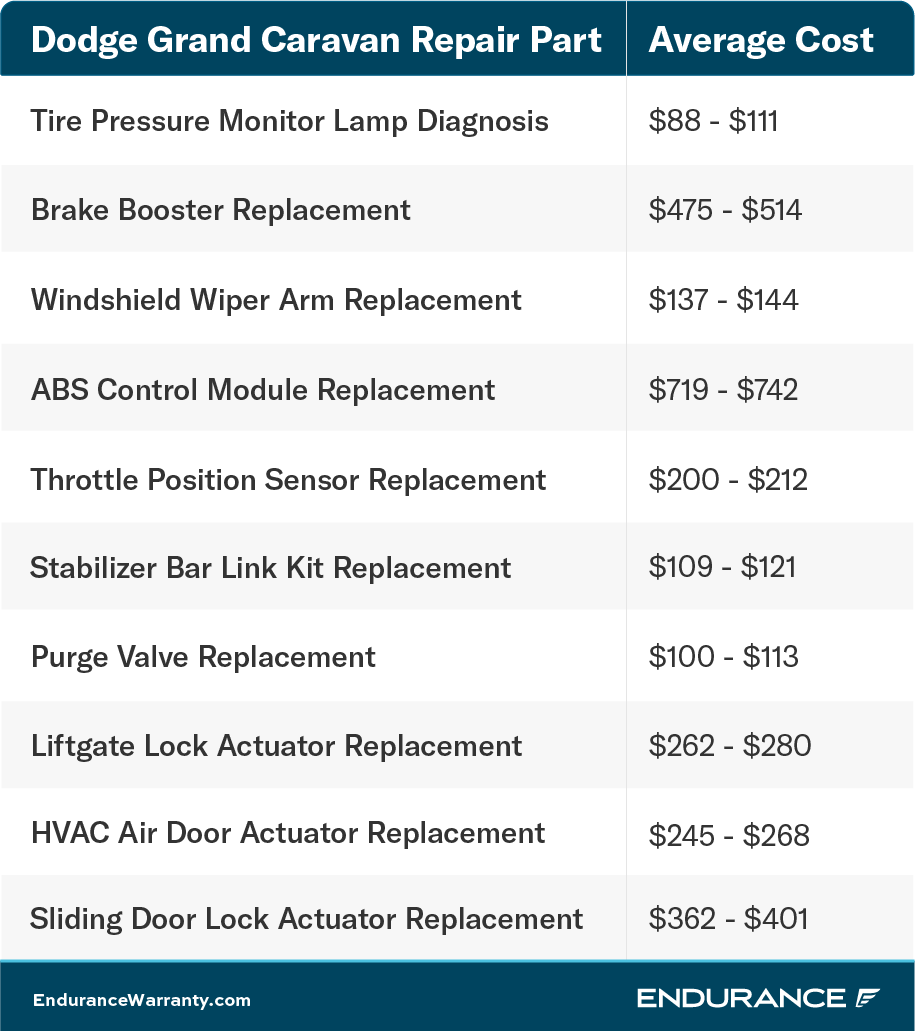 Dodge Recommended Maintenance Schedule
Dodge, like all automakers, provides its customers with a recommended maintenance schedule to help your vehicle stay running as smoothly as possible for as long as possible. While this type of essential maintenance can include general tasks that you would commonly find in any old "tune-up," such as checking tire pressure or changing your engine oil, each make and model can differ. To learn more about your specific Dodge vehicle's recommended schedule, be sure to check your owner's manual for more details. This is especially important if you own one of Dodge's high-performance vehicles or a vehicle subject to abnormal use will require different maintenance intervals. 
In general, the typically recommended maintenance schedule for Dodge vehicles will include: 
Every 10,000 Miles or 1 Year
At a minimum, you should perform the first service at the 10,000-mile mark or after 12 months or 350 hours of engine run time, whichever happens first. At this stage, Dodge recommends changing the oil and filter and rotating the tires. Other steps should involve inspecting the battery, brakes, cooling system and exhaust. After the first service, it's vital to continue performing these general car maintenance procedures at the same 10,000-mile interval to help ensure your vehicle stays running as it should for longer.
Every 20,000 Miles or 2 Years
In addition to the steps needed after every 10,000 miles, Dodge owners can also expect several other services to be performed once they reach 20,000 miles (and every 20,000 miles after). This will include replacing the air conditioning filter and inspecting the front suspension and brakes. 
Every 30,000 Miles or 3 Years
At the 30,000-mile interval, you should look to include even more car maintenance procedures, including replacing the engine air filter and inspecting the CV joints and transfer case fluid (for vehicles with four-wheel drive). 
Every 100,000 Miles or 10 Years
One of the last major service milestones for a Dodge is at the 100,000-mile/10-year mark. At this point, the vehicle will have the coolant flushed and replaced, new spark plugs installed, the PCV valve replaced and other required services. While some car owners may choose to perform DIY maintenance when it comes to their Dodge's recommended maintenance, relying on an ASE Certified mechanic or a certified repair facility can ensure that nothing gets overlooked.
Dodge Maintenance Costs
Part of buying a car involves looking at estimated maintenance and repair costs. The idea here is that the more reliable a vehicle is, the less you'll have to pay down the road. Researching Dodge's reputation for reliability (or any other car brand) can help you decide if this is the right car for you and your budget.
Overall, Dodge ranks 19th out of 32 automakers with a 3.5 reliability rating, putting it right in the middle of the pack. This is also reflected in their annual maintenance costs, with Dodge owners paying an average of $634 compared to $652 among all cars.
Keep Your Dodge Running for Longer with Endurance
The best way to keep your Dodge or any other vehicle running longer is by following its recommended maintenance schedule. You can also take the worry out of any unexpected breakdowns or other costly repairs bills you may face outside your auto or mechanical breakdown insurance with an Endurance auto protection plan. 
Each Endurance plan is designed to give you peace of mind knowing that your car, truck or SUV's most vital components are covered. Some protection packages, such as EnduranceAdvantage™, can even help you save on the cost of your vehicle's essential maintenance. By offering up to $3,500 in regular maintenance services, you can save on many of your Dodge's recommended services, including up to three oil and filter changes, engine diagnostic exams, tire rotations and more — at no additional cost to you. Each Endurance plan also automatically comes with extra protection in the form of 24/7 roadside assistance. 
Additionally, any new and existing Endurance customers are automatically eligible for one year of Elite Benefits by purchasing an ANY Endurance plan. Simply pay a small activation fee and enjoy a year's worth of extra perks such as up to two tire repairs or replacements, collision discounts and others for even more coverage and savings. 
Get started learning more about how an Endurance auto protection plan can help you by requesting a free quote or giving us a call directly at 800-253-8203. You can also learn more about the true cost of owning another make and model vehicle and discover other fun and informative automotive articles on a variety of topics by visiting our Learning Center.
More like this
Make/Model

As the world gradually transitions to renewable energy sources, the adoption of e-vehicles is on the rise, and Tesla has been leading the charge. Their range of electric cars is..

Read More

Make/Model

Originally formed from the remnants of the Henry Ford company, Cadillac is arguably the most quintessential American car brand in existence. Founded over 100 years ago, they were the first..

Read More

Make/Model

Buying a new car or a used car can be a tricky process. The choice of vehicles is almost endless, and while it can be tempting to go for the..

Read More