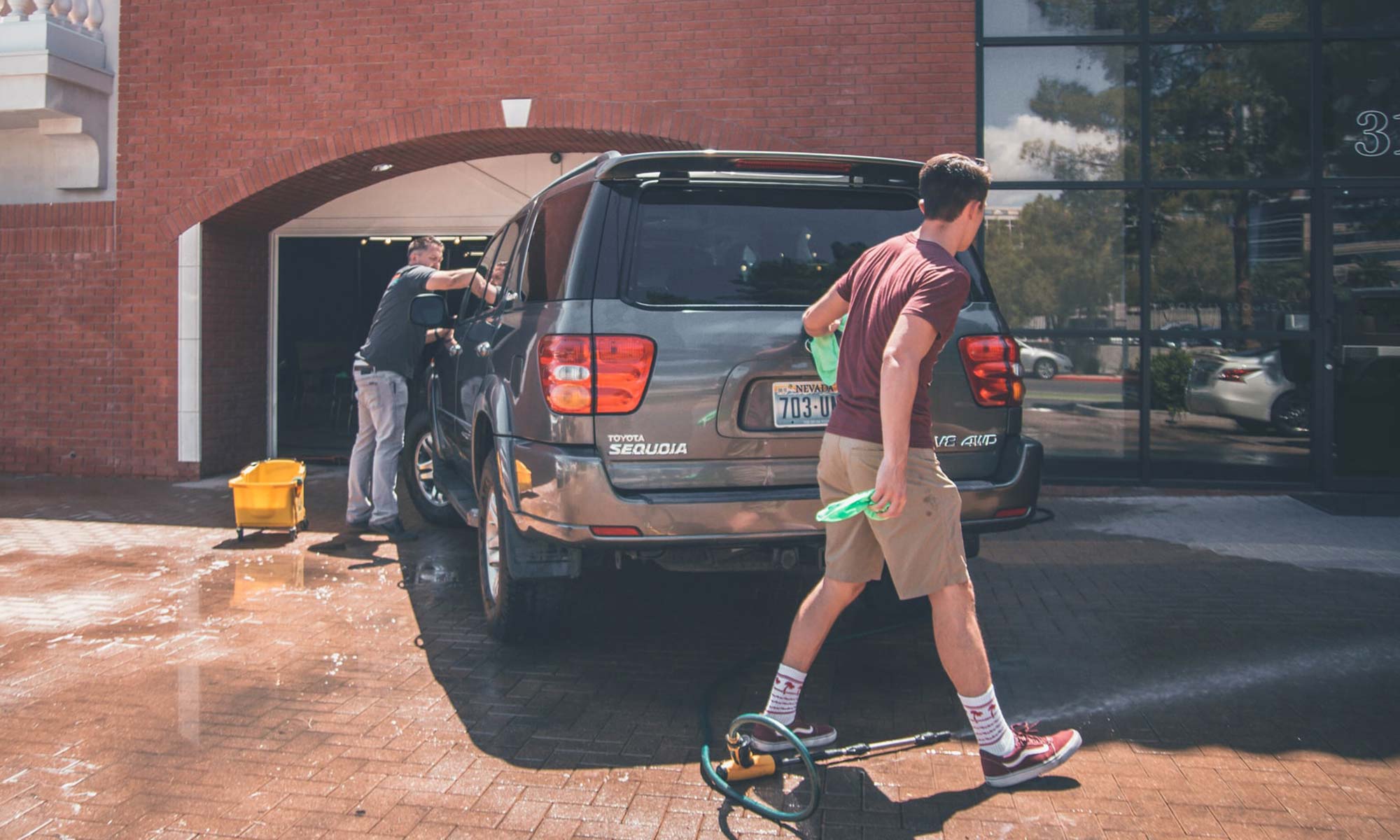 Owned your vehicle for a while and looking to make your car feel brand new? According to data intelligence leader IHS Markit, drivers today are keeping their cars for longer—an average of 11.6 years—leaving Americans across the nation for ways to keep their car feeling (and looking) fresher than ever.
Our experts got their heads together to create a foolproof system to help you rejuvenate your vehicle. Whether you own an older vehicle or a newer model, essential car maintenance should be done every season to ensure you feel empowered when hitting the road.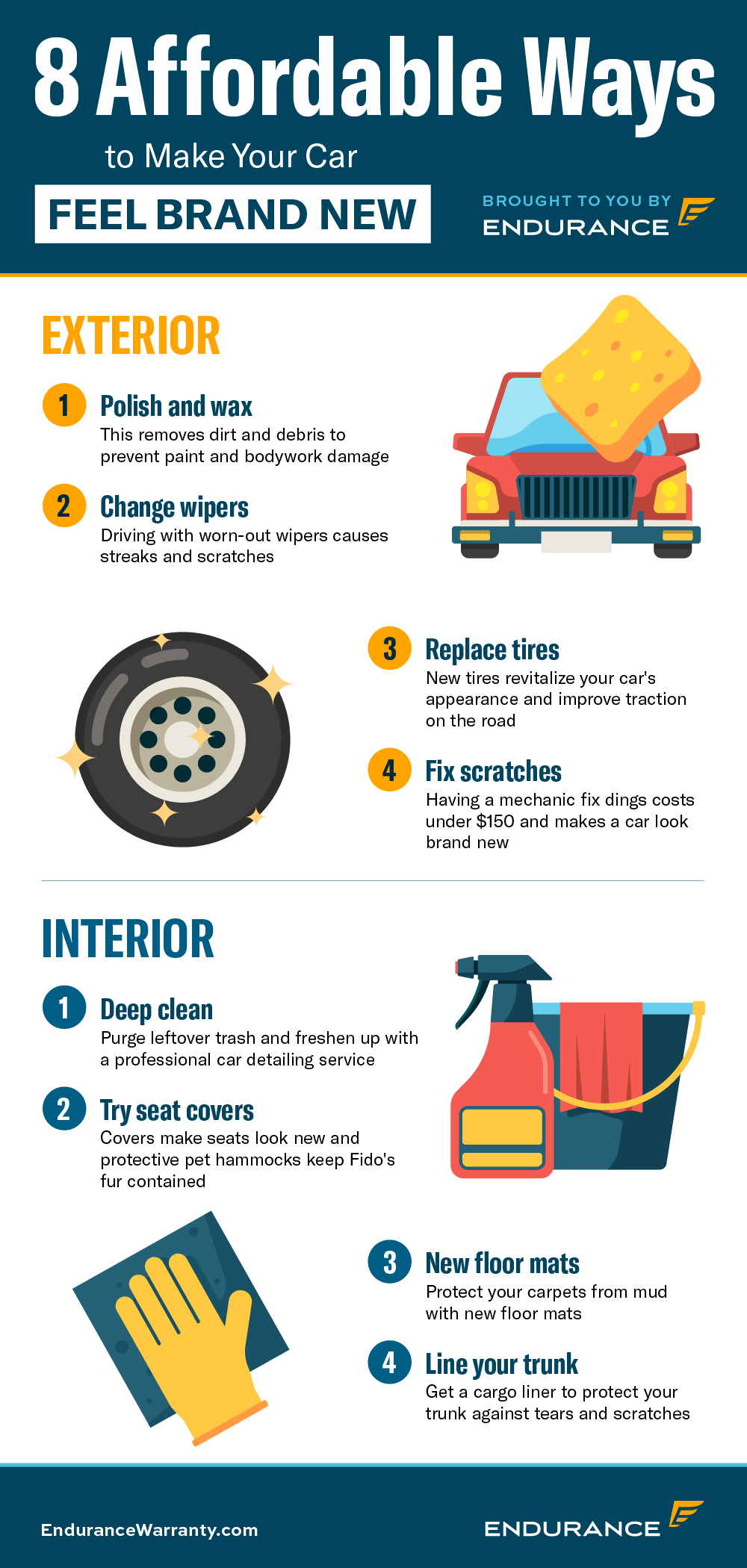 8 Affordable Ways to Make Your Car Look Better
Knowing how to take care of your vehicle is now easier than ever with this easy-to-follow guide.
Outside
Step 1: Clean, Polish, and Wax
What you need:
Microfiber cloths
Sponges
Buckets
Gentle car detergent, polish, and wax
Glass cleaner
Toothpaste
If you want to know how to make a car look new, start with a clean exterior. Skipping a car wash can result in expedited damage to the exterior such as paint or bodywork damage. Plus, cleaning regularly prevents the buildup of dirt which is especially important in the fall and winter months. Be careful to use a gentle soap if you're doing it yourself, and follow with a polish and wax.
Don't forget to clean the side mirrors, as well!
Pro tip: Rubbing toothpaste into your headlight and taillight covers can reduce cloudiness and restore sparkle.
Step 2: Change the Wipers
A streaky windshield doesn't scream "new car." In fact, driving with damaged wipers can result in scratches on your windshield that can cost thousands to replace. For a quick fix with a big payoff, make getting those wipers changed one of the first things you do. Already an Endurance customer? Cash in on your $250 in discount vouchers to put money back in your wallet when performing essential car maintenance.
To get shopping, simply log in to My Digital Vehicle Rewards using your phone number and password—your registered zip code—to redeem your rewards today.
Step 3: Replace the Tires
When the tread's worn and your tires are cracking, it's not just driving enjoyment and road safety that suffer—your car can appear old and scruffy. Replacing the tires is always worth the money and can make an old car look much newer. With winter approaching quickly, replacing your tires also ensures there's enough traction on the road.
If you ever experience a sudden blowout or flat tire due to a road hazard, Endurance Elite provides up to $125 per for two tires per contract. Not only are you covered in the case of a sudden breakdown, but you can save on essential maintenance to keep you on the road.
Step 4: Get a Mechanic to Look at Scratches and Dents
Fixing any scratches or dents is not a simple fix, but one that has a big impact on visual satisfaction as well as the sell-on price.
If your car has any scratches or dents in the bodywork, we suggesting getting them looked at and fixed as soon as possible. Contact a car dealership or your preferred mechanic to receive a quote on fixing any scratches or dents on your vehicle. Repairs typically cost under $150, depending on the severity of each case. Sometimes all that's required is a touch of paint, some sanding, and waxing to complete the job which doesn't cost much.
Inside
Step 1: Declutter and Deep Clean
What you need:
Brush
Balloon
Vacuum
Microfiber cloths
Sponge
Gentle detergent suitable for hard surfaces
Specialist shampoo and conditioner for your car's upholstery
Glass cleaner
First, the time has arrived to tidy your car up. A serious declutter shouldn't be underrated. Purge any food wrappers, empty water bottles, receipts, and anything you've left in there and never used: think lots of chargers, cables, surplus antifreeze cans, multiple pairs of sunglasses, and the like.
Next, the deep clean.
Between a vacuum, brushes, and a balloon—yes, a balloon—you'll rid the interior of all the grime and dust that can make it look old and tired. Static from balloons is great for removing dust from surfaces and hard-to-reach places.
Then clean your windows, wipe down your non-fabric surfaces (including the pillars, dashboard, steering wheel, grab handles, gear shift, parking brake, and seat belts), and shampoo all fabric surfaces (including your seats, ceiling, and floors) to remove any sticky residue and stains.
There are conditioners specifically designed to get your upholstery looking sharp and brand new—so grab the right one for the fabrics in your car's interior.
Pro tip: Consider car detailing
Taking your car to a professional car detailing service might cost a little more, but might be the best option if you're short on time or the right supplies. They'll clean inside and out, and they'll have access to specialist equipment like specialist car detergents and paint clay. Check if they include an engine clean too.
Step 2: Invest in Seat Covers
Once you've cleaned the seats, cover them—it's the single best way to keep them looking like new. It's also an easy way to personalize your car interior.
Dog owners especially can benefit from using protective covers to ensure the interior of their car can handle their furry friends. Hammocks for example are quick to put up and super effective for protecting your car seats (and seat belts!)
Step 3: Invest in New Floormats
Floormats serve an important purpose—they protect your footwell carpets from getting muddied up or torn.
If you haven't got the original mats, it's not a big investment to get new ones. And if you've got them but they're looking a bit worn and tatty, either clean or replace them. Popular stores such as AutoZone offer great options for all makes and models, which can add a nice personalized touch to the interior of your car.
Step 4: Get a Cargo Liner
Cargo mat liners are inexpensive and help protect the part of your vehicle that often sees the most dirt. Heavy-duty liners are highly recommended, as it's all too easy to tear and scratch surfaces in the trunk. They're also much easier to wash than the actual trunk carpet since they're removable, making the process easier in the long run.
Save with an Endurance Extended Auto Warranty
Simple improvements to the interior and exterior can make a huge difference to your day-to-day experience, but are you prepared for more serious problems like costly car repairs?
Endurance offers the most comprehensive protection package on the market. Whether it's essential car maintenance or handling sudden repairs, having the right extended auto warranty could save you thousands of dollars and alleviate the financial burden of owning a vehicle.
Gain peace of mind knowing you're protected in the case of sudden breakdowns and provided unrivaled benefits such as 24/7 roadside assistance road interruption coverage, rental car coverage, and more. Every Endurance protection plan also comes with 1-year access to all the benefits of the Endurance Elite Membership for FREE, including key fob replacement, tire repair/replacement, $250 in discount vouchers, and much more.
Request a free, no-obligation quote below to learn more about our coverage plans and flexible payment options.
More like this
Expert Auto Tips

With most states around the country getting colder, it's worth reminding yourself how to prepare your vehicle for the different seasons. Weather conditions play a major role in how a..

Read More

Expert Auto Tips

Being a car owner can be an incredibly rewarding experience, especially if you take pride in your vehicle's condition and performance. Cars that are well taken care of will generally..

Read More

Expert Auto Tips

No matter what kind of vehicle you own, staying on top of its care and maintenance should always be a top priority. Cars that are well taken care of and..

Read More