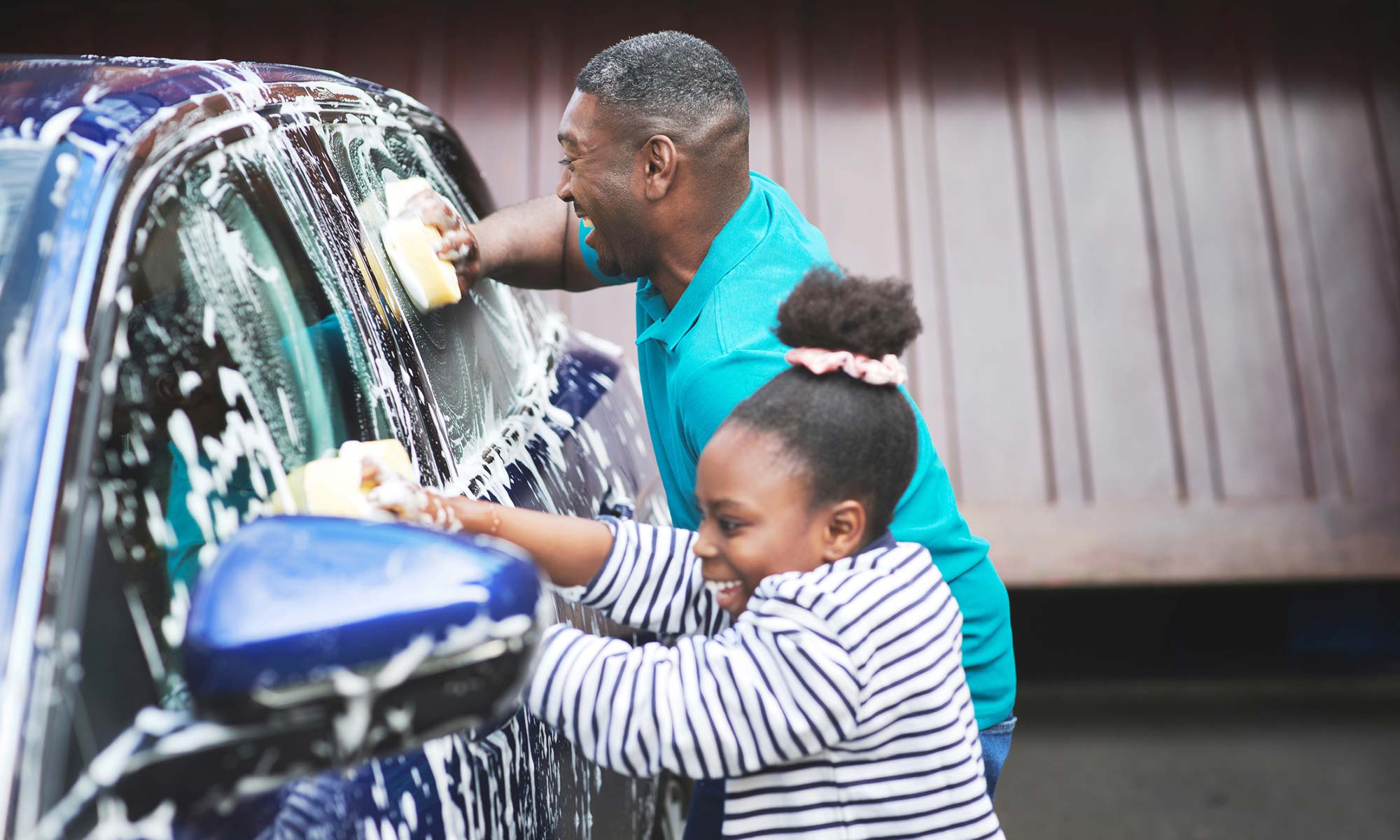 While April can be the perfect time for some spring cleaning, it's also National Car Care Month, making it the perfect time to include your vehicle on your to-do list. It'll be a great chance to remove the dirt, grime and road salt that builds up after a long winter. If left unchecked, it can wreak havoc on your vehicle in spring — both inside and out. In fact, regardless of the time of year, regularly washing your car is a vital part of its preventative maintenance. 
To help you celebrate National Car Care Month and keep your vehicle looking its best year-round, follow the do's and don'ts of washing your car.
Why Does My Car Need a Car Wash?
When it comes to car care tips any time of the year, few are as simple as washing your vehicle. After all, a car needs a wash for two reasons: to clean it and to protect it. A thorough car wash will remove all the dirt, grime, salt, and other contaminants that can damage your car's paint job or cause rust. It can also help limit the effects of acid rain on your vehicle. In other words, cleaning your car can help you save money by avoiding some potentially costly issues. The sun can also cause fading and other damage to the exterior of your car, so a good car wash will help protect your car's finish.
Don't forget about the interior as well. A good deep cleaning of your car's interior will remove all the dirt, dust and crumbs or forgotten french fries that have accumulated over time. Doing so will help keep your car's interior looking like new while helping to prevent potential issues like the growth of bacteria or mold.
Car Wash "Do's"
If you want to keep your car in good condition, it's essential to wash it regularly. We've put together a list of car wash "dos" to help you get the most out of your car wash experience in honor of National Car Care Month.
Choosing the Right Equipment
One of the most important car care tips to remember when giving your vehicle a thorough deep cleaning is to use the right equipment. This includes using microfiber cloths and wash-mitts, cleaning supplies made for cars, a bucket for clean water and one for rinsing, glass cleaner for your windows and your windshield, leather cleaner if you have leather seats, and a vacuum cleaner. Consult your owner's manual if you are unsure about your car's trim and upholstery. This is crucial, as using the wrong cleaning solutions on materials such as leather could lead to staining, fading or cracking of your seats or upholstery.
Spot Test 
Even after determining the type of trim and upholstery your vehicle has, always spot test the cleaning materials you will be using before you start washing your car. This will ensure that the cleaner you are using won't damage your trim or upholstery. This also goes for washing the outside of your vehicle so you can ensure nothing will potentially damage your paint or finish. 
Start with a small, hidden area like a doorjamb or the underside of a seat or the dashboard. Apply the cleaner according to the instructions and wait a few seconds. If there is no adverse reaction, you can proceed with washing the rest of your car. However, if you notice any damage after testing, discontinue use and consult a professional before trying to clean the rest of your vehicle.
Take Your Time & Clean Section-By-Section
Washing your car isn't an F1 race, so take your time. Going too fast when washing your vehicle can only lead to potential issues, not to mention the likelihood of missing a few spots. Take your time and clean section-by-section, especially on the outside of your vehicle. Start with the top and work your way down. This will prevent streaks and water spots while ensuring that any dirt or debris won't trickle down to parts of your car you've already cleaned.
Get Those Hard to See Places
Just because you can't see it doesn't mean you shouldn't clean it. The various nooks and crannies you can find inside and outside of your vehicle can often be prime places for rust or other issues to form, including the grille, wheel wells and under the car. Taking the necessary time to clean each area thoroughly will help keep your vehicle in good shape, especially the undercarriage and wheel wells that can take a beating during the winter. Also, don't forget the trunk, door jambs and under the hood!
If you can't reach all the areas of your vehicle or if you're unsure your cleaning was thorough enough, a professional car wash can help.  
Don't Forget the Vents & Air Filters
Like the nooks and crannies, the vents are one of the most commonly overlooked places to clean in any vehicle. But unlike your wheel wells or undercarriage, dirty air vents can immediately impact you and your passengers as they can get full of dust and debris that can cause allergies or respiratory problems. To help you clean them, be sure to use a soft brush. A vacuum with a handheld attachment can also be a helpful tool when cleaning your vents. Also, check your car's various air filters, such as the engine air filter or the cabin air filter, to help ensure both you and the components under the hood are getting some much-needed fresh air.
Car Wash "Don'ts" 
Believe it or not, there are actually wrong ways to wash your car. Knowing what these are and why you should avoid them can help ensure your vehicle stays looking its best for as long as possible. 
Don't Wait too Long
Regularly washing your car is key to maintaining its condition and preventing damage caused by rust and other containments. Not to mention that the longer you wait, the more dirt and grime will accumulate, making it more difficult and time-consuming to clean. 
Don't Use Harsh Chemicals
Some people use harsh chemicals to clean their car, thinking it will do better than other soaps or cleaners. However, these chemicals can damage the paint and finish of your car. Instead, choose cleaners specifically made for cars and are properly pH balanced. And remember, be sure always to spot test any cleaning solution you'll be using both inside and outside of your vehicle. 
Don't Wear Zippers or Jewelry
While washing your car, it's essential to avoid wearing anything that could damage the paint or finish. This includes zippers, belt buckles, and jewelry that can potentially scratch your car's paint or finish.
Don't Pick or Scratch Stuck-on Dirt or Grime
One of the biggest mistakes people make when washing their car is using items such as dish scrubbers or even their fingernails to pick or scratch off caked-on dirt or grime, as this can damage the paint and finish. Instead, use a microfiber cloth or wash mitt and spot-tested cleaning solutions to tackle any tough to clean spots.
Don't Wash the Car in Direct Sunlight
While getting outside and washing your vehicle in the spring and summer is a great way to enjoy the day, avoid washing your vehicle in direct sunlight. The sun will heat your car's surface, causing the water and soap you are using to clean it to evaporate much more quickly, resulting in water spots that you'll have to clean all over again. Instead, wait until later the sun starts to set before washing. Or, if you're able, wash your car in the shade, like in your garage or under an awning. 
Don't Reuse Towels or Rags
Using the same towel to wash and dry your vehicle may seem convenient, but dirty towels or rags can cause scratches and even make the car dirtier. This is especially true if you use any towels with grease or oil on them. Also, be careful in the car's interior, as used towels or rags can stain the upholstery. 
Don't Use a High-Pressure Hose or Power Washer
Along with reusing towels, using a hose or power washer may seem like a good idea, but it isn't. While they can help with areas such as your wheel wells, a power washer or a high-pressure hose can damage your car's paint. Instead, use a bucket of water that you can refill as needed while cleaning your car. If you need a power washer or hose, keep the pressure as low as possible and try spot testing to ensure your car's paint or finish isn't at risk of chipping or peeling.
Keep Your Car in Top Shape with Endurance
National Car Care Month is a time to focus on the importance of taking care of your car. By following these simple do's and don'ts when washing your car, you can keep it looking like new for years to come. And along with regular car washes, it's also vital to stay up-to-date on your car's routine maintenance, such as getting regular oil changes or checking your tire pressure (PSI). Even checking your vehicle's essential fluid levels, including your transmission fluid and coolant, can help you avoid unexpected breakdowns and costly repairs. 
With an Advantage auto protection plan from Endurance, you can get comprehensive breakdown protection while saving up to $3,500 on your vehicle's yearly maintenance needs, including oil and filter changes, tire rotations, engine diagnostic exams, alignment checks, and other essential services. Each Advantage plan will also come with several one-time services to help you get even more coverage and savings, including cooling system maintenance, a battery replacement, a front or rear wiper blade replacement and more.
Additionally, as an Endurance customer, you'll also automatically receive 24/7 roadside assistance and towing, trip interruption coverage and rental car reimbursements for free, regardless of your Endurance plan. You'll even be eligible for a full year of Endurance Elite Benefits, including additional perks and savings such as tire replacements or repairs, collision discounts and more.
If you'd like to learn more about any Endurance auto protection plan, give our award-winning care team a call us now at (800) 253-8203 or request a free, no-obligation quote. Don't forget to visit the Endurance blog for additional material on various automotive topics, ranging from first-time car buying advice, expert vehicle maintenance tips, road trip planning guides, make/model comparisons and more.
More like this
Expert Auto Tips

With most states around the country getting colder, it's worth reminding yourself how to prepare your vehicle for the different seasons. Weather conditions play a major role in how a..

Read More

Expert Auto Tips

Being a car owner can be an incredibly rewarding experience, especially if you take pride in your vehicle's condition and performance. Cars that are well taken care of will generally..

Read More

Expert Auto Tips

No matter what kind of vehicle you own, staying on top of its care and maintenance should always be a top priority. Cars that are well taken care of and..

Read More