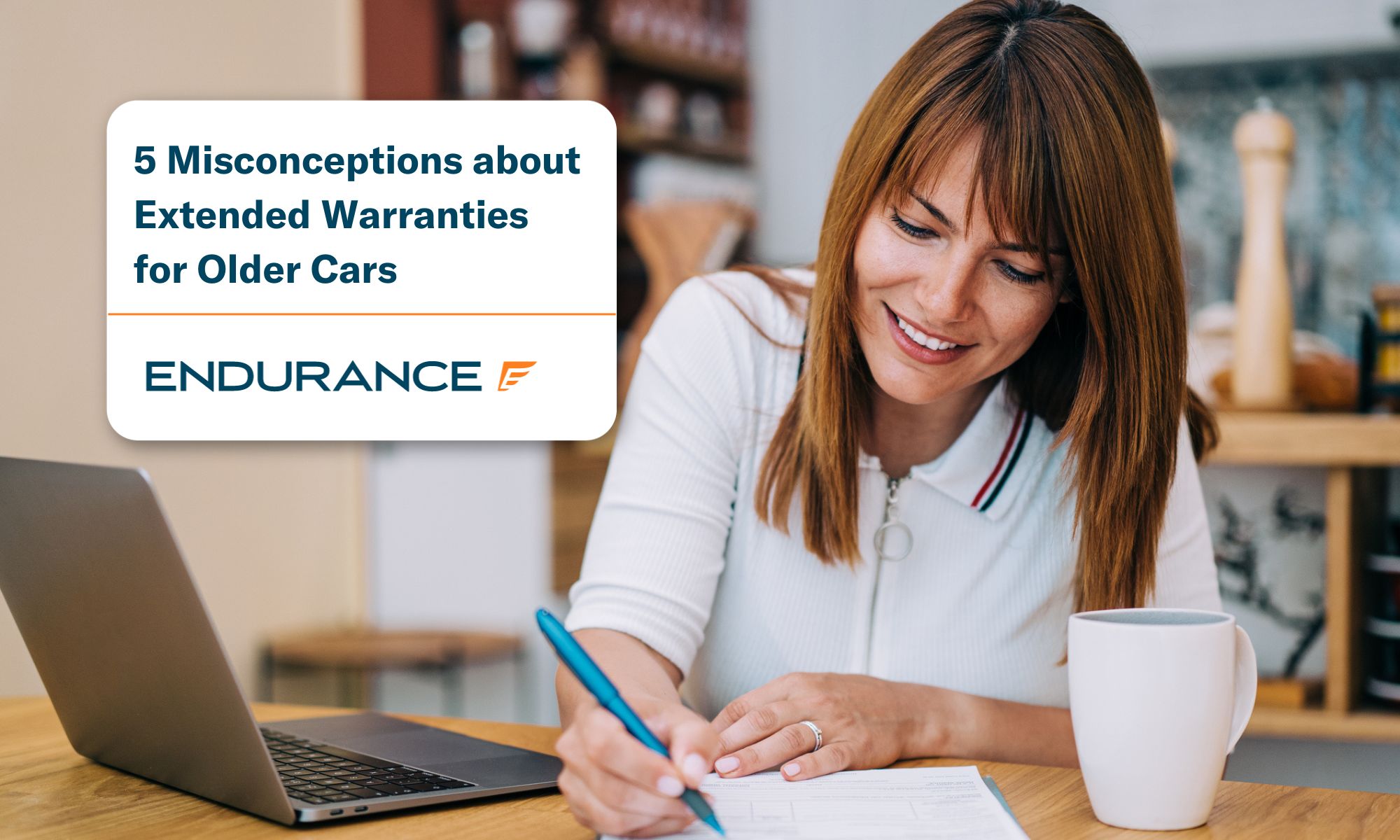 Nothing beats being able to hit the open road and head wherever you like, whenever you like. Plenty of drivers fall in love with our vehicles, maintaining them with total care until they're five, 10, or even 15 years old. But no matter how well looked after a car is when it reaches a certain age, the chances of unexpected component failure inevitably become much higher.
While many older vehicle owners want to protect their pride and joy and ensure they're not left out of pocket by taking out an extended car warranty coverage plan, some common misconceptions make them believe it isn't an option. We're here to set the record straight — and prove that you absolutely can find quality coverage if you know where to look.
Let's dig deeper into five of the most common misconceptions about extended warranties for older cars.
Misconception #1: Older Cars Don't Qualify for Extended Warranties
Many car owners assume that older cars don't qualify for extended warranties, but this isn't true at all. There are a number of providers out there who will be more than happy to protect an older vehicle, though their eligibility criteria may vary.
For example, they might only cover vehicles with less than a certain number of miles on the clock or vehicles under a certain age. At Endurance, we pride ourselves on our unrivaled eligibility, offering a plan for cars that have up to 150,000 miles on the clock and another for cars that are up to 20 years old.
It might seem obvious, but it's worth spelling out: investing in an extended auto warranty for an older car is highly recommended. Whether you use your car a lot or not, components naturally deteriorate over time, and the older your vehicle, the closer everything under your hood will be to breaking down.
When the worst ultimately happens, having an extended warranty looking out for you can be a total lifesaver, saving you time, stress, and money. All you need to do is get your car to the nearest certified auto shop, and as long as the repair comes under your contract, you'll only pay your deductible.
Misconception #2: Extended Warranties for Older Cars are Prohibitively Expensive
If older vehicles are more likely to need a visit to the auto shop, wouldn't that mean they're more expensive to protect? That might not necessarily be true. The cost of your extended warranty coverage is calculated based on a number of factors, including the car's make, model, age, and mileage. You'll also pay more or less depending on the level of coverage you're going for.
When considering the cost of your warranty, you should also evaluate your long-term savings. While the annual/monthly quote given to you by your provider might sound like a lot of money upfront, when the average cost of a blown head gasket is somewhere between $1,899 and $2,202, it's well worth protecting yourself. Not having an extended warranty in your moment of need could set you back hundreds — if not thousands — of dollars that would have otherwise been kept in your wallet.
Misconception #3: Extended Warranties Only Cover Major Breakdowns, Not Wear and Tear
Another common misconception involves the finer details of vehicle service contract coverage, with some people thinking that only major breakdowns are covered, not wear and tear repair costs. This is not necessarily the case and will completely depend on the coverage provider you opt for and the plans they offer.
Some providers may not explicitly cover repairs for wear and tear in the main body of your contract but could offer some form of wear and tear coverage via added benefits such as tire repair or brake pad replacement. In the case of the Endurance Advantage plan, you'll even receive up to $3,500 in annual routine maintenance costs, footing the bill for work including oil and filter changes, state safety inspection services, a one-off battery replacement, and more.
As with any contract, it's crucial that you thoroughly read the terms before you put pen to paper. Go through them with a fine-tooth comb and note any inclusions or exclusions so you know exactly what you're signing up for. If you have any queries, don't hesitate to contact your provider for clarification. Should they not be able to give you a concise explanation, it might be a sign to look elsewhere.
Misconception #4: It's Better to Set Aside Money Than Buy an Extended Warranty for an Older Car
Saving money is pretty much always a wise thing to do, whether yours is a new car or a used car. But where an older vehicle is concerned, repairs could be frequent and significant enough to drain those savings very quickly. While you might not be able to save quite as much money by signing up for an extended warranty, at least you can be absolutely certain that the money you save is safe from being spent at the auto shop.
If you have $500 expendable income per month and save every penny, that's $6,000 per year — a third of which would be wiped out by a single blown head gasket. Endurance warranty plans start from as little as $99, so that's $401 saved per month and almost $5,000 saved annually. In short, an extended warranty protects your bank account as much as it protects your vehicle.
Misconception #5: All Extended Warranties Have Complex Claims Processes
You'd be forgiven for thinking that the warranty claims process is complex, but pick a good warranty provider, and it should be the opposite. At Endurance, our top priority has always been customer satisfaction, and our award-winning customer service team is always on hand to process claims and answer questions. We also have the handy Endurance app, which allows you to track claim progress on the go by putting all of the most important information right in the palm of your hand.
Why Consider an Extended Warranty for Your Older Car?
Hopefully, it's obvious by now, but an extended warranty protection plan is an essential investment for any older vehicle owner. When any component could break down at any given moment, a vehicle protection program is the only thing that can give you total driving confidence — knowing that whatever happens when you're out on the road, you'll be looked after.
This kind of protection can save you thousands of dollars per year in repair bills, towing fees, and even maintenance costs. If your plan is transferable, it can also increase the potential resale value of your vehicle, as subsequent owners can enjoy the same great coverage that you did.
When considering an extended warranty for your car, make sure to do some research first. Create a shortlist of the most reputable providers in your area, then put their coverage plans side by side to figure out who best meets your needs.
As America's most trusted auto warranty provider, you'll want to make sure to check out Endurance, too. Since opening our doors way back in 2006, we've helped over half a million US drivers save serious money on the cost of car ownership with our winning combination of quality coverage and award-winning customer service.
We offer a wide range of plans designed to cater to an even wider range of drivers — with something for casual commuters, rideshare drivers, high-mileage vehicles, and even luxury car owners. We're also known for our unrivaled eligibility and flexibility, so if the base plans don't quite meet your needs and budget, we'll be more than happy to tailor a bespoke plan that does.
The good stuff doesn't end there, either. All our plans come with some of the best benefits in the business, including 24/7 roadside assistance, trip interruption costs, and replacement travel reimbursement. Every new Endurance customer also gets access to our Elite Benefits package, adding on tire repair/replacement, total loss protection, key fob replacement, and much more.
The Best Extended Warranty Protection for Older Vehicles
For owners of older vehicles, an extended warranty is a must, and you can't go wrong with Endurance. Not only are we rated by industry experts as the best protection money can buy, but we also have thousands of five-star reviews from happy customers on sites like Trustpilot — giving you peace of mind and empowering confidence for the road ahead.
If you want to hear more about how we can look out for you and your car, all you need to do is get in touch. Call our customer service team at (800) 253-8203 or request a FREE quote online.
We also have plenty more helpful articles just like this one, over on our extended warranty blog, so make sure to take a look if you'd like to do some more reading.
More like this
Extended Warranty

The advantages of having an extended warranty can't be overstated when a surprise car repair pops up. Coverage can make a difference during a breakdown, thanks to protection against expensive..

Read More

Extended Warranty

There's a lot to get excited about buying a new or used car, but one feature that often gets overlooked is the manufacturer's warranty. Understanding this coverage helps owners maximize..

Read More

Extended Warranty

You've done all the hard work by locating which used car dealer to buy from, finding the perfect vehicle to match your needs, and working out how to pay for..

Read More