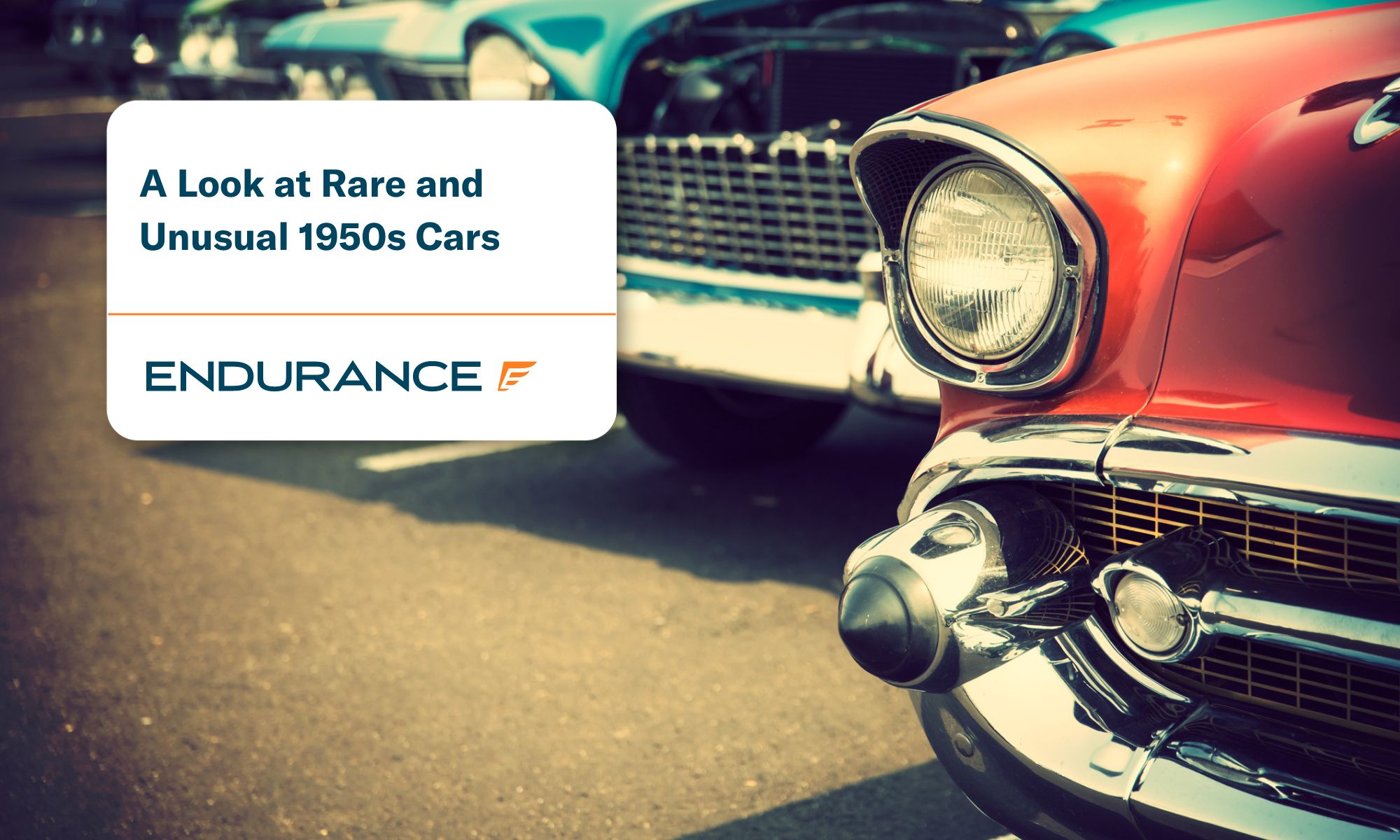 Whether you're a passionate petrolhead or a casual commuter, everyone agrees that classic cars are special. From the iconic exteriors to the old-school engineering, their look, feel, and sound really are unlike anything else on the road today.
While cars have been mass-produced since way back in 1901, certain eras are more renowned than others, and many believe the 1950s is the pinnacle of automobile excellence. Let's look at some of the rare and unusual vehicles to come out of that decade and what makes them so beloved.
Why the 1950s Was a Great Car Era
Many consider the 1950s to be the golden age of vehicle production and with good reason. Once the second world war was over, automakers finally had the freedom and resources to experiment, working around the clock to bring cutting-edge design and technology to market. Little did they know that many of these marvels of automotive engineering would stand the test of time and are still on the road some 70+ years later.
Long, flowing lines and futuristic tail fins are some of the hallmarks of the era, and these visual flairs make 1950s cars some of the most interesting in history. Even many of the worst cars produced at the time are still considered classics. It was a time of attention to detail and high-quality craftsmanship—one that has never been beaten.
Classic 1950s Cars
Let's start off with some of those classic 1950s cars that everyone knows and loves:
1957 Jaguar XK150
In 1948, Jaguar unveiled the XK120 at the London Motor Show, and people were obsessed. With a stunning, sporty design and a powerful new straight-six engine, it was the fastest mass-production car the world had ever seen. As time went by, newer models saw plenty of changes, but few are more beloved than the XK150. Launched in May 1957, it originally came in a choice of FHC and DHC body styles, with an OTS roadster added to the lineup a year later.
1953 Cadillac Eldorado
Few cars capture the look and feel of 1950s America quite like the Cadillac Eldorado. Debuting in 1953, this very special coupe stayed in production until its 50th anniversary, with the last generation rolling off the production line in 2002. Only 532 first-generation vehicles were produced, making them highly coveted. It wasn't until the second generation (1954-1956) that the iconic angled tail fins were added, however—something many competitors would go on to imitate. But the Eldorado is where it all started.
1953 Ford F-100
The Ford F-Series has become America's favorite pickup, with over a million vehicles sold per year. Arguably, this love affair started way back in 1953, when the second-generation Ford F-100 was unveiled. Their rounded hoods and big headlights give them a friendlier appearance than most other trucks, and many Ford enthusiasts affectionately refer to the early generation of F-100s as "Effies". These F-100s are prized collectors' items if you can find one in good shape, but they weren't bought to be hidden away in garages!
1955 Chevrolet Bel Air
It wouldn't be a roundup of classic American cars without at least one Chevrolet in the mix. The second generation Chevrolet Bel Air produced in 1955 is widely considered the moment the car became an all-time icon, and one look will tell you why. With a distinctive front grille, angled body, and lengthy rear tail fins, it really is Americana incarnate. The 1955 Bel Air was also the first successful model to have an optional V-8 as well as the basic I-6 engine. The V-8 was so popular and powerful that it even helped Chevrolet beat its opponents at NASCAR.
Rare 1950s Cars
Next up, the cars of the 1950s that are some of the hardest to get hold of:
1954 Triumph TR2
The TR2 was a beautiful-looking roadster with some serious engine power for the time—reaching 60 mph in just 11.9 seconds. Under the hood was a 1991-cc pushrod engine featuring three main bearings, solid valve lifters, an 8.5:1 compression ratio, and twin SU carburetors. The Vanguard four-speed gearbox was linked to a 3.7:1 rear axle. There were a few variations of the TR2, with a grand total of just 8,636 produced in their UK car manufacturer plant. Because of this, it isn't often you come by one these days, especially over here in the US.
1950s Buick Skylark Convertible
The first lot of Buick Skylarks rolled out in 1953 as a celebration of the brand's 50th anniversary. It was a pricey car, but you got what you paid for. Its sophisticated car design was the epitome of luxury, while a newly designed 322ci V8 engine put out 190 brake horsepower (bhp)—reaching a respectable top speed of 103 mph. Despite all of this, the high price point meant the car didn't sell very well. Only 1,690 Skylark luxury cars were sold in 1953, followed by a further 836 in 1954. After this, Buick stopped production.
1954 Mercedes-Benz 300SL
In 1954, Mercedes-Benz unveiled a 300SL sports car based on a successful competition version showcased two years earlier. The super-light frame weighed just 110 lbs, but was still particularly sturdy. Under the hood, a 6-cylinder engine had an output of 215 PS at engine speed 5800/min, reaching a top speed of 162 mph. High-frame side members meant that fitting normal doors was impossible, so upward-opening doors became one of the model's defining features. Because of these, this iconic car is known by collectors and enthusiasts as 'Gullwing'.
1953 Chevrolet Corvette
A great-looking 50s 2-seater, the Chevrolet Corvette was America's first mass-produced fiberglass car, but only 300 units rolled out that year. All of them were handmade, with Chevrolet Bel Air wheel covers, whitewall tires, a complete instrument panel with an electric clock, a 5000-rpm tachometer, and more. These original models also featured the "Blue Flame" 6-cylinder engine, which was renowned for reliability, but didn't quite pack the performance (105 HP) that people expected from such a sporty-looking vehicle.
Unusual 1950s Cars
We've done classic, we've done rare. Let's take a look at the more unusual 1950s cars out there:
1950 Studebaker Starlight Coupe
Designed by the legendary Virgil Exner before making his mark at Chrysler, it doesn't really get more unique than the Studebaker Starlight. The signature bullet-nose styling was originally planned to be a third headlight that swiveled along with the steering, but the company decided it was ultimately unaffordable and switched it to a pointed chrome embellishment. The front was controversial enough, but combined with the rear wraparound window and long truck lid, you'd be forgiven for not knowing whether it was coming or going. Picture those famous 1950s interpretations of the distant future, and the Studebaker Starlight would be right at home.
1951 Crosley Super Sports
In post-WW2 America, Crosley was better known as a manufacturer of radios and refrigerators, but they pioneered the production of quality small cars. In 1949, they introduced the Hotshot, a tiny, doorless sports car that was highly successful in racing. Two years later, the Super Sports followed—a fancier version of the Hotshot with doors and a folding top. It could reach 60 mph in approximately 20 seconds, and this combination of speed and looks leads many enthusiasts to say it's one of the greatest sports cars ever built.
1955 BMW Isetta
The BMW Isetta really is an interesting vehicle. Believe it or not, in the mid-1950s, BMW was on the brink of bankruptcy. Luxury vehicles like the 503 and 507 were so expensive to produce that the company was suffering severe losses and needed to produce something profitable urgently. After visiting the 1954 Turin Car Show, they came across Iso Rivolta, known for making refrigerators and mini cars. They had a three-wheeled car with what looked like a refrigerator door on the front called the Iso Isetta. BMW saw a licensing opportunity, and the rest is history. Commonly known as a bubble car, Isettas typically had a door in the front and a single-cylinder four-stroke engine in the back.
1955 Dodge La Femme
Few things say "1950s," like a car marketed directly at women. The Dodge La Femme came in (you guessed it) shades of pink, and included accessories like a makeup case and rain bonnet. This was a product of the time, but even then, it wasn't successful. It was only available for two years, and at that time, dealers only shifted 2,500 vehicles. The fact was, women who wanted cars were more concerned with their performance and reliability—not whether they came with a built-in calfskin purse.
Get High-Mileage Auto Protection with Endurance
Every driver dreads a trip to the auto shop. The cost of repair bills is only ever going up, and if your vehicle has seen its fair share of road trips, the chances of unexpected component failure are even higher. Invest in an extended warranty or vehicle service contract to protect your wallet, but finding a provider that accepts high-mileage vehicles can be a struggle.
Thankfully, you're already in the right place. Endurance is America's most trusted auto protection provider, with market-leading coverage and unrivaled eligibility. Our Select Premier plan is specially designed for people with high-mileage cars, covering any vehicle up to 150,000 miles on the clock. It includes protection for the vehicle's most vital components, plus some A/C and electrical components.
Better yet, Endurance offers some of the best-added benefits in the business. Every plan comes with 24/7 roadside assistance, replacement travel reimbursement, and trip-interruption costs as standard. Plus, all new Endurance customers get a year's free access to our Elite package, which adds on total loss protection, tire repair, key fob replacement, and more.
Protecting You When You Need It the Most
No one wants to be stranded at the roadside and forced to pay an expensive repair bill before they can get back on track. So if you're looking for the best auto protection plans to watch out for you whenever you're out on the road, Endurance has you covered. Since opening our doors more than 15 years ago, we've helped many customers save thousands on vehicle repairs, and we're ready to help you do the same.
To find out more about Endurance Warranty, get in touch with our award-winning customer service team at (800) 253-8203 or shop online today. We also offer mechanical breakdown insurance (MBI) coverage for residents of California.
Read more articles about other classic car manufacturers like Oldsmobile, Pontiac, and Porsche on our extended car warranty blog. If you'd like to learn about all things automotive, check it out!
More like this
Make/Model

If you're the owner of a Honda Accord, you certainly aren't alone. The brand has a great reputation for producing some of the most reliable cars on the road, with..

Read More

Make/Model

The last thing any Ram driver wants is to hear an odd noise while driving down the road, followed by a mechanical issue within their vehicle. Unfortunately, mechanical breakdowns are..

Read More

Make/Model

Finding yourself in the position where you are notified of a recall affecting your vehicle is never a fun situation, but it should require immediate action on your part. Depending..

Read More