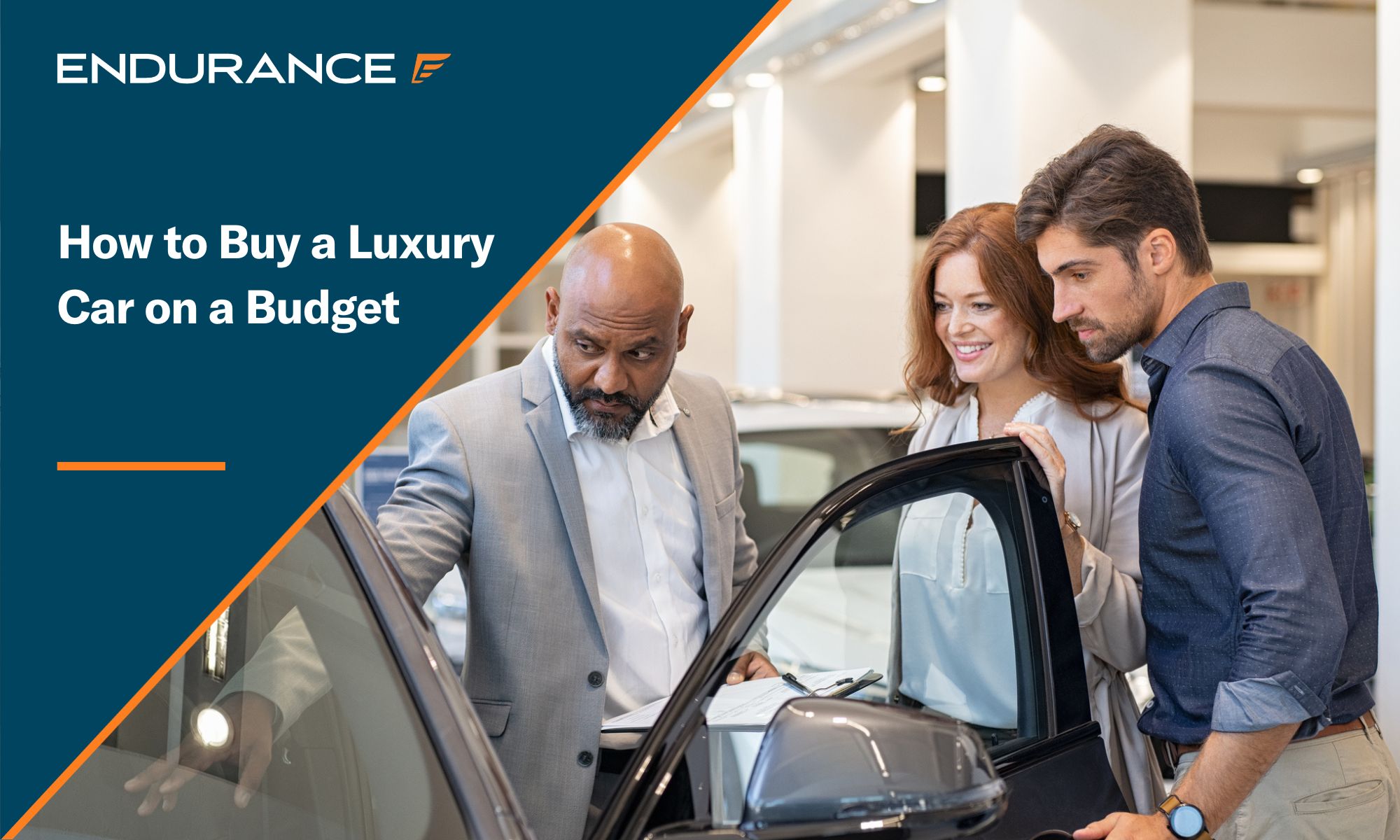 For many car enthusiasts around the world, finally saving up enough money to purchase a luxury car is a huge goal in life. Whether that new car is manufactured by BMW, Lexus, Audi, or another high-end luxury brand, all drivers should have a chance at securing their dream ride. This is why learning how to build a budget for a luxury vehicle, along with how to select the best model, is important for anyone considering car shopping.
How to Define a Budget for a Car Purchase
The first and most important step to take when considering a new vehicle that falls into the luxury category is the budget you have. Affordable luxury cars shouldn't break the bank so long as a person is prepared well in advance with a budget that allows them to meet the financial obligation of luxury vehicle ownership. To that end, use the following four points to define your luxury vehicle budget:
Start by setting your max spend amount for a down payment.
Naturally, the first part of building a budget for a car purchase is determining how much you can afford for a down payment. Financial experts recommend a down payment of 20% of the total purchase value when making a new car purchase, and this recommendation doesn't change when a car falls under the luxury category. However, considering the fact that the average luxury car has a sale value tens of thousands of dollars higher than a standard car, a person needs to outline the max down payment they can afford.
Factor in the ongoing monthly payments for the car.
The down payment for a car is only the beginning of the cost of that vehicle. After the maximum down payment you can afford has been worked into your budget, determine the maximum monthly payment you can also afford. To do this, add your monthly expenses and income to see if you will still comfortably be in the green after a multi-hundred dollar car payment.
Balance your total existing debt against the new potential amount.
Taking out an auto loan for even the cheapest luxury cars will significantly increase the debt on a person's personal balance sheet. Take into account any existing debt, such as a mortgage or line of credit, to determine whether or not an auto loan will put you over the edge of affordable debt.
Don't forget to account for the total cost of ownership.
Finally, never forget that the cost of a vehicle is not just the down payment and the ongoing monthly payments. The average yearly maintenance cost for vehicles can be hundreds to thousands of dollars on top of what you are already paying, so factor this potentially higher amount into your budget when evaluating what you can afford.
Benefits of Buying Used
While many people considering luxury SUVs or luxury sedans often believe they need to purchase a new vehicle to meet their dream, opting for a used car is extremely smart. There are a number of prominent benefits to purchasing used, with the most notable including:
Generally, lower insurance rates, which is particularly helpful for higher-end sports cars such as Porsche
A wider selection of potential vehicles to consider as compared to only what is on the dealership lot
The upfront cost of purchasing the vehicle will be far lower than buying it outright off the manufacturing line
What You Need to Know About Luxury Car Depreciation
The depreciation with vehicles is notoriously known for being intense, but it's even more so with luxury cars. In fact, the first five years of luxury vehicle ownership will see an average 40-50% drop in value from the original selling amount. This intense depreciation is why buying a used luxury car is so smart financially.
5 Tips for Settling on the Right Brand and Model
Once a person has really begun their savings journey towards getting a luxury vehicle, they can narrow down the type of car they want. The following tips can help ensure that happens:
1. Assess your current needs for a vehicle.
While the first type of luxury car that may pop into a person's head is likely to be a sports car, they aren't good choices for those who need more space or those with a family. In this situation, a person should consider a larger luxury car that is more of an SUV style. Alternatively, consider how you will be driving the vehicle and where you will be driving it so that you can narrow down your needs better.
2. Look up safety ratings for different brands.
Another great way to determine which brand and model of vehicle is right for you is to look up the safety ratings for the different vehicles. Check user reviews so you can read about first-hand ownership stories with that vehicle.
3. Weigh the costs of ownership for a specific brand.
As mentioned, there are more costs to owning a vehicle than just the purchase price. Consider the ongoing maintenance costs, as well as potential repair costs, that you may need to pay, which can drive your total price toward the roof. With that said, a person can mitigate some of these extra expenses by investing in an extended warranty contract.
4. Set up a test drive ahead of purchase.
All those looking to purchase a luxury vehicle should test drive the car they are considering before actually making a purchase. While a Mercedes-Benz, as an example, may look flashy from the outside, there could be specific factors that arise when driving it that you dislike.
5. Compare different vehicle models under the same brand.
While one specific model offered by a brand may not catch your eye, it's entirely possible that you are dead set on the brand itself. In this situation, consider looking at similar models to the ones you don't want so that you can find a great alternative.
Typical Financing Options for a Luxury Car
Financing a car purchase is extremely common, but there are two primary options to consider depending on your personal financial situation:
Direct Lending
Direct lending involves reaching out to a third-party lender to take out an auto loan. This is done by researching different lenders until you find one who offers historically good rates. You then apply for a loan and indicate that it will be used for an auto purchase. Once you have been approved for the loan, the funds will be released, and you can go shopping for the vehicle.
Dealership Financing
The more common alternative to direct lending is dealership financing, which involves taking out a loan directly from the auto dealership. The dealership structures the loan and sets it up, then they sell the loan to a financial institution that takes it over from there.
Negotiation Tips for Luxury Vehicle Prices
While car buying in the past was more of an art, and prices could be haggled, purchasing a new car from the dealership doesn't leave much room for negotiation. However, if you are considering purchasing a sporty, luxurious car from a third party, there are a few general negotiation tips that can help adjust the price tag:
Do research ahead of time to find a fair value for that vehicle
Use cash as a negotiation tool by showing a willingness to pay right then and there
Always try to negotiate on the total price rather than the monthly payments
Make a reasonable, not insulting, offer on a vehicle
Have a pre-purchase inspection completed, either by yourself or with the help of a professional
The Importance of a Pre-Purchase Inspection
No driver should make a purchase without inspecting the vehicle they are going to purchase with their own eyes. While dealerships will be honest with you, it's entirely possible that the person doing the walk around on the vehicle missed something. Inspect the wheels, under the car, the outside of the car, and the interior components such as the wheel, the gadgets, and everything else inside.
Endurance Warranty to Protect Your Vehicle
Once a driver has the vehicle of their dreams, the last thing they want is to see their vehicle have a serious breakdown that results in an expensive repair cost. Mechanical breakdowns are unfortunately quite common and can occur on vehicles of all ages, which is why having the right auto protection plan in place is so important, especially when it comes to luxury vehicles.
In particular, Endurance Warranty offers customizable coverage plans that offer everything from basic to the most comprehensive. The Supreme for Highline Vehicles package is most applicable to luxury vehicles, offering the closest to manufacturer-level coverage a person can get, with parts such as high-tech components, the engine, the transmission, or other serious components all covered.
Additionally, each new Endurance contract comes with Elite Benefits, for a small activation fee, that offers bonus perks such as 24/7 roadside assistance, reimbursements for up to two tires per year due to road hazards, up to $500 in collision coverage, and more.
To experience the award-winning customer service offered by Endurance, give our dedicated team a call at (800) 253-8203 or request a FREE quote. Alternatively, take the time to explore our online store to get an instant price review so that you can shop with confidence.
More like this
How To

In the event of a breakdown, having an extended warranty or vehicle service contract watching your back can be a total lifesaver. With some major repairs costing thousands of dollars,..

Read More

How To

Keeping a Hyundai Accent running for the foreseeable future is about more than simply being a safe driver on the road. While keeping your eyes peeled and attention on the..

Read More

How To

While reliability is always a factor when choosing a vehicle, many more considerations are involved when kids are in the picture. Safety, space, and comfort must also be part of..

Read More