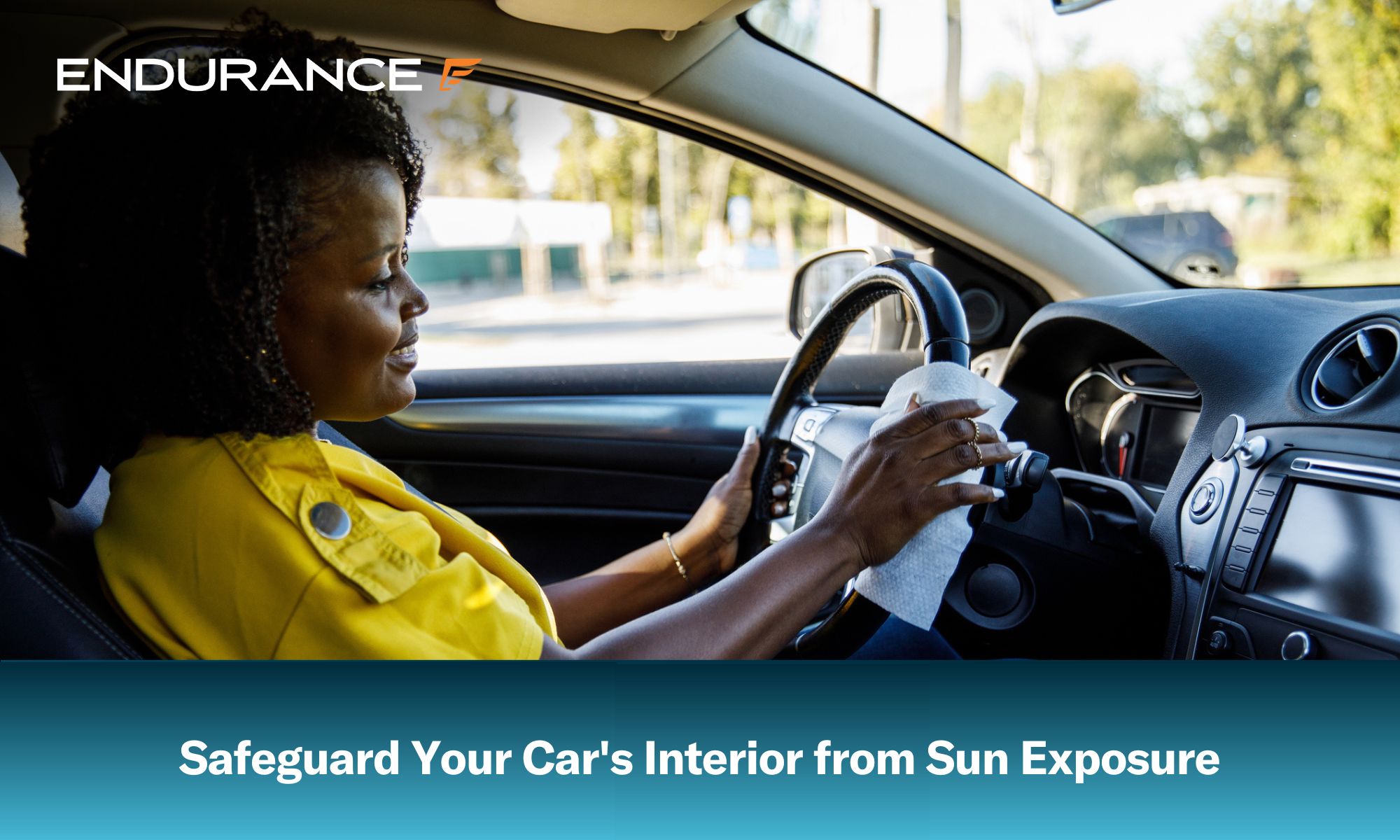 From picnics to vacations, the summer months bring many enjoyable things. But for a car owner, the season's intense sunshine invites damage to their vehicle's dashboard and interior. The fading, cracking, and other deterioration are unsightly and can significantly impact resale value.
To avoid these issues, we've compiled a comprehensive list of what you can do to protect your vehicle from harmful UV rays and the summer heat.
Understanding the Risks of Sun Exposure to a Car's Interior
The sun's potent rays can have a damaging effect on a car's dashboard and interior. UV rays break down the chemical bonds that comprise the materials used in automotive interiors. This decay leads to fading and cracking over time. Upholstery is especially vulnerable to this type of deterioration. In addition, excessive heat causes the dashboard and other interior components to warp.
It all adds up to a need to preserve your car's interior. Fortunately, there are several steps that a car owner can take to protect their vehicle.
Use Window Shades and Sunshades
The simplest way to protect a car's dashboard and interior from the sun is to use window shades and sunshades. These essential devices require little installation and effectively block the sun from entering the vehicle. Another benefit is a cooler interior and less strain on the air conditioning.
At a minimum, a windshield sunshade is a summer must-have. Placement takes a few seconds, it folds when not in use, and the cost is modest. Short of never parking in the sun, a windshield sunshade is the best way to protect the dashboard.
Window shades are also an effective way to protect the cabin. They are equally as inexpensive and easy to use. Be sure to find sunshades that adequately cover all the window glass for maximum coverage.
Park in Shaded Areas
Another method to protect a car's interior is by parking in a shaded area. This might be in a garage, under trees, or against a building. You may have to walk a little further, but the trade-off is reduced sun exposure for your car. Plus, the car's paint and clear coat finish take less of a beating.
If there's no shady spot to take advantage of, try parking your car so the sun hits the back or side of the vehicle. At a minimum, this will limit the amount of direct sunlight that contacts the dashboard. This alternative approach is even more helpful with window shades.
Invest in a Quality Car Cover
Yes, a car cover requires extra effort, but the advantages are significant. The interior is protected from UV radiation, and the car's exterior is safeguarded against the bleaching sun and the elements. A car cover is especially ideal for vehicles left outdoors for extended periods.
When selecting a car cover, look for high-quality materials with UV protection and breathability. This second trait allows moisture and heat to escape, preventing mold and mildew growth. In addition, the car cover should be fitted for your car. A loose cover can comprise protection.
Clean and Condition the Dashboard Regularly
The first step to keeping a dashboard in good shape is regular maintenance, which means keeping the surface free of dust, dirt, and grime. Otherwise, these contaminants can scratch the dashboard and create a starting point for deterioration.
Begin with a soft cloth (like a microfiber cloth) and a mild cleaning solution, and finish with a high-quality conditioner made specifically for dashboard use. These products help preserve chemical bonds and prevent the surface from drying out.
But just don't wait for when the dashboard needs a complete cleaning. Get in the habit of wiping off mild dust build-up every few weeks. Use a specially treated cloth or wand.
Apply UV-Protective Film or Tinting
Protective films have advanced significantly in recent decades and are an effective technique for minimizing sun damage to a car dashboard and other interior components. Typically made from polyester, these coverings are used in interior overlays (protective films) and car window tinting.
Interior protective films are applied on top of the dashboard, over wood or metal trim, and on other hard surfaces that can suffer from the intense sun.
Tinted windows block a significant amount of sun's rays from entering the cabin and help keep the car cool. The darkness and placement of window tinting are regulated in most states, so be sure to check local laws before proceeding in this direction.
Applying protective films and window tinting requires skill; hiring a professional for this work will ensure proper installation.
Consider a Dashboard Mat and Other Protective Options
If covering a dashboard with a protective film isn't appealing, consider a dashboard mat instead. This fabric or vinyl cover sits atop the dashboard and provides effective UV protection. A dashboard mat is custom-designed to fit each car make and model, so vents aren't blocked.
Other worthwhile items that protect a car interior include seat covers to preserve the upholstery (including leather seats) and full-surface coverings for the carpet (ensure carpet covers don't interfere with the safe use of the driver pedals).
Use Interior Protectants and Conditioners
Blocking the sun's damaging rays includes the use of specialized protectants and conditions. These solutions are formulated for use in car interiors and help inhibit the fading and cracking that come from UV exposure. At the same time, a good conditioner can restore a dashboard, the steering wheel, and other surfaces from sun-related damage.
Pick a protectant and conditioner formulated for dashboards and hard interior surfaces; leather conditioners and upholstery treatments are best reserved for car seats.
Regular Inspection and Maintenance
The trick to successful car ownership is catching little problems before they become major ones. This approach includes regularly looking for signs of sun damage on the dashboard and in the cabin. If fading, cracking, warping, and other problems are detected, early intervention can prevent these issues from worsening.
But the best way to avoid these troubles in the first place is through ongoing maintenance. These steps include using covers, adding protective film and window tinting, and applying protectants and conditioners.
Final Words: How to Safeguard Your Car's Dashboard and Interior from Sun Exposure
The blazing summer sun doesn't have to mean damaging conditions for your vehicle's dashboard and interior. Being observant, conducting regular maintenance, and using quality protective products can reduce sun exposure risks. These steps keep your car looking its best and help preserve its value.
Endurance: Protection for the Whole Car
Taking care of your vehicle's dashboard and interior is only part of being a car owner. Protecting your ride against breakdowns and surprise repair bills is also necessary while on the road. For many, this happens thanks to an Endurance auto protection plan (sometimes called an extended warranty).
Endurance has options ranging from powertrain coverage (for the engine and transmission) to plans similar to a new car warranty. Best of all, every Endurance vehicle service contract has 24/7 roadside assistance, rental car reimbursement, and trip-interruption protection. Other benefits include convenient payment terms, a 30-day money-back guarantee, and a choice of ASE Certified mechanics for covered repairs.
Endurance plan holders can also enjoy Elite Benefits. A modest activation fee opens one year of free access to valuable extras (a $2,000 value), like tire repairs and replacements, collision repair discounts, and key fob replacement.
Learn about all that Endurance protection plans have to offer by calling (800) 253-8203 or requesting a FREE quote.
Check out the Endurance blog for insightful articles on car care, DIY repairs, make and model information, and more.
More like this
How To

In the event of a breakdown, having an extended warranty or vehicle service contract watching your back can be a total lifesaver. With some major repairs costing thousands of dollars,..

Read More

How To

Keeping a Hyundai Accent running for the foreseeable future is about more than simply being a safe driver on the road. While keeping your eyes peeled and attention on the..

Read More

How To

While reliability is always a factor when choosing a vehicle, many more considerations are involved when kids are in the picture. Safety, space, and comfort must also be part of..

Read More