Protect your vehicle with custom coverage from Endurance.
Shop Now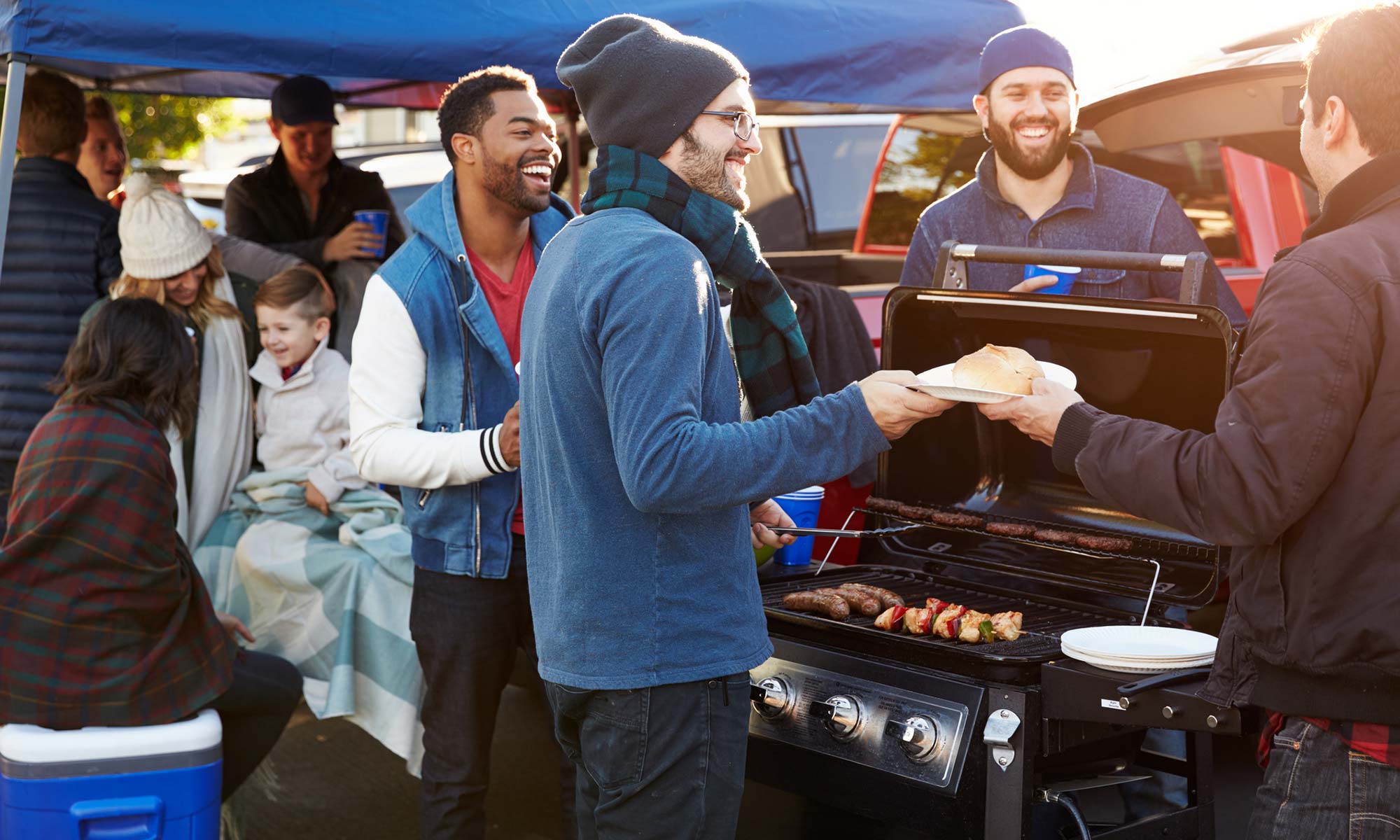 Thanksgiving is here, and if you're like many, odds are some football may be in your future this week. If you're going to a game, you'll likely enjoy some good old-fashioned tailgating, including grilling, cooking, and hanging out behind a car or truck. 
With stadiums packed full of people and open flames going on the grill, there are certain safety tips you need to follow before heading out to your next game. To help you be as safe as possible for yourself and others around you while tailgating, we have put together 6 great safety tips for tailgating.
Tailgating Safety Tips
Whether it's college sports, the pros, or any other concert or event you're attending, ensuring you have a safe tailgate is essential. Let's go over some basic tailgating safety tips to help prepare yourself and your vehicle:
Prepare Your Car for Tailgating Season
One of the most important tips for tailgating season is to keep your car well-maintained to be able to tailgate all season long. An unexpected breakdown can keep you from making it to your next game, and the added expense of repairs can put a damper on your tailgating budget. Following your vehicle's maintenance schedule and performing your maintenance checklist is a great way to keep your car or truck running its best for any gameday, workday or school day travel ahead of you.
Be Alert While Finding a Spot
Whether it's a concert, a college football game or your favorite soccer team, tailgating involves sharing a parking lot with thousands of people and tons of foot traffic. When driving through any tailgate area to find a parking spot, ensure that you are driving safely to avoid hitting others or bumping into any grills, cooking equipment or cornhole boards. 
Be sure to follow the instructions of any parking attendants at your event, as they'll help ensure you get in and out of the lot as safely and efficiently as possible. A designated driver is also highly recommended to help ensure you and those with you can get to and from your game or event as safe as possible, especially when alcoholic beverages are involved. 
Be Aware of Food Safety
No good tailgate party is complete without great food. Most parties will be grilling up raw meat or unpacking perishable food items on game day, which can increase the risk of food poisoning if the food is not stored or cooked correctly. Before heading out to your next tailgate, plan ahead by determining what you will bring and brush up on your food-safety knowledge. It is always a good idea to bring a food thermometer, paper towels and disinfecting spray to ensure you have everything you need to check food throughout the day. 
Another good practice is to bring separate coolers for raw foods, such as hamburgers and hot dogs. This will help reduce cross-contamination on other items, such as alcoholic beverages, water bottles and other drinks or snacks you may also enjoy during your tailgate. After all, the last thing you want on the day of the big game is for someone to become sick. 
For more information on food safety, you can visit foodsafety.gov.
Consider Fire Safety While Grilling
Speaking of grilling, an open flame with thousands of people and vehicles around can be a recipe for disaster. Whether you are planning on bringing a charcoal grill or a gas grill, you must ensure that you stay as safe as possible to prevent accidents. So before your next tailgate, purchase a fire extinguisher and bring plenty of water in the event of a fire. You will also want to keep the grill at a safe distance from people and combustibles to prevent any fires, and always ensure that it's turned off completely before entering your game or event.
Keep a First Aid Kit
One of the most critical tailgating safety tips to remember is to bring a first aid kit. Accidents can happen with people grilling, drinking alcoholic drinks, and being in close quarters. Keeping a first aid kit with items like bandaids, hand sanitizer, gauze and other essentials can help ensure that you are prepared if you or your loved ones get hurt during your tailgate experience. This is also great to share with others if they have forgotten their first aid kit.
Ensure You Clean Up Afterwards
Lastly, you will want to make sure that you clean up after you are done tailgating. Since many people grill and hang out before entering the game, putting out fires and cleaning up trash are essential before entering the stadium. Not only does this help prevent accidental fires from your grill, but it can also help keep any supplies from blowing into other tailgating parties, which could hurt others or damage other vehicles in the parking lot.
Protect Your Car All Season Long with Endurance
Tailgating your favorite sports team or a big concert is an exciting experience for all ages. Ensuring you follow the tips above will ensure that you keep yourself and others around you as safe as possible. But no tailgate is complete without a car to get you there, so keeping up with your car's vehicle maintenance is a must, as it can help prevent unexpected breakdowns and continue to tailgate all season long. Purchasing a vehicle protection plan from Endurance can help you keep your car maintained while keeping your car covered in the event of a breakdown.
Endurance protection plans come in a few different options to fit your budget and coverage needs, from the basic powertrain coverage that starts at just $79 a month to the exclusionary coverage of Supreme, which offers factory-like warranty coverage. Endurance also offers coverage for vehicles that many others do not, such as high-mileage vehicles, luxury vehicles and more. As an Endurance customer, you will automatically receive great benefits such as 24/7 roadside assistance, towing, trip interruption coverage, and even rental car reimbursement. As a bonus, you will also be eligible for one full year of Elite Benefits, including extra perks and savings, including tire repairs/replacements, collision discounts, and more.
To learn more about how Endurance can help you, call us at (800) 253-8203 or request a free, no-obligation quote. You can find even more articles on all things automotive, including DIY car care tips, vehicle buying guides, extended warranty coverage comparisons and more at the Endurance blog.
More like this
How To

As outside temperatures start to rise, smells that might have been dormant in your vehicle all winter can become more noticeable. During the winter, rodents can take refuge in your..

Read More

How To

Keeping your car running smoothly is essential for any modern-day driver. Understanding the common car problems that are likely to arise can help reduce unnecessary stress and expense as a..

Read More

How To

As a car owner, you know how important it is to stay on top of repairs and maintenance. A vehicle that is well taken care of will last for many..

Read More