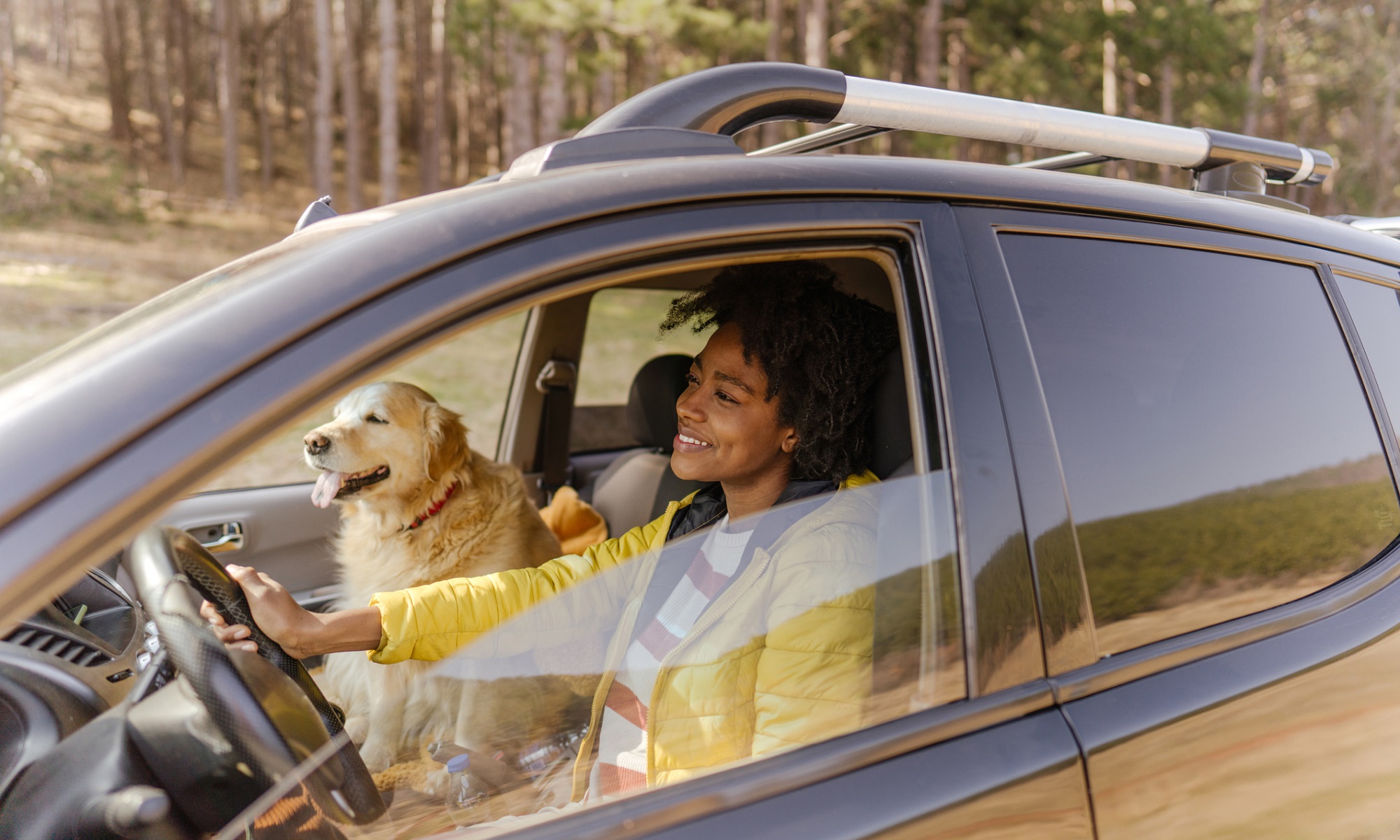 From apple picking, pumpkin spiced lattes and football tailgates, there's plenty to get excited about during the fall. But as you start thinking about all the fun fall activities you have planned, you should also consider your car's preventative maintenance needs. 
In fact, while proper vehicle maintenance is needed year-round, being diligent about your car's maintenance during the fall is essential, as it will help ensure your car's ready for the winter weather ahead while taking care of any issues that may have sprung up over the hot summer months. And to help you prepare your car for fall and winter, there are a few essential car maintenance services that you should look to check off your to-do list this and every fall. 
Why You Should Prepare Your Car For Fall
Throughout the summer, your vehicle's components were tested, as the hot summer temperatures can take a toll on your tire tread, oil, car battery, and cooling system. Looking over these components in the fall will allow you to make any necessary repairs, get an oil change, or top off your coolant before the cold winter months. 
Fall Car Maintenance Checklist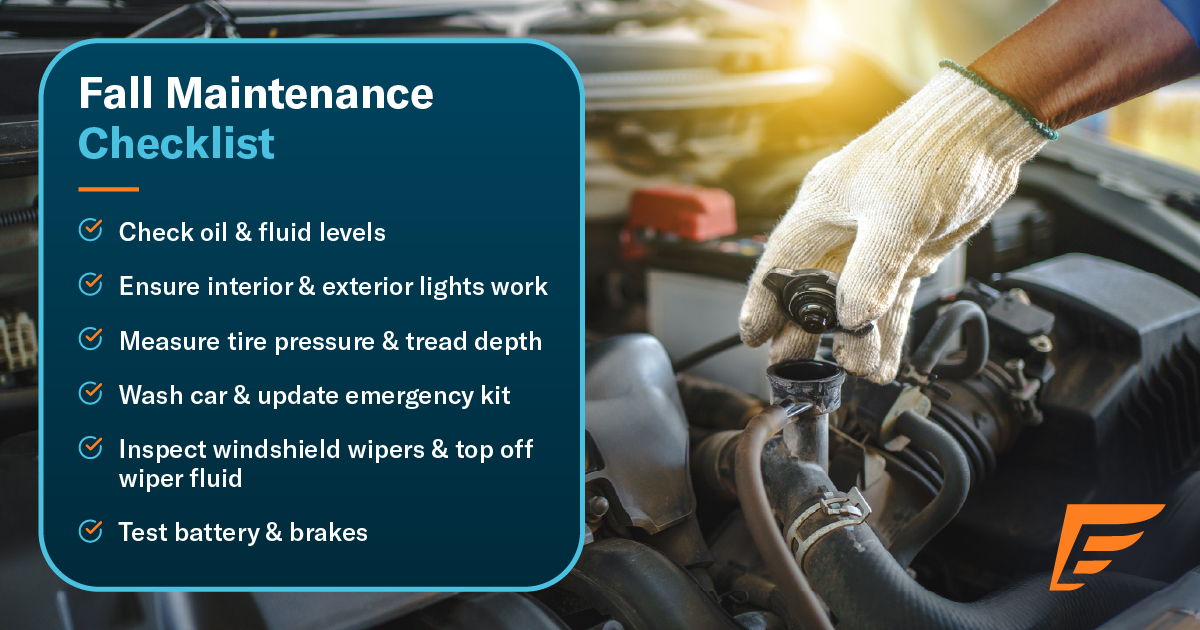 The best way to ensure your car stays maintained all year round is by following its recommended maintenance schedule, which you can often find right in your owner's manual. But while this schedule will have all of the services your car will need to help stay running for longer, when it comes to fall maintenance, there are a few specific things you can do to any vehicle to ensure it is ready for fall weather. 
1. Check Your Engine Oil
One of the most important things you can do for your vehicle to get it ready for cold weather is to check the oil. The oil lubricates your engine's internal moving components to allow it to run efficiently and without wear. If the oil level is low, your engine can start to wear prematurely to the point of complete engine failure. Checking your oil is easy and only takes about five minutes to do, and you can even change your car's oil right at home.
2. Check Function of Exterior Lights
With fall comes daylight savings time, meaning the sun will go down sooner than during the spring and summer, so ensuring that your exterior lights are working correctly is crucial. With properly working lights, your vehicle stays visible to other drivers while also allowing you to see clearly at night. Take a few minutes to walk around your vehicle while it is running to check your headlights, taillights, blinkers, and brake lights for proper operation and replace any bulbs that may be out. 
3. Check Tire Pressure & Tread Depth
Keeping your tire pressure at the correct PSI (pounds per square inch) is essential for your safety while also helping to extend the life of your car's tires. First, let's look at the safety aspect. Your tire has a specific tire pressure specification that it needs to be at to ensure that it operates as intended. Too much air and your tire will not make as much contact with the road, and you will run the risk of a blowout. Too little air and your tire can cause your vehicle to not be as responsive as it should be, which can be very dangerous in the fall when rain, snow and other driving conditions will be more frequent. 
4. Wash Your Car
Washing your car should be something you do every few weeks, even in the winter. But if it's been a while since your last car wash, now is a perfect time. Giving your vehicle a good cleaning will ensure that any baked-on contaminants from your summer travels are washed off before they damage your paint. And remember, the fall can bring more rain, grime, and some snow that can cause issues if you're not regularly washing your vehicle. Plus, if it's already suffering from corrosion, damage from the summer will only be made worse during the fall, so keeping it clean will be vital to preserving its paint and reducing the chances of damage.
5. Check Windshield Wipers & Top Off Wiper Fluid
The windshield wipers on your car are one of your most essential safety features as they make sure you can clearly see the road while it is raining, snowing or if you're driving in other unfavorable weather or road conditions. But worn out or damaged windshield wipers can cause poor visibility and even damage your windshield in some cases, so it's best to ensure that they are in working order before going into the fall. Give your windshield wiper blades a once over and check the condition of the rubber side of the blades. If you notice any cracks or pieces missing, you will want to replace them as soon as you can. And while you're at it, top off your washer fluid to ensure you have enough for the coming months.
6. Check Other Essential Fluids
Along with engine oil and wiper fluid, a car needs plenty of other essential fluids to run properly. Luckily, checking your car's fluids will only take a few minutes. Just be sure you're looking at all the fluids, including antifreeze, brake fluid, and power steering fluid, to name a few, and ensure they are at the correct levels. Overall, check your owner's manual to help you keep your fluid levels at the manufacturer's recommended levels to keep your engine and other components running at their best.
7. Check the Heater
The last thing you want to do on a cold day is to get in your car and realize the heater isn't working. That's why taking the time before temperatures drop even more in the winter can help ensure you're comfortable whenever you get into your vehicle. It's also straightforward to check; you just need to turn on your heater and ensure that hot air is blowing out. You may have to wait a few minutes as coolant circulates through the heater core and hoses, but if it feels like it is taking too long, it would be best to have it checked by a professional mechanic.
8. Have Your Battery Checked
Lastly, you will want to have your battery checked by a professional automotive mechanic, or a trusted auto repair shop, as the hot summer heat can significantly wear out your car's battery. This test will check your battery's ability to hold a charge to ensure you don't end up with a dead battery this fall or winter. But even if you get a new battery before the fall and winter, as a precaution, it is always good to have a set of jumper cables in case your battery fails unexpectedly.
Other Fall Car Care Essentials
While keeping your car maintained for the fall is a great way to keep it running at its best, there is still the chance of an unexpected breakdown. Keeping an emergency kit with items such as an ice scraper, blanket, and tools can help keep you safe and allow you to make repairs if needed. 
Having a vehicle protection plan, such as an Endurance auto protection plan, is also a great idea to keep your car covered from unexpected breakdowns not covered by your insurance. You'll also be able to enjoy complimentary services like 24/7 roadside assistance and towing, trip interruption coverage and rental car reimbursements regardless of the Endurance plan you have, so you can rest easy that no matter where or when you may be dealing with a breakdown or repairs, Endurance will have you covered. 
With the Advantage auto protection plan, you can even get help keeping your car maintained during the fall, winter or any other time of year. This comprehensive coverage combines the breakdown protection you're looking for with up to $3,500 in yearly maintenance services, including oil and filter changes, alignment checks, engine diagnostic exams and more. You'll even be able to enjoy some special, one-time-only services like a battery replacement or a front or rear wiper blade set replacement for even more coverage and savings.
Keeping Your Car Maintained with Endurance
Regular maintenance is vital for any vehicle to stay running for longer. But when it comes to the changing seasons, like going from summer to fall, there are a few maintenance steps you should ensure you're taking care of to help you avoid any potential breakdowns or repairs later in the season or the winter. 
However, while staying diligent with your car's maintenance needs is vital, it won't be able to prevent every breakdown or repair. That's why having an Endurance auto protection plan can help give you the peace of mind you're looking for, regardless of the time of year. Some plans, like Advantage, can even help you stay up-to-date with your car's maintenance needs by including up to $3,500 in yearly maintenance services, like oil changes, tire rotations and more.  
Endurance customers can also get even more peace of mind, regardless of the plan they have, thanks to complimentary services like 24/7 roadside assistance and more. Plus, each Endurance automatically comes with the chance to activate a full year of Endurance Elite Benefits, including extra perks and savings like tire repairs or replacements, collision discounts and more. You'll even be able to take your vehicle to any certified repair shop or mechanic of your choice.
Don't wait until you're stuck dealing with expensive repair bills. Request a free, no-obligation quote or call with Endurance customer care team at (800) 253-8203 to learn more about how Endurance can help you. You can also find even more great maintenance tips and other articles on topics like extended warranty coverage comparisons, vehicle buying guides, money-saving tips, and more by visiting the Endurance blog. 
More like this
Expert Auto Tips

When driving a car, you probably go about your routine without thinking twice. Turning the car on, switching the headlights on, and applying the brakes have all become second nature,..

Read More

Expert Auto Tips

Retired professional racecar driver Danica Patrick is a pioneer in the world of motorsports. Her breakthroughs include being the first woman to lead an Indianapolis 500 race (the 89th running..

Read More

Expert Auto Tips

Buying a new car can be incredibly exciting and can open up a whole new world of possibilities. There are so many vehicles on the market, and no matter what..

Read More