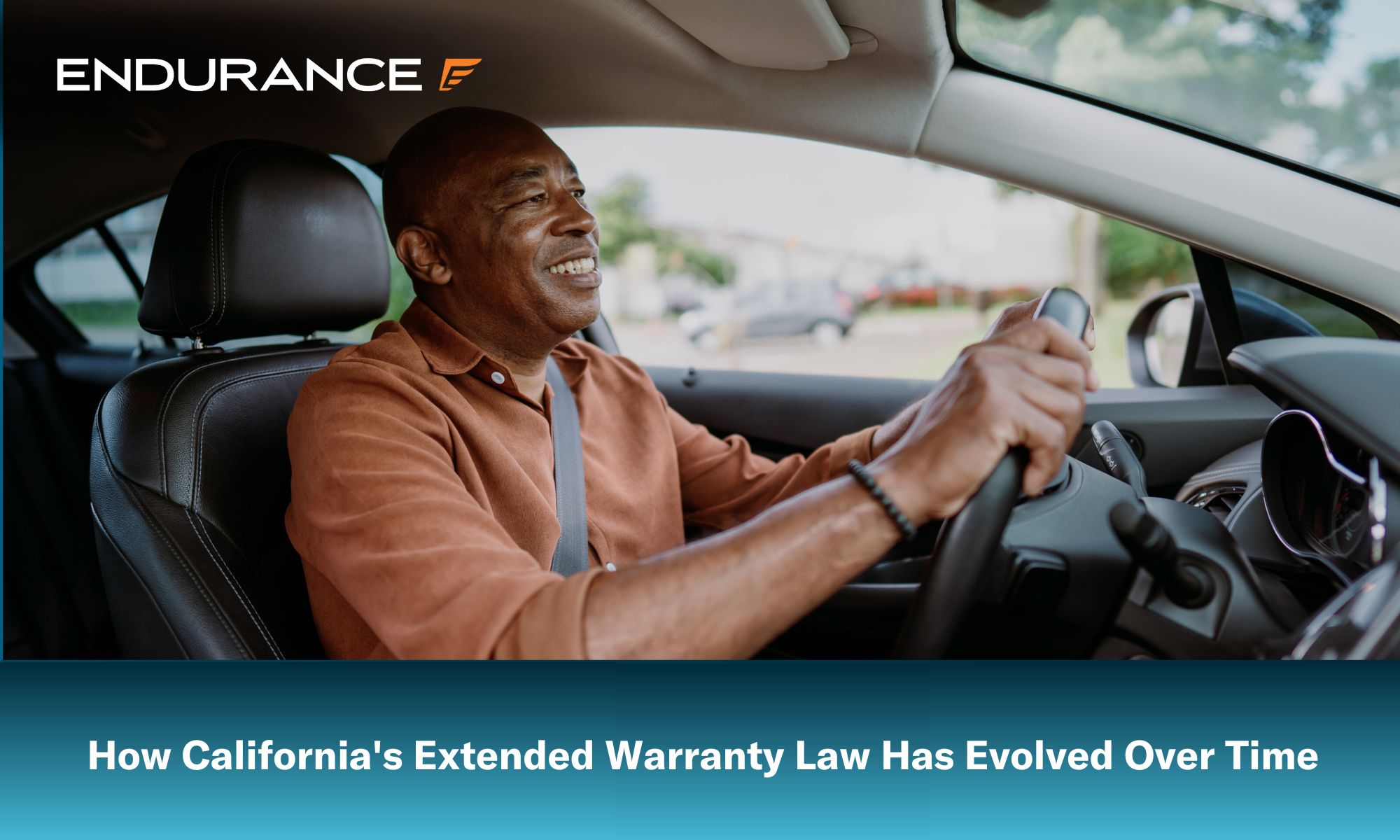 California considers itself a leading state for consumer protection laws. Among the measures it's adopted over time are regulations that cover automotive extended warranties. Let's explore what this means for California used car owners. In particular, we'll look at how aftermarket car coverage differs in the Golden State and what specific laws apply. Extended warranties became common in California in the 1990s, and regulations overseeing these offerings became law early in the 21st century.
Keep in mind that terms like vehicle service contract (VSC), extended car warranty, and auto protection plan are often used interchangeably (such as in this article). However, when you buy such third-party coverage in California, it's called mechanical breakdown insurance (MBI). So, don't be confused by the different phrases.
Let's first review some basic definitions.
Extended Warranties vs Mechanical Breakdown Insurance: What's the Difference?
In simple terms, an extended warranty is a contract that provides coverage after a car's factory warranty or dealership warranty expires. Extended warranties can be purchased through a third-party company (like Endurance) or through the manufacturer.
Generally, extended warranties purchased through an automaker tend to be more restrictive regarding age and mileage. On the other hand, independent companies such as Endurance can cover vehicles that have as many as 150,000 miles.
Mechanical breakdown insurance (MBI) is sold through insurance companies and protects key systems like the engine and transmission. In addition, traditional MBI policies are generally available only for new cars. Significantly, MBI does not cover accidents, theft, or car damage. You'd turn to a traditional insurance company, like Allstate or Geico, for that protection.
We'll get into the specifics later, but Endurance offers hybrid MBI plans that are compliant with California law yet provides additional protections beyond traditional MBI policies.
It's worth mentioning new car warranties, sometimes called an original equipment manufacturer (OEM), factory, or manufacturer's warranty. This warranty coverage protects vehicle owners against defects in workmanship or materials, like if the power steering pump fails or the engine isn't running properly.
Coverage periods vary but typically last from three to five years (with mileage restrictions) for a bumper-to-bumper warranty. Many automakers include a supplemental powertrain warranty that may last an additional two to five years (also with mileage limitations). However, this extra coverage doesn't protect many other systems that can go wrong, such as the suspension, steering, climate control, brakes, and electrical.
Importantly, new car warranties don't protect components (such as tires and brake pads) that wear down over time or for damage caused by an accident or other mishap.
California Mechanical Breakdown Insurance Laws
Laws covering mechanical breakdown insurance are administered by the California Department of Insurance (CDI). California mandates that all MBI sellers in the state are licensed and that MBI policies and rates are submitted to the CDI for approval. In addition, a company must be worth at least $100 million (or obtain supplemental insurance) to sell MBI policies in the state. This ensures that a firm can cover all claims. Unlike some other extended warranty companies, Endurance is licensed as an insurance company in the state, enabling it to offer MBI plans.
Here are some other key provisions of California law related to MBI policies.
California Business and Professions Code Section 17500
This general statute prohibits unfair, deceptive, or fraudulent business practices. And while it can be used against any company doing business in California, the CDI applies this law to MBI firms that may overpromise or not be clear in their marketing, disclaimers, or policy disclosures.
California Insurance Code Section 116.6
This part of the law defines mechanical breakdown insurance as a "vehicle protection product," a class of insurance that provides coverage for motor vehicle warranty repairs. Further stipulations even mandate the font size of policy documents.
California Insurance Code Sections 1794.41-43
Among the many conditions of California insurance law are requirements that:
All contracts are clear and easy to understand. Further, such agreements must include the seller's name and address, the length of the coverage period, and the amount of any deductible.
The contract must be available for consumer review prior to signing. A copy of the ratified agreement must be sent to the consumer within 60 days from the time of purchase.
Consumers have the right to cancel the MBI policy within 60 days if no claims are made.
Note that a separate agency administers California lemon laws, the California Department of Consumer Affairs.
Extended Warranty Laws in Other States
While California has the most extensive extended warranties regulations, other also states have specific requirements. Many states mandate that an extended warranty firm registers with the government and have sufficient assets to cover any claims (often, this is reinforced through a supplement insurance policy the company secures).
Further, most states require extended warranty companies to offer a cancellation period (usually 10 to 60 days) with a full refund (in some cases, a small administrative fee may be deducted from a refund). Additionally, most states mandate that contracts detail any restrictions, like non-OEM or used parts.
Here are some highlights of what some other states require.
Georgia: There is no provision for arbitration. Any dispute must be resolved through the legal system.
Indiana: Defines "extended warranties" as not warranties but service contracts.
Kentucky: Unless a company has sufficient resources ($100 million or more), it must register with the state as an insurance company.
Nevada: Requiring a service contract as a condition of a vehicle sale or loan is illegal.
Oregon: Contracts must stipulate if prior approval for repairs is required and detail the approval process.
Washington: The purchase of a service contract can't be a condition of a car sale or loan.
Endurance Delivers California MBI Options
Endurance offers many mechanical breakdown insurance options for California car owners. All plans have passed the state's rigorous approval process and offer options for every budget.
This is overview information; refer to the contract for terms, conditions, and exclusions.
New and Used Vehicle Qualifications
Here are the eligibility requirements for Endurance MBI coverage in California:
| | | |
| --- | --- | --- |
| | New | Used |
| Qualification | Less than four years old and under 50,000 miles | Up to ten years old and more than 50,000 miles |
| Effective Date | Right away | 30-day/1,000-mile waiting period |
| Expiration | Time- or mileage-based term or 150,000 miles | Time- or mileage-based term or 150,000 miles |
| Term Options | 4 years/40,000 miles through 6 years/90,000 miles | 3 years/30,000 miles through 4 years/60,000 miles |
| Deductible Options | $0, $50, $100, or $200 | $0, $50, $100, or $200 |
Endurance MBI Plans
Powertrain Plus is a mechanical breakdown insurance plan that covers the critical components that are often the most expensive to repair, including:
Engine
Turbocharger/Supercharger (factory installed only)
Transmission
Transfer Case
Drive Axle
Powertrain Standard includes the above powertrain protection while adding protection for systems that undergo heavy use, such as:
Steering
Brakes
Electrical
Air Conditioning
Front and Rear Suspension
Powertrain Premium covers repairs of most major systems included in the Plus and Standard plans, and it layers in additional coverage:
Fuel Delivery
Cooling
Enhanced Electrical
Luxury Package
Elite Plus is the ultimate comprehensive coverage MBI plan offered by Endurance in California. It is an exclusionary plan with minimal restrictions on what is not covered.
MBI Coverage Add-Ons
Any of these MBI plans can be customized with extra coverage to match a policyholder's needs better:
Covered Parts Cause of Loss
Emissions Coverage
Business Use
Snowplow Coverage
Lift Kit/Oversized Tires
Reimbursements for towing/roadside assistance as well as for trip interruptions and rental cars (during covered service work)
Drive Confidently with Endurance
California car owners can drive more confidently with mechanical breakdown insurance from Endurance. It's the most effective way to prepare for car troubles and surprise repair bills. And it is a must-have when the factory warranty expires.
Endurance MBI policies come with flexible payment plans and a straightforward claims process. Help is a phone call away with one-on-one assistance from the Endurance customer support team. Or download the Endurance mobile app for even quicker service. Best of all, you can choose from any ASE Certified mechanic or repair shop when your vehicle experiences a mechanical breakdown.
Discover peace of mind with an Endurance MBI policy. Call (800) 253-8023 to request a free quote, or shop online today for your coverage options.
Be sure to read the Endurance blog for useful articles about car maintenance, DIY repairs, vehicle reviews, and more.
More like this
Mechanical Breakdown Insurance

In California, mechanical breakdown insurance (MBI), sometimes referred to as an extended warranty or vehicle service contract, is a type of coverage that pays for certain vehicle repairs after the..

Read More

Extended Warranty

Buying a used vehicle or new car has a lot of benefits that can make your life easier and reliably get you where you need to go. When you purchase..

Read More