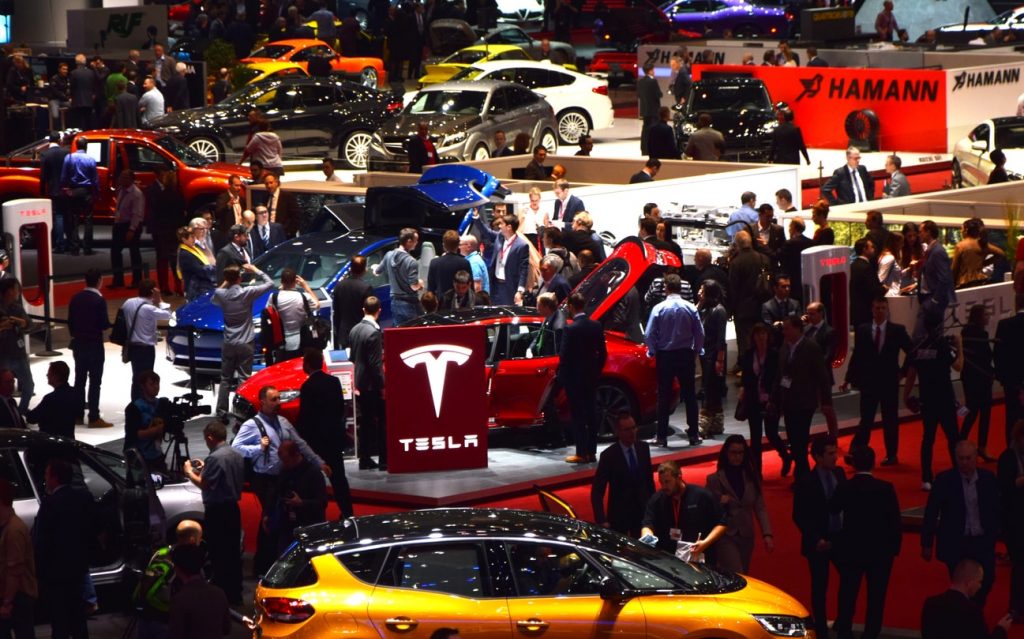 The common wisdom is that Switzerland is neutral. And so it is fitting that their famous auto show in Geneva allows for even-handed competition between many different countries. The Geneva International Motor Show isn't exclusive to German finesse, Italian flash, or American muscle. Nope, Geneva is a playground for all of those things and more. That's why the show has the reputation as THE show for the cream of the crop. Keep in mind that "cream of the crop" doesn't exclude cars that are within practical price ranges either.
Today we are wrapping up our coverage of the Geneva Motor Show and giving a rundown as to what we think much of the news could mean for the future of automobiles.
Buzzwords
Most of the chatter from this year's Geneva Motor Show was focused on autonomous cars, electric vehicles and even the scandal-prone diesels engines.
There was some industry news such as word of Peugeot's takeover of GM in Europe which has led to a lot of speculation, given GM's low reputation in Europe.
As for what was the truly exciting stuff? Geneva is traditionally about speed, style and creativity: it's a fashion show catwalk for designer cars.
The UK versus the Germans
One of the biggest rivalries in history now pits the German-made Porsche GT3 against England's new McLaren 720S.
The GT3 boasts an updated 4.0-litre engine, naturally aspirated by the way that gets the wheels to spin at an astonishing 9000rpm. It has been argued by industry experts that it will go down in the books as  the most engaging and exhilarating Porsche on the track or street. It is possibly Porsche's best car too.
Not to be outdone by the Germans, the new McLaren 720S also comes with a fresh new style and power boost from the outgoing 650S. It will be leaner and cleaner but way faster.
Tata
Not familiar? This a Mumbai, India-based company that has gone on to set their sights on the global market. Right now their biggest showing was for the Tamo mid-engine sportster. It is essentially a more efficient variant of the Italian Alfa 4C. We did a little digging and found out that this one was designed and engineered by Tata's Turin division. All the more notable is that it marks the  first in a line of Tata limited edition cars, called Tamos.
Keep an eye out for this company, the Tata shows a lot of promise with their emphasis on affordable low volume "bespoke" (custom) cars.
Crossovers Craze
As we've reported before, the SUVs has gone on to be the world's fastest growing/selling class of vehicle. And the Geneva Motor Show does nothing to contradict that. The biggest showcases were the all new Range Rover Velar and the Volvo XC60 (which we have covered). They stand as equally elegant examples of sophistication and utility.
Conclusion
Geneva stands as such a change of pace from the relatively lacking lackluster Detroit show. This goes beyond the wider variety of cars or all the money being spent.
In 2017 many industry insiders have questioned the need for an enormous international auto show. We are drifting closer to a future full of self-driving cars, or ride-sharing subscription services and now many major auto makers skipping them altogether. We did not see Porsche in Detroit and Chrysler has yet to hold even a small press conference. Most luxury auto makers tend to reach out to their base via intimate, upscale events of their own. And, more pressingly in our digital age, most auto makers opt to reach customers directly through social media and sponsored events.
The automotive industry is made up of a few conglomerates with a multitude of sub-brands. It feels like while we as vehicle owners or potential buyers have too many choices, most of the cars seem… kind of same-y.
Geneva will have you thinking of cars differently.  A company named Morgan held a news conference about its three-wheeler and emphasized their family business while a Chinese company, Techrules, showcased a prototype of a turbine-electric hybrid with six motors that hits 1,200 horsepower. Only in Geneva.
The Geneva Motor Show is a throwback to when the industry was a new frontier. It's not about the cars we'll see on the road, but rather a celebration of the eccentricity, excess: the best and worst of the car industry in one room. A global spectacle we were happy to research and cover.
More like this
News

As we transition away from combustion engines, electric vehicles (EVs) continue to dominate the automotive conversation. The latest development involves Honda's joint venture with General Motors to co-produce affordable electric..

Read More

News

There are a number of important components that allow your vehicle to operate, and each individual piece serves a purpose. Given the intricacies of these pieces, the value is naturally..

Read More

News

For decades, used cars have been the go-to solution for budget-conscious buyers. American shoppers could readily find quality second-hand vehicles for under the average price of $20,000 at most dealerships...

Read More