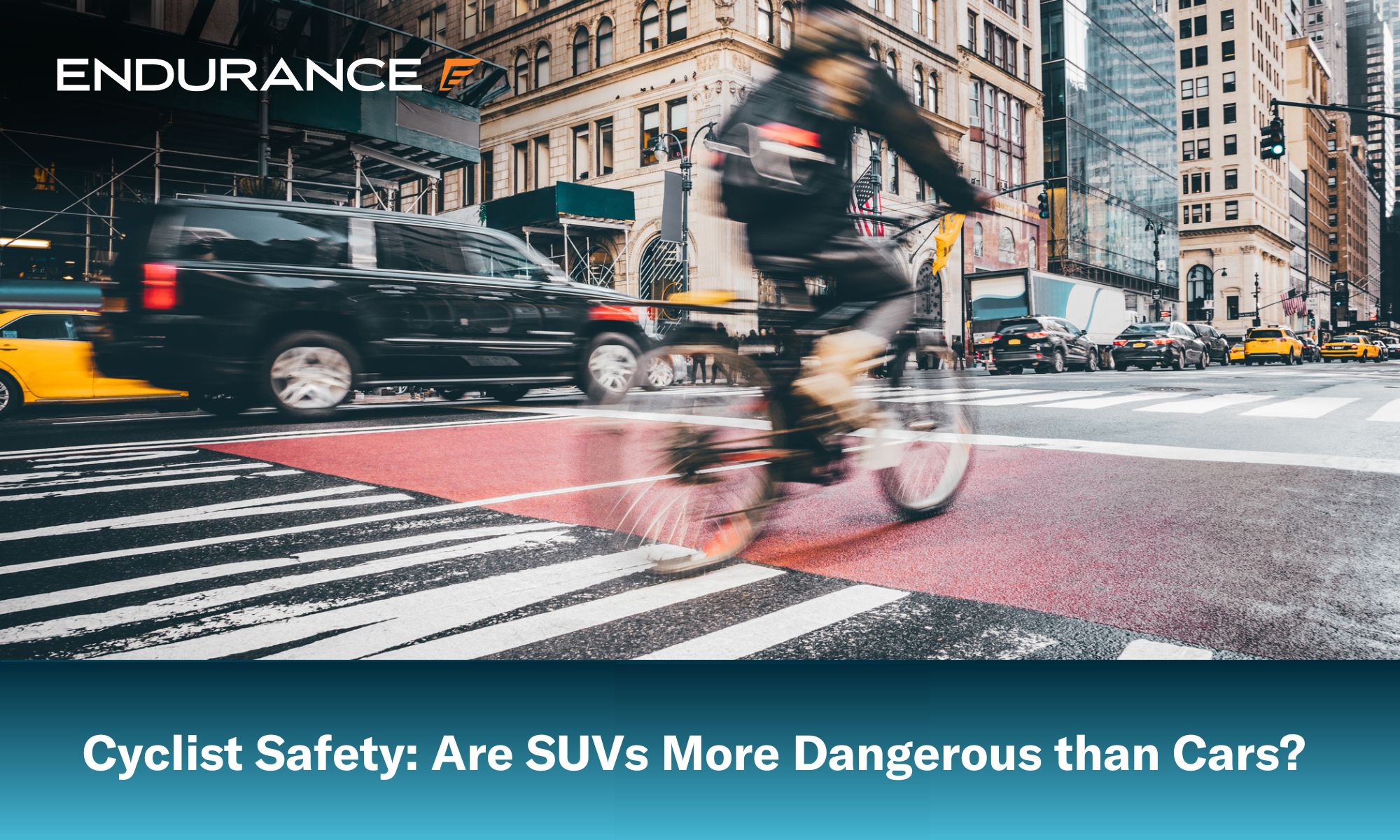 According to the Federal Highway Administration, trucks and SUVs have outnumbered cars in every state since 2018. While these bigger, more powerful vehicles certainly have their uses, a new report from the Insurance Institute for Highway Safety (IIHS) says that SUVs pose a greater threat than cars to one type of road user in particular: cyclists.
What Makes SUVs More Dangerous than Cars for Cyclists?
Of course, the size and weight difference between cars and SUVs is significant, but the specific reason why bicyclists suffer more severe injuries when they're struck by SUVs is because the point of impact is higher. While there have been a number of recent design changes to SUVs to make them less dangerous to other vehicles, unfortunately, their tall front ends still pose an increased risk to cyclists and pedestrians.
A Closer Look at the Risk to Cyclists: Bicycle Crash Rates
An IIHS study inspected detailed crash information from the International Center for Automotive Medicine's Pedestrian Consortium for 71 bicycle crashes that occurred across Michigan. Crash data was taken from police reports, medical records, crash reconstructions, and other sources, then filtered to focus specifically on single-vehicle accidents involving a bicycle rider age 16 or older.
It was discovered that injuries below the waist were common across all crashes regardless of whether a car or SUV was involved. However, trauma to the body as a whole was 55% higher for crashes involving SUVs than crashes involving cars. Head injuries were also 63% higher when the collision involved an SUV, although there was no severity difference between SUVs and cars for other areas of the body.
According to the new study's lead author, statistician Sam Monfort, when cyclists are hit by a car, they're more likely to fall onto the hood of the vehicle. When they're hit by an SUV, however, the higher front end strikes them above their center of gravity, toppling them to the ground where they're significantly more likely to be injured—or even killed—by the wheels and undercarriage.
These findings are different from an earlier study by the IIHS, which found that it's the direct impact to the pelvis or chest that makes a collision with an SUV more dangerous in pedestrian crashes.
Steps to Improve Cyclist Safety
Statistics show that the roads are becoming safer since a spike in traffic deaths in 2020. However, while fewer people are dying in general, there's plenty more that can be done—especially where cyclists and SUVs are concerned.
As part of the 2021 infrastructure bill, Congress instructed the Transportation Department to establish higher standards for vehicle safety technology, which includes braking systems and other crash avoidance tech. Many safety advocates argue that these technologies should become standard in all vehicles (rather than just luxury models) and should be designed to work better at night.
The sheer size of SUVs makes it difficult for design alterations to have an impact on the safety of cyclists, but if vehicles can detect bike users automatically, maintain distance, and apply the brakes if necessary, incidents can be avoided altogether. This kind of cyclist and pedestrian detection technology has existed for almost a decade now, and the more manufacturers who begin to install it in all vehicles, the better.
Of course, bicyclists can also take measures to improve their own safety and ensure drivers are aware of their presence. A helmet is always highly recommended, as well as high-visibility clothing and lights/reflectors if using the road at night.
How an Endurance Warranty Can Protect You Against Breakdowns
The cost of car ownership isn't getting any cheaper, and unexpected repairs after a breakdown can set you back thousands of dollars per year. Because of this, it's more important than ever to invest in a trusted vehicle service contract, and Endurance is the best around.
Our wide range of protection plans has unrivaled eligibility, affordability, and flexibility, with something to suit every kind of vehicle and driver. From daily commuters to luxury vehicle owners, we've got you covered, and if your situation is more specific, our award-winning customer service team will be more than happy to tailor a bespoke plan that meets your individual needs and budget.
Better yet, every Endurance plan comes with a whole host of amazing benefits as standard, including 24/7 roadside assistance, trip-interruption costs, and replacement travel reimbursement. As a welcome gift, every new Endurance customer also receives a year's free access to our Elite package, adding on total loss protection, key fob replacement, tire repair, and more. Just pay a $29 activation fee, and you're all set.
Top-Rated Protection from America's Most Trusted Provider
As a driver, road safety should be your number one concern. Not only do you want to know your vehicle is professionally repaired and maintained, but in the event of a breakdown, you want to be sure you're taken care of as quickly and painlessly as possible. A vehicle service contract from Endurance does all of that and more. We've helped over half a million American drivers since opening our doors some 15 years ago, and we're ready to help you too.
If you want to find out more about what Endurance can do for you and your vehicle, it couldn't be easier.
Just give us a call at (800) 253-8203 free, no-obligation quote, or shop online today. We also have plenty more articles just like this one over on our extended car warranty blog, so head on over if you'd like to carry on reading.
More like this
News

Now more than ever before, consumers and automakers are looking at alternative sources of transportation and different ways to power automobiles. More likely than not, the automobile industry is going..

Read More

News

You're likely familiar with the microchip shortages in the auto industry, given its widespread coverage in recent news. If you've been car shopping over the past few years, you've likely..

Read More

News

New proposed emissions standards from the U.S. Environmental Protection Agency (EPA) seek to transform the country's automotive sector. If implemented, the regulations will significantly limit what comes out of tailpipes..

Read More