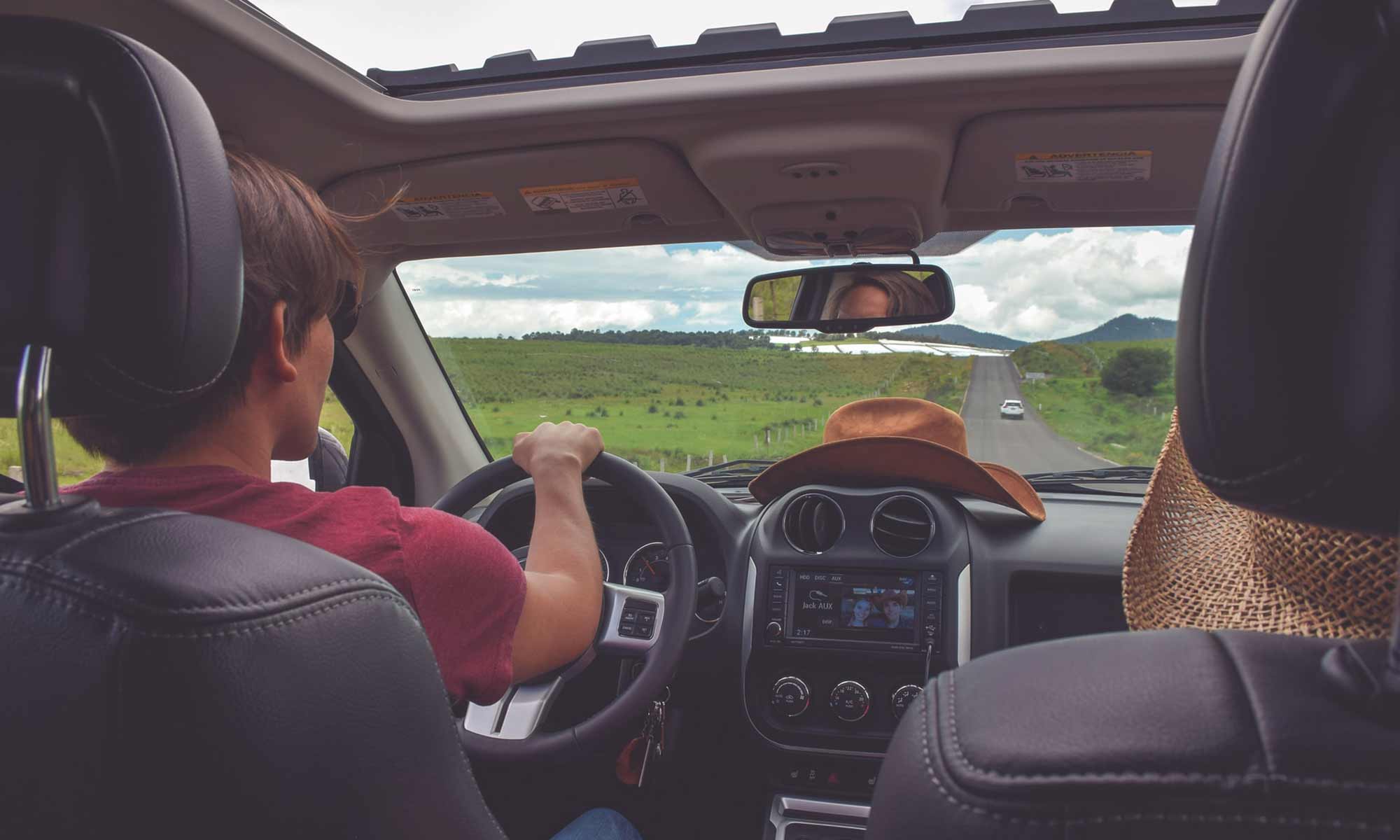 The time has arrived — your teenager is ready to hit the road. Parents can agree seeing your teen drive in the driver's seat can be a lot to handle. There's a lot you can to ensure your teen ends up being a safe, responsible driver if they're in the learning phase. Their driving behaviors are a reflection of yours, so take stock of what you do right behind the wheel and pass it along. 
Tips to Prepare Your Teen Driver
Practice often.

One of the main reasons teen drivers lack confidence is because they do not get a chance to practice enough and become overwhelmed when they do have to drive. If you're unsure of your driving abilities or are genuinely unable to chaperone your teen as they practice, consider hiring a licensed instructor to assist them.

Check GDL laws in your state. States have varying Graduated Drivers License laws, so teens can gain experience before being licensed to drive on their own. It's good to familiarize yourself and ensure your teen is getting the knowledge they need.
Give them a variety of experiences.

When teens first start driving, it's tempting to limit their practice sessions to side streets, parking lots, and other low-traffic areas. But when they do start driving alone, it's almost certain that these won't be their only routes. Give your teen a chance to be an excellent driver by taking them on highways, busy streets, and other driving situations they're likely to encounter.

Talk with them about distracted and impaired driving.

Distracted driving is responsible for hundreds of car-crash related deaths per year, and any teen is susceptible. Keeping in touch via text is such a common thing for today's teens. However, letting them know the consequences of texting and driving is essential. Thousands of teen deaths per year are attributed to driving while impaired and should be discussed. Before they earn their license, teens need to learn about these serious topics to aid in preparing your teen for the road. 
While preparing your teen for the actual act of driving is essential, there's another safety matter to be concerned with – caring for the vehicle. Many teenagers either inherit a used car from a family member or purchase one outright. Whether your teen's car is new or old, there's a lot to teach them about essential car maintenance. 
Tips for Helping Teen Drivers with Maintenance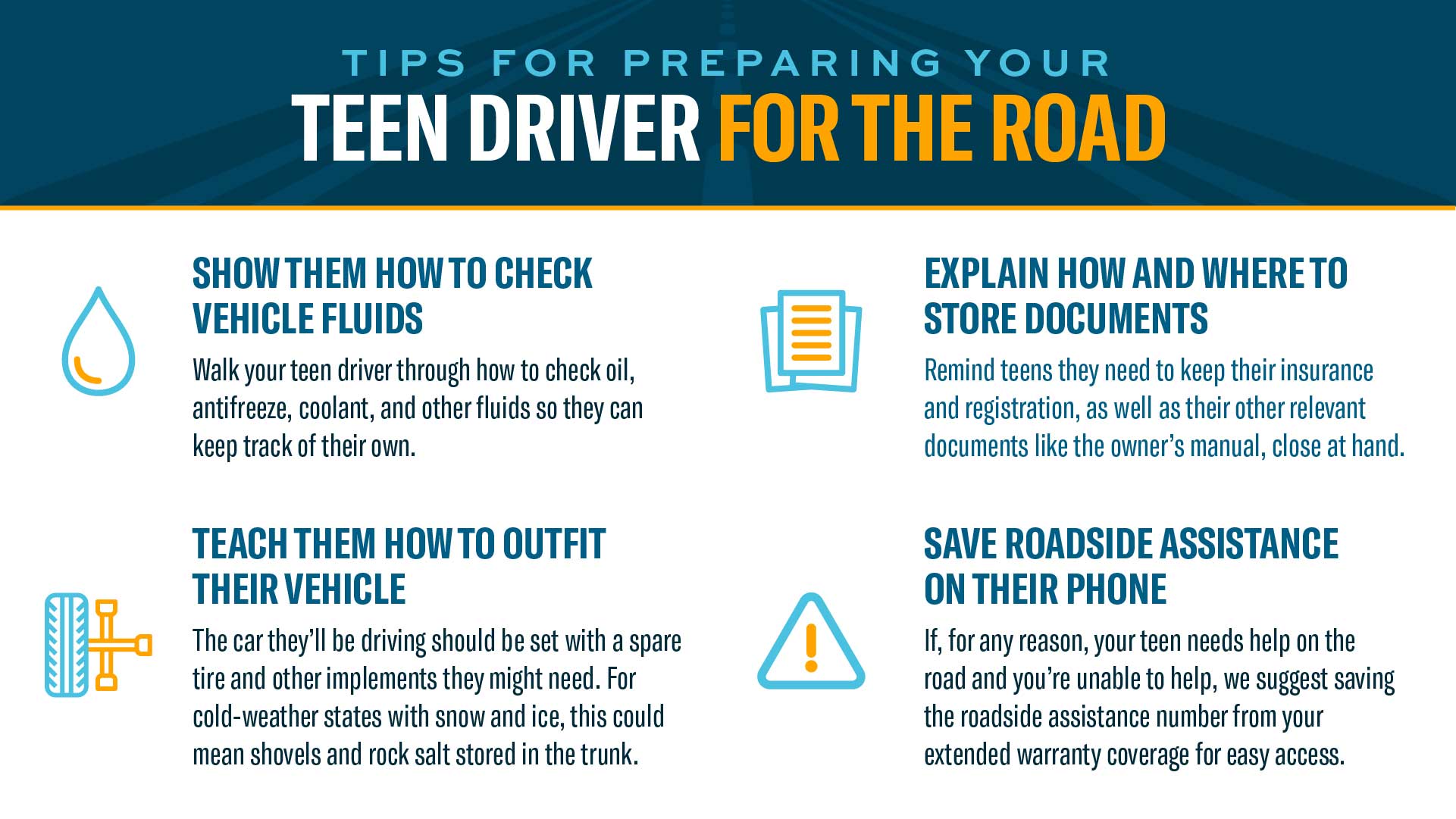 Your teen might be driving your car and nearby, but that won't always be the case. Don't miss out on this excellent opportunity to teach them valuable car ownership skills that they will use for the rest of their life.
Show them how to check vehicle fluids.

Vehicle fluids are an incredibly easy fix that can damage if not correctly looked after. Walk your teen driver through how to check oil, antifreeze, coolant, and other fluids so they can keep track of their own.

Explain how and where to store documents.

Remind teens they need to keep their insurance and registration, as well as their other relevant documents like the owner's manual, close at hand.

Teach them how to outfit their vehicle.

The car they'll be driving should be set with a spare tire and other implements they might need. For cold-weather states with snow and ice, this could mean shovels and rock salt stored in the trunk. Doing so can make sure your teen is prepared for road mishaps and hazards.

Save Roadside Assistance on their phone. If, for any reason, your teen needs help on the road and you're unable to help, we suggest saving the roadside assistance number from your extended warranty coverage for easy access. Not only does that help give you peace of mind, but they'll be there to help transport the car to avoid additional damage.
How Endurance Can Help
Keeping your teen safe while driving is our main priority. That's why Endurance offers extended warranty coverage, including auto warranty coverage for used cars, suitable for your teen in case they experience a sudden breakdown. Each coverage plan comes with 1 FREE year of the Endurance Elite Membership which offers 24/7 roadside assistance, the Endurance Protect app with your car's maintenance schedule, tire replacement, and more. 
Getting protection with Endurance also comes with rental car coverage, trip interruption to help cover food and lodging, and access to a team of auto experts ready to help you or your teen.
If you don't have auto protection from Endurance, now is the time to prepare for the unexpected. We have limited time relief plans available, and you can request a no-obligation quote or call 1-866-918-1438 to hear about minimal down payments. There's a lot to think about when it comes to car maintenance, and we're here to help.
More like this
News

As we transition away from combustion engines, electric vehicles (EVs) continue to dominate the automotive conversation. The latest development involves Honda's joint venture with General Motors to co-produce affordable electric..

Read More

News

There are a number of important components that allow your vehicle to operate, and each individual piece serves a purpose. Given the intricacies of these pieces, the value is naturally..

Read More

News

For decades, used cars have been the go-to solution for budget-conscious buyers. American shoppers could readily find quality second-hand vehicles for under the average price of $20,000 at most dealerships...

Read More