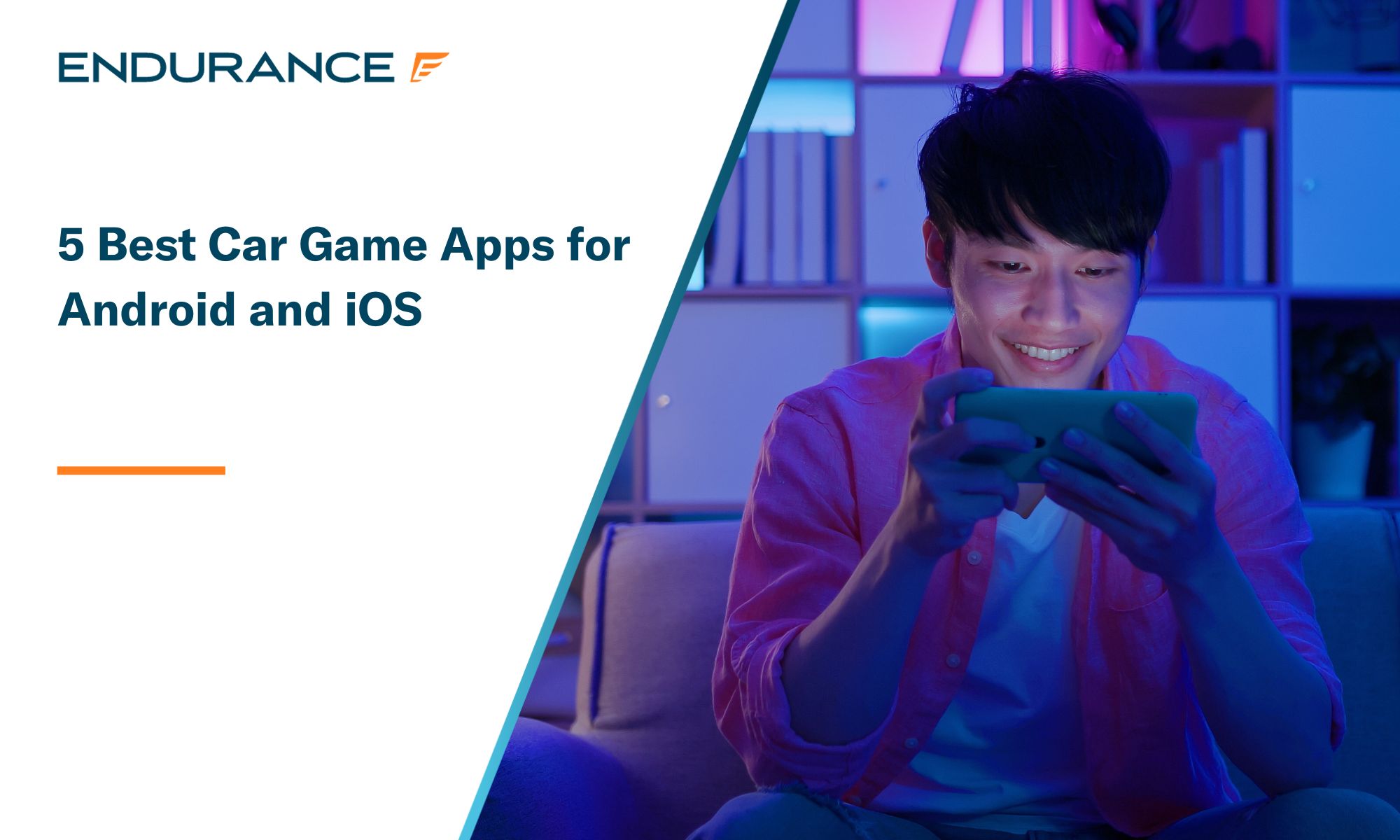 Once reserved for high-powered consoles, gaming has exploded on cell phone platforms thanks to robust technology and high-speed internet connections. In particular, car enthusiasts have hopped on the mobile gaming bandwagon to enjoy the thrill of high-speed racing, drifting, and crashing.
It's the perfect way to get behind the wheel of supercars and monster trucks without the expense or risk. Along the way, players can experience realistic graphics and enjoy opportunities to compete against fellow car lovers from across the globe.
While hundreds of car game apps exist on Google Play and Apple's App Store, we've picked the top five that will thrill on either smartphone platform. Let's "drive" into mobile racing games.
Game #1: Asphalt 9: Legends
Download: Google Play / App Store
Although some may prefer action on a larger tablet screen, Asphalt 9: Legends still engages on smaller mobile devices. Much of this is due to simple controls that emphasize the fun of mobile gaming. There's no steep learning curve here; you'll be racing and winning in no time. Of course, much of this efficiency was developed throughout the previous Asphalt series installments.
Easier play means more time to take in the sights of dynamic real-life locations and striking exotic cars from Ferrari, Lamborghini, Porsche, and others. Gamers can go solo in single-player mode or turn up the heat with a multi-player contest.
Key Features:
Expansive Car Collection: Players can select from over 200 high-performance machines, each configurable with numerous custom options.
Racing Controls: Asphalt 9 participants can choose TouchDrive for simplified play (not quite like autopilot, but close) or complete manual mode.
Real-World Elements: The gameplay features realistic sensations like light flares and immersive soundtracks.
Special Events: Players can participate in limited-time events or more story-driving settings.
Game #2: Monster Truck Destruction
Download: Google Play / App Store
Offering another approach to obliteration, Monster Truck Destruction takes things to the extreme. But isn't that what monster trucks are all about? Fans of these over-the-top vehicles will appreciate being able to select from more than 60 licensed trucks, including the legendary Bigfoot and USA-1.
Once your vehicle is sorted out, spend time battling for 4X4 supremacy on over 20 dirt or snow-covered tracks. Meanwhile, show off your monster truck driving skills by performing jumps and backflips. Players give Monster Truck Destruction kudos for sharp graphics and attention to detail. At the same time, a recent update makes the game's physics more life-like.
Key Features:
Real-time Damage: The game's real-time damage simulations challenge even the most experienced players, ensuring engagement from start to finish.
Challenging Tracks: Players can compete in four championships across 28 offroad tracks, choosing between drag or freestyle modes.
Customization: Monster Truck Destruction offers upgrades for the engine, exhaust, intake, suspension, and transmission to stay ahead of the competition.
Game #3: Car Crash Club
Download: Google Play / App Store
If you've ever dreamed of turning your commute into a demolition derby, then Car Crash Club is a must-download racing game. You'll get a perverse pleasure from trashing your own (virtual) car and all others around you. Perhaps the developer says it best, "Rush like a rocket, crash like a bomb!"
Players can choose from numerous tracks and car configurations to keep things interesting. There's also a reasonably realistic city in the background for an extra lifelike effect. Further turning car smashing into an art form, Car Crush Club provides crash test zones in the "Smash" section. There's even a dedicated area for head-on collisions if your preference leans toward maximum damage.
But there's more to this game than just destruction; hop on the race track when the competitive spirit kicks in. But don't worry; there will still be many opportunities to destroy everything on wheels. The best thing is no whiplash.
Key Features:
Unique Features: For the ultimate in destruction, spend some time with Car Crash Club's vehicle shredding tools.
Many Car Options: Players can select from over a dozen cars to battle their way to annihilation.
Alternate Vehicles: If four wheels are too many, choose a motorbike for a very different take on the game.
Game #4: Rally One: Race to Glory
Download: Google Play / App Store
For those who like their racing on the dirty side (mud, etc.), Rally One: Race to Glory will meet your needs. Gamers can experience single- or multiplayer racing on dirt or gravel trails or equally tough tracks. These venues are set in exotic locales for extra appeal, and there's a deep garage of customizable vehicles.
Most importantly, rich graphics pop on most screens (Hint: turn up the brightness to enjoy the full effects). And even the most seasoned racing gamer will find their agility tested, no matter the speed. Rally One could easily achieve the highest honors in this top five list, but the game's monetization model favors pay-to-play (typical with many games). Even F2P (free-to-play) participants will find the game enjoyable.
Key Features:
Detailed Car Customizations: You can spend as much time building your car as racing. Rally One players can choose engines, tires, brakes, suspension, and turbochargers.
Car Collections: Tied into customization is the ability to pick from over 40 rally cars from WRC, Group B, RX, Legends, and classic car groups. There's something for every racer.
Weather Conditions: Real-world weather conditions like rain and snow make Rally One play more challenging and engaging, a helpful feature to prevent boredom.
Game #5: Drift Legends 2
Download: Google Play / App Store
While drifting may not be a regular real-world activity for most people, the Drift Legends 2 app lets you get your fill virtually. As the name implies, this game is the follow-up to the original Drift Legends game. The developer calls this latest app the "ultimate drift racing sensation," which may be a stretch when playing on a small phone screen. However, running Drift Legends 2 on an Android tablet or iPad changes the equation.
There is high praise for the graphics and the availability of dozens of vehicle styles. Earlier versions were a bit buggy, causing ratings to drop, but a recent update has fixed the issues. Most of the feedback comes from Google Play ratings; there's little feedback in the App Store.
Key Features:
Numerous Car Choices: Players can pick from over 30 drift-ready vehicles
Customization Options: Make the Drift Legend 2 template cars your own with exclusive paints, customer wheels and tires, and even unique license plates.
Detailed Tracks: The gameplay includes different track layouts with challenging environments.
Career Mode:  Through extended play, users can gain experience, complete achievements, and unlock hidden cars.
Honorable Mentions
Here are a few mobile car racing games that didn't make the top five list but came close. All are Android and iOS compatible.
Parking Jam 3D
Developer Popcore calls Parking Jam 3D a parking simulator game, but if this is how most people position their cars in tight spaces, we'll stay off the road. Nonetheless, this game, a series of car-themed puzzles, is straight-out fun. Completing each level (and there are many) is satisfying. And others think so, too. More than 50,000,000 have downloaded Parking Jam 3D. One caveat: you'll want to spend a few bucks to get the ad-free version.
Rush Rally 3
If it weren't for the phone or tablet in your hands, you'd swear Rush Rally 3 is a console game. Players have numerous controls for a more personalized experience and get pulled in by the dynamic graphics. At the same time, racers will also appreciate more than 70 unique stages featuring different terrains and skill challenges. Choose from a traditional rally or something more adventurous, like a rally cross or hill climb.
CSR2
Racing isn't always about corners. That's the premise behind CSR2, a hyper-realistic drag racing game with players focused just on straight lines. Building on the success of CSR Racing and CSR Classics, CSR2 lets users compete in real-time driving challenges featuring custom-built cars. If your motoring dreams ever included Ferrari SF90 Stradale, McLaren Senna, and Bugatti La Voiture Noire, this is as close as you're likely to get. What also sets this game apart is that the developer partnered with automakers to capture tiny details.
Mario Kart Tour
If your Nintendo console is collecting dust, Mario Kart Tour lets you go retro via your Android or iOS phone. You'll still get the classic Mario Kart arcade racing experience, but recent updates now leave players with smoother and more responsive graphics. At the same time, the "tour" element adds city-based settings to the experience, complemented by a familiar cast of characters. If going solo gets boring, step up to multiplayer mode for racing against friends and worldwide competitors.
CarX Highway Racing
With high ratings on Google Play and the App Store, CarX Highway Racing lets players dive into street and highway racing across the globe. Pick a locale like France or Australia and hit the road. The app builds on other CarX games and is rich with engaging graphics. Features include dozens of car options and different game modes. The game also stands out for its realistic physics and skills challenges.
Racing Game FAQs
What is the best racing game for the iPhone?
Asphalt 9: Legends is an iPhone (and Android) racing game with over 200 customizable supercars and locations. It offers intuitive controls, multiplayer modes, and immersive visuals that provide an engaging mobile racing experience.
What is the number one car game in mobile?
Asphalt 9 certainly belongs at the top of the list, but we'll also mention Monster Truck Destruction. This highly-rated monster truck game has over 60 iconic trucks, real-time damage physics, and customizable options. Its authentic style, array of modes, and strong graphics give it wide appeal as a mobile car game.
What is the best Android game for online car racing?
CSR2 is an online drag racing game for Android focused on realistic 1/4 mile races. With licensed supercars, multiplayer competitions, leaderboards, and deep customizations, it provides intense high-speed action.
Real-World Car Protection for Gamers and More
While racing a virtual car can be exciting, real-world car ownership often isn't so fun, especially when dealing with breakdowns. That's why people have been turning to Endurance extended warranties for over 15 years. Extended warranties, also called vehicle service contracts or auto protection plans, safeguard against surprise repair bills.
Endurance offers a wide range of coverage, including an affordable powertrain plan or top-tier coverage similar to a new car warranty. There are also options for high-mileage cars and commercial-use vehicles. Plus, all Endurance customers receive 24/7 roadside assistance (with towing coverage and lockout assistance), rental car reimbursement, and trip interruption protection.
Plan holders also enjoy flexible payment terms and the freedom to choose any ASE Certified mechanic or repair facility for covered repairs. There's a 30-day money-back guarantee (request plan cancellation during the first month of coverage to receive a typically full refund).
Find out all the advantages of an Endurance extended warranty. Go online for a FREE quote, or visit our online store for instant cost and plan details. Call (800) 253-8203 to speak with an Endurance advisor for personalized help.
Read the Endurance blog for practical articles about car repairs, warranty advice, vehicle reviews, and more.
More like this
Autotainment

The approach of 2024 may mean having a personal New Year's resolution or two in mind. But do these thoughts include your car? This is a great time of year..

Read More

Autotainment

Car enthusiasts are always looking to learn more about a complex and constantly changing industry. One way to tackle this task is through automotive podcasts. These shows offer a treasure..

Read More

Autotainment

Moviegoers don't need to be car lovers to appreciate the legendary vehicles that have graced the big screen over the decades. These automobiles have helped to tell the stories and..

Read More