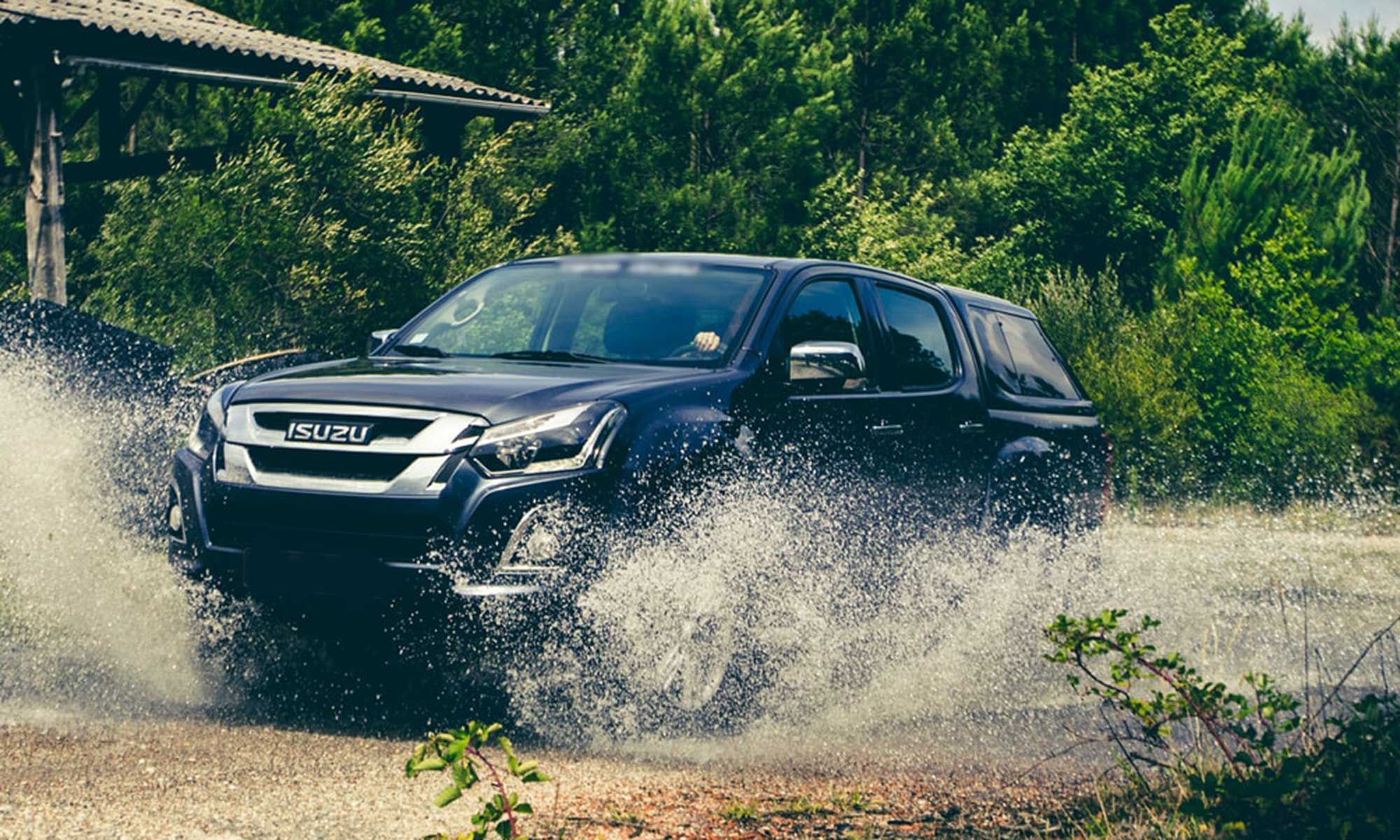 If you're into pickup trucks, Isuzu will be a name you know all too well. Specializing in diesel engines, the manufacturer was established over 100 years ago in Tokyo, Japan, and entered the US market back in 1975.  
While the brand's trucks and SUVs made quite an impression on American consumers, as more Japanese competitors found their way into the country, things got tough. Isuzu's sales plummeted from 103,937 in 1999 to just 7,098 in 2007—the year when fellow Japanese manufacturer, Suzuki, reported its best-ever US sales. Struggling to stay financially viable, Isuzu left America for good in 2009. 
With the last new vehicles rolling off the production line over 12 years ago, it's safe to say that every Isuzu on US soil is out of its factory warranty. However, many are still eligible for extended protection. Let's take a look at Isuzu's extended warranty plans and what you can expect from them. 
What is Covered by an Isuzu Extended Warranty?
Once fit snugly under the General Motors umbrella, Isuzu vehicles were covered as part of the General Motors Extended Protection Plan. Unfortunately, their standard warranty is exclusive to Chevrolet, Buick, GMC, and Cadillac vehicles, with Isuzu owners excluded.  
While there's no official Isuzu protection in the United States anymore, there are third-party extended warranty coverage providers who will be more than happy to look out for you and your vehicle.  
How Much Does Isuzu Extended Warranty Cost?
Multiple factors impact the cost of an extended warranty, but it should always be lower than the amount you'd expect to spend on repairs in the period. With even the newest Isuzu vehicles being over ten years old at this point, the chances are that original parts are on the cusp of failure, making an extended warranty an almost essential investment.
Before you start looking for providers, let's take a look at the things most likely to impact your quote: 
Coverage Level
The two main types of warranties are bumper-to-bumper and powertrain. As bumper-to-bumper covers almost everything, you can expect to pay more for the comprehensive protection. If you want to cover your vehicle's most expensive parts (and spend a little less as a result), a powertrain warranty is a way forward. 
Type of Vehicle
The harder it is to find parts for your vehicle, the more expensive it will be to get coverage. If your Isuzu model uses more common General Motors components, you may get lucky and bag yourself a cheaper quote. Used vehicles also have higher mileages, which can disqualify you from certain protection plans.
Any Extra Benefits
Many extended warranty providers offer additional extras, which increases pricing with every perk. On the other hand, Endurance service contracts include a world of amazing benefits as standard, such as 24/7 roadside assistance, rental car reimbursement, and a year's free Endurance Elite membership. 
What is Covered Under Isuzu Factory Warranty?
The factory warranty of every Isuzu here in the US will be long past its expiration date by now. However, it's still useful to know what was covered as a point of comparison for any extended policies you take out. For models made between 2003 and 2008, coverage included: 
Basic Limited Warranty
This bumper-to-bumper policy covered your vehicle against wear and tear for three years or 50,000 miles after purchase (whichever came first). As you'd expect, there was no deductible for repairs incurred. 
Powertrain Warranty
Covering your engine, transmission, and drivetrain, Isuzu's powertrain warranty was as generous as it was comprehensive. Lasting an impressive seven years (or 75,000 miles), the policy was also transferrable, but only to immediate family members. 
Corrosion Warranty
Isuzu vehicles are designed to perform in the most extreme conditions—from scorching heat to blistering cold. To be certain they could live up to expectation, the factory warranty included protection against rust perforation for six years (or 100,000 miles).   
Roadside Assistance
Going the extra mile for customers, Isuzu also included roadside assistance for seven years (or 75,000 miles). Owners even qualified for help if the breakdown was simply the result of an empty gas tank rather than a manufacturer's fault. 
What Should I Do If My Isuzu Manufacturer's Warranty Has Expired?
As we've mentioned, if you own an Isuzu in the US, it already has. So to continue driving with confidence, the best course of action is to take out an extended warranty policy with a third-party provider. 
You may have an insurance policy for your vehicle, but this will only protect you when dealing with a car accident. An extended car warranty offers the same kind of coverage you would have received from your factory warranty but at an affordable price. Most providers also offer flexible payment plans to ensure you get the protection desired without breaking the bank.
Average Isuzu Repair Costs
| | |
| --- | --- |
| Isuzu Repair Part | Average Cost |
| Axle/CV Shaft  | $460-$647  |
| Ignition Coil  | $314-$449 |
| Brake Caliper  | $400-$535 |
| Brake Rotor/Disc  | $745-$1071 |
| Oil Pressure Sensor  | $149-$192 |
| | |
*Derived from YourMechanic.com 
These are just some of the repairs you can experience. If you've owned your Isuzu vehicle for several years, then you may experience costly repairs that impact your water pump, alternator, brake pads, and much more.
Isuzu Extended Warranty or Third-Party Vehicle Protection?
As we've established, there's no such thing as an Isuzu extended warranty in the US anymore, but let's pretend for a moment there is. Why would third-party vehicle protection be the better option?  
Better Value –

Endurance also offers a suite of additional benefits as standard, such as 24/7

roadside assistance

,

towing

, and rental car coverage to keep you on the road.

Go for Endurance

Advantage

™

, and you'll even receive up to $3,500 in regular maintenance costs per year. 

Use a Mechanic You Trust –

Factory warranties

force you to have work carried out at

a registered

dealership

, but with an Endurance

warranty

, you can pick any ASE-certified mechanic in the country. We know how important it is to owners to go to someone they trust, and choosing your favorite auto shop means total

peace of mind

every time. 

24/7 Roadside Assistance – We don't want you stuck out in the middle of nowhere. Twenty-four hours a day, seven days a week, our roadside assistance

team will come to your aid and do their best to get you back on the road as soon as possible. 

Substitute Transportation –

If you can't fix your vehicle on the spot, we'll arrange a rental car, so your journey can continue with minimal disruption. 

Trip-Interruption Costs –

Breakdowns rarely happen when you've just left the driveway. If you're over 100 miles from home when your vehicle acts up, we'll cover the cost of up to three days of food and lodging. 

Endurance Elite Membership –

As if all of that wasn't enough, we also offer a year's free Endurance Elite membership with every new policy. This industry-leading service opens up a world of excellent everyday driver benefits, including tire repair and key-fob replacement. 
More About Isuzu Warranties
It can be useful to know what common problems other Isuzu owners face before purchasing an extended warranty. Take a look at the database for recalls: 
Information on Recalls, Problems, and Defects: NHTSA-Safety Issues & Recalls 
Frequently Asked Questions: Isuzu Factory Warranty
How Long Does a Standard Isuzu Factory Warranty Last?
The standard Isuzu factory warranty lasted for three years or 50,000 miles (whichever came first).  
Is My Engine Covered Under an Isuzu Factory Warranty?
The engine was originally covered under the Isuzu powertrain warranty, which lasted for seven years or 75,000 miles. As Isuzu officially left the US in 2009, this will have expired by now. 
Can I Transfer My Isuzu Warranty?
Only the powertrain warranty was transferable, with the requirement that the next owner must be an immediate family member. 
Frequently Asked Questions: Isuzu Extended Warranty
Where Can I Get my Isuzu Serviced for Repairs?
This depends on your warranty provider. If you have a policy with Endurance, you can have your vehicle serviced at the ASE-certified auto shop of your choice. 
What Do Endurance Warranties Cover that Isuzu Warranties Don't?
The level of cover offered by Isuzu was relatively good, but it's nothing compared to Endurance. Not only do we provide more cover for less money, but all our packages also include a host of benefits that manufacturers just can't beat. 
What Extended Warranty Covers the Most for the Best Price?
First, you need to decide what you want to be covered and how much you're willing to pay for it. Then, gather your options and compare them side-by-side. With Endurance, the possibilities are limitless, so you can get the best value possible. 
How Do I Get a Quote for an Extended Warranty?
Easy. Just request a free, no-obligation quote and you'll be connected to our team in minutes. If you'd like to talk in more detail, give us a call to find the right coverage for you.
More like this
Extended Warranty

When driving on roadways around the world, the thing most car owners fear is being involved in an accident. However, mechanical breakdowns are the thing that every average driver should..

Read More

Extended Warranty

Every car owner knows how important it is to keep their vehicle in the best possible condition at all times. This means making sure that you are getting the proper..

Read More

Extended Warranty

Driving down the road only to experience an issue with your vehicle's steering capabilities is a terrifying experience, regardless of if you are driving a new vehicle or an old..

Read More