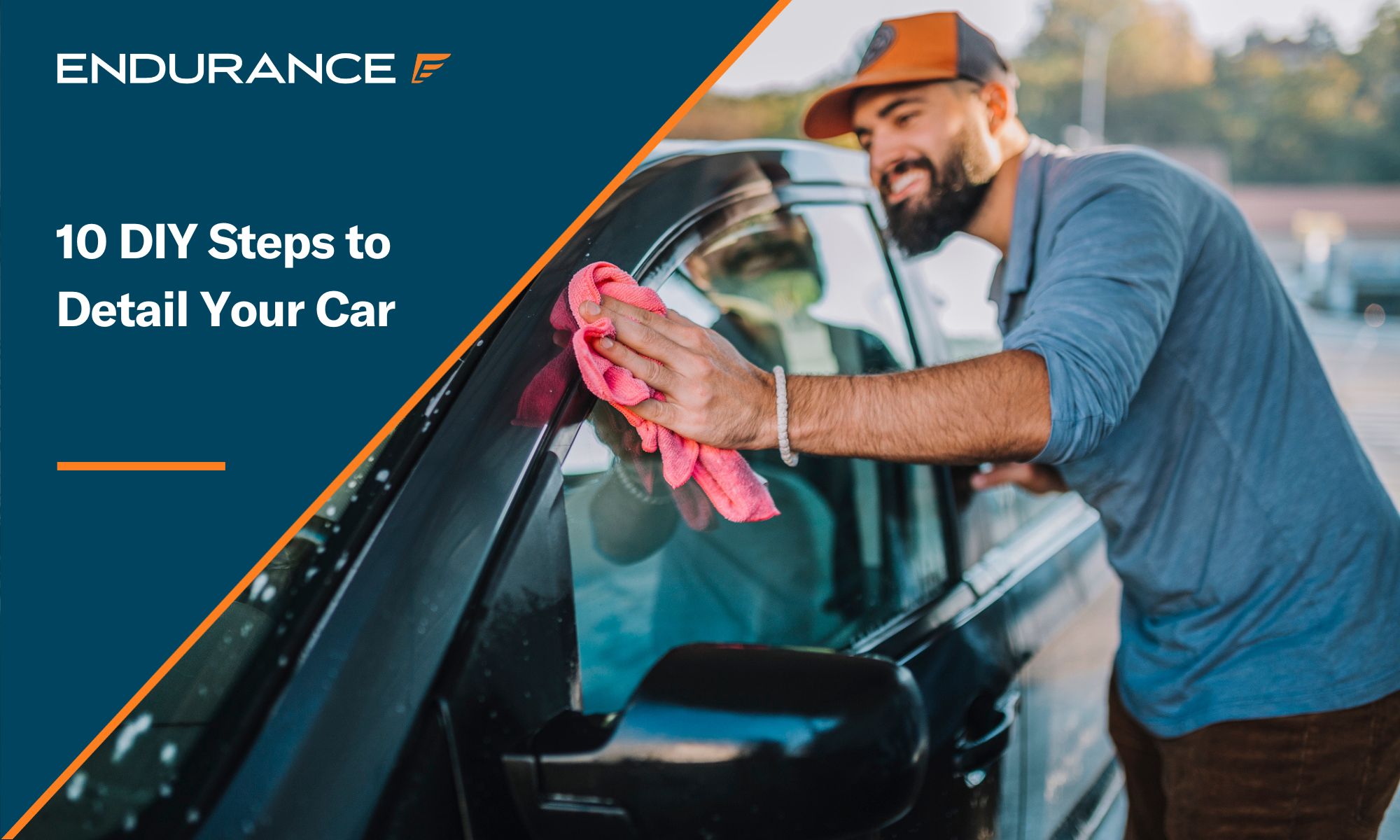 One of the best ways to retain the value of your vehicle over time beyond ensuring all parts are operating normally is to keep your car clean and sharp. The best way to go about this task is to detail your vehicle, although few people take the time to handle this task.
Car detailing is an important job beyond simply getting a car wash, so all vehicle owners should learn how to perform detailing services on their vehicles.
What Does Detailing a Car Mean?
Most people are familiar with what washing a car means, but some drivers may not have heard about detailing. While a car wash is often an automated process that blasts your vehicle with water in order to remove the buildup of dirt, dust, and other contaminants on the exterior, car detailing services are done by hand.
Car detailing services are far more labor-intensive and focus on targeting specific stains, damage, grime, and more in order to clean and restore a vehicle's paint job to a near like-new condition.
4 Key Benefits of Regularly Detailing Your Car
Given that car detailing services are done by hand, the process takes a longer time compared to a standard car wash. Due to this, fewer people handle this important task, even if they are using professional services instead of doing it themselves. However, there are a few key benefits to car detailing that make the effort more than worth it:
1. Improved appearance and curb appeal.
One of the biggest benefits of detailing your car is that the overall appearance will be improved, which also improves the curb appeal of your vehicle. While this is a benefit from a purely aesthetic perspective, it will also mean your car will be running for a longer period of time.
2. Protection against environmental damage and wear and tear.
Over years of driving, your vehicle sustains a natural amount of damage that comes from rocks jumping off the road, the buildup of grime, and general wear and tear. By detailing a vehicle on a regular basis, these issues can be resolved before they compound and become worse.
3. Increased resale value.
For those who picture themselves selling their vehicle someday, regular detailing can actually improve the resale value of a vehicle. Not only will the exterior of the car look more presentable, but the removal of any irritants to the car's paint, scratches, or general grime will also bolster the resale price.
4. Improved overall driving experience.
At the end of the day, nobody wants to be driving around in a vehicle that they are embarrassed to be driving in. By taking care of detailing on a regular basis, you can improve your driving experience by being proud of the vehicle you are driving. On top of this, the mere fact that your vehicle is more protected from environmental damage means you reduce the risk of a breakdown happening while you are on the road.
How to Detail Your Own Car Yourself
Another major deterrent for those considering detailing their vehicle is the fact that the cost of professional car detailing services is quite high. After all, with the cost of basic dealing services reaching $300, a person can't be blamed for being hesitant to get the job done. However, a person can detail a car's exterior and a car's interior all by themselves, so long as they understand the steps and materials needed:
10 Steps Involved with Detailing
While detailing your car can seem like a daunting task at first, there are a few high-level steps that should be followed can simplify the process:
Begin by cleaning your car's wheels with a general cleaner and brush
Apply a pre-cleaner to your vehicle that works on breaking down tougher grime
Use snow foam to blow away any stubborn dirt that remains
Rinse the vehicle first with car shampoo, followed by a water wash
Apply a decontaminating substance
Dry the vehicle off
Polish the clear coat of the vehicle
Glaze, wax, and seal your vehicle
Apply dressing to your tires and their trims
Apply a solid cleaner
Materials and Tools Needed for Detailing and Hand Washing
Each of the above steps requires a certain amount of tools and materials in your garage in order to complete the detailing job. The most important of these items include:
At least two buckets
A car wash hand mitt
A variety of applicators and brushes
A foam cannon
A light source to inspect the exterior of your vehicle
A vacuum and blower for the interior
Plastic razor blades for buffing out the problem
Microfiber cloths and other drying tools
A rolling work seat
While there are more tools and materials that a person can use depending on the extent of the detailing they wish to perform, the above are just some of the basics.
Tips and Tricks as You Begin to Detail Your Vehicle
Once you have all the materials and tools you need to begin detailing your vehicle, there are a number of tips and tricks that can be used to speed up the process more successfully:
Remove loose items from your vehicle before you begin
Start from the top so that liquid and cleaning solution don't drip down to already cleaned areas of the car
Slide your seats forward to ensure you aren't missing dirt that is under the seats
Install covers to the seats in your car to protect the upholstery from cleaning chemicals
Dry your glass surfaces in two directions to avoid stains
Remove swirl stains before finishing the process
Detailing the Exterior vs Interior of a Vehicle: What You Need to Know
Never forget that a proper vehicle detailing job requires handling both the interior and exterior of your vehicle. When tackling a DIY interior detailing and exterior detailing job, there are a few differences. The exterior is where you will be applying the majority of chemicals and window cleaning solutions. However, on the interior, your focus will be on stain removal, vacuuming, and general garbage cleanup.
There are certain products and wipes that can be used to restore the interior dashboard area of a vehicle, but it's important not to overload this area with chemicals. Instead, treat interior surfaces with care by simply clearing out crevices, wiping dust away, picking up trash, and taking care of damage from UV rays. You can also consider steam cleaning your interior seats if it will not damage the fabric.
Protect Your Vehicle with Endurance Warranty
Taking care of auto detailing services is only going to improve the look of a vehicle by impacting factors such as the ceramic coating, the new car's paint, and the removal of grime through a deep clean. Ensuring your vehicle is operational for years to come, however, requires maintaining the many parts under the hood. With that said, repair jobs for these parts are expensive, which is where auto warranty comes into the equation.
With customized extended warranty contract offerings ranging from basic coverage to near bumper-to-bumper coverage, Endurance can protect your vehicle from mechanical breakdown. By covering the costs associated with mechanical repairs and even some maintenance tasks, Endurance can save you time and money, all while keeping your vehicle running. Additionally, each extended warranty package comes with Elite Benefits, for a small activation fee, that offers bonus perks such as up to $1,000 in total loss protection, up to $500 in collision discounts, and more.
To find out more about how Endurance can help protect your vehicle, call our award-winning customer service team at (800) 253-8203 and request a FREE quote – or shop online today!
More like this
How To

In the event of a breakdown, having an extended warranty or vehicle service contract watching your back can be a total lifesaver. With some major repairs costing thousands of dollars,..

Read More

How To

Keeping a Hyundai Accent running for the foreseeable future is about more than simply being a safe driver on the road. While keeping your eyes peeled and attention on the..

Read More

How To

While reliability is always a factor when choosing a vehicle, many more considerations are involved when kids are in the picture. Safety, space, and comfort must also be part of..

Read More