Protect your vehicle with custom coverage from Endurance.
Shop Now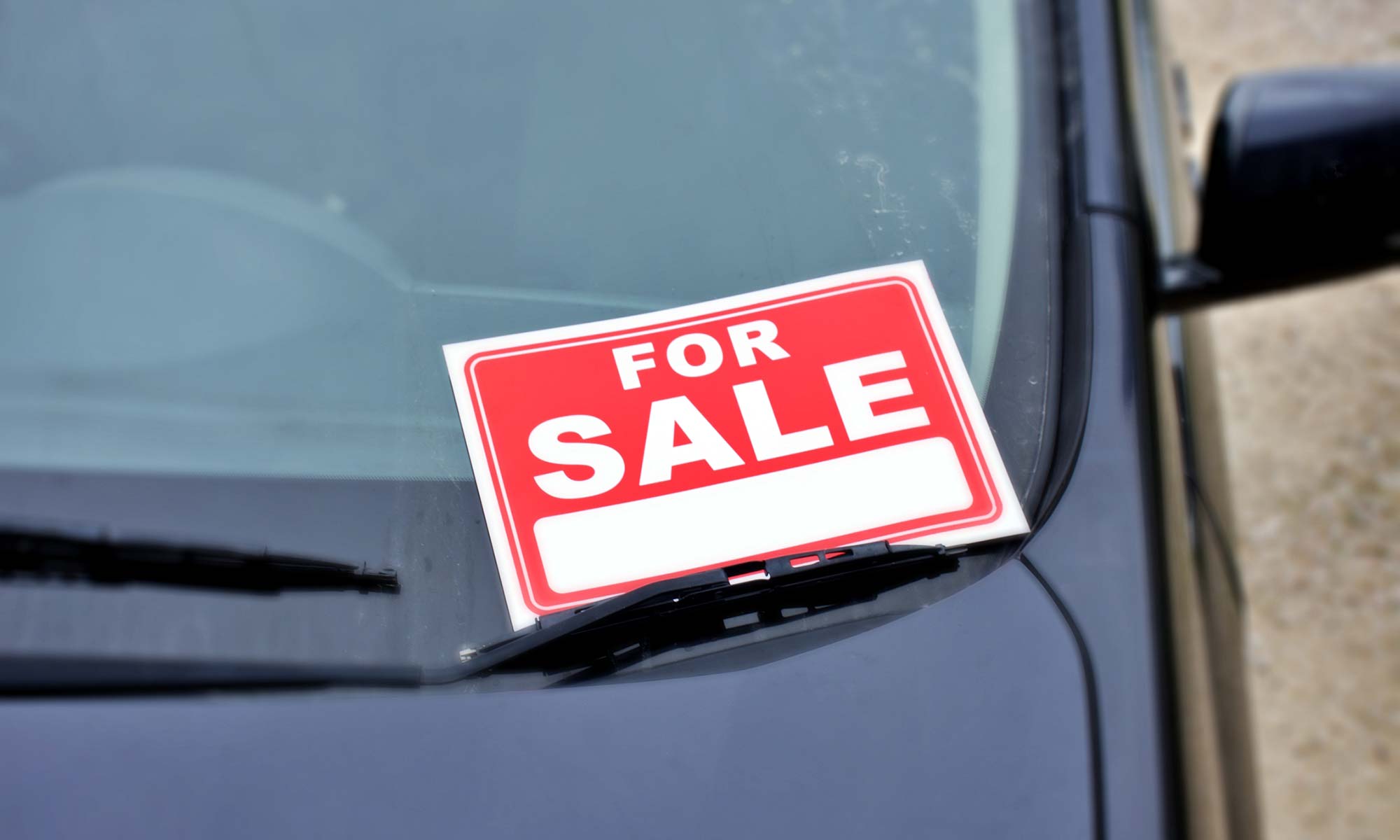 It can be your first car or your hundredth, but no matter what, buying a brand-new car is an exciting moment for any driver. Having the freedom to go wherever you want, whenever you want to—in comfort and style—feels like no other. But as much as you might love your cars, there eventually comes a time when you'll want or need to sell them.
It only makes sense that you'd want to get the most money possible when you decide to part ways, so it's good to do a little research into the cars with the best resale value before making that initial decision. This guide will take you through the top makes and models and ways you can boost the resale value of your vehicle.
What Cars Have the Best Resale Value?
A car's 'resale value' is the amount you can expect to sell your vehicle for after owning it for a while. Of course, the more a vehicle has been used, the less you'll be able to recoup from your initial investment. 
The resale value of your car will also ultimately be dependent on several factors, with its age being one of the most significant. Using all brand new vehicles and five years of use averaging 12,000 per year as our point of comparison, here are some of the top vehicles that hold their value:
Kia Forte
A practical, reliable and affordable car, the Kia Forte has been one of the most popular small-size sedans in recent years. With the possibility of holding just about 50% of its original value after a full five years of use, it's no wonder why.
2022 Starting MSRP:

$20,145

Resale Value After 5 Years:

$9,441

Depreciation After 5 Years: $11,128
Residual Value:

49.22%
Toyota Yaris 
While it has been discontinued since the 2020 model year, this entry-level compact car is one of Toyota's more eye-catching. It's also quite an efficient and economical automobile to boot. If you were lucky enough to find a two-year-old Yaris and decide to sell it, you'd be able to make back up to 53% of what you paid, depending on how well you maintained it. 
2020 Starting MSRP:

$15,650

Resale Value After Five Years: $11,685
Depreciation After 5 Years: $7,977
Residual Value: 53.32%
Kia Soul 
Another Kia entry, the Soul, is one of the top SUVs to hold its value. It really does have it all with a stylish look, a reasonable price tag, and up to 61% of the residual value after half a decade.
2022 Starting MSRP:

$20,545

Resale Value After 5 Years: $13,368
Depreciation After 5 Years: $8,546
Residual Value:

61.00%
Honda Civic
The Honda Civic is known as one of the best-value vehicles on the market — new or used. This even rings true regarding their resale value, with many well-maintained Civics expected to retain up to 61% of their original value after five years.
2022 Starting MSRP:

$23,365

Resale Value After 5 Years: $13,396
Depreciation After 5 Years: $8,518
Residual Value:

61.13%
Toyota Corolla
If you're looking for cars that hold their value, look no further than the Toyota Corolla. This iconic vehicle maintains an incredible 62% of its value after five years, thanks in large part to its class-leading reliability and incredibly low annual repair costs of just $362. Invest in one of these, and you really will get your money's worth when owning and selling it.
2022 Starting MSRP:

$21,100

Resale Value After 5 Years: $13,635
Depreciation After 5 Years: $8,279
Residual Value:

62.22%
How to Check My Car's Resale Value?
If you want to check your car's resale value, there are several different methods that can help you form an estimate, including:
Using an Online Estimator
Several websites are specifically designed to help you get as accurate a figure as possible. For example, tools like Kelley Blue Book's Car Value Calculator and Consumer Reports' Car Value Estimator take into account your vehicle's make, model, model year and mileage. They'll then compare with their car sales database to give you an idea of what to expect.
Taking a Look at Used Car Sales
You could make your way around to various used car lots in your area, but it's much easier to use a website like AutoTrader. Search for your specific make/model and use the filters to find as close to a match as possible. You'll probably see quite a wide range of prices, so take the average as your estimate.
Consulting a Salesperson
You can always take your car to a local salesperson and ask for a valuation if you want another opinion. Bear in mind that the number they offer will be what's known as a 'trade-in' or 'wholesale' price, which is the lowest estimate you're likely to receive. However, it's good to know so you know not to settle for any less elsewhere.
What Affects My Car's Resale Value?
Regardless if you own a run of the mill Ford, Chevrolet, Toyota, Subaru or Kia or a luxury car such as a Porsche, Audi or Mercedes-Benz, several factors can affect a car's resale value, including:
Make, Model & Model Year
While this may be an obvious one, it's still worth pointing out. The type of car you drive will dictate its resale value, as will the time that's passed since it first rolled off the production line. Specific model years of vehicles can also be more troublesome than others, with some even potentially being listed as a "lemon" or suffering from safety recalls that can hinder their resale value.
Condition
The more you've stayed up-to-date on your vehicle's recommended maintenance schedule, the more you can expect to sell it for. Different pricing guides also have different ways to describe the "condition" of a vehicle, so read everything carefully and be as honest as possible when submitting information about your car.
Mileage
As you drive your car, truck or SUV, its engine and other components are constantly working to help you get from point A to point B. Over time, this use will lead to parts of your vehicle failing due to general wear and tear, even despite how well maintained it may have been. That means when you're looking to sell your vehicle with high mileage, the less likely you are to get in return for it—particularly if you've driven more than the average of 12,000 to 15,000 miles per year. 
Color & Optional Features
Just as you may have a specific taste in music, clothes or food, the same holds for what you value in a car. For example, some colors are more popular than others and will fetch a higher price. Optional equipment that doesn't come with the standard model, like heated seats and leather upholstery, will also increase your value. The same goes for any aftermarket parts you may have also purchased.
How Your Car's Warranty Can Boost Its Resale Value 
While the make, model, age, overall condition, and available features of your vehicle will be factored into how much you'll get when selling it, there is another way you can help increase your overall profits. Mainly, if your car's warranty is transferable (meaning you can pass its benefits on to another owner), it can help boost its resale value. 
One of the main reasons is that an active auto protection plan means you've taken good care of the vehicle. This is because most plans require regular maintenance to keep your coverage active—helping to give those potential buyers even more reason to pay extra for this coverage. To confirm whether a transfer is possible, you'll need to consult the warranty's terms first. If it's a factory warranty, these can usually be found in your owner's manual, including a full rundown of coverage you can offer to potential buyers.
With Endurance, you can rest easy knowing that your new or used car is covered from the cost of unexpected repairs and breakdowns not covered by your average auto insurance or mechanical breakdown insurance (MBI) policy. On top of that, each Endurance protection plan is transferable if completed within 30 days of selling your vehicle. Simply contact our customer service department to get started and pay a small $50 transfer fee. You can even save up to $3,500 when it comes to your car's regular maintenance needs with Advantage, including tire rotations, alignment checks, engine diagnostic exams and even up to three oil and filter changes. However, when transferring your Advantage plan to your vehicle's next owner, this plan will change from a 36-month unlimited-mile contract into a 36-month, 50,000-mile contract.
Luxury vehicle owners can also find coverage with the Highline protection plan. This comprehensive auto protection package will help protect select luxury vehicles from popular automakers, including BMW, Audi, Porsche, Mercedes-Benz, Land Rover, and Jaguar.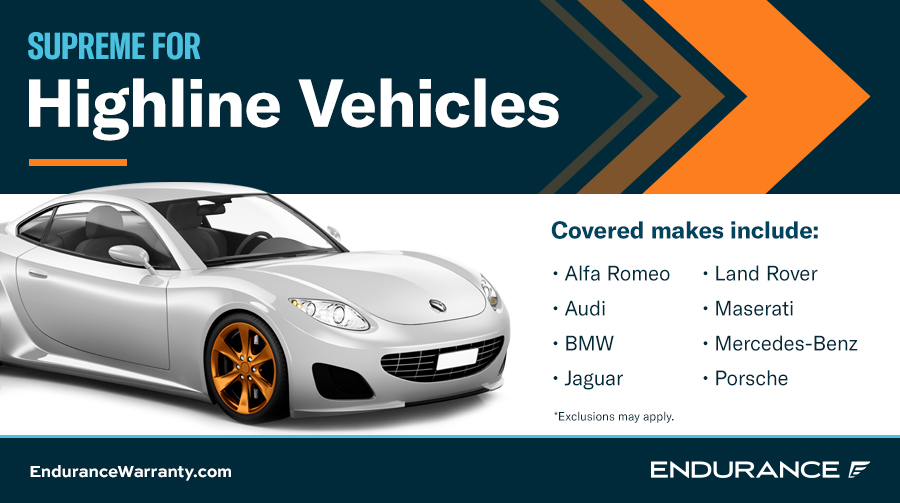 You'll also be able to rest easy knowing that whether you purchase Highline, Advantage or any other Endurance plan, you'll also automatically receive additional perks such as 24/7 roadside assistance, trip-interruption coverage and rental car reimbursement. Endurance customers will also be able to use the Endurance Mobile App and have the chance for immediate access to a full year of Elite Benefits, including up to two tire replacements or repairs, collision discounts and more for just a small activation fee.  
Get the Most Out of Your Investment with Endurance
Whether you're interested in selling a car, in the market to buy one, or want to keep hold of the one you have, a vehicle service contract or an extended warranty is always a good idea. Not only will it keep your vehicle in top condition while you own it, but it's almost guaranteed to add value further down the line.
With Endurance, you can get peace of mind knowing you have coverage from the nation's leading provider of auto protection plans—and for a good reason. Our Advantage plan, on top of helping to cover repairs and breakdowns, also includes up to $3,500 in regular maintenance services, including tire rotations, engine diagnostic exams, state safety inspections services and more. You can even find coverage for select luxury vehicles with the Highline protection plan, including those from popular automakers such as Audi, BMW, Mercedes-Benz, Jaguar, Porsche and more.
If that wasn't enough, every Endurance plan includes access to a full year of Elite Benefits, including up to two tire replacements or repairs, collisions discounts and key fob replacements. All you have to do is select the right Endurance plan for you and your vehicle, pay a small activation and enjoy your full year of amazing everyday driver perks and savings.
Get started protecting your vehicle from unexpected breakdowns and repairs by requesting a free quote. Or, you can call our award-winning customer care team directly at (800) 253-8203 to learn more about how Endurance can help you. The Endurance blog can also be a great resource for finding even more vehicle buying and selling guides, expert auto tips, extended warranty comparison guides and more.
More like this
Make/Model

The 1960s was undoubtedly a golden era for the American automobile industry. Iconic cars like the Ford Mustang, Chevrolet Camaro, and Pontiac GTO came into existence during this decade, capturing..

Read More

Make/Model

Whether you're a passionate petrolhead or a casual commuter, everyone agrees that classic cars are special. From the iconic exteriors to the old-school engineering, their look, feel, and sound really..

Read More

Make/Model

When it comes to purchasing a used car, there are many factors as a consumer you need to keep in mind. Performance, condition, and style are all important considerations, but..

Read More