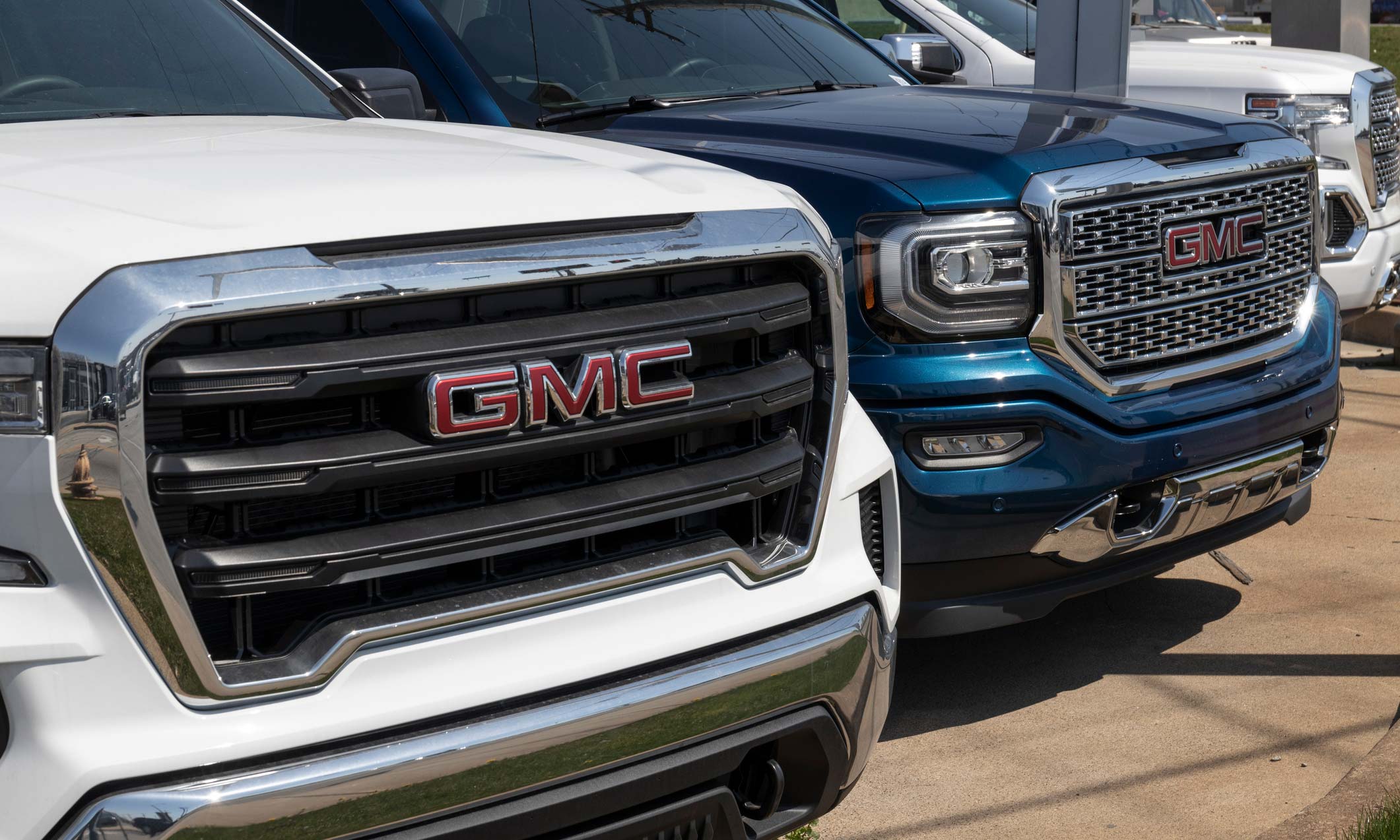 GMC is a classic American brand that has been producing cars and trucks for over 100 years. Owned by General Motors, GMC is primarily known for its high-quality pickup trucks, including the iconic GMC Sierra. Since first being produced in 1962, the Sierra has become one of the go-to choices for those all over the country looking for a pickup with both good horsepower, excellent towing capacity, and the ability to carry a heavy payload. However, while the GMC Sierra is a fantastic choice for construction sites, they are not just for people who need a "workhorse" vehicle. 
As a modern, consumer-grade truck that can be used for almost any job, big or small, the GMC Sierra can be the ideal vehicle for both heavy-duty workers or the average family. Whether you are hauling tons of gravel for a construction job or kids' school or sporting equipment, the Sierra has enough space and power that can make it the perfect vehicle for any need.
If you consider buying a new or used, just as if you were looking at a Ford F-150, a Jeep Wrangler, or a standard Nissan, it's important to learn everything you can about the vehicle. From identifying the differences between different models and trims to recognizing potential maintenance issues or added safety features, learning everything you need to know when buying a GMC Sierra can help you find a vehicle to fit your every need.
Who Could Benefit from a GMC Sierra?
With a base setup of a 285-horsepower V-6 and a towing capacity of 9,900 pounds, the GMC Sierra is an ideal choice for contractors and those looking for a vehicle that can handle the toughest of jobs. The Sierra also boasts a carrying payload of 2,420 pounds. 
Along with the ability and capacity to accommodate heavy workloads, the same features also help make the Sierra a good choice for families. Some models also offer trim levels that include an extended cab for more room in the interior, as well as each of them being designed to be as comfortable and practical as possible.
Common GMC Sierra Maintenance Procedures 
Like any used or new truck, car or SUV, following a recommended maintenance calendar is key in helping you extend the life of your GMC Sierra. To help you maintain your Sierra, GMC recommends servicing it at least every 7,500 miles for oil changes and tire rotations. 
GMC also recommends owners get a complete service every 45,000 miles, including replacement of all fluids and spark plugs, as well as all air filters. In total, GMC Sierra owners can expect an average annual maintenance cost of $727, not including any unexpected repairs and breakdowns not covered by your auto insurance provider.
GMC Sierra Models and Trims
As with many different makes/models, the GMC Sierra also comes in various "trim levels." Helping to differentiate between the different models, a vehicle's trim level describes the different features that were either added or replaced features within the vehicle. This can also include features such as both 2- and 4-wheel drive and both double and crew cab options being available.
For example, when shopping for a new or used GMC Sierra 1500 at a dealership or online, you may find a variety of trim levels to choose from, such as:
SLE
The SLE trim features an 8-inch touchscreen radio and a leather steering wheel that isn't featured on the base model. SLE owners will also have a 2.7-liter Turbo engine, a 6-speaker audio 4G LTE Wi-Fi® hotspot capability as standard.
Elevation
The Elevation trim is mostly cosmetically different from the base Sierra with a sleeker monochromatic exterior design. Elevation owners will have some of the features of the SLE, such as the leather steering wheel and 6-speaker audio. However, they will also have the available options to upgrade to a premium sound system and other upgrades.
SLT
If you want an engine upgrade, the SLT trim has a 5.3-liter V8 with an 8-speed transmission along with an upgraded towing capacity of 11,200 lbs. SLT owners can also expect some of the same cosmetic upgrades as shown on the Elevation and SLE, as well as optional add ons, such as heated rear seats, adaptive cruise control, and more.
AT4
The AT4 trim level is a 4-wheel drive option with an all-black interior and a 2-inch suspension lift, making it ideal for those looking for more off-road adventures. However, while the AT4 boasts a 5.3-liter V8 like the SLT, it lacks in overall towing capacity at 9,200 lbs.
Denali 
For the most 'luxury' option of the GMC Sierra, the Denali features a Forge leather interior and an ash trim, heated seats, and a complete infotainment system. Denali owners will also receive onboard navigation, power sliding rear windows, blind-spot monitoring, and other perks not found on some of the other trim levels.
What Is the Best GMC Sierra?
While the various trim levels offer a variety of options, any GMC Sierra you can purchase will be a quality vehicle. However, a couple of model years are more praised than others, such as the 2021 Sierra being known as one of their best-handling models. Customers comment on the smooth ride and noticeably responsive steering that is a step up from previous years. The 2012 Sierra is also a popular model year, as it is famous for its reliability. Most customers reported that their 2012 Sierra was an "issue-free" vehicle with the help of standard maintenance. 
If you're considering buying a used 2012 GMC Sierra, protect yourself and your wallet from unexpected repair bills with a vehicle protection plan like EnduranceAdvantage™. Providing coverage to your vehicle's most vital components, you can have near-complete protection from wear and tear damages along with the bonus of up to $3,500 in both regular and special, one-time maintenance services.
2021 GMC Sierra Standard Safety Features
The 2021 GMC Sierra comes with many standard safety features that you would expect from a modern truck. With anti-lock brakes and stability control, you can maintain control even when hauling heavy loads. The front, side, and overhead airbags also keep everyone in the cabin safe in the event of an accident, which can be avoided with the Denali trim's lane change and backup alerts. 
Frequently Asked Questions (FAQs) 
What Sierra model lasts the longest? 
The basic Sierra 1500 is one of the most reliable models that GMC offers. Plus, with an auto protection plan such as EnduranceAdvantage, you can stay on top of your essential maintenance services so you can help extend the life of your GMC Sierra.
Which GMC Sierra model year should I avoid?
Despite being a reliable vehicle, the 2015 Sierra had many issues, including problems with increased brake resistance and loss of power steering. While these issues have since been resolved following a forced recall, it's recommended to consider other model years if available. 
Does a new GMC Sierra come with a warranty?
When you purchase a new GMC Sierra at a dealership, you will receive both a 5-year/60,000-mile powertrain warranty as well as a 3-year/36,000-mile warranty. If you are purchasing a used Sierra, be sure to check if the initial manufacturer warranty is still active. If it is near its end or has expired, purchasing a vehicle protection plan with Endurance can help. 
Keep Your GMC Sierra Running 
Avoid unexpected and costly repair bills and get your on your GMC Sierra's maintenance taken care of with an EnduranceAdvantage vehicle protection package. Offering up to $3,500 in regular maintenance coverage, you can rest easy knowing essential services such as oil and filter changes, tire rotations, and more are covered – at no additional cost to you.
Endurance customers can also receive 1 year of Elite Benefits for free by purchasing any protection plan. Elite Benefits include perks such as two tire repairs or replacements per year, 24/7 roadside assistance, collision discounts, key fob replacement, and more.
Visit our Learning Center to find more informative articles on topics such as other vehicle buyer's guides, expert auto tips, FAQs, and more. You can also learn more about any Endurance protection plan by requesting a free, no-obligation quote.
More like this
Make/Model

If you're the owner of a Honda Accord, you certainly aren't alone. The brand has a great reputation for producing some of the most reliable cars on the road, with..

Read More

Make/Model

The last thing any Ram driver wants is to hear an odd noise while driving down the road, followed by a mechanical issue within their vehicle. Unfortunately, mechanical breakdowns are..

Read More

Make/Model

Finding yourself in the position where you are notified of a recall affecting your vehicle is never a fun situation, but it should require immediate action on your part. Depending..

Read More