Protect your vehicle with custom coverage from Endurance.
Shop Now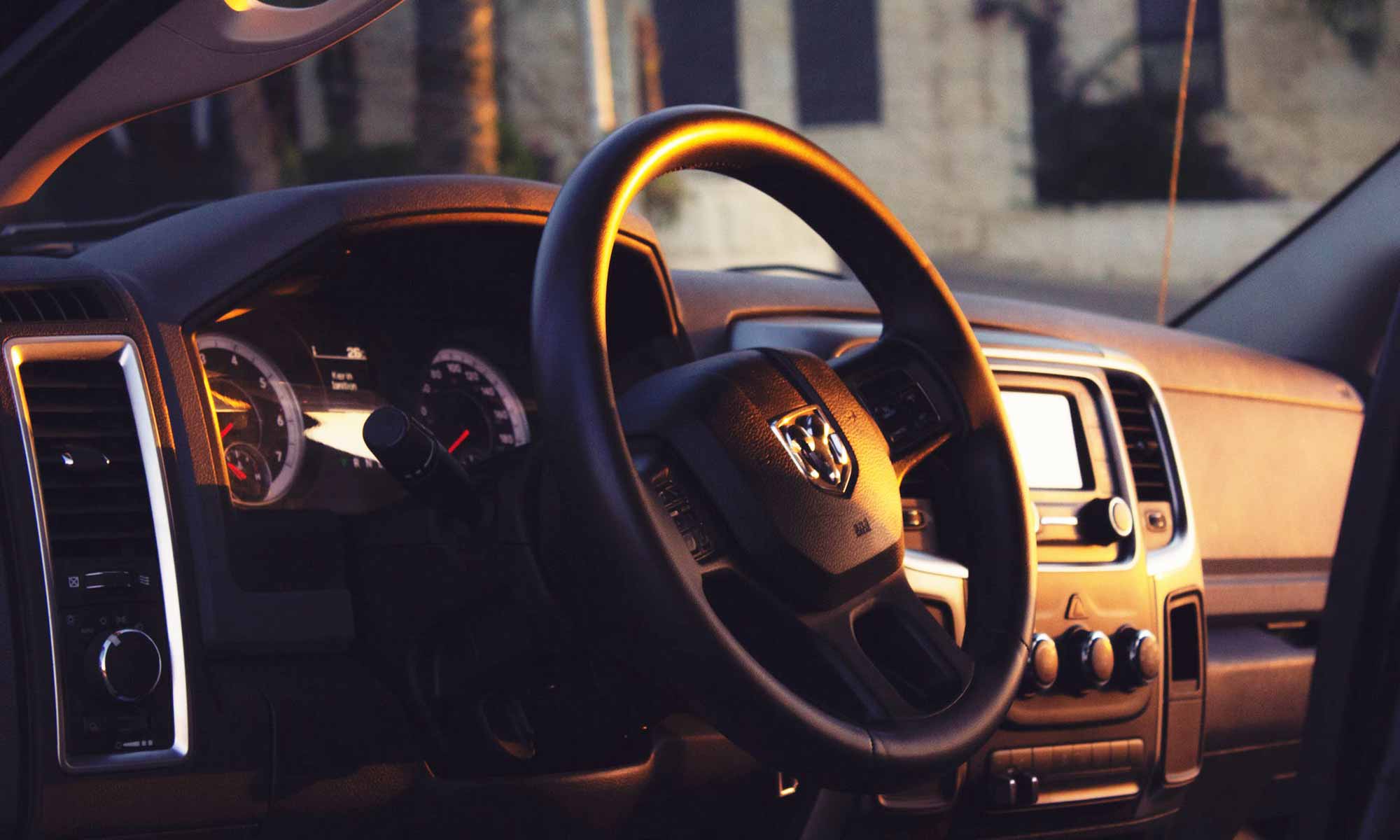 One of the big three alongside the Ford F-150 and the Chevrolet Silverado, the Dodge Ram 1500 is now in its 5th generation, known as simply the Ram 1500 since Ram became its own brand in 2010, and the pickup just keeps getting better. 
The current generation has set the standard for pickups since the 2019 redesign matched the rugged adventure and towing capabilities with a luxury interior, and the updated 2021 model continues to impress, edging ahead of the competition in a number of areas—namely interior quality, ride comfort, increased horsepower, and also in its safety technology and hybrid options. 
Find all the key information in our buying guide curated by experts. From the history of the different generations to the best model years, get the full breakdown.  
Dodge Ram 1500: An Overview
Why Is the Ram 1500 So Popular in the USA?
The Ram 1500 sold over 400,000 units in the USA in the first three quarters of 2020, according to Car and Driver, behind only its main competitors: the Ford F-150 and the Chevrolet Silverado. It's towing capacity makes this truck ideal for those who carry large loads of cargo throughout the year, but it's high-tech add ons, like Apple Carplay and back-up cameras, make driving easier than ever.
While it's traditionally held the third spot, the current model year has been praised for the ride comfort and plush interior, which are thought to surpass those of the competition.
The Ram 1500 has been a go-to pickup truck for those looking to take an off-road trip or who utilize their vehicle for work purposes. The 2021 Ram 1500 comes in 7 trims: Tradesman, Big Horn, Rebel, Laramie, Longhorn, Limited, plus the TRX, a new version further adapted for extreme off-roading. 
What Is the Best Ram 1500 Model?
Car Complaints data shows the 2018 model year has received the least complaints of any model year, making it the best bet for a used Ram 1500. It's also new enough to benefit from some of the latest features. 
While it's too early to compare the complaints data on the 2021 model year, the updates to the interior and infotainment make it such a compelling all-round pickup package that it's hard to beat.
On the flip side, the 2014 model year is one to steer clear of, as it's been the subject of more complaints from breakdowns than any other model year.
History of the Ram 1500: A Timeline
Ram became its own brand in 2012, but the origins of the Dodge Ram 1500 pickup go back to the first generation released in 1981.  
1981-1993:

The Ram hood ornament comes into being in 1981 along with the Ram name. The number appears as 150 (not 1500 yet), and the truck replaces the D-Series trucks. It's available in both 2WD and 4WD, with various cabin, transmission, and

engine options

. 

1994-2001:

The 2

nd

generation redesign sees the introduction of the 1500 name and a more functional outdoors design. The engines offer more power thanks to multi-port fuel injection, and features such as air conditioning, electric windows, and a radio-cassette player are available on the top

trim level

, SLT. 

2002-2008:

Generation 3 sees subtle developments in body

styling

along with more comprehensive changes to the engine,

air suspension,

and frame. 4-speed automatic and 5-speed manual transmission options are available. 

2009-2018:

The 2009 redesign ushers in the 4

th

generation, and in 2010 Ram becomes its own

Chrysler

-owned truck brand. Different trims and cabin sizes mean a choice of 5.7ft, 6.25ft, and 8ft versions.

Diesel engines

come in a choice of 3.7-liter V6 with 215 hp, a 4.7-liter V8 with 310 hp, and a 5.7-liter

Hemi V8

with 390 hp. A 6-speed manual transmission is also introduced, and in 2016

the Ram 1500

Rebel

, a more rugged off-roading version, becomes available.

2019-2021:

2019 sees a major redesign and becomes the first

model year

of the 5

th

and current generation of

Ram 1500

pickups. The standard 2-door cab is discarded. 3.6-liter V6 and 5.7-liter

V8 engines

are available, each coming with

eTorque

Mild Hybrid Technology and 8-speed

automatic transmission

. The 2021

Ram 1500

sees a new head-up display with a

touchscreen

, Trailer Reverse Steering Control, and added safety features. 
Does Dodge Offer Free Maintenance?
Dodge offers a free automatic 24-month membership of Ram Care to anyone buying a Ram 1500 (selected trims), and it's also available to purchase as an add-on if you buy a Ram 1500 2014 model year or newer. Ram Care includes telephone support 24/7, oil change and tire rotation costs, trip interruption and same-day rental coverage, plus VIP access to special events. 
If you want to forget about paying for covered maintenance and repairs altogether, though, have a look at our new plan, EnduranceAdvantage™, offering up to $3,500 in maintenance coverage. The program also has unrivaled eligibility—most auto protection plans have a steep list of disclaimers and exclusions, but not EnduranceAdvantage. The fully customizable plan means there's something for everyone, whether customers have a high-mileage vehicle or a car with advanced tech. Request a free, no-obligation quote today to learn more.
The True Cost to Own
To find out how much owning a Ram 1500 will cost you, on top of the sticker price, which is $30,145 for the base trade model, you need to factor in a number of other costs. The cost of ownership formula looks like this: 
How much does it cost to own a Ram 1500?
Cost of car ownership =
(Cost of buying the car) + (Applicable state registration costs) +
(Cost of fuel) + (Cost of insurance) + (Cost of regular maintenance) + (Cost of repairs)
Looking to save on the overall pricing? Aside from using the vehicle less, which probably isn't your first priority, it's the last two factors—maintenance and repair costs—that are within your control. You can limit the risk and extent of these costs with reliable extended car warranty coverage. There are various coverage levels to choose from that can provide total protection on all drivetrain and powertrain components.
Repairs to Look Out For
As with any vehicle, if you buy a Ram 1500, you may be faced with repairs over the course of owning it. To find out which repairs you're most likely to need, our experts analyzed Endurance's internal claims data and listed the top 10 most common car repairs.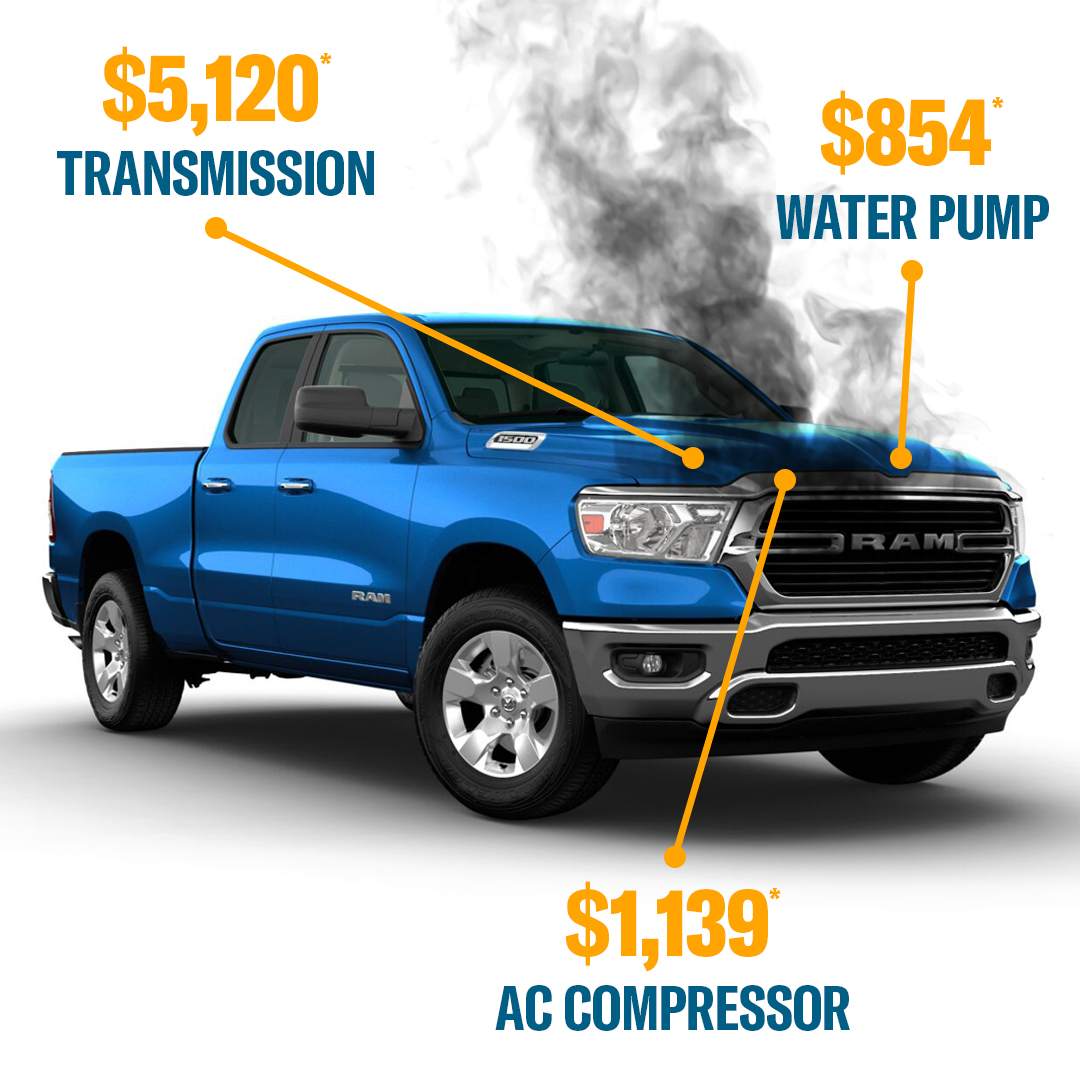 Top Dodge Ram 1500 Repairs*
Alternator: $1,188

Lifters: $3,853

Transmission: $5,242

Water Pump: $854

Compressor: $1,139

Primary Fuel Pump: $940

Condenser: $1,725

Engine Mount: $1,166

Rocker Arms: $1,535

Radiator: $1,088
With major repair costs exceeding the cost of a GMC extended warranty, it makes sense to take out a comprehensive protection plan to limit the risk to your pocketbook.
Things to Consider Before Buying a Ram 1500
The 2021 Ram 1500 comes in MSRPs starting at $30,145 and is not only rugged but also comes decked out with a luxury interior—raising it above the competition. But take a look at the following essential information before you decide it's the right vehicle for you:
Average fuel consumption

:

The

2021

Ram 1500

offers a

fuel economy

of 17/23

mpg

(city/highway) on the 5.7l

Hemi V8 engine

with

eTorque

4×2 versions and 17/22

mpg

on the 5.7l

Hemi V8 engine

with

eTorque

4×4 versions.

Ideal for:

Anyone who's in the market for a light-duty pickup offering a generous combination of performance, comfort, and technology. 

Extended warranty protection options:

The FCA-backed Mopar vehicle service contract is available at all Ram

dealerships

in the USA. You can also research third-party providers, like Endurance, to check out affordable Dodge extended warranty options.
Best time to buy:

The 2021 model hasn't been on the market long enough to come down in price so if you're looking to get a good deal, you can try our guide to

negotiating the price of a new car

or look for a slightly older model. The 2018 model offers good value. 
Gain Peace of Mind with Ram 1500 Extended Warranty
Make sure your Ram truck lasts the course and you're covered even if the worst happens by investing in a Dodge extended warranty coverage plan. If your Ram 1500 is out of its factory warranty coverage period, an extended warranty gives you prolonged peace of mind and can save you thousands on essential maintenance and repair costs. 
An Endurance extended warranty gives you the most comprehensive package on the market. Every plan comes with a year's free membership of Endurance Elite, giving you lots of everyday driving benefits beyond those already included in your coverage plan. 
All Endurance warranty protection plans include 24/7 roadside assistance, trip-interruption costs, and substitute transportation, so if you have a breakdown away from home disruption is kept to the absolute minimum. Request a free, no-obligation quote today to get started and learn more about our flexible payment plans. 
*Claims paid as of 9/29/2020
More like this
Make/Model

The 1960s was undoubtedly a golden era for the American automobile industry. Iconic cars like the Ford Mustang, Chevrolet Camaro, and Pontiac GTO came into existence during this decade, capturing..

Read More

Make/Model

Whether you're a passionate petrolhead or a casual commuter, everyone agrees that classic cars are special. From the iconic exteriors to the old-school engineering, their look, feel, and sound really..

Read More

Make/Model

When it comes to purchasing a used car, there are many factors as a consumer you need to keep in mind. Performance, condition, and style are all important considerations, but..

Read More