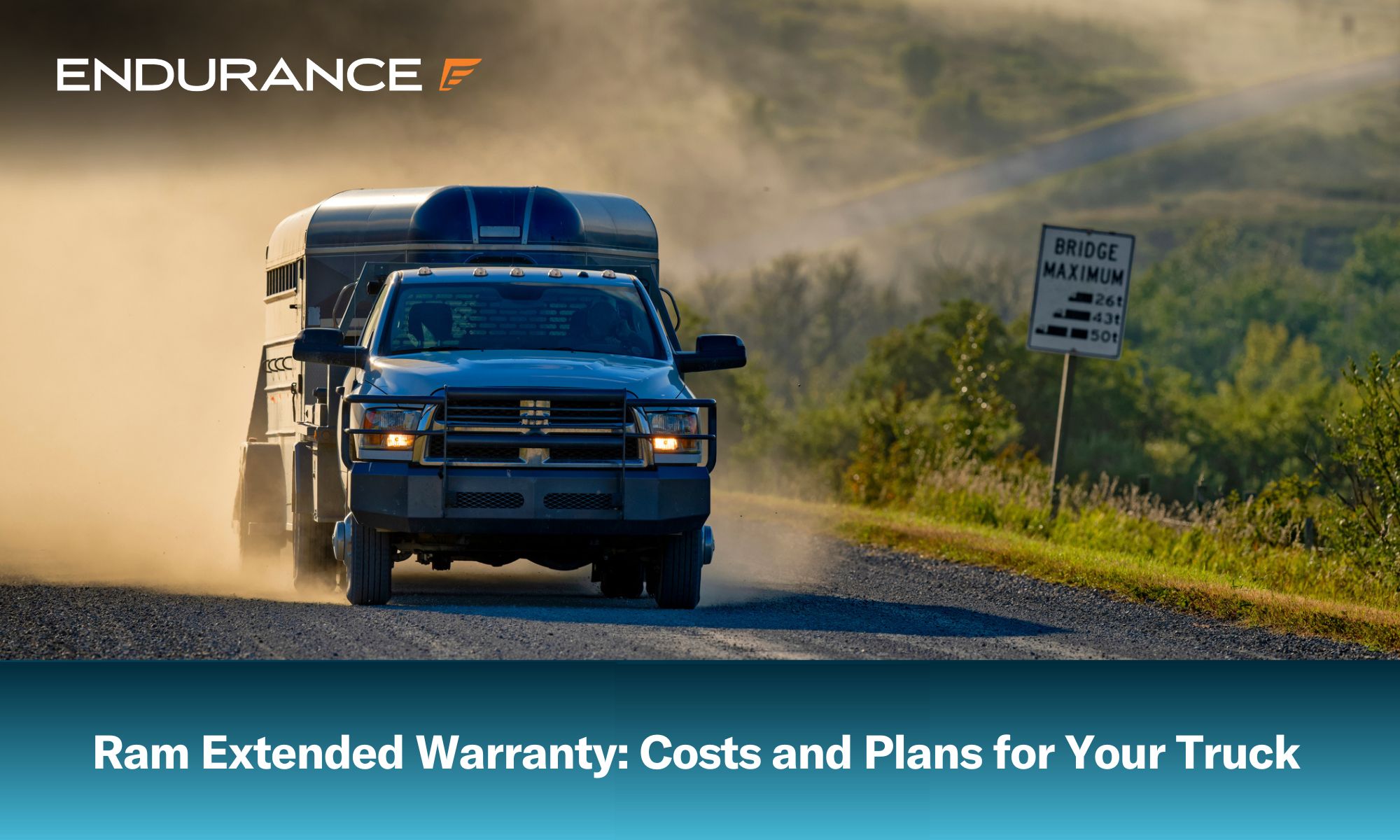 The last thing any Ram driver wants is to hear an odd noise while driving down the road, followed by a mechanical issue within their vehicle. Unfortunately, mechanical breakdowns are quite common, given the complex nature of how a vehicle is manufactured.
All drivers should place an emphasis on getting their vehicle fixed so that they can have peace of mind on the road, but the cost associated with repairs may cause some drivers to hesitate.
This is why ensuring your Ram is protected by either a factory warranty or an extended warranty is crucial. Both these types of plans offer financial protection against covered mechanical repairs, which means a driver can save hundreds or even thousands of dollars.
Learn everything you need to know about Ram extended warranty offerings to ensure your vehicle is covered at all times.
What Is a Ram Extended Warranty?
While the majority of drivers on the road are aware of what a basic factory warranty is on a vehicle, fewer are aware of what an extended warranty actually is. For Ram owners, an extended auto warranty issued by the manufacturer refers to a warranty plan that is purchased for your vehicle after the factory warranty has already expired.
For Ram trucks, in particular, extended warranties are issued by Fiat Chrysler Automobiles parts and service sector, Mopar. This is the same parts and service sector that issues factory and extended warranty options for brands such as Jeep and Dodge as well.
Different Ram Warranty Plans Available
Mopar offers fairly comprehensive extended warranty coverage across different price points, which can make determining which of the coverage options is best for you difficult. That's why breaking down the different offerings can help:
| | | |
| --- | --- | --- |
| Plan | Plan Length | Coverage  |
| Maximum Care (New Cars) | Up to 5 years or 125,000 Miles | Covers over 5,000 parts with only the following exclusions: Maintenance services; glass and plastic lenses; body and paint items; wear items such as brake pads, rotors, drums, belts, and manual clutch assembly; and snow plows, winches, and trailer hitches |
| Added Care Plus (New Cars) | Up to 8 years or Unlimited Miles | Covers over 800 powertrain and basic components, including: Engine; Transmission; Driveline; Steering; A/C; Engine Cooling and Fuel; Front Suspension; Rear Suspension; Electrical; Expanded Electrical; Instrumentation; Brakes; Anti-lock Brakes; Power Group; and Luxury Group |
| Powertrain Care Plus (New Cars) | Lifetime | Covers over 350 powertrain components, including: Engine; Transmission; and Driveline |
| Pre-owned Vehicles (Used Cars) | Refer Above | Refer Above |
All three Mopar vehicle protection plans are available for pre-owned vehicles as well, and a customer need only submit a quote to receive an offering. However, there are certain qualifications that you need to meet depending on the type of plan you are looking at add:
New Vehicles: Your new Ram must be within the first 36 months and 36,000 miles of its original service date.
Certified Pre-Owned Vehicles: Your Ram must have an active certified pre-owned limited factory warranty and have less than 75,000 miles currently on it.
Pre-Owned Vehicles: Your Ram must be no more than 10 years old in terms of model and must have less than 150,000 miles on it.
Costs Involved with a Ram Warranty
Out of the many different warranty providers for vehicles on the market, Mopar does a fairly decent job at offering comprehensive warranties. However, the Ram extended warranty cost you can expect to pay is not cheap. While the specific cost will vary from dealership to dealership, a range of $2,000 to $4,000 can be expected, depending upon the extended warranty contract a person is considering and where they are purchasing it from.
Pros and Cons of a Ram Extended Warranty
As with all manufacturer's warranty offerings, there are both pros and cons to investing in this type of protection. Going over these various benefits and drawbacks can help you determine whether Ram extended warranty or an alternative option is better for your situation. Starting with the notable benefits, some of the most prominent include:
Multiple types of extended warranty plans are available, ranging from basic limited warranty to bumper-to-bumper protection
Lifetime options are available
Low deductibles help to make potential repairs affordable
The warranty is issued by a partner brand of the vehicle manufacturer
While the above benefits are certainly good reasons to invest in a Ram extended warranty, there are some notable downsides as well:
The Ram extended warranty offers are quite expensive, even on the low-end
The plans may not be transferable in the future
The repair network must be in Chrysler, Dodge, Jeep, Ram, and Fiat only
How to Purchase a Ram Extended Warranty
For those who have decided that a Ram extended warranty is the best option, you can purchase one by either visiting your local dealership, or you can visit the Mopar website to get a free quote and start the application online. Be aware that you must visit a Chrysler, Dodge, Jeep, Ram, or Fiat dealership to purchase the warranty in person.
Filing a Claim 101: What You Need to Know
Having an extended warranty tied to your Ram vehicle is a great feeling and can give you great peace of mind on the road. However, it doesn't answer the question of what you should do if there is actually a breakdown. That's why knowing how to file a claim is so important. With a certified Mopar vehicle protection plan attached to your vehicle, the process should be quite simple:
Take your vehicle or have it towed into a certified Chrysler, Dodge, Jeep, Ram, or Fiat dealership in your area
Speak with a representative from the Mopar service center so that they are aware there is a warranty tied to your vehicle (this should automatically occur when they put your vehicle into the system, but it's good practice to inform them)
The dealership will file the claim to Chrysler Service Contracts once they have inspected your vehicle and determined the source of the issue, as well as whether it falls under your contract
Alternative Vehicle Warranty Options to Consider
Whether it's the price, exclusions, or some other factor, there are a variety of reasons why a person may not want to go with the Mopar Ram extended warranty. Fortunately, there are other alternative options to consider via a third party. Third-party vehicle service contracts or extended warranties are vehicle coverage plans offered by companies that are not the manufacturers of the vehicle themselves.
Given that they specialize in warranties, these companies often offer far more plans and price points. The main selling point of alternative warranty options is that they typically come with bonuses in terms of coverage, such as potentially covering certain maintenance items like oil changes, filter replacements, and more.
On top of this, alternative warranty providers also tend to offer specialized plans for older vehicles, luxury vehicles, or other sub-categories. The reason for this is that all of these vehicles require special care for different parts, which may be more expensive, which is why factory extended warranties typically do not cover these categories.
It can be challenging to determine whether or not a third-party extended warranty provider is right for you due to how many options you have. When considering different alternative warranty providers, consider factors such as:
The reviews the company has, particularly the positive ones
Any endorsements that the company has received from auto manufacturers or famous and reputable celebrities
The money-back guarantee or refund policy, if it exists
The number of plans offered and the customizability of each plan available
Any additional perks that may be offered with the extended warranty plans
The overall cost of the plan and any rebates that may make it cheaper
The ease of the claims and quote process
Protect Your Ram with Endurance Warranty Services
For drivers who may have a specialty Ram that does not qualify for a standard extended warranty or for those who simply don't like the Mopar extended warranty offerings, rest assured knowing there are other options available.
Endurance auto warranty offers customizable vehicle service contracts ranging in protection from basic stated coverage all the way to near bumper-to-bumper warranty protection. Additionally, each Endurance contract comes with a suite of standard benefits, such as 24/7 roadside assistance, towing, trip interruption reimbursement, and much more. New customers can also take advantage of our Elite Benefits package for a small activation fee. These bonus perks include up to $500 in collision discounts, key fob replacement, and more.
Our plans can help cover a variety of repair costs for both pre-owned and newer vehicles. Additionally, you can choose from any ASE Certified mechanic or repair facility for your covered repairs to ensure your vehicle is in the hands of a qualified professional.
To learn which Endurance extended warranty plan may be right for you, give our award-winning customer service team a call at (800) 253-8203 and request a FREE quote today. Alternatively, you can shop online to preview your price and options.
More like this
Make/Model

As the most rugged SUV Honda has ever offered, the Pilot offers a wide variety of benefits for those looking for an off-road capable SUV with adequate features. Like any..

Read More

Make/Model

As the world gradually transitions to renewable energy sources, the adoption of e-vehicles is on the rise, and Tesla has been leading the charge. Their range of electric cars is..

Read More

Make/Model

Originally formed from the remnants of the Henry Ford company, Cadillac is arguably the most quintessential American car brand in existence. Founded over 100 years ago, they were the first..

Read More