If you're in the market for a new pickup truck, you may narrow your choices to a Dodge Ram 1500 or a Ford F-150. The F-150 is the perennial sales champ in this category, a title it's held for decades, along with being America's best-selling vehicle of any type. Meanwhile, the Ram is the accomplished challenger, constantly trying to take on Ford and Chevrolet.
Originally sold as the Dodge Ram pickup, Ram trucks are now part of a standalone division formed in 2010 by then-parent company Chrysler. Today, Ram (and sister brands Dodge, Jeep, and Chrysler) are part of Stellantis. The Netherlands-based automaker also owns numerous European brands, including Fiat, Citroen, and Maserati. Nostalgia lovers will call the 1500 by the Dodge Ram name, and others will stick with the current Ram moniker.
To get to the heart of a Ram 1500 and Ford F-150 comparison, we'll dive into what really matters before you hit the dealership; reliability, engines, fuel economy, configurations, towing, and payloads. Read on to find out which truck matches your needs.
The Rundown: Dodge Ram 1500 vs. Ford F-150
Here are the key categories, specs, and safety features to review when comparing the Ford F-150 vs Ram.
Reliability
Whether a truck or SUV  is used as a workplace tool or for daily driving tasks (or both), dependability is key. No one wants to be stuck on the job site or late picking up the kids because of a vehicle breakdown. Before drilling into specific model rankings, let's first look at broader brand reliability ratings. RepairPal rates overall Ram reliability as 3.0 out of 5.0, which places this Stellantis division at 23rd out of 32 car brands. Owning a Ram means shelling out an average of $858 in annual repair costs. Meanwhile, Ford edges out its cross-town rival by receiving a 3.5 for brand reliability, that's 21st out of the 32 brands measured. Ford owners can expect to pay $775 each year in repair expenses.
Yet, the ratings turn in Ram's favor when comparing the 1500 to the F-150. RepairPal ranks the Ram 1500 as the most reliable full-size truck (1st out of 17) with a 3.5 overall score. These trucks have an average annual repair cost of $691. Curiously, even though the F-150 also gets an overall 3.5 ranking, RepairPal places this Ford in 7th among the 17 trucks in its class. The F-150 costs $788 each year in repair expenses.
Powertrain
V8 engine enthusiasts will appreciate the Coyote (Ford) and Hemi (Ram) offerings, but there is more available under these pickups' hoods than just eight cylinders. For simplicity, we're excluding the Ram 1500 TRX and Ford F-150 Raptor from this comparison. These performance-oriented and off-road-ready trucks are deserving of a different match-up.
Here's the rundown of the engine options for the 2023 model year: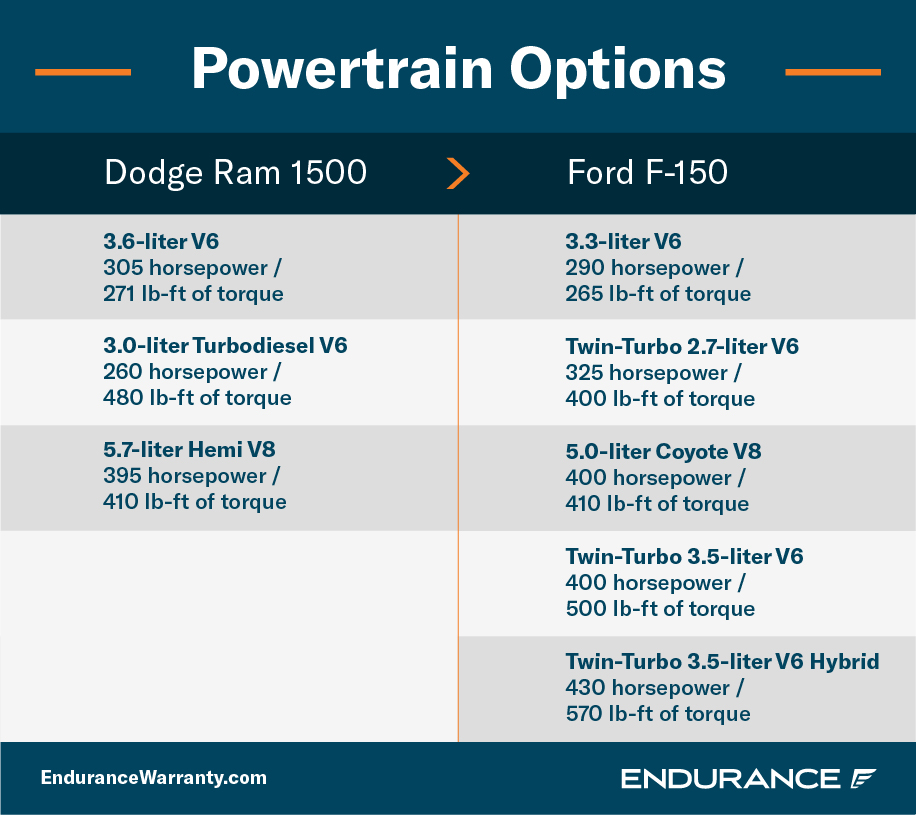 Clearly, Ford wins when it comes to the number of engine choices, but things are a bit more complicated because each company takes a different approach to powerplants. Notably, Ram offers the extra grunt of a Diesel engine, something Ford dropped from the F-150 in 2021. On the other hand, Ford heartily embraces turbocharging technology on most of its V6 offerings, giving owners V8-like performance but with better fuel economy.
Neither company is a stranger to hybrid powertrains. But, again, they each take a unique path. Ram offers an optional mild-hybrid "eTorque" system on the 5.7-liter Hemi V8 that electrically boosts torque and fuel economy. While Ford has the same performance goals with its hybrid approach, it pairs a more conventional system with a twin-turbo V6.
In short, there's no wrong or right regarding 1500 versus F-150 engines; it's a buyer's choice.
Other parts of the powertrain are the drivetrain and transmission. Both the 1500 and F-150 come with rear-wheel drive standard and four-wheel drive available (and included with higher-end trim levels). Yet, the gearboxes are different. The Ram 1500 gets an eight-speed automatic, and the Ford F-150 comes with a ten-speed automatic. Ford's gearbox setup is engineered for better fuel economy, but the extra gears can be more costly to repair later on.
Fuel Economy
Of course, engine choice affects fuel economy. Let's see what each truck offers for fuel economy: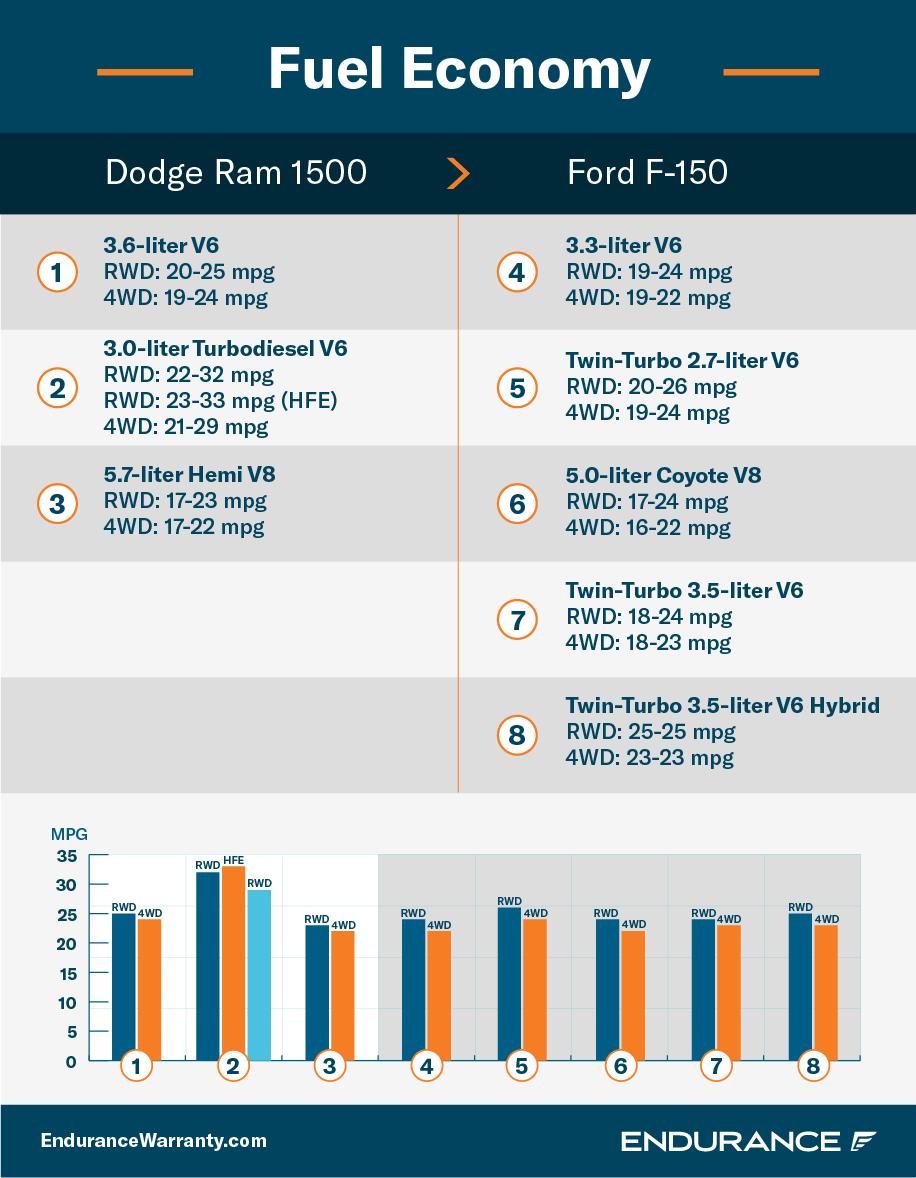 When it comes to fuel economy, it's evident that the Ram's Diesel engine highway mileage far surpasses anything else under the hood of the 1500 or F-150. Getting up to 33 mpg is worthy of some economy cars. But those wanting a pickup with V8-like performance and better efficiency in the city will want to consider Ford's twin-turbo 3.5-liter V6 hybrid.
Cabs and Interiors
At a glance, it's reasonable to assume that the 1500 and F-1500 offer similar cab configurations. And generally, this is true, as both trucks can be built with a double cab (two standard front doors with two smaller rear doors) or a crew cab (four standard doors). By the way, a Ram double cab is called a Quad Cab, while Ford calls it a Super Cab.
However, Ram no longer sells a regular cab (two doors and one row of seats); Ford still does. So truck buyers, including businesses, needing a basic work vehicle will have to turn to Ford (the Chevrolet Silverado and GMC Sierra are also available with a regular cab). Or, they'll have to find a used 1500 if a Ram is a must.
Inside, newer 1500 and F-150 models have similar dashboards with large center-stack infotainment touchscreens. And unless you look for logos, badges, and other hints, the average consumer couldn't tell the two trucks apart from the inside. Even the top-tier versions are slathered with yards of leather and wood trim. However, cabin features exclusive to each pickup (albeit on the high-end trims) might make the difference in deciding on a truck.
Notably, the F-150 is available with a fold-down gear shift lever and fold-over armrest that converts the center console into a flat workstation or eating surface. Further, the same truck can be equipped with front seats that fold almost flat (like business class seats on an international flight), making midday or nighttime naps much easier. At the same time, Ram hasn't ignored the need for a bit of shuteye. Specific 1500 crew cab models are available with a sliding rear seat that enables a siesta-encouraging recline.
Towing and Payload Capacity
Amid some Ram and Ford trucks having features found in luxury cars, it's easy to forget that the 1500 and F-150 are work vehicles, no matter how much chrome and cowhide gets used. These vehicles are made for towing and hauling things.
Let's review the maximum capacities for each truck based on the 2023 model year: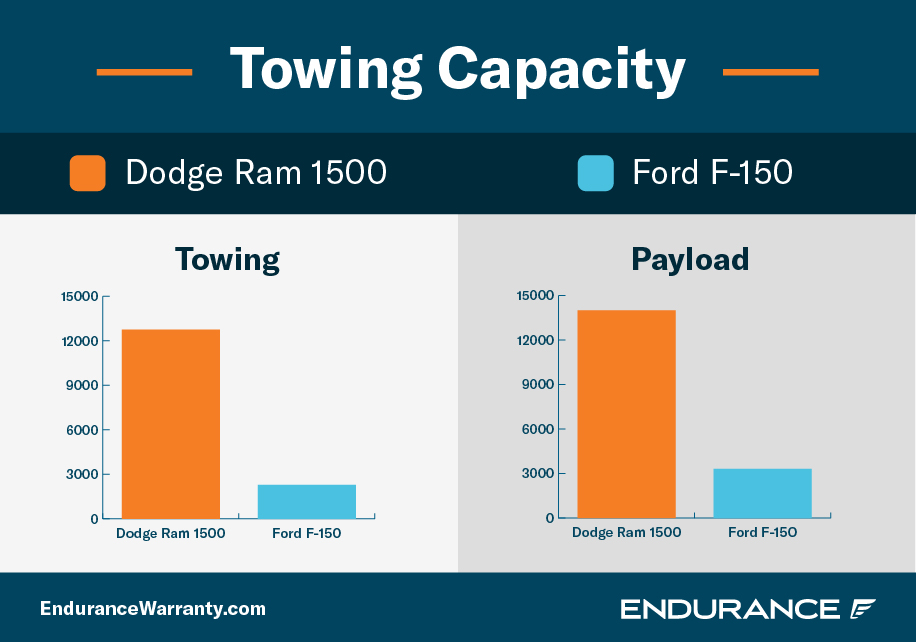 Remember that each pickup's towing capacity and hauling abilities vary based on several factors (including engine, cab, bed length, and drivetrain). But, at its most capable, the F-150 tops the 1500 in these areas.
Endurance Helps Keep Trucks on the Road Longer
When properly maintained and well cared for, pickup trucks hold their value and provide years of lasting service. A vehicle protection plan from Endurance makes this possible. Our extended warranty coverage protects major automotive components while helping with breakdowns and surprise repair bills.
Endurance even has options for commercial vehicles, offering truck coverage that's not available from many other warranty providers. And Endurance coverage is as solid as the pickups it protects, paying more than $265 million in claims since 2012.
Regardless of the Endurance plan, every customer gets 24/7 roadside assistance, trip interruption protection, rental car reimbursement, and the freedom to choose any ASE Certified mechanic for repairs. A 30-day money-back guarantee and flexible payment terms are more Endurance standards.
Every Endurance customer is eligible for a free year of Elite Benefits. Just pay a small activation fee to access worthwhile services (up to a $2,000 value) for tire repairs and replacements, total loss support, key fob replacement, and collision repair discounts.
Let an Endurance protection plan cover your pickup and most other vehicles against unexpected repairs. Get a free quote by calling (800) 253-8203 or shop online today.
Be sure to read the Endurance blog for expert advice about auto maintenance, DIY tips, vehicle reviews, and other helpful topics.
More like this
Make/Model

As the most rugged SUV Honda has ever offered, the Pilot offers a wide variety of benefits for those looking for an off-road capable SUV with adequate features. Like any..

Read More

Make/Model

As the world gradually transitions to renewable energy sources, the adoption of e-vehicles is on the rise, and Tesla has been leading the charge. Their range of electric cars is..

Read More

Make/Model

Originally formed from the remnants of the Henry Ford company, Cadillac is arguably the most quintessential American car brand in existence. Founded over 100 years ago, they were the first..

Read More