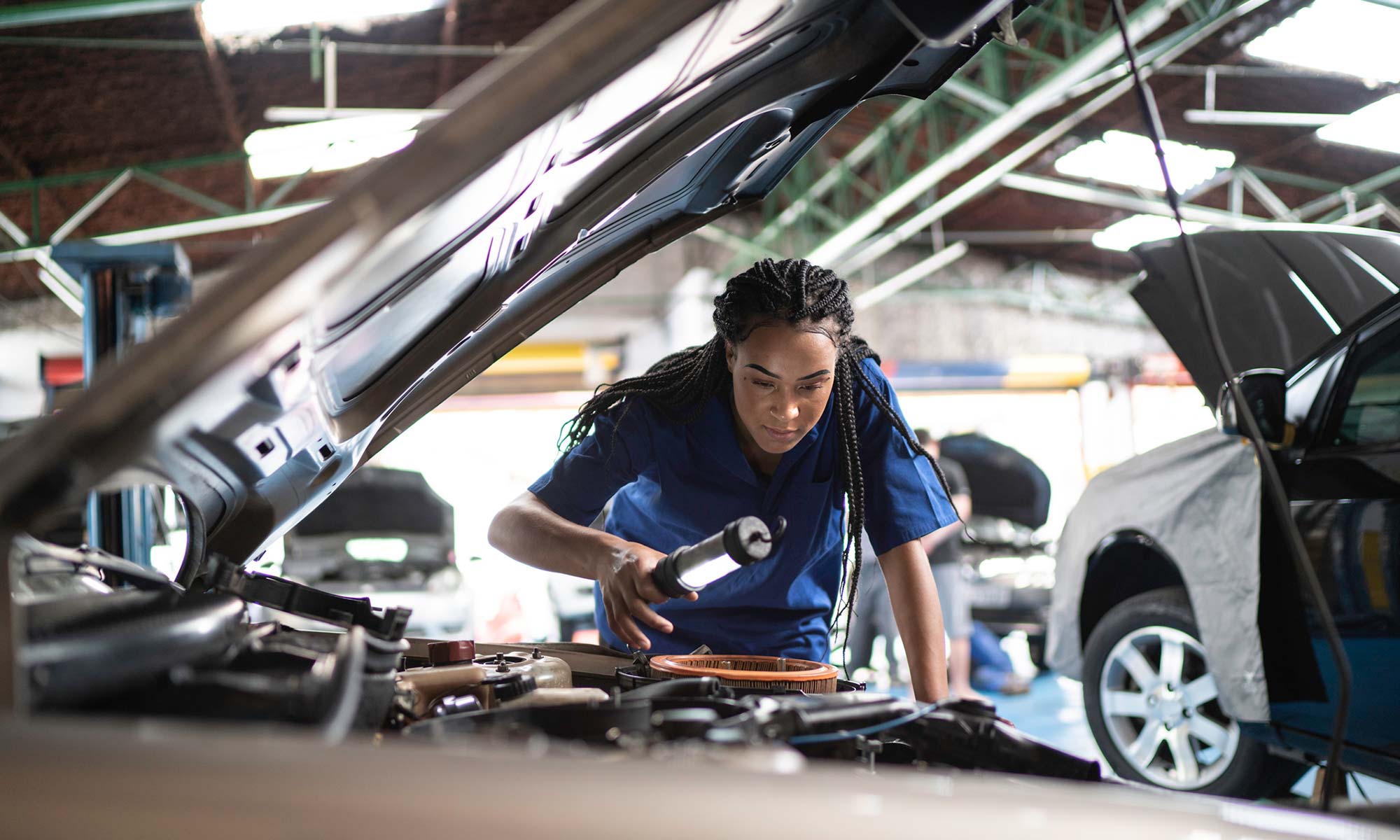 For many, their car is an extension of their personality. So for those who like to live life to the fullest, an 8-cylinder engine can be the perfect fit. With more horsepower and torque than standard 4-cylinder and 6-cylinder engines, a "V8" allows you to have more fun while giving you more performance or power, like when towing and hauling. But, as 8-cylinder vehicles tend to be sportier, have upgraded features, and have supporting technology for added performance, you can expect to pay a little more for V8-equipped vehicles when compared to 4- or 6-cylinder vehicles. 
Due to these potential auto repairs, finding the right auto warranty or coverage plans for 8-cylinder engine vehicles can be challenging. Especially if you've recently purchased a used car with a V8 or have had yours for years, you might not have factory or powertrain warranty coverage. But, learning more about these types of engines and whether or not Endurance Warranty can cover them can help you find the right coverage for you and your vehicle.
What Is an 8-Cylinder Engine?
Like any engine, an 8-cylinder engine is vital to a vehicle's powertrain system. Specifically, though, 8-cylinder engines are V-type engines, similar to a V6, but having two extra cylinders for a total of eight, hence their name. 
8-cylinder engines are also commonly referred to as V8s and are usually offered in higher trim level vehicles, depending on what you are purchasing. A V8 engine will be one of the most powerful engines you can get and will usually be reserved for sportier vehicles or trucks and SUVs that need additional horsepower and torque. 
When it comes to trucks that tow and haul, such as the ever-popular Ford F-150, the Dodge Ram, Toyota Tundra, or Chevy Silverado, you'll want the power of a V8 to get the job done. You will want a V8 built for speed and performance for sportier vehicles. You can also find V8 engines in almost every automaker, though it's always best to check and see if the vehicle you are considering purchasing has the engine set-up you are looking for.
The Differences Between V6 & V8 Engines
Overall, there are a few things you will need to consider when purchasing a vehicle with an 8-cylinder engine. Compared to 4-cylinder and 6-cylinder engines, V8s will usually use more fuel as they are larger engines. Some V8s will also require more maintenance as they have more components to support the additional power and performance. 
Lastly, you will need to consider insurance and warranties as some V8 vehicles will almost always cost extra to cover compared to standard 4-cylinder models from automakers Subaru, Honda, Toyota, Ford and more. However, the right coverage plans for a V8 engine, such as finding an extended auto warranty plan or vehicle service contract (VSC), can help you save thousands of dollars over the years while owning your vehicle.
To help you better understand the difference between V6 and V8 engines, we have broken down a few quick stats to bring you up to speed.
V6 Engines
Six (6) Cylinders

Better Fuel Efficiency In Cars

Can Have Poor Fuel Mileage In Full-Size Trucks

Good For More Power Over Four (4) Cylinder Engine Options

Not As Great For Towing or Hauling
V8 Engines
Eight (8) Cylinders

Lower Gas Mileage In Sports Cars & Smaller Trucks

Can Have Better Fuel Consumption In Heavier Trucks When Compared To V6 Engine Options

Best For Those Who Want More Horsepower

Great For Higher Towing Capacities or Hauling In Pickup Trucks
Will Endurance Cover My 8-Cylinder Engine?
While other VSC or extended warranty providers may not include 8-cylinder engines in their covers, Endurance does. So whether it's before or after your manufacturer's warranty coverage expires, Endurance will cover your 8-cylinder engine, but you will need to ensure you are getting the correct coverage. As a V8 owner, you will want to keep your investment running its best for years to come. Purchasing an extended auto warranty or vehicle service contract, such as a vehicle protection plan from Endurance, can help keep your vehicle covered from unexpected repairs not covered by any typical car insurance policy. Even add-ons like a mechanical breakdown insurance (MBI) policy won't be able to help you for long. 
With the Highline protection plan, you can rest easy knowing you'll get coverage for a select number of high-performance luxury vehicles that are usually not covered by other companies. And as a direct administrator of most of your plans, you can be certain that a member of the award-winning Endurance care team will be with you over every step of your claims process. 
Overall, the Highline coverage is Endurance's newest protection plan for luxury vehicles from automakers like BMW, Audi, Jaguar, Land Rover, Porsche and more that are up to eight years old and have less than 80,000 miles. Some other exclusions and a $500 deductible may also apply.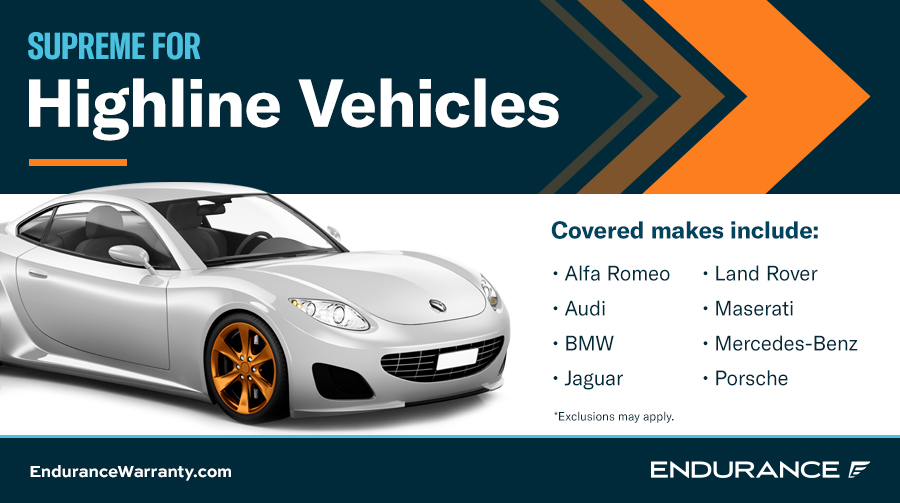 If you don't have a luxury vehicle or if you have a second vehicle you're looking to get coverage for, Endurance can help. For example, the Advantage vehicle protection plan is available on a wide range of vehicles, including high-mileage vehicles, those with salvage or rebuilt titles and Canadian Grey Market vehicles. Even those used by rideshare or delivery drivers can even help you save up to $3,500 in essential maintenance services, including tire rotations, engine diagnostic exams and more. Not only that, but each Advantage plan will also come with special, one-time services like a battery replacement, a brake pad/shoe replacement, and cooling system maintenance to help give you even more coverage and savings. However, it's important to note that vehicles include in the Highline coverage are not eligible for Advantage. 
Every Endurance plan also comes with several standard benefits. These include perks such as 24/7 roadside assistance and towing, trip interruption coverage and rental car reimbursements. You'll even get the peace of mind of having a 30-day money-back guarantee to ensure you are choosing the right coverage plan for you and your vehicle. You'll also be able to rest easy knowing that with Endurance, you can take your vehicle to any certified repair shop or ASE Certified mechanic for all covered repairs. 
Additionally, as an Endurance customer, you'll also have the chance to enjoy an entire year's worth of Endurance Elite Benefits, including up tire replacements and repairs, collision discounts, key fob replacements and more. Just choose the Endurance vehicle protection plan that's right for you, pay a small activation fee and enjoy your whole year's worth of extra perks and savings. 
Protect Your Vehicle with Endurance
With all of the fun and excitement that a V8-powered vehicle brings, it often comes at a (literal) price as more complex components will often be much more expensive to repair. That is one of the reasons why keeping the 8-cylinder engine of your brand new car or used vehicle protected from unexpected breakdowns is vital — and Endurance can help.
With Endurance's Highline auto protection plan, you can rest easy knowing your high-end luxury vehicle and its V8 engine will be covered. For those needing coverage on non-V8 vehicles, Endurance has even more coverage options to choose from.
For example, the Advantage protection plan can offer you comprehensive breakdown coverage and up to $3,500 in routine maintenance services, including up to three oil changes and engine diagnostic exams. You'll even be able to save on PSI checks, tire rotations, and even help on your vehicle's next state safety inspection while also giving you special, one-time services like cooling system maintenance or a battery replacement, among others. Or, if you're looking to save, the Secure protection plan can give you comprehensive powertrain coverage without breaking the bank, including having monthly payments as low as $79.
Each Endurance plan also allows you to take your vehicle to any certified repair facility or ASE Certified mechanic for repairs. And if you experience a breakdown away from home, you'll have 24/7 roadside assistance and towing, trip interruption coverage, and rental car reimbursements to help for free. You'll even automatically be eligible for an entire year's worth of Elite Benefits. Just pay a $29 activation fee, and you can enjoy a full year of extra perks and savings, including up to two tire repairs/replacements, key fob replacements, collision discounts and more.
Get started protecting your vehicle by requesting a free quote, or you can also call a member of our award-winning customer care team to learn more about how you can find the Endurance protection plan that fits your needs and budget. You can also find more articles on topics like DIY maintenance how-tos, vehicle buying guides and answers to automotive FAQs, and more by visiting the Endurance blog. 
More like this
Extended Warranty

When driving on roadways around the world, the thing most car owners fear is being involved in an accident. However, mechanical breakdowns are the thing that every average driver should..

Read More

Extended Warranty

Every car owner knows how important it is to keep their vehicle in the best possible condition at all times. This means making sure that you are getting the proper..

Read More

Extended Warranty

Driving down the road only to experience an issue with your vehicle's steering capabilities is a terrifying experience, regardless of if you are driving a new vehicle or an old..

Read More