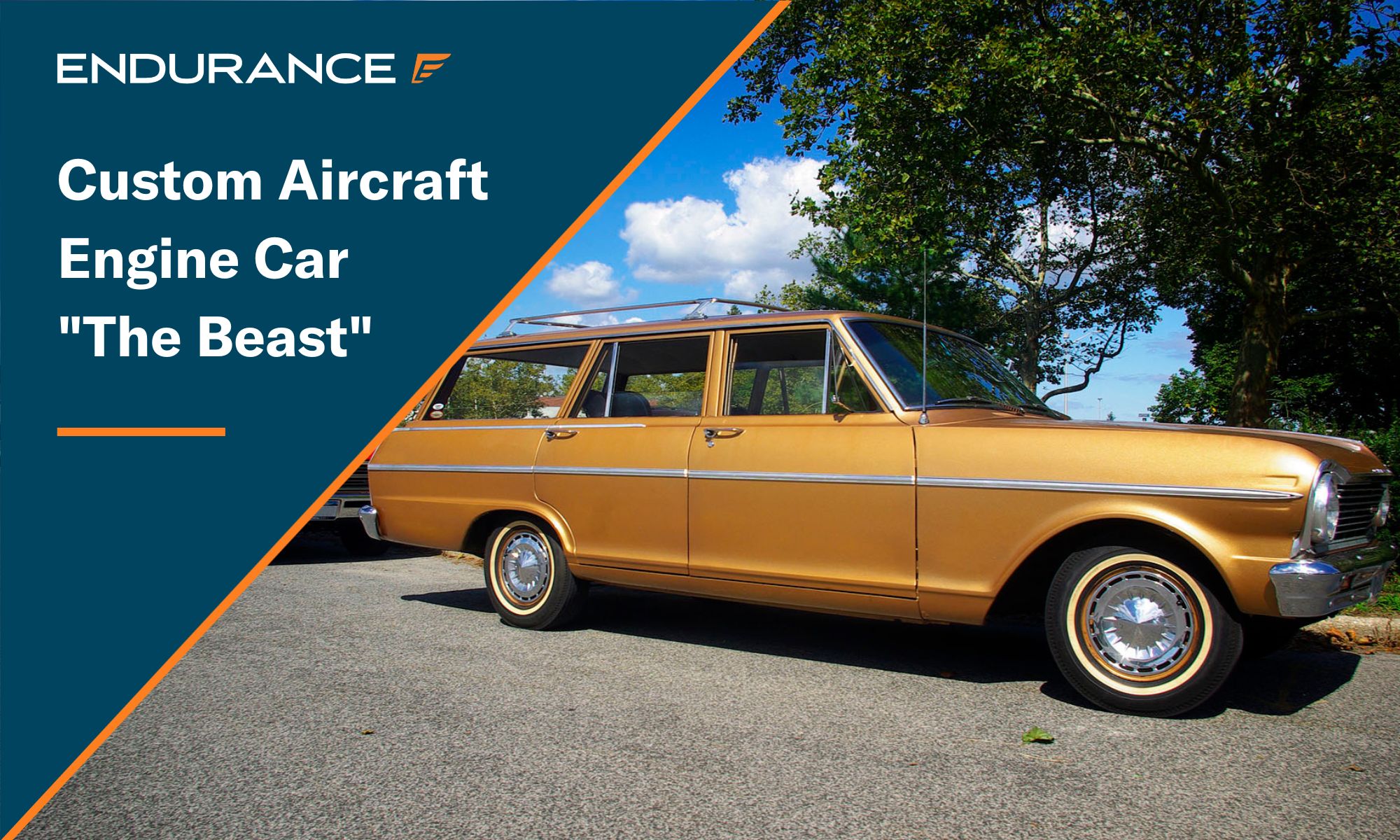 While automakers have produced their share of outrageous vehicles like the Bugatti Veyron, unique custom cars frequently attract the most attention. One of the most notable examples is "The Beast," an aircraft engine-powered vehicle that's turned heads for 50 years.
The Beast is the brainchild of the late John Dodd, a British mechanic and auto enthusiast. And while one-of-a-kind custom cars are nothing unusual on both sides of the pond, Dodd's creation takes things to the extreme. Mostly, this involves what's under the massively long hood; a 12-cylinder Rolls-Royce aircraft engine.
Added to The Beast's uniqueness is a ridiculously long original fiberglass body with hints of a 1960s-era Ford Capri (sold in the U.S. as the Mercury Capri). Calling The Beast "crazy" or "bizarre" isn't out of line. Author Richard Heseltine described Dodd's creation as "a bodyshell akin to a steroidal Ford Capri." And "grossly distended" is another phrase used to characterize The Beast.
Needless to say, this hard-to-miss vehicle produced strong opinions, while the recent auction for The Beast generated a flurry of bids.
John Dodd and the Early Days of The Beast
John Dodd's role with the project began long before the car had a name. In 1966, British engineer Paul Jameson sought to create an unusual vehicle based around a surplus 27-liter Rolls-Royce Meteor engine that powered a Centurion tank. At this point, the car was nothing more than a rolling chassis, but Jameson needed a gearbox to manage the V12's power. He reached out to Dodd, an accomplished transmission specialist, for help.
Shortly after delivering the transmission, Dodd received an offer from Jameson to buy the car in its incomplete (bodiless) state. Being mechanically inclined and a lifelong Rolls-Royce fan, Dodd couldn't say no. The rest, they say, is history.
Bringing The Beast to Life, Twice
With a partially completed car in his possession, Dodd went about finishing the effort. He turned to a British company best known for fiberglass dragster bodies. The result was the distorted Ford Capri-looking shell that would be right at home (in shrunken form) in a Hot Wheels package. Other British cars helped complete The Beast, with the windshield coming from a Jensen and the seats coming from a Lotus. Given what's under the hood, Dodd thought it appropriate that his creation needed a Rolls-Royce grill and hood ornament on the front end.
But The Beast's status as a strange-looking coupe wouldn't last forever. After several years of being transported across Europe as a show car, The Beast was damaged in a fire. Thanks to insurance money, Dodd resurrected The Beast, but it was reborn with a shooting brake body (a European term for a two-door station wagon).
The Beast's weird ways continued with eight rectangular headlights, making Dodd's reincarnated vehicle look like something out of a bad science fiction movie from the 1980s. Arguably, The Beast inspired the Griswold's Wagon Queen Family Truckster movie car from 1983's National Lampoon's Family Vacation.
Interesting Facts About The Beast
Even the casual car enthusiast will appreciate The Beast's uniqueness. Here are some unusual facts and specifications to consider.
Length: At 5.9 meters in size, it's no secret that The Beast is VERY long. That works out to 19.3 feet or 232 inches, which is even bigger than a Cadillac Escalade ESV.
Engine Size: With a displacement of 27 liters, The Beast's engine is ten times larger than the 2.7-liter V6 used in a Ford F-150.
Engine History: Paul Jameson paid £20 for The Beast's engine in 1966, or about £300 ($367) after inflation. During World War II, supercharged versions of the Merlin engine powered Spitfire, Lancaster, and Hurricane aircraft.
Engine Performance: Dodd claimed The Beast produced 950 horsepower, which helped the vehicle achieve a Guinness World Record as the most powerful car in 1977. Media reports have since downgraded the actual horsepower to closer to 750.
Fuel Economy: At one point, Dodd secured BP as a sponsor for The Beast during promotional tours. This helped offset the expense of driving a car that only gets two miles per gallon.
Rolls-Royce Connections: Through a quirk of fate (and some luck), Dodd registered his car as a Rolls-Royce. But the automaker wasn't happy about being associated with The Beast, nor being teased (by Dodd) about the situation. Rolls-Royce successfully sued Dodd, but he failed to comply nor pay the fine. To avoid jail, he took his family and The Beast to Spain.
What to Know About The Beast's Auction
The Beast's successful auction sale of $89,000 (£72,500) follows Dodd's death in December 2022. In a Facebook post from December, Dodd's daughter states, "To followers on here who have not heard the news, my father John Dodd, creator of The Beast passed away last week. He will be sorely missed but has left us with many memories and moments and his legend will live on."
The transaction comes as no surprise, as The Beast's Facebook page announced last May that the car could be up for sale. Dodd's passing made the deal inevitable.
Protection for Everyday Vehicles from Endurance
While you may not have a car like The Beast in your driveway, every vehicle is vulnerable to breakdowns and surprise repair bills. That's why so many car owners choose extended warranty protection from Endurance; it's the best way to be protected when things go wrong. Choose from a variety of vehicle service contracts ranging from basic powertrain coverage to a plan similar to a new car's bumper-to-bumper warranty. Endurance even has options for select luxury models, commercial-use vehicles, and high-mileage cars.
Significantly, every Endurance plan includes 24/7 roadside assistance with towing support, trip-interruption protection, rental car options, a 30-day money-back guarantee, and convenient payment plans. Importantly, you can select any ASE Certified mechanic for repairs.
Endurance plan holders are also eligible for a free year of Elite Benefits. Just pay a small activation fee for access to up to $2,000 in value services like tire repairs and replacements, collision repair discounts, and key fob replacement.
Learn about everything Endurance has to offer:
Explore the numerous expert-written articles about car care, DIY maintenance, vehicle reviews, and all things automotive on the Endurance blog.
More like this
News

There are a number of important components that allow your vehicle to operate, and each individual piece serves a purpose. Given the intricacies of these pieces, the value is naturally..

Read More

News

For decades, used cars have been the go-to solution for budget-conscious buyers. American shoppers could readily find quality second-hand vehicles for under the average price of $20,000 at most dealerships...

Read More

News

Now more than ever before, consumers and automakers are looking at alternative sources of transportation and different ways to power automobiles. More likely than not, the automobile industry is going..

Read More