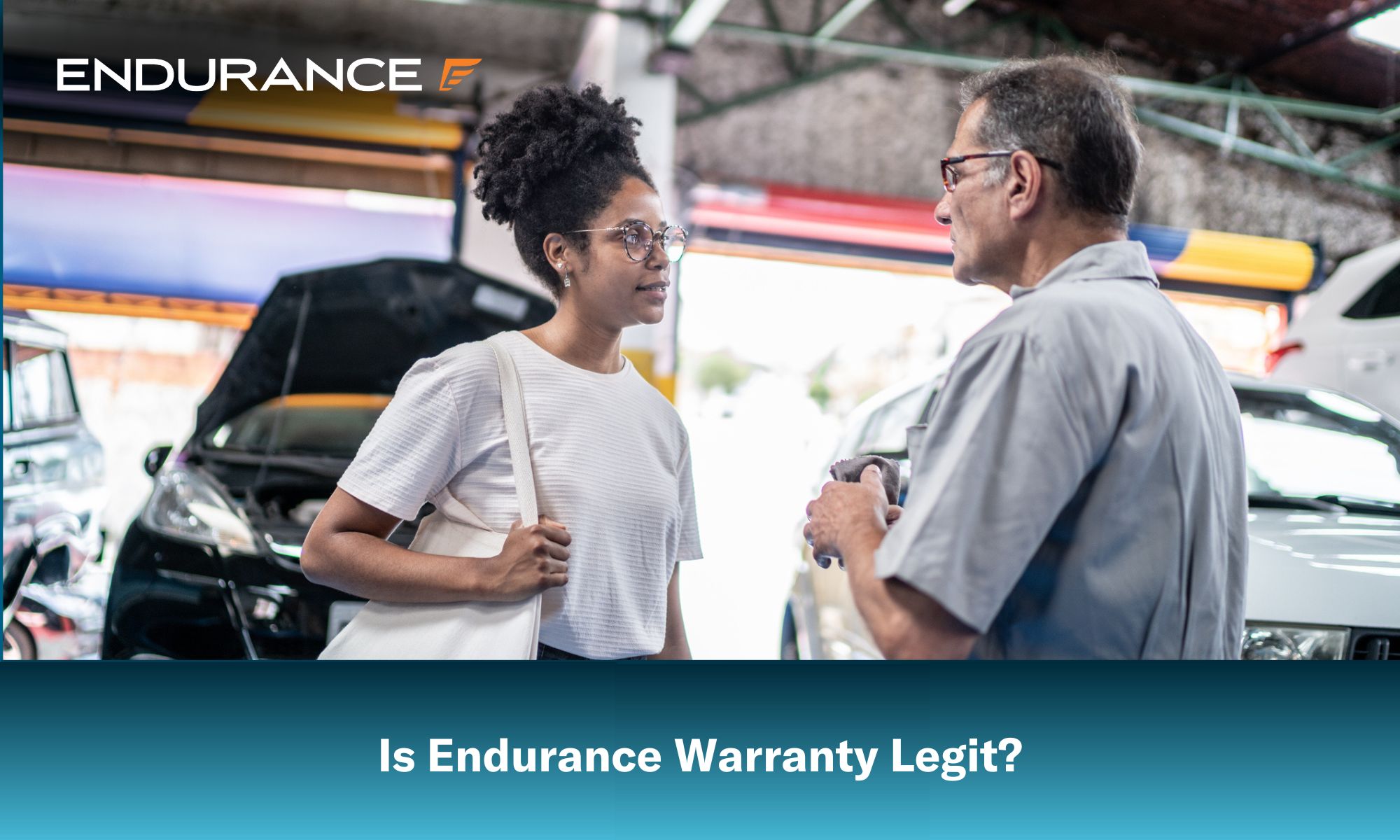 In the used car market, there are a large number of companies that offer extended warranty plans for drivers to consider. Endurance, one of the leading vehicle service contract (VSC) providers in the country, has made an impact on consumers, paying over $287 million paid in claims since 2012.
Learn everything there is to know about our brand and how we can save you time and money on costly breakdowns and unexpected repairs.
What Is Endurance Warranty?
Endurance is one of the leading providers of auto protection plans in the nation for auto repairs and mechanical breakdown coverage plans. There are numerous coverage plans offered by Endurance that provide auto protection that ranges from basic coverage to near bumper-to-bumper coverage. Endurance Warranty aims to pick up where your factory warranty stops so that you can rest easier and have peace of mind while driving on the road.
Background Information on Endurance
Founded back in 2006 by Paul Chewnasky and Jordan Batt, Endurance Warranty Services, LLC, located in Northbrook, Illinois, was created with the goal of benefiting the entire auto warranty industry by focusing on a customer-first approach. From this point, Endurance spent a number of years placing an emphasis on growth until 2012, when the company was able to become the direct administrator for the majority of its vehicle protection plans.
The next big stage in Endurance's growth came when the company acquired Auto Assure Extended Repair Coverage in 2016. This move allowed Endurance to expand its reach to even more customers around the United States, so much so that we were able to help half a million drivers achieve coverage by 2018. After this significant milestone, Endurance Warranty has continued to develop by partnering with industry experts and RepairPal, winning numerous industry awards, and paying out millions of dollars in claims to help drivers.
Most recently, in 2023, the provider added mechanical breakdown insurance (MBI) to their suit of auto protection products. This allows Endurance to offer vehicle protection to drivers located in California.
Awards and Accolades
While it's one thing to discuss our own humble beginnings, we prefer to let others speak for us. Endurance has received numerous awards and accolades over the years that speak to our ability as an auto warranty provider. Most notably, these awards include:
Fastest-Growing Private Companies by Inc. Regionals (Midwest)
"Fast 50" Growing Companies by Crain's Chicago Business
Stevie® Awards for National Sales Team of the Year, Women in Business, and Brand Renovation of the Year
Top Places to Work by the Chicago Tribune
Employees' Choice Award (Small and Medium Companies) by Glassdoor
Listed as the #1 vehicle service contract provider by Consumer Affairs, ConsumerAdvocate, and Motor1
The Reputation: Endurance Warranty Ratings
The above awards are just the tip of the iceberg when it comes to how Endurance has helped customers around the United States. Going further, Endurance Warranty has received a number of positive reviews from accredited brands. As an example, MarketWatch calculated a 9.2 out of 10 rating for Endurance, with ratings of 9.0 and 9.7 in cost and coverage, respectively. In addition to the above rating, Endurance receives positive reviews, such as:
Automoblog
"Endurance is one of the most reputable extended car warranty companies. Besides outperforming other companies in our industry-wide review, it was one of the most popular providers in our 2022 extended warranty survey."
Motor 1
"We rate Endurance 4.6 out of 5.0 stars and recognize the extended warranty provider for the Best Coverage in 2023. This overall review score is based on the company's ratings in five key areas: industry standing, coverage, cost, transparency, and customer service."
Customer reviews for Endurance Warranty Services also gear towards the positive, with the provider maintaining high review rankings on sites like Trustpilot and Google (with a 4.4 star rating!).
How Does the Customer Service and Claims Process Work?
Understanding why Endurance Auto Warranty is one of the best in the business starts with developing an understanding of how the claims process works. First and foremost, a driver can request a free quote for their vehicle by simply providing basic information that includes:
The make and model of your vehicle
The year of your vehicle
The estimated mileage of your vehicle
Your contact information
After you have worked with one of our customer service members to design a unique plan for your vehicle, you will undergo a 30-day waiting period. Once this period ends, your vehicle will be fully covered under the plan that you have, and your monthly payments will continue. If something then happens to your vehicle, such as an issue with the air conditioning, cooling system, or other covered repairs, you simply take your vehicle to an ASE Certified repair shop or mechanic who will contact Endurance.
Given that Endurance is a direct provider of contracts, you will work with Endurance during every step of the process. Once the situation has been explained, you pay your deductible, and Endurance pays the covered costs to the repair facility. You can get back on the road once the mechanic fixes your vehicle.
Different Coverage Options Offered by Endurance
As mentioned, Endurance Car Warranty offers a number of vehicle service contracts that can assist a driver with protecting their vehicle against breakdowns. These three main plans offer varying levels of coverage, which means there is something for everybody at Endurance. With Endurance Warranty costs as low as $99 a month, the provider competes with other brands in the market, such as CarShield and Protect My Car.
Consider some of the following contracts to see if warranty coverage is right for you:
Secure Plus Plan
The Secure Plus package offered by Endurance is the most basic plan a driver can consider and offers both competitive and affordable protection for anyone. With stated component coverage that is specifically designed for older vehicles, this package also offers additional coverage beyond basic components such as engine and transmission, which is something other brands rarely offer. Components protected under this plan include:
Air conditioning
Brakes
Drive axle
Electrical components
Engine
Hybrid coverage
Steering
Transfer case
Transmission
Supercharger
24/7 roadside assistance
Rental car benefits
Superior Plan
This second package offered by Endurance Warranty provides holders with high-level stated component coverage that is more expansive than the Secure Plus package. With transparent component protection, including high-tech electronic coverage, the following additional components in addition to the above are protected:
Cooling system
Suspension
Fuel system
Supreme Plan
Finally, the last contract offered by Endurance with the fewest exclusions is the Supreme package. This near bumper-to-bumper, exclusionary coverage is comparable to Titanium and Diamond packages on the market. As the closest to dealership level coverage, nearly all components under the hood are covered under this package, including everything above, as well as smaller parts such as gaskets.
Use Endurance to Protect Your Vehicle Today
As a driver, it is your duty to keep your vehicle protected, but you can't protect against everything. An extended auto warranty can help keep your vehicle protected against unforeseen breakdowns by offering financial coverage.
With numerous extended warranty contracts to choose from, and customization options available, Endurance offers protection for everyone. We also offer great driver benefits, including 24/7 roadside assistance and towing, lockout services, trip interruption coverage, rental car reimbursement, and a 30-day money-back guarantee.
Additionally, new Endurance customers have to opportunity to take advantage of the Endurance Elite Benefits package FREE for one year, which offers bonus perks such as two tires replacements per year due to road hazards, key fob replacement, up to $1,000 in total loss protection, and $500 in collision discounts.
To find out more about how Endurance can help you, give our phone number a call at (800) 253-8203 to request a free quote – or shop online today. Learn more about Endurance Warranty plans and FAQs on our blog.
More like this
Reviews

With expensive repair bills on the horizon, it's easy to get overwhelmed when you find yourself stuck on the side of the road with your hazard's lights on.   For this..

Read More

Reviews

Endurance has been putting money back in Americans' pockets for nearly two decades with a laser focus on the customer at every step of the process. Shon and Latress Peoples,..

Read More

Reviews

When the time comes for your teenager to get their license and take on the road, it can be a scary thought for parents. New drivers lack certain skills that..

Read More