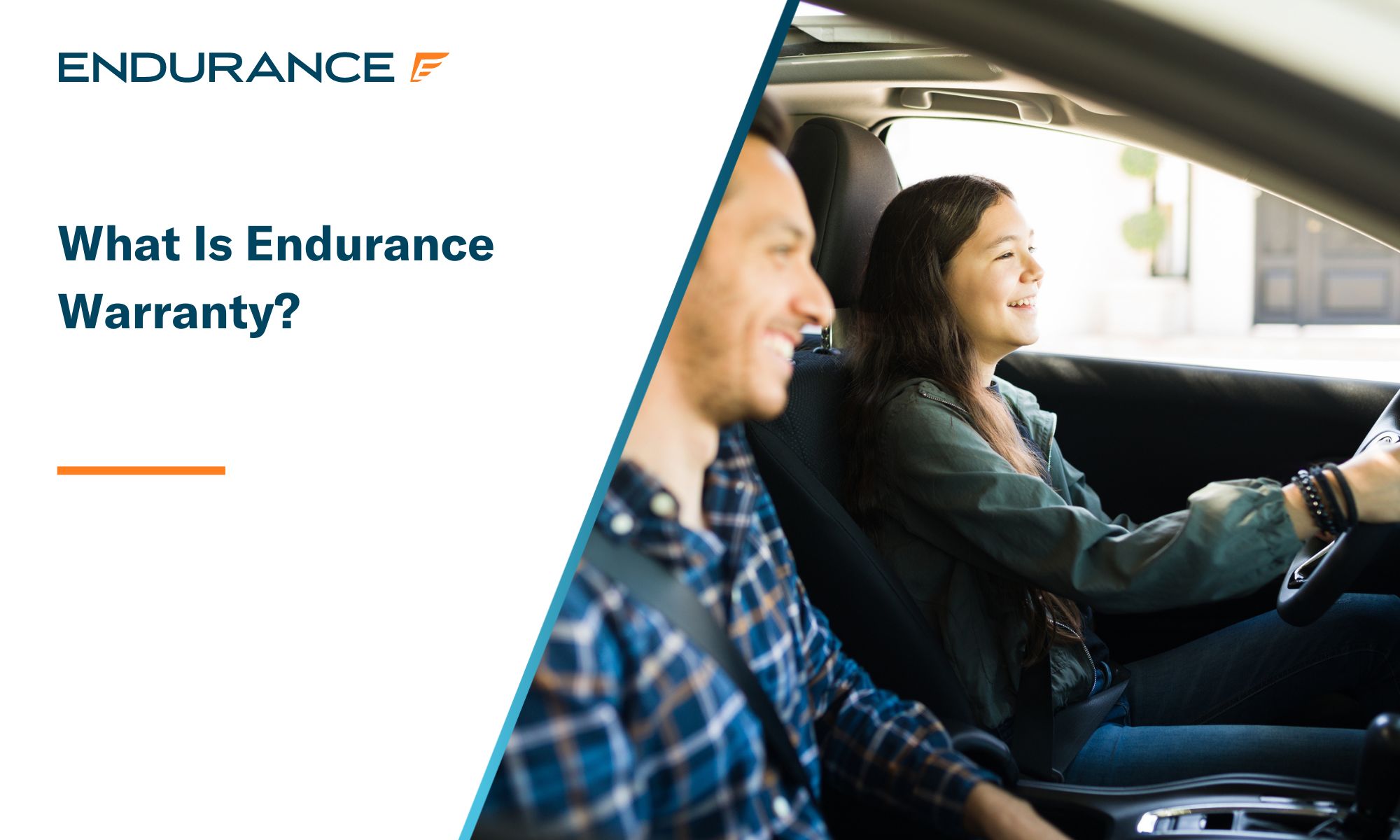 If you're looking for an auto protection plan, you've made a smart choice. With the cost of vehicle ownership only ever on the rise, it's no wonder drivers across America are looking for ways to reduce their outgoings in any way they can. Thankfully, an extended warranty can save you literally thousands of dollars a year on unexpected auto repair bills. Choose the right provider, and you can save on lots of other things too.
Endurance Warranty is one such provider. We've defended the wallets of vehicle owners up and down the country for close to two decades now, and we want to help you too. Keep reading for everything you need to know about us, our services, and how we can protect your new car or used vehicle.
What Is an Extended Warranty?
Before we go into any more detail about Endurance, it's worth us going over what an extended car warranty is and how it works.
To start at the beginning, every vehicle drives off the assembly line with what's known as a factory warranty or manufacturer's warranty. This acts as the manufacturer's promise to repair or replace any components that fail due to fault within a predetermined number of years/miles traveled (whichever comes first). Once this expires, however, you, as the owner, are fully responsible for the cost of any future trips to the auto repair shop.
No one likes paying repair bills, so manufacturers and dealerships usually offer what's known as a traditional extended warranty. These extend the coverage provided by your factory warranty past the expiration date, but with one big catch: they must be purchased while your factory warranty is still active. Leave it one day late (or buy an older, used vehicle), and you'll no longer qualify. To make matters worse, these kinds of extended warranties stipulate that all work must be carried out at a dealership—not ideal when the closest one is over 100 miles away.
A vehicle service contract from a third-party provider is generally preferred to a traditional extended warranty. These vehicle protection plans can offer almost identical coverage at an even better price point, and providers have an incentive to throw in extra money-saving perks to sweeten the deal. Better yet, you don't need an active factory warranty to purchase one, and auto repairs can be done at any certified mechanic.
Put simply, an extended warranty or vehicle service contract is a fantastic way to save some serious money on the cost of car ownership. For a monthly fee, your bills are covered should you be stranded at the roadside, plus you can be sure car repairs are carried out to the highest possible standard. And even if you don't break down during your membership, you really can't put a price on peace of mind.
All About Endurance Auto Warranties
Since opening our doors in 2006, Endurance has helped over half a million drivers across the country, earning us the title of America's most trusted auto protection provider. We offer a wide range of plans with unrivaled eligibility, affordability, and flexibility, so if our base packages aren't quite right for your needs or budget, our award-winning customer service team will be more than happy to tailor a bespoke program just for you. Coverage starts at just $99 per month, are customizable, and with our 30-day money-back guarantee, you have plenty of breathing space to be sure you've made the right decision.
The coverage options we offer include:
Supreme: Exclusionary protection that's as close to factory warranty coverage as you're likely to get. Rather than listing the parts and systems that are covered (which is common in stated component coverage warranties), an exclusionary policy covers everything on the vehicle except for a small list of "exclusions."
Supreme for Highline: Designed to cover specific luxury vehicles under eight years old and with less than 80,000 miles on the odometer.
Superior: A comprehensive stated component plan with an extensive list of named parts.
Select Premier: Getting coverage for high-mileage vehicles can be tricky, so this program is specifically tailored for older cars with up to 150,000 miles on the clock.
Secure: Secure is our most basic powertrain coverage, with prices starting at just $99 a month.
Secure Plus: All the benefits of our Secure plan, plus additional covered repairs or components such as brakes, air conditioning, steering, and select electrical components and parts.
Advantage: A market-leading comprehensive plan that also includes up to $3,500 in annual maintenance costs, such as oil changes.
Rest assured, choose Endurance, and you choose the best in the business. No matter how comprehensive your coverage is, it isn't worth a dime if you can't rely on your warranty company, but you can be confident you're in good hands with us. We have four out of five stars on Trustpilot from thousands of reviews, so don't just take our word for it. Unlike many vehicle service contract providers, we're also the direct administrator (or direct provider) of most of our plans, so there are no pesky middlemen to deal with whenever you make a claim.
How an Endurance Auto Warranty Works
After you've chosen Endurance as your vehicle service contract provider, your first step is to decide on the right auto coverage program for you. We pride ourselves on our extensive eligibility, catering to casual commuters, rideshare drivers, and luxury car owners. Take a look at our coverage plans, find the one that most closely meets your needs, and then speak to our team so we can tweak it to your liking. We also offer flexible payment plans and varying deductible amounts, so there are plenty of ways we can make things work for your situation and budget.
Once you're covered, there's a 30-day waiting period until you can make any claims, which also acts as your 30-day money-back guarantee. Most warranty companies follow this standard process to prevent fraudulent claims due to undeclared pre-existing issues. After the waiting period is up, however, you're free to claim for any breakdowns that might occur.
We know how stressful a breakdown can be, so we make the claims process as simple as possible. Should the worst happen to you, all you need to do is:
Prevent further damage: Pull over as soon as it's safe. By continuing to drive a malfunctioning car, you can cause further damage that won't be covered by your warranty.
Take your vehicle to a certified mechanic: All Endurance Warranty plans include 24/7 roadside assistance to get you out of harm's way and to the nearest auto shop or repair facility.
Let the mechanic know your Endurance details: They'll contact us to confirm you're a member, and we'll check the repairs are under warranty.
Pay any deductibles: Once we're happy for repairs to go ahead, you'll need to pay any deductibles on your plan.
Sit back and relax while your car is being repaired: We also include replacement vehicle reimbursement and trip interruption costs, so nothing needs to get in the way of your day.
The Protection Offered by an Endurance Auto Warranty
We should clarify that an auto warranty and car insurance are two different things. Car insurance is intended to protect you from damage caused by accidents, theft, or extreme weather and covers both interior and exterior parts. On the other hand, an auto warranty covers internally lubricated parts in the event of unexpected mechanical failure. For this reason, auto warranties are sometimes referred to as mechanical breakdown coverage.
What your specific warranty covers within your vehicle will ultimately depend on the plan that you choose, but Endurance can cover as much or as little as you like. Some people want to go as comprehensive as possible, adding on extra coverage for more intricate electronic parts that most other providers won't go near. Others want to focus on only the most important engine components and choose the lower end of our options. Endurance will cover what you need most.
The benefits don't end at repair bills either. Every Endurance Warranty plan comes with 24/7 roadside assistance, towing, rental car reimbursement, and trip interruption costs standard. If that wasn't enough, for a small, $29 activation fee, all new customers get a year's free access to the Endurance Elite Benefits package, opening up tire repair/replacement, key fob replacement, total loss protection, and collision discounts. Endurance plans are also fully transferable to subsequent owners—potentially boosting the resale value of your vehicle.
The Benefits of Choosing an Endurance Auto Warranty
There are so many benefits to choosing an Endurance auto warranty, but the most obvious is the potential savings. With some of the more significant engine problems costing thousands of dollars to fix, it pays to protect your car. And with top-tier coverage in place, you can drive in total confidence, knowing that even if the worst happens, no money needs to leave your pocket.
Where other providers only offer a limited range of rigid coverage plans, we have a wide range to choose from, and each can be customized to suit your specific needs and budget. All authorized repairs are carried out by ASE Certified mechanics, so you can be sure your vehicle is always in top-running condition. We're also on-hand to assist with any claims or questions, plus the Endurance Mobile app is always accessible at the tap of a button.
Eligibility and Other Considerations
Endurance has unrivaled eligibility. We cover more driver and vehicle types than any other provider in the country—but there are some limits to who and what we cover. In some cases (e.g., rideshare drivers), a higher deductible may apply, but in some rare instances, we may not be able to offer coverage.
Circumstances that may affect your eligibility include:
Maintenance history: A vehicle must be regularly maintained in line with your manufacturer's recommended schedule for it to be eligible for an extended auto warranty.
Age and mileage: Our Select Premier plan is designed for high-mileage vehicles with under 150,000 miles on the clock, but we don't cover anything higher. Likewise, we can't cover vehicles that are over 20 years old.
Make and model: Luxury cars are known for their tendency to break down. While Supreme for Highline Vehicles does cover select luxury makes and models, we can't cover all of them.
Salvage status: Unlike most vehicle service contract providers, Endurance does offer coverage for salvage title vehicles, but only specific plans apply.
When choosing the right Endurance plan for your vehicle, it's important to think about all of the above, as well as:
How you use your vehicle: Whether you're a casual commuter, a regular road-tripper, or use your vehicle for work, we have plans designed with different types of drivers in mind.
How much you want to protect: Endurance plans range from fully comprehensive to just those crucial powertrain parts.
And if you still aren't sure, don't worry. Our friendly customer service team will be happy to chat about your circumstances and help you figure out what's best.
America's Top Choice for Extended Vehicle Warranties
Endurance Warranty Services is the number one choice for anyone interested in protecting themselves from unexpected repair bills. Not only do we offer better eligibility, affordability, and flexibility than anyone else, but we're also rated by experts as one of the most reliable warranty providers in America. We've helped thousands of drivers save on the cost of car ownership, and we're ready to help you too.
To learn more about what we can do for your vehicle and get a FREE quote, call our team at (800) 253-8203. You can also shop online to see your price immediately.
Keep reading – we have plenty of other useful automotive articles like this one on our extended car warranty blog. Find more on provider comparisons like CARCHEX and CarShield, exclusionary coverage and bumper-to-bumper coverage options, and auto expert advice.
More like this
Extended Warranty

When driving on roadways around the world, the thing most car owners fear is being involved in an accident. However, mechanical breakdowns are the thing that every average driver should..

Read More

Extended Warranty

Every car owner knows how important it is to keep their vehicle in the best possible condition at all times. This means making sure that you are getting the proper..

Read More

Extended Warranty

Driving down the road only to experience an issue with your vehicle's steering capabilities is a terrifying experience, regardless of if you are driving a new vehicle or an old..

Read More