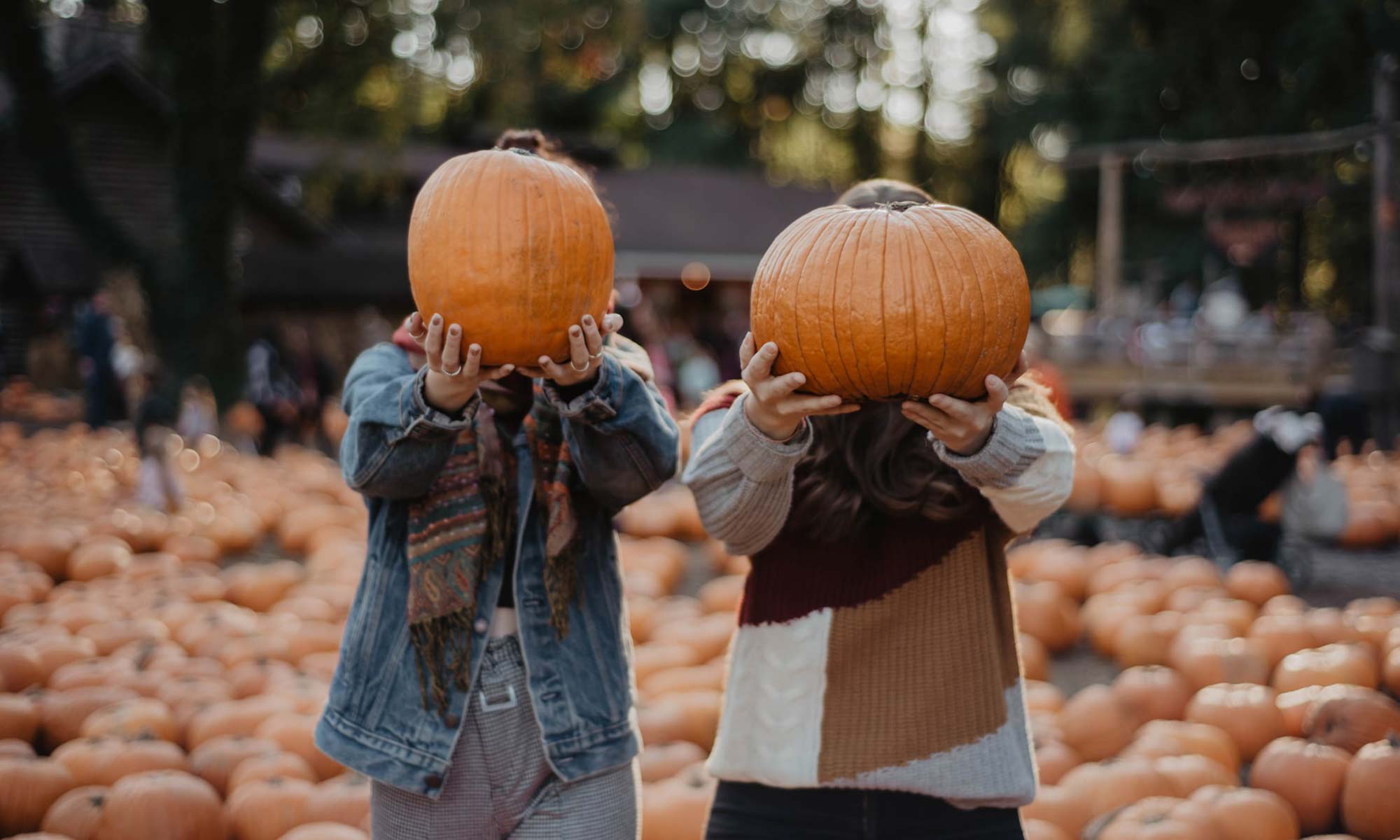 With the winter months approaching, spending time outdoors may not be as comfortable as it once was. For those who don't want to spend all of their time indoors, getting out and about in your car is a great way to enjoy the scenic outdoors even with it being cold outside. 
Our experts compiled a list of the top 10 things to do this season in your car. Whether you prefer to stay somewhere close and visit a local pumpkin patch or take a long road trip, we're sure you'll have fun while practicing social distancing.
10 Things To Do in the Fall and Winter With Your Car
Visit A Pumpkin Patch
First on our list is one of the most popular fall activities across the country—visiting a pumpkin patch. Pumpkin patches usually appear about a month leading up to Halloween and can be found in just about every major city. Whether you are looking to pick out the perfect pumpkin or just wanting to get that Instagram worthy photo, visiting a pumpkin patch can be a great way to use your car to get out of the house and have some fun.
Go To A Drive-In Movie
As one of the greatest American past times next to baseball, going to a drive-in movie is always one of the best fall things to do. While these can be a little harder to find than a pumpkin patch, many are within driving distance of a drive-in movie theater. For those who may not live near one, we suggest checking local events in your area as many cities have drive-in movie nights in parks and parking lots.
Take A Road Trip
Taking a road trip with friends, family, or even yourself can be a great way to have fun, decompress, and spend some time alone. Road trips are usually discussed with a destination in mind, but they aren't always needed to get on the road and have some fun. Road trips are budget-friendly ways to get out of the house and truly enjoy all the fun events while socially distancing. Need some new podcasts for your next road trip? Check out the best podcasts for road trips sure to entertain you or the family.
Visit A Drive-Through Light Display
If you are looking for something fun to do with your car in December, visiting a drive-through light display is always a popular choice. Most larger cities across America are going to have a drive-through light display. These displays are designed for people to observe hundreds of thousands of lights from the comfort of your own car. Take it a step further by making some hot chocolate and cookies to take with you for a true holiday experience.
Drive-Through Christmas Themed Neighborhoods
If you live in a city that does not have a drive-through light display, chances are you still have some pretty cool, decorated houses that you can check out. Make your own drive-through light display by cruising around neighborhoods that have many houses decorated with holiday lights. Oftentimes, your local newspaper or news channels will post a list of addresses and neighborhoods to check out. Don't forget the snacks and hot chocolate!
Check Out A Drive-Through Safari
Much like a drive-through Christmas light display, you can visit a drive-through safari to enjoy a zoo-like setting without leaving your car. Drive-through safaris are basically like zoos that are accessible from your vehicle. These are usually on large plots of land where animals can roam in larger, more natural areas. A gravel road is usually set to allow for you to drive through the safari and see the animals very closely. 
Have A Socially Distanced Tailgate/Trunk Meet Up
With social distancing still being suggested by the CDC, getting together with friends can be a difficult task. One option people have been exploring is socially distanced tailgate meetups. With tailgating being a very popular pastime, this takes it a step further by integrating safe social distancing practices. Simply back up your truck, car, or SUV to your friends in a circle so that you can sit in the back of your car and converse while staying 6 feet apart.
Have A Karaoke Contest
If you watch the Late Late Show, then you know exactly where this one is heading. Carpool Karaoke has become very popular among all types of age groups. You can create your own karaoke contest in your car with friends or family, all you need is a car and some tunes. Simply load up your phone or a CD with your favorite songs to sing and take turns belting out the lyrics. The best part is, you don't even have to leave your house. Simply singing in your car can be a great way to keep the volume down around neighbors or roommates.
Go Stargazing
Whether you are wanting a budget-friendly activity, or simply just want to sit back and relax, using your car to go stargazing is always a great idea. With the weather getting cooler, laying in the back of a truck, or opening up the sunroof becomes much more comfortable. This creates a perfect environment to lay back and look at the stars. To make it even better, for those with trucks, consider putting a blow-up mattress in the bed of your truck with some pillows and blankets for added comfort.
Have A Dine-In Night
Last but not least, having a dine-in night can be a creative way to put a twist on your next night out. While going out to eat at a restaurant is a fun way to spend a night, there are a few things that could put a damper on your mood. Long wait times, loud customers, and crying babies can kill the mood of a date night. Instead, try ordering up your favorite foods and beverages, and eating them in or around your car. With the privacy of your car, your own music, controlling the temperature, and not having to wait for food, you get to have dinner on your terms. For those with trucks, you can even set up your bed with seats or a small table.
Essential Fall Maintenance Tips To Perform
In order to enjoy your car throughout the fall and winter months, our experts suggest performing essential car maintenance before-hand. Doing a few, easy maintenance checks on your car can help to keep your car running at its best, especially in a time where temperatures drop. Let's take a look at a few car maintenance tips for Fall to help you get your car in great shape.
Essential fluids—Checking your fluids is something that you should be doing every time you change your oil, but it is especially important in the winter. Make sure your antifreeze is topped off to keep your engine performing at its best. Checking your brake fluid, windshield wiper fluid, power steering fluid, and oil should be on your fall/winter checklist.
Tire inspection—The tires on your car are rated based on traction, which is the tire's ability to grip the road. Visually inspect your tires for low tire pressure or any damage to ensure that they are not past the wear indicators. These can be found in between the tread. If your tread has gone to this indicator, you need to replace your tires as soon as possible. Having tires with good tread will be essential for getting through the colder weather. Also, you will want to check your tire pressure often to keep them at their recommended pressure.
Wiper blades

—Making sure that your wiper blades are functioning properly will help to make sure your windshield stays clear through rain, sleet, and snow. Visually inspect them for cracks, dry rotting, and deterioration. Need new wiper blades? Save on your next windshield wiper purchase with your $250 discount vouchers provided by the Endurance Elite Membership. To get shopping, simply log in to

My Digital Vehicle Rewards

using your phone number and password—your registered zip code—to redeem your rewards today.

Car lights

—Test each light to ensure that they are working such as your brake lights, turn signals, and bright lights. While this should be something you are always checking, having all of your lights function through a snowstorm will help keep you safer and more visible to other drivers.

Heating system—Before the temperatures drop too far down, turn on the heater function and check to see if your car starts to warm up. Check your coolant level to be sure there is enough liquid to get to your heater core. Radiators low on coolant will not blow out heat, which will require a check-up at your local mechanic.
Your brakes

—With icy roads on the horizon, ensuring your brakes are in tip-top shape can help you avoid any scary situations on the road. Worn out brakes can be a serious safety hazard, so having them inspected by a professional is highly recommended.

Create an emergency kit—The last thing you want to happen when temperatures start to drop is to be stranded in the snow or cold with no way to stay warm or help repair your car. In an emergency kit, you can add tools, jumper cables, a flashlight, a blanket, and a first aid kit. These items will help you be able to repair your car or stay warm until roadside assistance arrives.
Extended warranty protection—To ensure your car is covered in the case of a sudden breakdown, you should consider purchasing an extended car warranty. An extended warranty will cover many components in your car so that you can have them fixed with little to no cost to you.
Drive Confidently With Endurance
With an auto protection plan from Endurance, we handle the costs of sudden breakdowns for our customers, so they aren't financially burdened. We pay the mechanic directly, on top of providing coverage for benefits like rental car services and meal and lodging coverage if a breakdown occurs away from home.
With an Endurance extended warranty, you gain peace of mind by knowing you're protected with the most comprehensive packages in the market. Plus, all Endurance VSCs include roadside assistance and a free year of the Endurance Elite membership, including $2,000 in benefits like key fob replacement, tire repair and replacement, and more. Request a free, no-obligation quote below to learn more about our coverage plans and flexible payment options.
More like this
General Info

Most people think of a car as a single machine, but a modern vehicle is really a combination of multiple systems. Knowing how each of these key components functions is..

Read More

General Info

For Valentine's Day, you might be thinking of gifts you can purchase for your significant other. This is also a great time to show your car some love as well..

Read More

General Info

When shopping for a new car, the number of options available to you can be both overwhelming and exciting. There are so many different types of powertrains, interiors, and body..

Read More