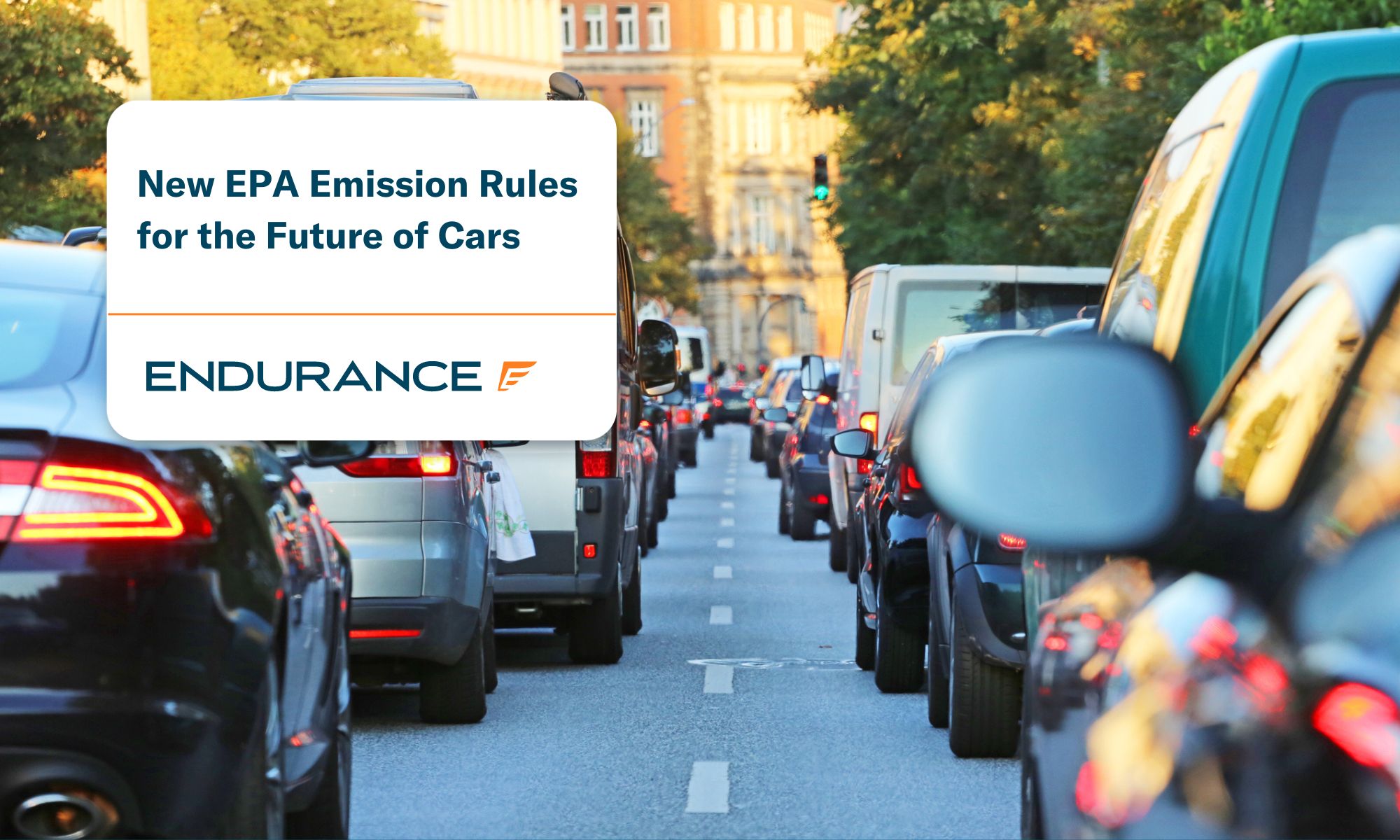 New proposed emissions standards from the U.S. Environmental Protection Agency (EPA) seek to transform the country's automotive sector. If implemented, the regulations will significantly limit what comes out of tailpipes and push the U.S. further toward an EV-centric future.
The proposal marks the most significant impact on automobiles and the environment since the 1963 Clean Air Act. This laid the groundwork for vehicle pollution controls.
Let's explore what the EPA's latest efforts mean for the environment, car owners, and the auto industry.
Details of the New EPA Emission Rules
The proposed regulations, which are subject to review and implementation in 2024, are strict but somewhat open at the same time. The EPA's proposal would reduce 7.3 billion tons of C02 from the atmosphere through 2055, about what the entire U.S. transportation sector produces now over four years.
The measure doesn't tell automakers how to do it beyond setting limitations on the level of emissions from vehicles based on size and category. However, because these updated new standards are so stringent, the practical effect is that the majority of new cars hitting the road in the future will have to be zero-emission vehicles.
And given where the industry is today regarding the shift away from the internal combustion engine (ICE), tomorrow's showrooms are likely to be filled with electric vehicles (EVs).
Targets and Timelines
For passenger cars, crossovers, and light-duty trucks, the EPA is targeting an industry-wide average of 82 grams of C02 emissions per mile (g/mile) by the 2032 model year. That's a 56 percent reduction compared to the 2026 model year standards (part of the requirements currently in force).
Medium-duty vehicles (large trucks and many commercial vehicles) are also impacted by the EPA's proposal. The measure targets a 44 percent reduction in medium-duty-vehicle emissions to 275 grams/mile by the 2032 model year.
According to one scenario offered by the agency, these requirements could be met through the greatly expanded presence of EVs in the marketplace.
Almost 70% of light-duty vehicles in use by 2032 would be EVs.
Nearly 40% of medium-duty vans and pick-ups in the marketplace by the 2032 model year will be EVs.
Wide-spread implementation of advanced filters to reduce particulate matter from gasoline emissions.
Further improvements in C02-reduction technology for gasoline-powered vehicles.
While EVs account for most of the conversation about these proposed rules, the EPA specifically mentions in a report that automakers can use alternate technologies (such as hybrid engines and plug-in hybrid systems) to meet the amended standards.
How the New Rules Affect Automakers
New regulations are something automakers have grown used to over the decades. However, the degree of acceptance of this EPA proposal appears to align with manufacturers further down the road toward electrification.
General Motors told Barron's, "GM supports economy-wide efforts to address climate change, including a drive towards an all-electric future and improving the efficiency of our fleet." Meanwhile, Ford chimed in with, "Accelerating this historic transition requires strong coordinated action from the public and private sectors."
Unsurprisingly, EV-only maker Rivian took it even further. "The vehicle emissions standards proposed today are a critical addition to the Administration's climate portfolio, and we applaud the realistic goals set forward in the headline targets."
But automakers that aren't so far along in their EV efforts appear less welcoming. Hyundai commented to Barron's that "The proposed vehicle emission rules released by the EPA will be challenging to meet and will require further expansion of charging infrastructure, consumer incentives and supply chains." The company is also still stinging from being left out of the new federal tax incentives or tax credits that benefit EVs made in North America.
Also expressing dissatisfaction with the EPA's measures, Stellantis (parent of Dodge, RAM, Jeep, and Chrysler) remarked, "We are surprised that none of the alternatives align with the President's previously announced target of 50% EVs by 2030." This is in reference to the EPA's proposal going above President Joe Biden's stated goals.
Arguably, the greatest challenge for automakers is production and profitability. Outside of established leader Tesla, other companies struggle to get EVs off the assembly line. High-end brands like Rivian and Lucid are sitting on tens of thousands of back orders, and Ford's F-150 Lightning has its share of manufacturing challenges. And while Chevy boasted about selling almost 20,000 Bolt EVs during the first quarter of 2023, that's a drop in the bucket of what will be needed to get more ICE-powered cars off the road.
The other part of this equation is profitability. Except for Tesla, automakers are challenged to improve their bottom lines through electric car sales. The shift consumes billions of dollars of investments while sales are still a pittance of where they need to be.
Assuming the EPA proposal takes effect in 2024, automakers will have an eight-year countdown clock to learn how to make money from EVs and other zero-emission technologies. Otherwise, the auto industry will cease to exist as we know it today. On the positive side, the phase-in is gradual.
Are The EPA's New Goals Realistic?
The EPA promotes its emissions-tightening measures by saying that the benefits outweigh the costs. Specifically, the agency forecasts the net present value (another way of saying return on investment) of these benefits will be "in the range of $850 to $1.6 trillion." That works out to $60 billion to $85 billion annually.
These are huge numbers, but it all comes from individual automakers and other companies on this path. The EPA's plan stretches the Biden administration's goal of having half of all vehicles being EVs by the end of the decade. This is a benchmark many automakers have seemingly accepted. So, going one step further with the EPA's expanded goals doesn't seem out of reach.
However, the EPA's proposed standards aren't set in stone. It's likely we'll see some back and forth between the auto industry and the government that may somewhat dial back the requirements (and the subsequent investments).
In addition, a change of administration in 2024 could also see a lessening of the proposed standards. That's happened before. Upon taking office, President Donald Trump rolled back EPA standards put in place by President Barack Obama.
But whatever becomes law, automakers will have to live with it. Failure to meet these standards will mean hefty fines for these companies. And when this happens, manufacturers do two things: improve technology or raise prices (or both).
How Will the New EPA's Rules Impact Electric Car Adoption?
Assuming the EPA's revised measures are put into effect, the move away from ICE-powered vehicles will shift into overdrive. The ticking clock will push automakers to avoid penalties by getting consumers on board. And car buyers will agree for one simple reason. At some point, there may not be anything else to buy but EVs.
Roadblocks to EV Adoption
But the path to a less-polluting future may not be as easy as the government wants. Two obstacles stand in the way of EV adoption: affordability and charging access.
Right now, the average new EV costs about $58,000. That's a $10,000 premium above a conventional new car. In real-world terms, that's an extra $200 a month added to a car loan. And for many buyers, that's unaffordable.
Automakers have to make EVs less costly, and we're seeing early signs that this is happening. Chevy promises a $30,000 Equinox EV later this year. If the company can pull this off and qualify the car for the $7,500 federal tax rebate, consumers will see the first EV that's affordable and not a small hatchback. Tesla has teased a $25,000 model and a forthcoming factory in Mexico could make this a reality.
EV advocates hope these are early signs of a new golden age of cheap cars.
Another barrier to EV adoption is charging access. Drivers are used to gas stations on every street corner and will only accept EVs when electricity is equally accessible. The recently implemented Inflation Reduction Act will greatly expand charging stations through tax incentives and other measures. But it's uncertain when the ideal ratio of EVs to charging stations will exist; there are only forecasts and projections at this point.
Let's look at California, which banned gas-powered vehicle sales by 2035. If the state's goal of EVs being half the cars on its roads is met by this date, Californians will need 537,000 charging stations.
The U.S. Department of Energy reports that the state has about 15,000 dedicated charging stations. That translates into a need for 522,000 additional recharge locations over the next 12 years. For this to happen, 100 charging hubs will have to come online every day during this time.
And that's just in California. Clearly, automakers and the EV industry have their work cut out.
Drive for Today With Endurance
Until gas and diesel vehicles become a thing of the past, people will still need ICE-powered rides. And the best way to keep conventional automobiles running is with an Endurance vehicle protection plan. It's an extended warranty that protects car owners from breakdowns and surprise repair bills.
Endurance plans include 24/7 roadside assistance, trip-interruption protection, and rental car support. Plus, features like a 30-day money-back guarantee, convenient payment options, and a choice of ASE Certified mechanics make coverage even more appealing.
Endurance plan holders can also enjoy Elite Benefits. A small activation fee starts one year of free access to valuable services (a $2,000 value), including tire repairs and replacements, collision repair discounts, and key fob replacement.
Learn about the confidence and peace of mind that comes from an Endurance protection plan. Request a free online quote or call (800) 253-8203 for personalized assistance. You can also shop online.
Check out the Endurance blog for essential articles about DIY car care, vehicle reviews, and other expert advice.
More like this
News

Now more than ever before, consumers and automakers are looking at alternative sources of transportation and different ways to power automobiles. More likely than not, the automobile industry is going..

Read More

News

You're likely familiar with the microchip shortages in the auto industry, given its widespread coverage in recent news. If you've been car shopping over the past few years, you've likely..

Read More

News

According to the Federal Highway Administration, trucks and SUVs have outnumbered cars in every state since 2018. While these bigger, more powerful vehicles certainly have their uses, a new report..

Read More