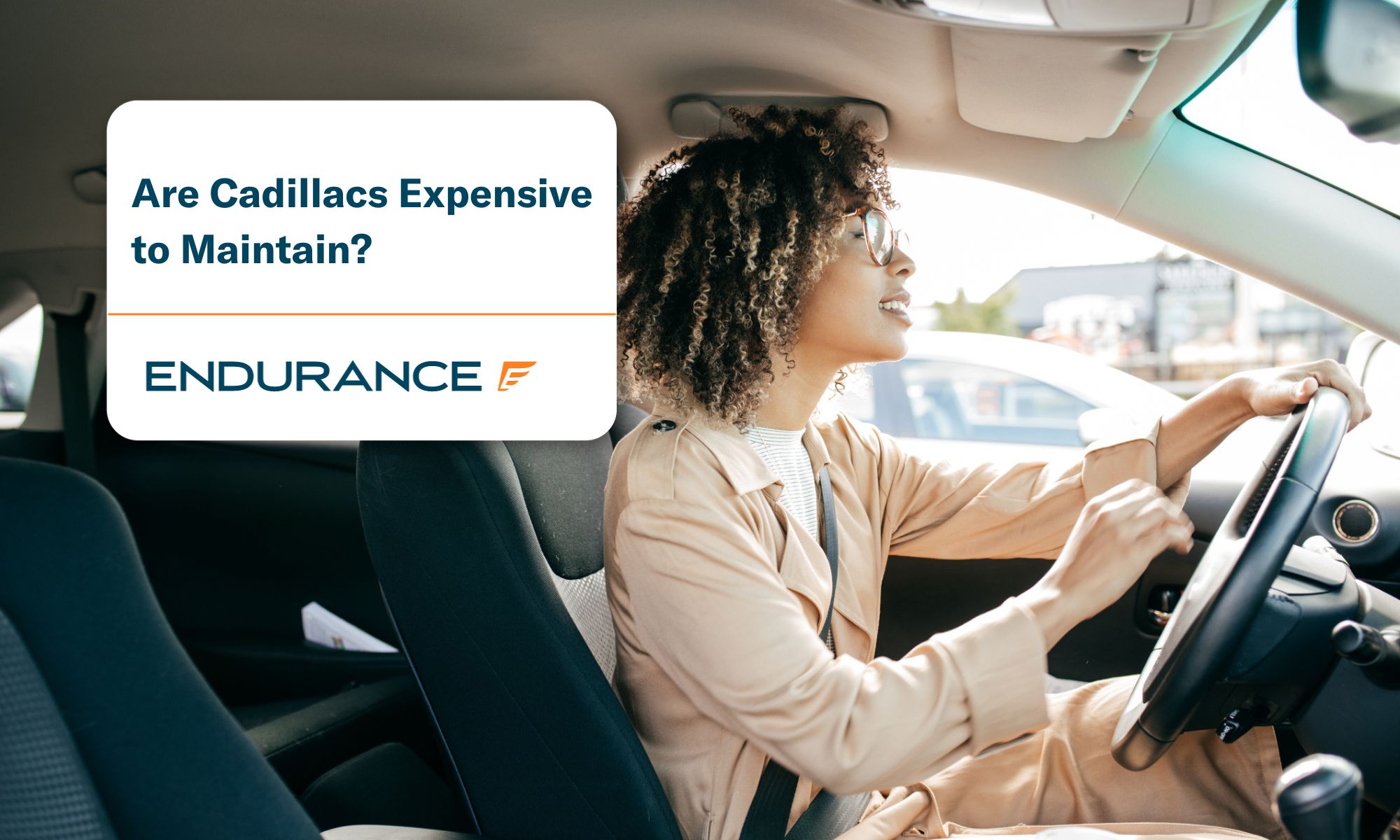 Originally formed from the remnants of the Henry Ford company, Cadillac is arguably the most quintessential American car brand in existence. Founded over 100 years ago, they were the first automaker to offer a passenger car with a fully enclosed cabin and the first to win the prestigious "Car of the Year" automotive award. Now, their iconic models are known for their powerful engines and striking luxury aesthetic. But while they're certainly expensive to buy, are they expensive to maintain?
Let's take a look at common Cadillac models and their maintenance profiles, common Cadillac issues, and things that owners can do to prevent some of the more expensive problems.
Routine Maintenance Costs: Regular Commitments
To keep your Cadillac running at its best, you'll need to commit to a regular maintenance schedule. The recommended tasks and their frequency can be found in your user manual, but the first 45,000 miles on your used car should look something like this:
7,500 Mile Maintenance
Around the 7,500-mile mark, you should get your tires rotated, brake pads inspected, and the engine air filter replaced. Following the Cadillac Life Monitoring System, change the oil and oil filter if required.
22,500 Mile Maintenance
At 22,500 miles, many of the same tasks as seen at 7,500 miles are repeated, with the addition of replacing the passenger in-cabin air filter.
30,000 Mile Maintenance
Oil changes and tire rotations are also required at the 30,000 and 37,500-mile range.
45,000 Mile Maintenance
At 45,000 miles, it's time for another oil/filter change and a tire rotation. You also need to change the in-cabin air filter and the engine air cleaner filter, then inspect the evaporative control system.
For an idea of how much some of these maintenance tasks might cost, RepairPal estimates the following:
The annual estimated maintenance cost of a Cadillac is $783, which is over $100 more than the average of $652 for all cars.
Common Cadillac Models and Their Maintenance Profiles
Three of the most popular Cadillac models are the SRX, CTS, and Escalade. Let's take a look at some potential problems and the average costs to have them rectified.
Cadillac SRX
Debuting in 2003, there are two generations of the Cadillac SRX: a mid-size luxury SUV and a compact luxury crossover SUV. The latter of the two became Cadillac's best-selling model in the United States and was produced until 2016, when it was replaced by the XT5.
The average annual maintenance cost for a Cadillac SRX is $703, which is a little lower than the Cadillac average. Examples of repairs and their estimated costs include:
AC compressor replacement: $842 – $902
Fuel pump replacement: $1,667 – $1,813
Fuel level sending unit replacement: $2,528 – $2,717
Engine mount replacement: $306 – $334
Oxygen sensor replacement: $306 – $368
Cadillac CTS
Introduced in 2002 as a 2003 model, the Cadillac CTS was designed as a replacement for the Cadillac Catera. It was built on GM's new rear-wheel drive Sigma platform with a fully independent suspension and ended production in 2019 to be replaced with the CT5.
The average annual maintenance cost for a Cadillac CTS is $663, which is again lower than the Cadillac average. Examples of CTS repairs and their estimated costs include:
Timing belt replacement: $1,049 – $1,132
Head gasket replacement: $1,765 – $2,018
Tire and wheel assembly rotate/balance: $79 – $100
Brake pad replacement: $354 – $395
Oil pan gasket replacement: $964 – $1,180
Cadillac Escalade
The Cadillac Escalade is a full-size SUV that marked the automaker's first major entry into the SUV market. Introduced in 1999, it's since become one of Cadillac's most coveted cars and remains in production today. An all-electric version (the Escalade IQ) was unveiled in 2023.
The average annual maintenance cost for a Cadillac Escalade is $1,007, which is a lot more expensive than the Cadillac average. Examples of repairs and their estimated costs include:
Air pump replacement: $505 – $683
Crankshaft position sensor replacement: $183 – $249
Hybrid high-voltage battery replacement: $5,293 – $5,392
Trailing arm replacement: $245 – $268
Airbag clockspring replacement: $408 – $434
The Price of Parts: OEM vs Aftermarket
When it comes to repairing your Cadillac, you'll ultimately have to choose between original equipment manufacturer (OEM) parts and aftermarket alternatives. We could give you a full comparison of prices, but it wouldn't be worth your while. Aftermarket parts will be cheaper in every instance, but you get what you pay for: they won't be the same quality, and they won't last anywhere near as long. If you have any sort of warranty protection on your vehicle, using aftermarket parts might also void your coverage.
Produced by the manufacturer, OEM Cadillac parts are exact replicas of the parts that were in your car when you purchased it. When you purchase these, you can rest assured that:
You don't need to do any research into the manufacturer and their reputation
You're benefiting from Cadillac's precise engineering and high standards
It'll be a good while before you need to replace them again
You'll be covered by a Cadillac parts warranty, including the cost of labor to replace them for 24 months
Common Cadillac Car Issues and Associated Costs
To help you prepare for the worst, it's worth us looking at some of the most common Cadillac issues and their associated costs:
Cadillac Escalade Issue
Problem: The power lock door actuators may become slow to operate or stop working completely and require replacement.
Est. cost to repair:  $88 – $111
Cadillac SRX Issue
Problem: The rear axle pinion seal may leak, causing fluid loss and possible internal rear-end damage.
Est. cost to repair:  $204 – $250
Cadillac CTS Issue
Problem: The passenger seat sensor may fail, causing the airbag light to illuminate. This problem has resulted in some vehicles being recalled.
Est. cost to repair:  $88 – $111
Cadillac Seville Issue
Problem: The water pump and radiator may leak coolant, which could indicate a blown head gasket.
Est. cost to repair:  $2,252 – $2,660
Cadillac DTS Issue
Problem: The engine may develop an oil leak from the lower crankcase portion of the engine block. The engine must be removed completely to repair this properly.
Est. cost to repair:  $1,044 – $1,287
Preventative Maintenance for Cadillac Vehicles
Other than investing in extended warranty coverage, preventative maintenance is one of the best ways to avoid costly repair bills. By nipping problems in the bud or taking measures to stop them from happening in the first place, you can keep your car on the road for longer—and more money in your pocket.
To save even more of your hard-earned cash, you can carry out many of the smaller maintenance tasks by yourself. This includes things like tire pressure checks, fluid top-ups, and (with the right tools) even oil changes. However, always make sure to seek the help of a professional if you aren't 100% sure what you're doing.
Work that's carried out incorrectly can end up damaging associated components, costing you more money on repairs than you would have saved on maintenance. These kinds of repairs won't be covered by any warranties either, so it really isn't worth the risk.
Cadillac FAQs
If you still have some Cadillac questions, you might find the answers right here:
Are Cadillacs more expensive to fix?
As a rule of thumb, luxury cars are always more expensive to fix. The average annual repair cost for all Cadillac models is $783 per year, which is more than the $652 average across all models.
Do Cadillacs require a lot of maintenance?
The recommended maintenance schedule for Cadillacs is fairly typical, with tire rotations, oil changes, and other common tasks suggested at regular intervals. However, as Cadillacs are luxury cars, you can expect components to be less reliable, resulting in more frequent repairs.
Are car parts for Cadillac expensive?
Luxury car parts are inherently expensive, and Cadillac parts are no exception. While it may be tempting to opt for cheaper aftermarket parts, it's always recommended that you use OEM parts when making repairs. Aftermarket parts are known to fail much more quickly and will cost you more money in the long term.
Are Cadillacs very reliable?
Our friends at RepairPal give Cadillacs 3 out of 5 for reliability, putting them 26th out of 32 car brands. This isn't a great score, but low reliability is typical of luxury vehicles.
Why are Cadillac oil changes so expensive?
Cadillac oil changes are more expensive because they're a luxury vehicle. This means that they require the best quality oil and filters to perform at the optimum level. On top of that, many mechanics will charge extra to work on luxury cars. Yes, you can get very cheap oil changes at some auto repair shops, but you should expect to pay more for a car of a Cadillac's caliber.
Top-Tier Protection for Almost Any Car
Cadillacs don't come cheap, so it only makes sense that you'd want to protect yours in any way you can. When something inevitably breaks down, you can bet it will be the most expensive repair possible, setting you back hundreds, if not thousands, of dollars. The only way to drive with total confidence is with an extended warranty watching your back. And Endurance is your top choice.
Since 2006, we've helped thousands of drivers save serious money on the cost of car ownership, earning the title of the country's most trusted provider in the process. We offer a wide range of auto protection plans for an even wider range of drivers, with something for casual commuters, rideshare drivers – and, of course, luxury car owners. We pride ourselves on our eligibility and flexibility, so if our base plans aren't quite right for your needs and budget, we'll be more than happy to create a customized plan.
The good stuff doesn't stop at quality coverage. We also offer some of the best benefits in the business. Every Endurance plan includes standard perks like 24/7 roadside assistance, towing, lockout services, trip interruption costs, and rental car reimbursement. If that wasn't enough, every new Endurance customer also gets a year's free membership to our exclusive Elite Benefits, opening up tire repair/replacement, key fob replacement, total loss protection, and much more.
Industry experts across the web rate us as the best protection money can buy, but you don't need to take their word for it. We also have thousands of 5-star reviews from happy customers on sites like Trustpilot.
Want to find out more about what we can do to help you look out for your luxury car? All you need to do is get in touch with our award-winning customer service team at (800) 253-8203 to request a FREE quote. You can also shop online to see your price now!
If you'd like to do some more reading first, we have plenty more helpful articles, just like this one, over on our extended warranty blog. Explore articles about Audi, BMW, Lexus, and other luxury brands.
More like this
Make/Model

As the most rugged SUV Honda has ever offered, the Pilot offers a wide variety of benefits for those looking for an off-road capable SUV with adequate features. Like any..

Read More

Make/Model

As the world gradually transitions to renewable energy sources, the adoption of e-vehicles is on the rise, and Tesla has been leading the charge. Their range of electric cars is..

Read More

Make/Model

Buying a new car or a used car can be a tricky process. The choice of vehicles is almost endless, and while it can be tempting to go for the..

Read More