Reliability is one of the most important factors to consider when searching for a new or used car. After all, what's the point of getting out and having a good time whenever you get behind the wheel if the car won't even start. And if you find yourself getting ready to head back to school or starting up your daily commute again, having a dependable vehicle is a must to ensure you get to and from wherever you need to go without hassle. 
A Lexus could be the perfect choice for drivers looking for a vehicle that is as well-known for reliability as it is for comfort and style. But, just as you should before any major purchase, it's important to take your time and to do your research, such as learning just how reliable Lexus vehicles are, can help you decide if it's the right vehicle for you. 
About Lexus
Lexus began when Toyota chairman Eiji Toyoda issued a challenge to his company's designers to create the best car in the world and expand Toyota's reach into the luxury car market. This eventually led to the Lexus brand debuting in the United States in January of 1989 at the North American International Auto Show in Detroit with the introduction of the Lexus LS 400 and the smaller ES 250. 
Yet, despite being owned by the same company, the new Lexus LS shared almost no design elements with Toyota vehicles and featured a 4.0-liter V8 and rear-wheel-drive, which was much more in line with the large, powerful vehicles made in the United States. This power, combined with its quiet operation and stylish yet comfortable interior, made it a perfect choice for people who wanted it all from their vehicle without shelling out for over-the-top luxury prices. 
Since then, Lexus has found itself near the top of the rankings for luxury car brands worldwide and has taken its slogan, "The Relentless Pursuit of Perfection," to heart. Their cars are highly desirable and continue to be popular with all kinds of drivers. And on top of their high-performance specs, they are incredibly dependable and routinely win reliability awards from publications like J.D. Power and Consumer Affairs. 
Are Lexus Vehicles Reliable?
Lexus vehicles have a reputation for lasting for years and providing dependable service for thousands of miles. This, combined with their luxurious and well-built interiors and famous driveability, make them great cars for a wide range of people. Understanding the reliability ratings and characteristics of the different Lexus models can help you decide if one of them is the best choice to be your next vehicle. 
Lexus IS 250
The Lexus IS 250 was Lexus' take on a more compact and economical version of the IS 350 sedan. And despite officially being pulled from the production lineup back in 2016, it's still one of the most popular Lexus models you can find on the road. It's also incredibly dependable and relatively inexpensive to maintain. In fact, with an annual repair cost of just $487, it'll be cheaper to maintain than many other vehicles in its class. It also has a reliability rating of 4.0 out of 5, according to the experts at RepairPal, making it incredibly dependable and long-lasting. 
Despite its reliability, the Lexus IS 250 can need some repairs, and as of July 2022, RepairPal notes that some potential IS250 repairs can include: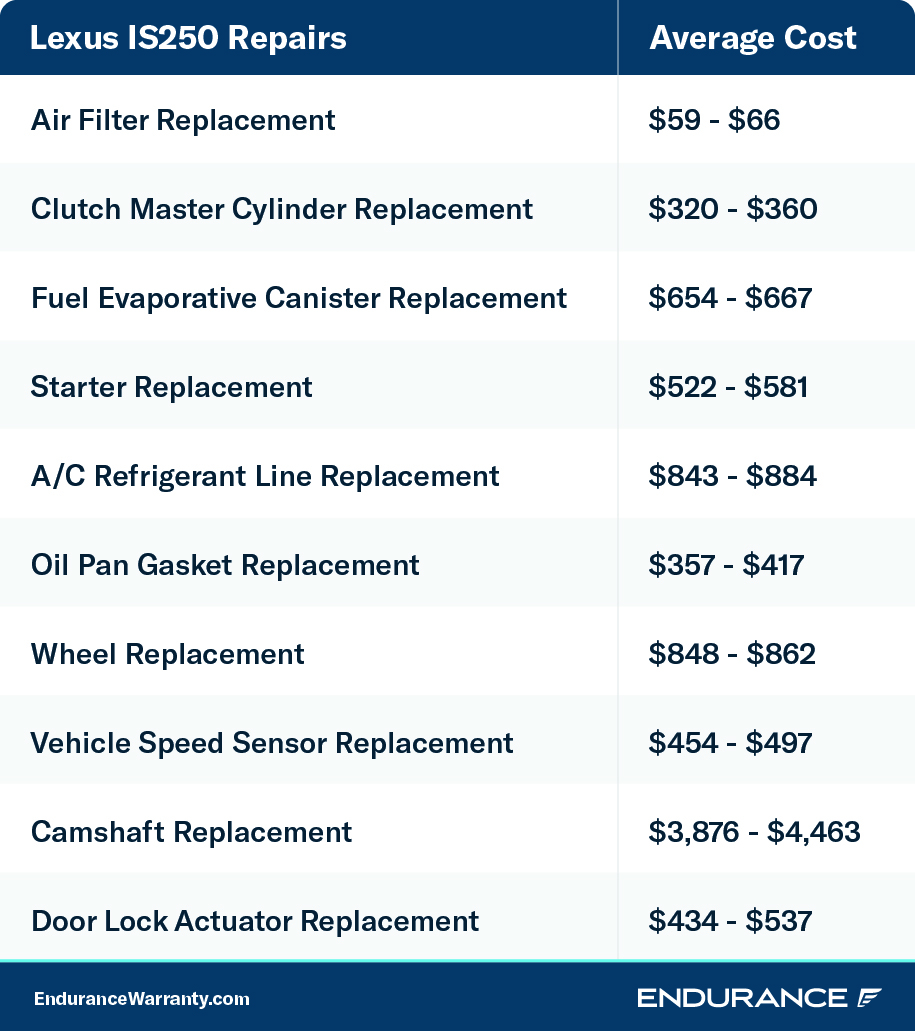 Lexus ES 350
If you are in the market for a mid-size executive sedan, the Lexus ES 350 is a fantastic choice. With an emphasis on convenient amenities and a quiet ride, it is a perfect choice if you are a commuter or if you just need a car for driving around town on the weekends. It's also relatively cheap to own, with an annual repair cost of just $468, meaning the repairs needed for the ES 350 are generally going to be less serious than the ones needed for other vehicles in its class. The ES 350 also has a reliability rating of 4.0 out of 5, placing it 4th out of 31 total mid-size luxury vehicles, so you can be sure that it will serve you well for many years. 
Like the IS 250, the ES 350 can also need the occasional repair, such as: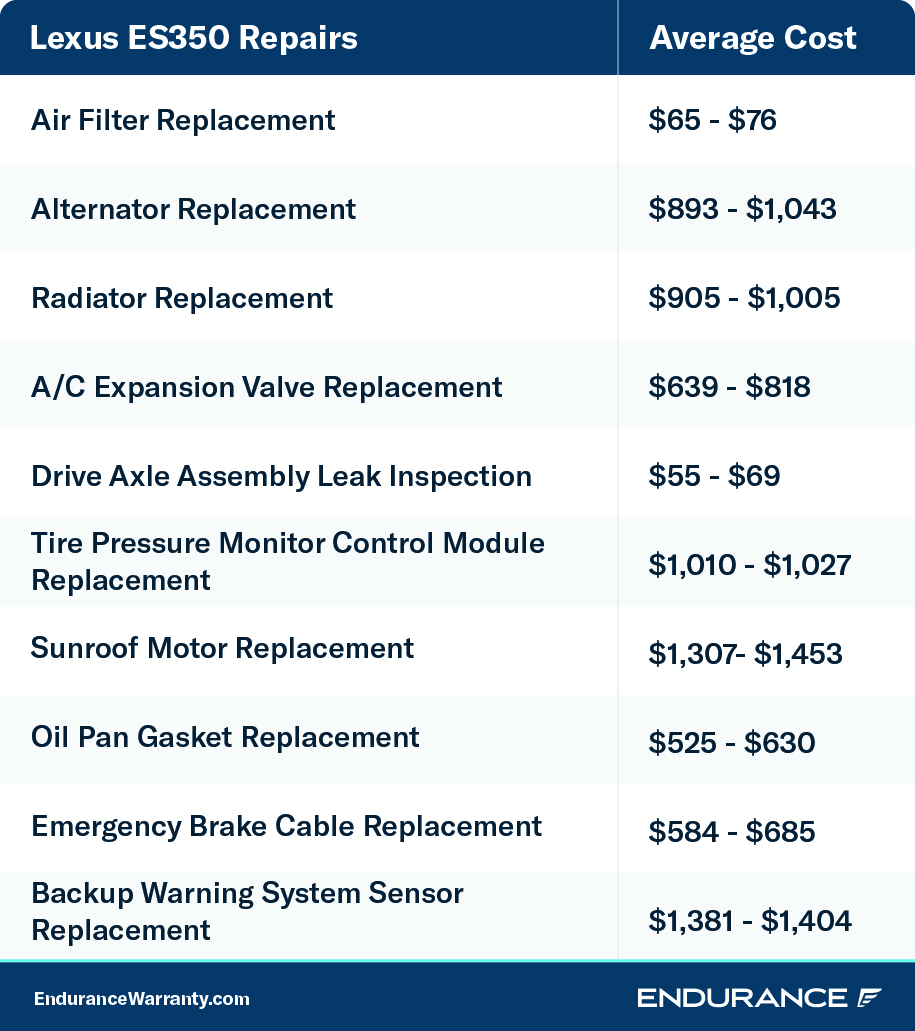 Lexus RX 350
For those who want more cargo space and versatility with their luxury vehicle, the RX 350 is a great option. This mid-size luxury SUV has an annual repair cost of $550, which is higher than other vehicles in Lexus's lineup, but as it's a mid-size SUV compared to Lexus' standard line of sedans, it's to be expected. But even still, despite the Lexus RX being costlier than other Lexus models, it's still lower than the national average for all vehicles. And like the other Lexus models, the RX 350 also has a 4.0 out of 5 reliability rating from RepairPal that places it 3rd out of 14 other vehicles in its class, making it incredibly dependable. 
But like any car, the RX 350 may need repairs done now and then, despite its dependability. Some of these include: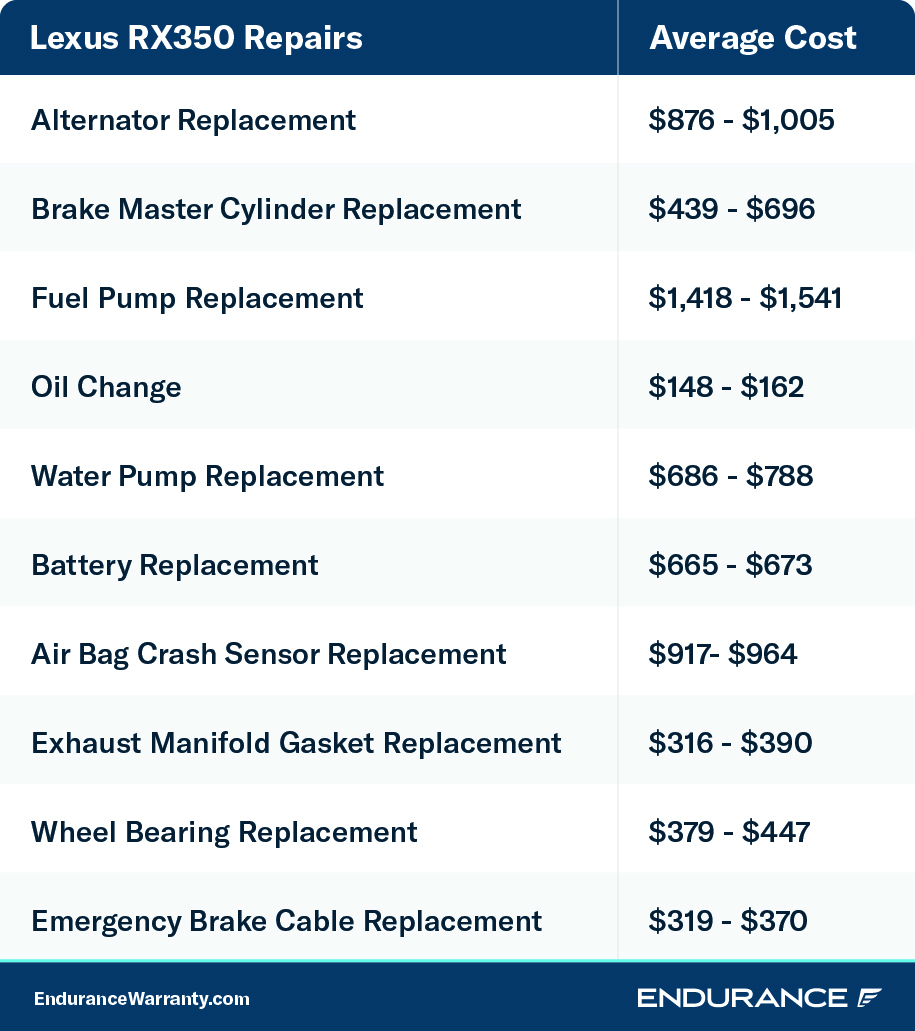 Lexus NX 200t
For a compromise between a luxury sedan and a larger SUV, you can do no better than the Lexus NX 200t. This compact SUV features all the convenience and comfort of the RX 350 with a smaller overall size and more car-like driveability. However, despite being smaller, its annual repair cost is higher than that of the RX 350, coming in at $690. Still, even though the repair cost is slightly higher than some of the other vehicles that Lexus makes, it has the 4.0 out of 5 reliability rating that the other Lexus models have, placing it 2nd out of 11 total vehicles in its class. 
Some repairs that may need to be performed on the NX 200t can include: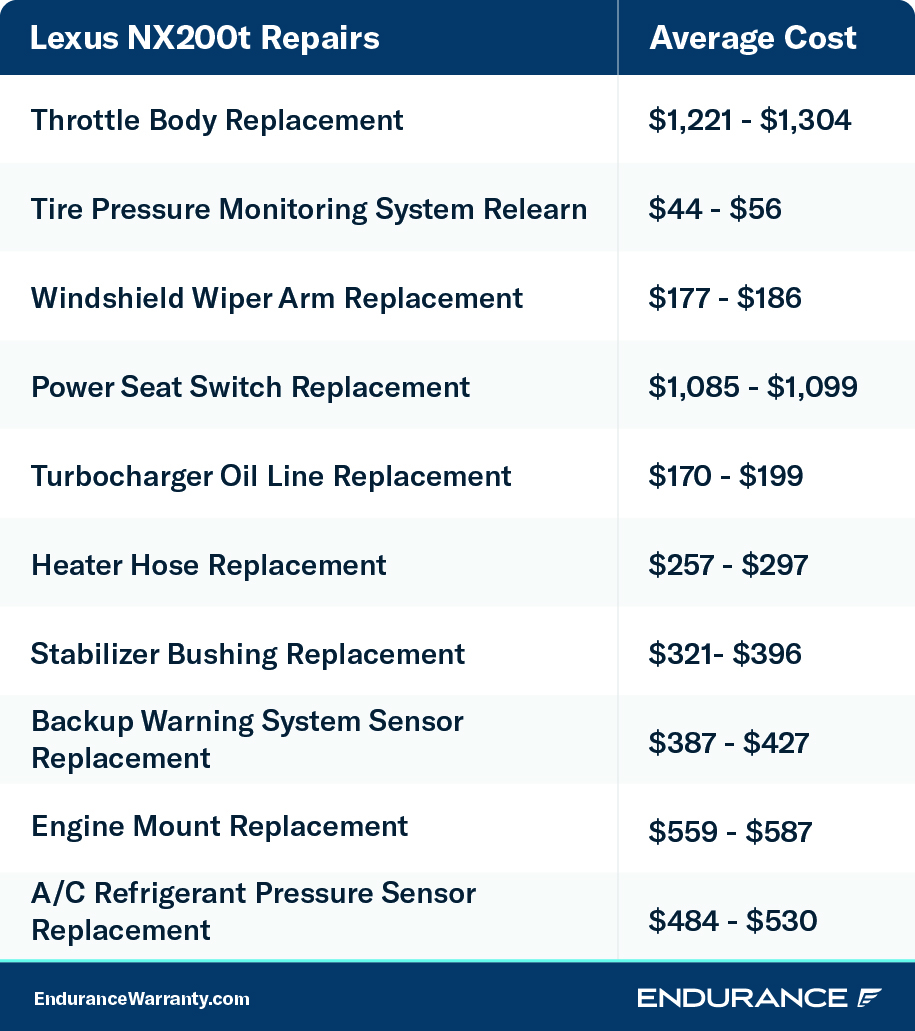 Can My Lexus Get a Warranty?
When you buy a new car, whether it be from an automaker like Ford, Toyota or Chevy or a luxury brand like Porsche, Audi, BMW or Mercedes-Benz, it will often come with a warranty that the manufacturer provides. This warranty helps protect you from repairs that may need to be done due to issues at the plant or design flaws. Any problems that arise that are no fault of your own will usually be covered under the car's factory warranty. 
Lexus, in particular, has a varied and fairly comprehensive factory warranty plan. This helps contribute to their reputation for making some of the most reliable cars and caring for their customers when they purchase a new car. 
Overall, as of July 2022, Lexus provides the following types of coverage as a part of their factory warranty: 
While Lexus provides owners of brand new Lexus vehicles with fairly comprehensive coverage, it won't last forever. And once the factory warranty for your new or used Lexus runs out, you may want to extend the coverage. While getting an extended warranty from the dealership is possible, these are often quite expensive and may not include extra benefits like roadside assistance and rental car coverage that you may find with a third-party warranty provider. So while you can look to extend your coverage with Lexus, if you want the same kind of breakdown protection with some extra perks and benefits, an Endurance auto protection plan can be a perfect choice. 
Like factory coverage from Lexus, each Endurance plan will help protect you from unexpected breakdowns and repairs for your car's vital (and often expensive) components. But unlike most extended warranties from automakers, with Endurance, you can choose from various plans to help fit your needs and budget, including basic powertrain coverage starting at just $79 a month or near-factory live coverage with a more comprehensive plan. Or, for even more savings, you can combine your coverage with up to $3,500 in essential maintenance services, including tire rotations, alignment checks, engine diagnostic exams, and even help with your Lexus's next state safety inspection service with the Advantage plan. 
You'll even enjoy standard benefits like 24/7 roadside assistance (with towing), trip interruption coverage, and rental car reimbursements regardless of your level of coverage. But, that's not all, as you can also enjoy a full year of Elite Benefits, which include tire replacements or repairs, collision discounts, key fob replacements, and more for a small activation fee. For even more savings, you can combine your coverage with up to $3,500 in essential maintenance services, including tire rotations, alignment checks, engine diagnostic exams, and even help with your Lexus's next state safety inspection service with the Advantage plan.
Protect Your Lexus With Endurance
The Lexus brand is incredibly reliable and has long had a reputation for making vehicles that instill confidence in drivers and provide a luxurious, comfortable experience. But while they may be some of the most reliable cars you'll find on the road, they can still experience a breakdown every now and then. And without an active factory warranty from Lexus, you'd be on the hook for any repair bills that may pop up. 
But, when you have an Endurance auto protection plan, you can rest easy that no matter when or where you may need repairs, they'll be covered. You'll even be able to get help taking your vehicle into the shop thanks to your complimentary roadside assistance and towing, along with other great perks and benefits that come with being an Endurance customer. And for even more coverage and savings, like getting complete tire coverage and collision discounts, be sure to activate your year's worth of Endurance Elite Benefits.
To learn more about how Endurance can protect your Lexus or any other vehicle you own, give our award-winning customer care team a call at (800) 253-8203 or request a free, no-obligation quote. You can also find more articles on automotive topics like DIY maintenance tips, road trip planning guides, extended warranty comparisons, and more by visiting the Endurance blog.
More like this
Make/Model

As the most rugged SUV Honda has ever offered, the Pilot offers a wide variety of benefits for those looking for an off-road capable SUV with adequate features. Like any..

Read More

Make/Model

As the world gradually transitions to renewable energy sources, the adoption of e-vehicles is on the rise, and Tesla has been leading the charge. Their range of electric cars is..

Read More

Make/Model

Originally formed from the remnants of the Henry Ford company, Cadillac is arguably the most quintessential American car brand in existence. Founded over 100 years ago, they were the first..

Read More